Why does my iPhone keep going back to home screen? Many of you will take a long time to figure out the reason why this issue suddenly happens and hope that there is a way to fix it. I understand your situation and your anxiety when your apps and device get into trouble. This issue surely gets in your way; thus, I collect eight ways to fix your problem in this article. Wish the problem can be settled after you try these methods.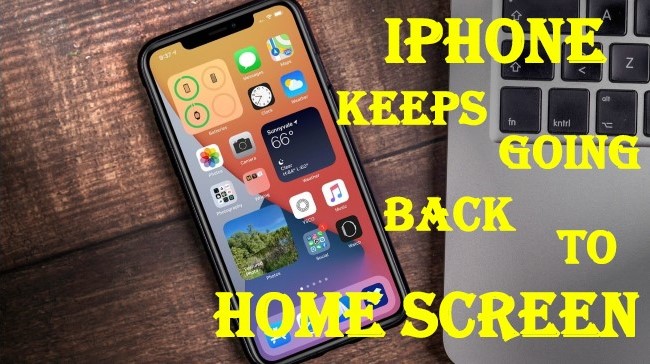 #1 Close and Reopen the App
If an app on your iPhone doesn't work well as you expected, I believe all of you will try to force close this app. Then wait for a while, sometimes it will be fine when you reopen it. That is because the application itself creates a bit problem. But if it doesn't work, try the following methods.
#2 Check Storage and Clear Cache and Data
When your apps are closing unexpectedly, you should consider that insufficient memory is not able to run your application. Thus, check whether your storage is enough or not. If it is out of memory, please clean up the cache and data in your iPhone.
| | |
| --- | --- |
| iPhone Browser Cache (Safari) | Settings → Safari → Clear History and Website Data → Clear History and Data → Advanced and Website Data → Remove All Website Data |
| Old Photos | Settings → General → iPhone Storage → Messages → Empty in "Recently Deleted" Album |
Here offer two detailed instructions for you to free up your storage. Similarly, you can clear other unnecessary contents and temporary files in Settings or each app that need to be cleared. Once you get more than 3GB of memory left, reoperate your apps. However, if you notice that your iPhone gets sufficient storage, it may be other problems.
#3 Delete and Redownload App
Make sure that your iPhone keeps going back to home screen issue happens on one application. If it does, that's definitely the app's fault. Then you can choose to delete this app and redownload it. Be careful that the data stored in this app will be lost when you uninstall it. After reinstalling, check to see whether your device still keeps going back to the home screen.
In addition, it may be another reason that causes the problem. Check if your application needs to be updated to suit your iPhone. You can open App Store to update your software.
#4 Turn Off Notifications
Some users reflect that this problem could be solved through turning off the specific application's notifications. You can try this step and see if it works. Go to Settings and tap Notifications, you can select any software to close "Allow Notification". And turn off Screen Sharing and Siri Suggestions respectively.
#5 Reset All Settings
If you did the above four ways accordingly, but the iPhone keeps going back to home screen issue still exists, you should be aware that the problem is not on the application itself but on your iPhone. Hence, you need to set about fixing your iOS system issue. The easiest way to repair your system is to reset all your settings on your iPhone.
Go to Settings → General → Reset → Reset All Settings → Enter passcode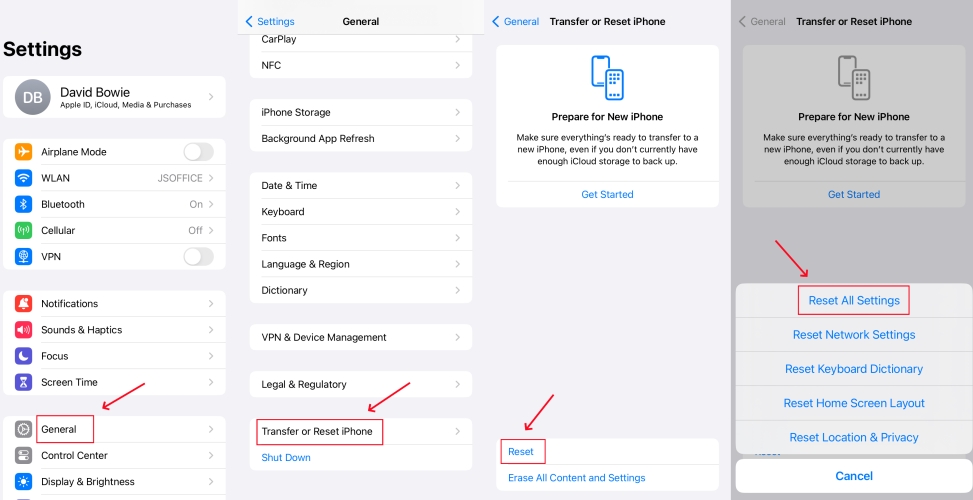 #6 Update to the Latest iOS
Since some errors that existed in the older iOS version have already been fixed in the newest one, it is common to have some problems in your older version. Therefore, you need to check if your iOS version is the latest one. If it is not, you can upgrade your iPhone by iPhone Settings, iTunes, or Joyoshare UltFix.
iPhone Settings is the most attainable method to update because the only tool you need is your iPhone. Upgrading through iTunes requires a computer and a USB cable. If your iPhone cannot be updated directly through these two methods, Joyoshare UltFix, a strong third-party program, will help you upgrade your iPhone.
iPhone → Settings → General → Software Update
Connect to computer → iTunes → iPhone icon → Summary → Check for Update → Update
Joyoshare UltFix → Upgrade/Downgrade iOS → iOS Upgrade → Download→ Start Upgrade
#7 Restart Your iPhone
What if your iPhone keeps going back to home screen when you try to open settings? The last thing you could do by yourself is to restart your iPhone. If the treatment is not distinct, go further step – force restart your iPhone, which will terminate many bugs in one step.
Here are the operations on how to force restart your iPhone.
| | | |
| --- | --- | --- |
| iPhone 8 and later | Press Volume Up quickly and release it → Press Volume Down quickly and release it → Hold the Side button → Release when the Apple logo appears | |
| iPhone 7 and iPhone 7 plus | Hold Volume Down and Sleep/Wake → Release when the Apple logo appears | |
| iPhone 6, 6s Plus, or iPhone SE (1st Generation) | Hold Sleep/Wake and Home → Release when the Apple logo appears | |
#8 Repair iPhone via Joyoshare UltFix
I recommend you use Joyoshare UltFix to solve your problems if the above-mentioned methods do not work. Joyoshare UltFix, as a specialized iOS system recovery program, is capable to recover more than 150 iOS problems. The issue about your iPhone keeps going back to home screen absolutely in the column. It sets up two modes - Standard Repair and Deep Repair, that will fix the common iOS issues and serious issues respectively. And the former won't cause your data loss. Therefore, you can try Standard Repair first. If your iOS system is badly damaged, the Deep Repair feature will be helpful.
Besides, Joyoshare UltFix holds another three features. If you want to restore your iPhone but don't have iTunes, try the Reset Device feature, which provides Standard Reset mode and Factory Reset mode. Exit/Enter Recovery Mode is a totally free feature, and you can easily go into or get out of recovery mode with one click. And Upgrade/Downgrade iOS will give a hand to you when you have trouble upgrading or demand to downgrade your iOS version.
Key features of Joyoshare UltFix: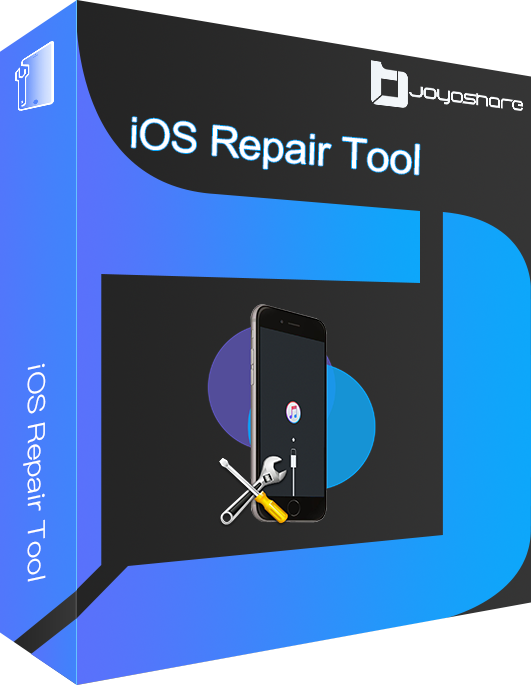 Repair more than 150 iOS problems
Standard Repair fixes common iOS issues without data loss
Deep Repair fixes serious iOS problems
Reset device, free to exit/enter recovery mode, upgrade/downgrade iOS
Download and install Joyoshare UltFix on your computer and follow the guide below.
Step 1: Connect You iPhone and Choose the Proper Mode
Enter the iOS System Repair section and preview the possible problems you may encounter. Click the "Start" button and connect your iPhone to your computer by using a USB cable. Then, click Standard Repair first if you are not sure which mode you should choose.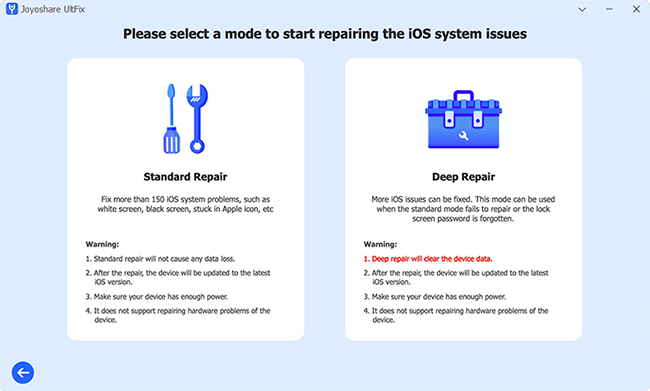 Note: If your iPhone is detected and recognized successfully, you can directly move to the next step. But if it is failed, follow the steps in the appeared interface to enter Recovery mode or click the blue link at the bottom to enter DFU mode. Or you can turn back to the main interface and operate the Exit/Enter Recovery Mode function.
Step 2: Download Firmware Package
Check your iPhone information carefully and click "Download" to get matched firmware package. Then wait it to finish the verification process.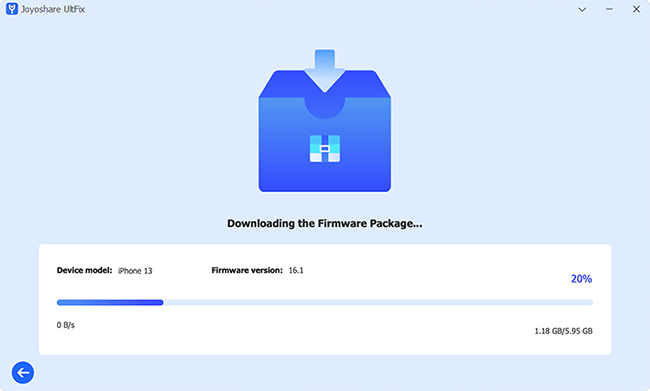 Step 3: Start to Repair iPhone Keeps Going Back to Home Screen Problem
Once the verification completes, click "Repair" to unzip your firmware package. Bear in mind that your iPhone should connect to your computer all the time. When "Finish" appears, your iPhone will restart automatically, and your problem will be solved.
Moreover, if the "Standard Repair" is not able to fix the problem, you need to perform the "Deep Repair" which follows the same procedure.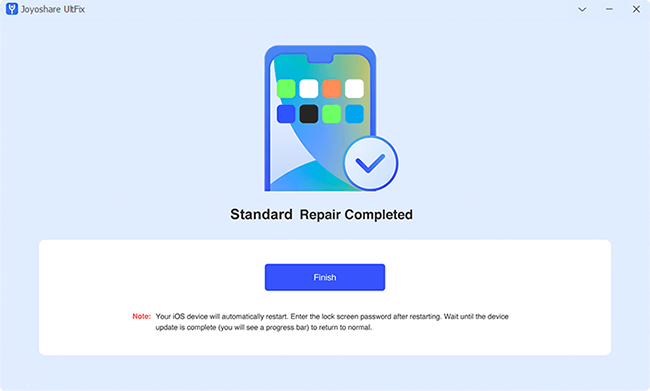 Conclusion
In fact, iPhone keeps going back to home screen issue not very often happens. But there is still the possibility of encountering this problem. Therefore, the methods to fix this problem are listed in this article. Whatever iPhone model you are using, if you have difficulty with such iOS system issues like this article mentioned, Joyoshare UltFix provides you with a high success rate for you to solve them. If the solutions in this article save your iPhone from stuck issues, I will really appreciate it.