Q:"Oh my god, I just want to experience the improved features from the latest iOS version. But what have I suffered? Having updated the iOS version, my iPhone keeps freezing, which made me unable to use it properly. Is it possible to fix iPhone freezing problem? Please give help, thanks." - Joe
That iPhone keeps freezing is a typical problem that iPhone users will meet after update. You can hear a series of similar question like iPhone 5/iPhone 6/iPhone 7/7 Plus/iPhone 8 or even the latest iPhone X keep freezing at uncertain time. It occurs perhaps when you have a good chat with friend, enjoy yourself in watching video or share what you're doing with your follower in real time or more possible situations. To help you, including Joe, get away from such depressing trouble, we specially collect some possible solutions to "iPhone keeps freezing after update" problem. Let's check out them together.
Solution 1: Force your iPhone to restart
There is no doubt that restarting iPhone can be the most straightforward yet effective way to various iPhone problems. Sure, frozen display is no exception. Just go to power down your iPhone to give it a fresh start; relax yourself as this operation will not affect any data files from your iPhone's internal memory. Now do as follow:
Step 1: Quickly press & release the "Volume Up" button;
Step 2: Quickly press & release the "Volume Down" button;
Step 3: Press and hold the "Sleep/Wake" button until the display shuts off;
Step 4: Hold "Side" button until iPhone display lights up and at the same time show Apple logo.
Solution 2: Reset all settings on iPhone
To be frank, this workaround is not ideal enough. But you can go for it if you want to take a chance. You should head to "Settings" > "General" > "Reset" > "Reset All Settings" to make reset. Notably, this method will not get rid of your iPhone existing data, such as messages, contacts, photos, etc. but it will reset general preference you set previously in "General", "Sound", "Notifications", "Brightness" or "Touch ID" or something else.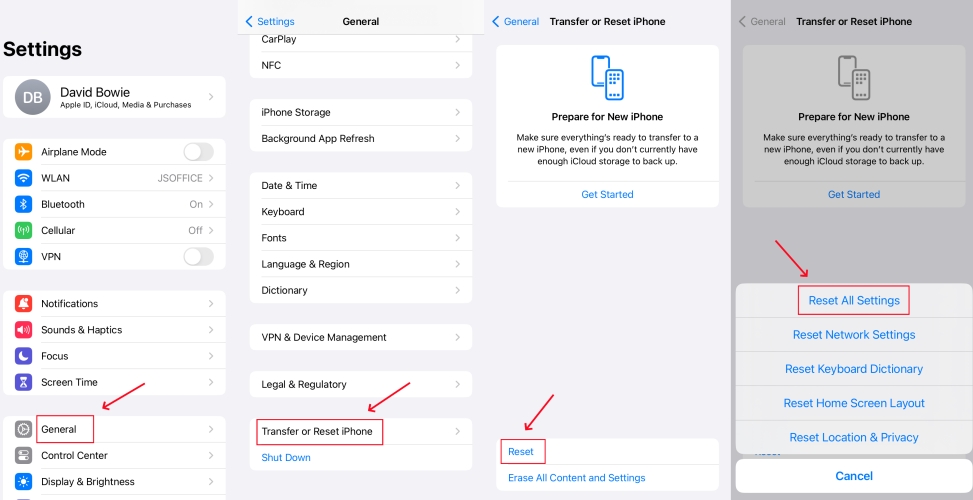 Solution 3: Close background apps
You might not notice that your iPhone has lots of boot-up programs running in the background, which results in the situation that your iPhone keeps freezing and crashing. Or sometimes it happen to you a required app becomes unresponsive that leads to frozen display as well. In other word, your phone will be slow if a program takes up a lot of running memory, especially for bulky apps. Under such circumstances, you can do as below to release more free space.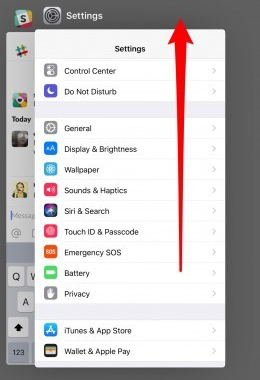 Step 1: Swipe up from the bottom from "Home" screen and then pause;
Step 2: Touch and hold designated app firmly; tap the minus "-" icon on the upper-left of app's preview;
Step 3: Or you can swipe up to close needless apps soon when see the minus "-" icon.
Solution 4: Equip iPhone with a system monitor
To thoroughly make clear about which app slows your iPhone down, a system monitor is necessary. Just like the task manager of your computer, it can give you a hand to monitor iPhone's performance, like memory usage, cache info along with system logs. As a result, shut down or uninstall the heavy-weight app if your iPhone keeps freezing up.
Solution 5: Downgrade to earlier iOS version
If your iPhone begins to be frozen after upgrade, try to downgrade it to the older version to see whether it can work without problem. You can ask help from Apple support.
More tips:
To avoid the worst situation that frozen display gets your important iPhone data files lost, you should form good habit of syncing data with iTunes or iCloud regularly. Provided you are unfortunate enough to lose your iPhone data, you ought to keep calm. There are more practical ways you can use to recover it, like using an iPhone data recovery,
Joyoshare iPhone Data Recovery
, or extract files from backup, etc.