Q:"I would like to record audio on my PC. Do you have any recommended software that can do this job well? Thanks." – Zoe
Has it ever occurred to you that you can record a meeting chat on your PC? Or have you ever thought to capture what you listen from an online radio? Like Zoe, whether it is system sound or microphone voice, you can easily grab on Windows with the help of a PC audio recorder. This is the reason why we come here to share the following 7 powerful programs.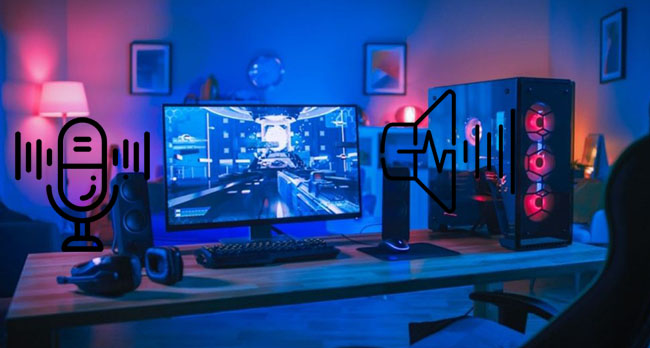 1. Joyoshare VidiKit
Specialized in recording audio activities on desktop in high quality, Joyoshare VidiKit - Audio Recorder is the first option shown in this list. It is good at record all kinds of audios on PC and Mac, including Facebook chats, streaming music, broadcasts, online radio, gameplay sound, system voice, voiceover and more.
By means of this audio recorder for PC, you are allowed to create scheduled task by presetting specific time. Besides, there are 16 output formats for you to choose and related parameters to specify, such as codec, bit rate, channel, sample rate and quality. It's also available to edit ID3 tag info and trim completed audio.
Pros:
16 output audio formats, like MP3, AC3, M4B, AAC, OGG, etc.
Edit with equalizer, trimming tool and ID3 tag recognizer
Detect and split the silent automatically
Schedule recording task for any audio on PC and Mac
Cons:
Free version comes with recording time limit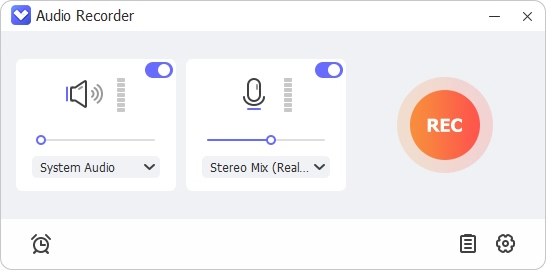 2. Audacity
Audacity is a free PC audio recorder. It is undoubtedly a reputable and professional audio tool in current market. Under the help of it, you can not only record digitize audio from other media but also grab live audio from microphone/mixer.
Furthermore, this free and cross-platform audio open source also has ability to edit and combine sound files at a time. It uses high-quality resampling and dithering to convert format and sample rate. During your editing, it enables to cut, delete, copy and paste audios handily and as well supports to undo and redo tracks without limitations.
Pros:
Preview LV2, VST, LADSPA and Audio Unit effect in real time
With advanced editor to process audios in a dedicated manner
Record audio files from mixer, microphone and other media on PC
Cons:
A bit hard to use for newbies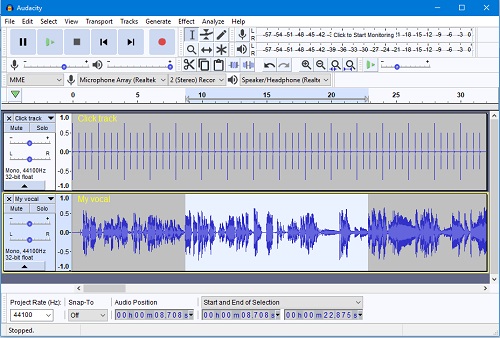 3. GiliSoft Audio Recorder Pro
Definitely, GiliSoft Audio Recorder Pro is a top-leading audio recorder software for PC, which has a variety of advanced audio recording and editing capabilities. With it, you can readily record computer sound and microphone voice simultaneously, like music from Pandora, YouTube or more streaming audio sites.
Most of all, it includes full support to multiple sound card and permits to preview the result before audio recording. More powerful, GiliSoft Audio Recorder Pro is able to set quality and manage parameters to satisfy different needs. You can even apply it to schedule recording with its built-in timer and pause recording automatically with the silence detection tool.
Pros:
Capture sound reproduced by programs, like iTunes, etc.
Record computer audio and microphone at the same time
Support silence detection and recording preview functions
Cons:
Some features may confuse inexperienced users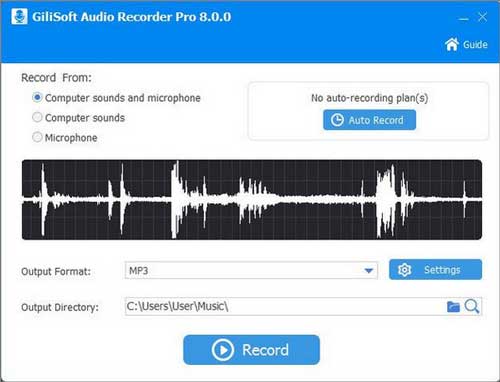 4. Free Sound Recorder
Free Sound Recorder is another well-liked free PC audio recorder that is worth your consideration. It helps to record online music from various sites, such as YouTube, Grooveshark, ect. without charge. Of course, both external and internal sounds on Windows can be supported without any hassle, including CD player, FM radio, RealPlayer, Windows Media Player, Google Talk, etc.
What's better, this smart desktop audio recorder is capable of create an audio recording task by defining both start and stop time. Plus, the attractive editing features also gives liberty to flexibly cut, crop, copy, paste and delete audios. There are some marvelous effects, for instance, fade in/out, echo, normalize, amplify, compressor, etc.
Pros:
Allow to change parameters
Apply diverse cool effects for audio recordings
Record any sound/audio in perfect quality
Cons:
Export audio only to MP3, WAV, OGG and WMA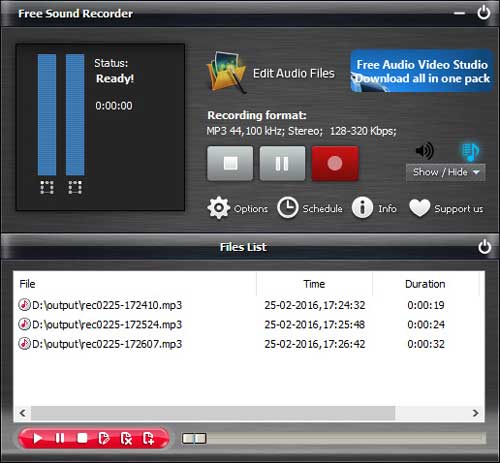 5. Apowersoft Free Online Audio Recorder
As the name implies, Apowersoft Free Online Audio Recorder is devoted itself to recording onscreen audios for free. This typical PC audio recorder online is able to capture whatever you want within 3 steps as long as you have installed a launcher.
Taking the aid of it, recording audio from radio stations, voice chats, in-game sound and music sites and so forth is completely a simple thing. If you want, you can even capture your own narration and singing from microphone, or add matchable ID3 tag to better manage your own audio recordings.
Pros:
Free online audio recorder
Support sharing audio recording to desired platform
Enable to play finished audio recording in real time
Cons:
Work efficiency depends on network status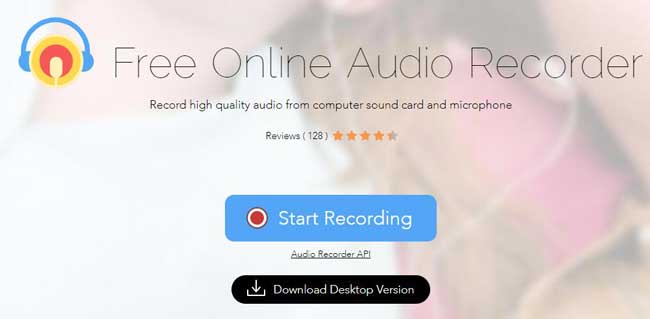 6. Free PC Audio Recorder
Free PC Audio Recorder is surely another best audio recorder for PC. It is able to easily capture audio from your computer's sound card, microphone and a compatible app. Besides, the ability it has can help you get sound from different VoIP platforms, like Skype and Viber.
It can be a good option if you like playing musical instruments. This professional tool can intelligently detect and recognize piano, guitar and more that you connect with PC.
Pros:
Work as a lightweight audio recording tool
Support grabbing sound from VoIP conversations
Audios from microphone and speaker can be recorded
Cons:
No audio editing functions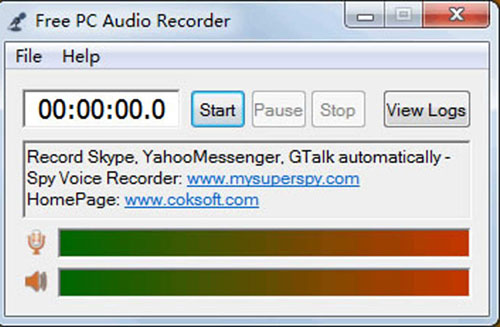 7. Voice Recorder
Voice Recorder is a PC audio recorder built in your Windows computer. It has intuitive user interface and offers basic features in recording. This tool is friendly for novices as it requires no skills.
In addition to audio from system itself, it also accesses your microphone to capture voice. More than that, it enables you to trim your recorded files and share it to a nearby device via Wi-Fi or Bluetooth.
Pros:
Free audio recorder on PC
Get microphone sound captured
Offer file sharing and trimming options
Cons:
Too simple with only basic audio recording ability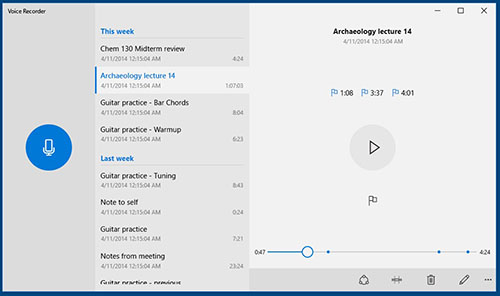 Conclusion
Having checked out this list for 7 best PC audio recorder software, you must have some ideas of your own. Certainly, it's convenient and apparent for key points. Specifically, for freeware, you can select Voice Recorder, Audacity, Free Sound Recorder and Apowersoft Free Online Audio Recorder; for advanced one, go to pick up GiliSoft Audio Recorder Pro; for ID3 tag recognizer and playlist management, don't miss Joyoshare VidiKit. To get more details, you can browse each official website later.