Screen and audio recorder is used to record what is being done on your devices, such as training videos, live streams, online games, how-to tutorials, call chats and class lectures. Different factors are integrated when you choose such software, consisting of configuration adjustment, task-scheduling, editing, the portion of the screen to capture, recording time, etc. Now, this review lists top 11 recording solutions for you to try on Windows and Mac computers.

#1 Joyoshare VidiKit
Joyoshare VidiKit - Screen Recorder offers users a complete solution to make awesome recordings with both video and sound. Using this screen recorder with audio, it's possible to easily capture any area of the screen with perfection. You can customize the region to capture and grab audio from not only microphone but also system itself. Supporting nearly all mainstream multimedia formats, it's appreciated by plenty of users. Remarkably, the quality it outputs is high, up to 1080p and 4K.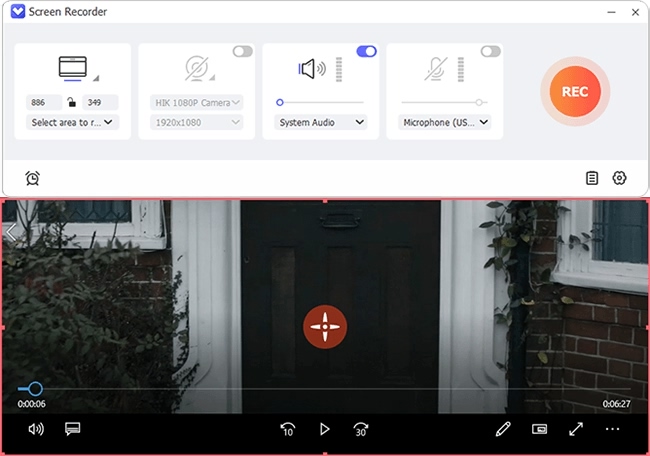 Pros:
No recording time limit and watermark
Specify area to record screen fully or partially in high quality
The audio recorder is independent to capture any sound
With high compatibility to all popular video and audio formats
Offer options to take snapshots, trim, schedule task and show clicks
Cons:
The functions to edit videos after recording are basic
#2 Screen Capture
Screen Capture is an online free screen and audio recorder that's compatible well with different mainstream browsers, including Chrome, Firefox, Opera and Microsoft Edge. It requires no download and works well to fast save videos in HD. Making full use of it, you're able to record screen, microphone, sound and webcam at the same time. Most notably, this free version comes with a permanent watermark. To remove it, you have to subscribe its pricing plan.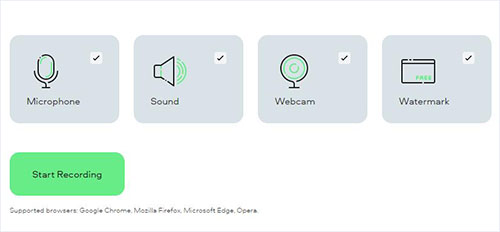 Pros:
Screen and audio can be recorded separately and simultaneously
Add your own face to video via a webcam
Free, online, no download
Capture entire screen, browser tab and window flexibly
Cons:
The watermark will stick stubbornly to the video
Save and download recorded video in MP4 format only
#3 VEED
Simply allowing VEED to access your screen, microphone and camera, you can easily start recording assignment online. Using this screen and audio recording software, it's handy to create unlimited projects with unlimited downloads. What you should pay attention to is that its free version only gives 10-minute length, 250MB uploading file size, 2GB storage and 720p video quality. To enjoy more video editing features like text, subtitle, overlay, and annotation without limitation, you have to unlock and upload to a pro plan.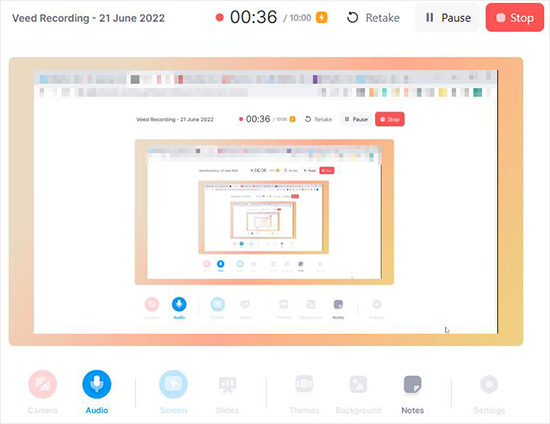 Pros:
Screen and webcam recorder
Online solution for computers, tablets and mobile devices
Support review, edit and share recorded screen videos
Cons:
Free version has limited recording time and file size
#4 Screenflick
Screenflick is an approprite screen and sound recorder for Mac users. It's mighty and capable of recording any region of your screen to up to 5K resolution at 60fps. Aside from microphone sound, it has the ability to capture system audio from various sources on your computer, no matter it's generated from web browser, muisc player, ongoing game or radio station. To better make explaination during the recording and highlight what important, Screenflick even offers screen markup for drawing. Ideally, there are practical editing tools it provides to enhance your recorded files.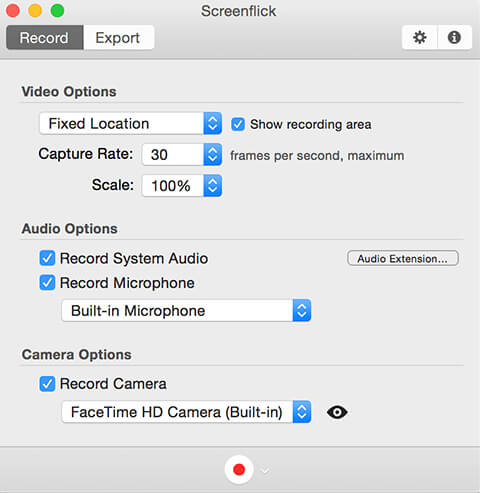 Pros:
Record audio, screen and camera in high quality
Allow preview to playback both video and audio
Edit and export files to popular social media in different formats
Cons:
Crash may occur when adjust the preference
#5 ScreenRec
The program comes with a full set of all features that makes the recording too easy. The presentations as well as the e-lectures can easily be recorded with ease. This screen audio recorder makes sure that you get to record any area of the screen conveniently and save the recording in a predefined folder. It's even feasible to add comments in real time and highlight whatever you think important to the screen.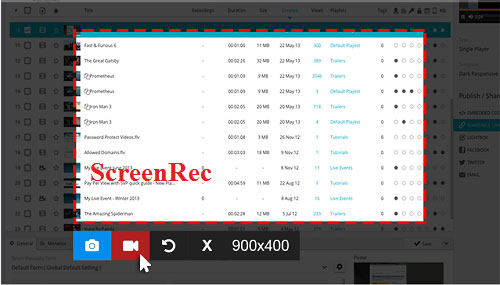 Pros:
The recording is always HD
Support PIP, annotations, and tutorial demonstration
The voice-over can be integrated
Cons:
The mouse cannot be highlighted
Only the WAV format is supported
#6 Screencast-O-Matic
The best part is that there are no limitations that are associated with Screencast-O-Matic. Therefore, you can easily get long lectures and programs recorded. The online conference calls over Skype as well as the WhatsApp conversation recording have never been as easy as it is with this program. Under the help of it, the other applications can automatically discrete out. This screen recorder with sound is both efficient and reliable.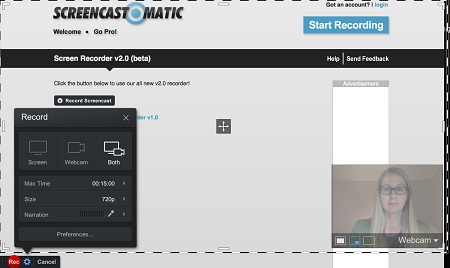 Pros:
The screenshot feature has also been embedded
The program is supported by 10 languages
Cons:
Some ads disrupt the work
The malware could be installed without your knowledge
#7 ShareX
Many features are added to ShareX. These features make it as good as some paid programs. The program is advanced and it makes sure that the overall management of the recording is done perfectly. This screen sound recorder leaves you satisfied as the features are unlimited for you to enjoy. It is also recommended to power users and developers due to the hoard of functionalities.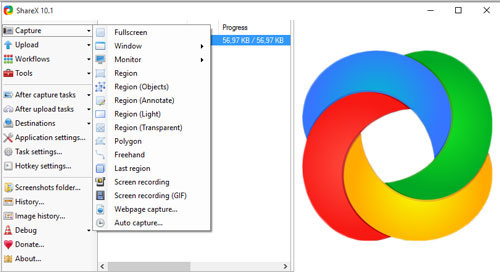 Pros:
Hotkeys can be used for quicker navigation
The existing videos and pictures can also be incorporated
Can capture different regions on your screen
Cons:
The game recording is of low quality
The large file upload fails as it has been reported
#8 CamStudio
The most popular formats such as AVI and SWF are supported by this program. It is an open-source free screen recorder with audio that will get everything done with no difficulty. The program has been rated high by the users thanks to the upgrades that are done with time. The technical support enhancement as well as further developments have made this program one of the best.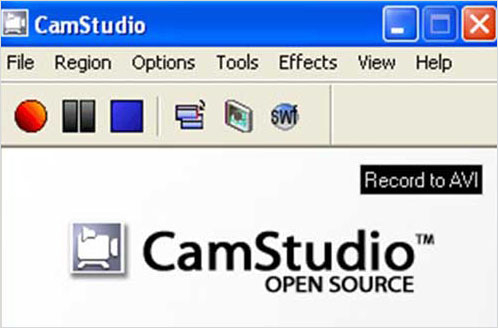 Pros:
With tools to annotate screen and video
The screen in screen recording is supported by this program
The video output can be altered with quality options
Cons:
The format support is just limited to 2
The audio synchronization at the time does not work at all
#9 Ezvid
Not only can you capture your screen with this free audio screen recorder but can also add comments without hassle. It is handy to operate and allows you to surpass as compared to the other programs that are on the list. With the best and the state of the art technologies, it will provides access to add background music, remove watermark, add text, etc.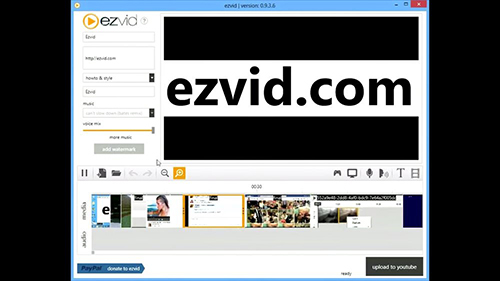 Pros:
The files can be shared in bulk with this program
The URL of the recording is also made for public sharing
Cons:
The editing features are limited
For the output, only MP4 format is supported
#10 Open Broadcast Software
Abbreviated as OBS, this is one of the most used screen capturing tools that are free to use. With wonderful features that are embedded, it's able to record multiple scenes at the same time and capture from different sources. Anyway, this program provides you with all the necessary tools to enhance your recording experience.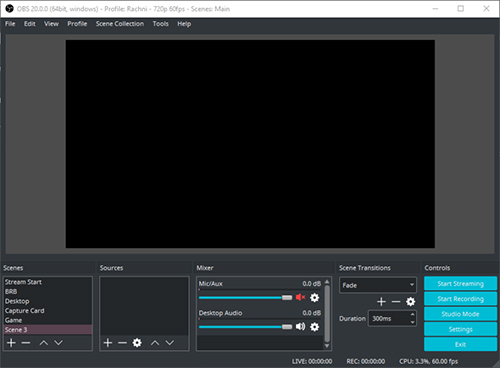 Pros:
Free screen and audio recorder to readily apply with
It is the best tool for game recording
The program can be customized to meet all the requirements
Cons:
The learning curve is high as compared to other tools
The impact on the frame rates is high as compared to other programs
#11 Camtasia
Developed by Tech Smith, Camtasia is used widely by a large number of users. It is a powerful audio and screen recorder to capture screen flexibly and gets sounds from both microphone and system. The built-in video editor can edit your recording to the point you want. From effects added to the overlays, this program has proven itself over time.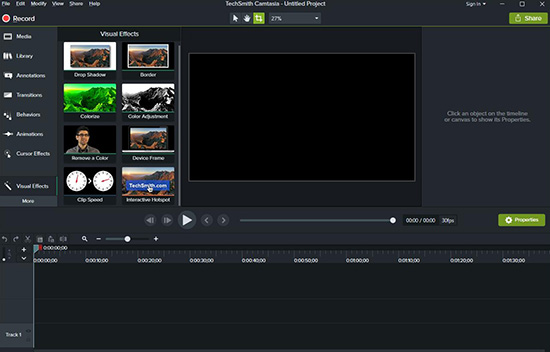 Pros:
Record screen and output to different format
It also supports webcam recording as well
The editing can be done frame by frame
Cons:
It is a highly expensive screen recording
The interface is not for beginners
FAQs about Screen and Audio Recording
It's hassle-free for you to capture screen video and audio based on your own preferences as well as needs. You can check out the following content if you still hesitate to pick up one tool from above list.
Q1. How to record screen and audio on Mac?
A: QuickTime is the a typical screen recorder on Mac to capture screen and microphone sound as long as you click on File → New Screen Recording and enable "Internal Microphone". However, it cannot capture system audio directly, which forces you to find other alternatives.
Q2. How to record screen and audio on Windows?
A: Windows comes with a pre-installed recording tool called Xbox Game Bar. You can go to your Windows Settings → Gaming → Xbox Game Bar to set up related options and shortcuts in advance. Then press "Windows + G" on your computer to run it. You can open sound settings and then press "Windows + Alt + R" to record screen with audio together.
Q3. Which app is best for screen and audio recording?
A: Indeed, nearly all operating systems, Windows, Mac, iOS and Android, have built-in screen recorders or recording features. Only when the tool you choose can meet your requirements in audio and screen recording, it can be "the best".
Conclusion:
Both free and paid tools help you a lot when it comes to the screen recording and they provide an effective way to get the work done. The work-related and the entertainment activities on the screen can be recorded with equal effectiveness and this also makes it possible for the users to overcome the minor issues. Any screen and audio recorder from above list is highly used currently due to the capability to record video and audio, save on common format and edit with useful tools.