In this era of video content, everyone seems to know how to edit video and audio. When it comes to video creating and post-processing software, I wonder what you guys commonly use since there is so much choices out there.
In my situation, there are two programs I've been using for a long time, VidiKit from Joyoshare Studio and UniConverter from Wondershare, which are trendy and popular as complete video toolkit with one-stop solutions. For many, they're similar and it is hard to decide which one would match your demands better. To help you make a quick decision, this article will try to explore the distinctions between Joyoshare VidiKit and Wondershare UniConverter. If you are in a rush, skip to the end, a comparison table is provided for your reference.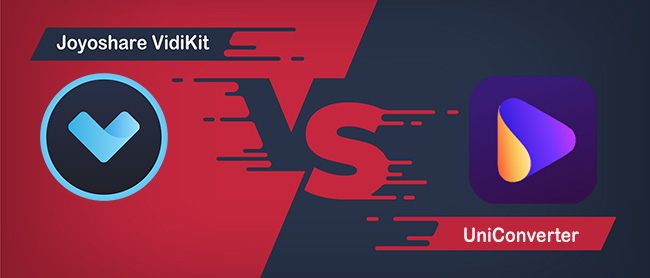 Part 1. Joyoshare VidiKit
Supported Formats

Joyoshare VidiKit is a hassle-free software that works on converting more than 150 formats without any lag such as MP4, MP3, M4A, HD MOV, ASF, etc. It's also replete with bunches of channels to convert your file into popular compatible web formats, like YouTube, Facebook, Vimeo, FLV, F4V, and SWF with a lightning speed of 60X. And over 100 presets for the current devices, like Android, iPhone, and Smart TV are supported here. For example, you can achieve the files flexible-exchange among your iPhone, Xbox 360, and Samsung technological TV, or any others in a matter of minutes.

Besides, you can convert all of your completed videos into a batch by clicking once only to save valuable time. Most importantly, you'll get 100% original video quality because of its powerful processor.

Pragmatic Features

As a multi-functional videos & audios toolkit, Joyoshare VidiKit offers the service of 4C in short, namely capturing, converting, cutting, and combining, along with video editing and compressing. Joyoshare VidiKit belongs to a no-nonsense out-of-the-box software, not only can you get the hang of every option promptly but you will find the work will be high-quality displayed in your editing trip. For a more bit, its repairing channels like video repair and watermark wizard must be strikingly surprised for you to discover. Among all the professional functions, the Video Cutter and the Screen Recorder matter the most.

Video Cutter:

When it comes to Video Cutting, Joyoshare VidiKit crops and trims videos into lossless and accurate segments. With an easy-to-use interface and one-stop control process, you will enjoy the video cutting trip.

Three steps to operate it: import, cut, and export. After your drag-and-drop or Add File icon click, the video will appear in the operating window. Then, to set the start & end time point, for one thing, you can control it in the toolbar, and here even a millisecond could be put into effect, or click your mouse to make the stop point for another. Finally, slews of targeted formats could be preset in the Format icon, like Devices, HD Video, Web Video, and General Video, and more.

Screen Recorder:

As for the Screen Recorder, you can import the sound from the computer or the microphone. Joyoshare helps in capturing video in 1080p or 4K at 60fps without length limited and watermark appended. Besides, its recording options will amaze you, such as schedule recording, highlight cursor, built-in audio capture, and more.
Part 2. Wondershare UniConverter
Supported Formats

UniConverter provides over 100 types of media formats like MP4, MOV, FLV, VOB, MKV, and AVI, etc., as well as the 4K & 3D. The latest version of UniConverter can speed up to 90X. Furthermore, you just need one click to get the batch completed.

Pragmatic Features

Wondershare UniConverter is an all-in-one video toolbox that offers the features of video convert, compress, record, combine, cut, download, CD & DVD burner, subtitle editor, VR converter, etc. More strikingly, the idea of "Smarter" is creative in the video converting industry, such as the Smarter Trimmer, which automatically crops and zooms your videos to save valuable time and make the editing process easier to carry out. However, all the functions are set side-by-side in the little complicated interface so that it's not user-friendly when you feel it hard to find the exact icons. The Video Converter and the Video Recorder must be displayed when it hits the road of functions.

Video Converter:

There're three steps to follow in the Video Converter: add or drag files into the process window, choose the export format, and make it convert. In addition to the commonly-seen export channels, UniConverter also has the way to web audio like TikTok, Amazon, and eBay.

Screen Recorder:

The Recorder includes the screen recorder, webcam recorder, and audio recorder. After selecting the recording window, you can also set the schedule, light cursor, and more. More importantly, UniConverter also supports the function of Webcam, which means you can record two cameras synchronously. But in the demo version, you have 1 minute to record.
Part 3. Program Installation and Performance
There is no doubt that a praised tool is easy to install and smooth to use. After make comparison between Joyoshare VidiKit and Wondershare UniConverter, I found an issue that you might care about. UniConverter requires more time to finish its whole installation process. It has a long progress bar that requires you to wait for completion. Besides, sometimes, nothing happens when you click on its icon on the desktop, and the program doesn't start immediately, only showing a small loaded circle. For VidiKit, program installation, launch and performance are stable, quick and high-effective.
Part 4. The Most Concerning Question: Pricing
Both of these two programs are not completely free, you can create and edit your files with free trial version but if you want to export the edited files without a watermark and other limitations, you have to pay for their premium plan. Wondershare UniConverter offers a relatively higher pricing plan compares to Joyoshare VidiKit.
Note that both of them have subscription plan. You can get VidiKit for $19.95 monthly, $39.95 yearly and $55.95 perpetually. As individuals, UniConverter is priced at $39.99 yearly, $55.99 for two years, and $79.99 for a lifetime. The price seems not unattractive for short-time users. Anyway, VidiKit is more cost-effective in comparison.
Part 5. VidiKit vs UniConverter: Main Differences
| | | |
| --- | --- | --- |
| | Joyoshare VidiKit | Wondershare UniConverter |
| Interface | Clean | Complicated |
| Upgrade-free | √ | √ |
| Cost-efficient | √ | × |
| Quick to Install | √ | × |
| Stable to Run | √ | × |
| Lossless Cutter | √ | √ |
| Downloader | × | √ |
| Video Converter | √ | √ |
| Video Repair | √ | × |
| Add and Remove Watermark | Videos and Photos | Only Videos |
| Video Compressor | √ | √ |
| Video Merger | √ | √ |
| DVD Burner | × | √ |
| 4K Recorder | √ | √ |
| Media Player | √ | √ |
| Webcam Recorder | × | √ |
| Screen and Audio Recorder | √ | √ |
| Built-in Editor | √ | √ |
Which one to choose?
Joyoshare VidiKit outperforms in the aspects of the easy-to-use interface, upgrade-free service, broken-video repairing, and attractive & reasonable price. Therefore, if those qualities satisfy your requirements, pick VidiKit up. The function of the smarter trimmer, downloader, DVD burner, and other built-in features not only polish up UniConverter into more technological software but help in saving your valuable time. And the Webcam makes the multi-angles of view in video recording come to realize. In those ways, UniConverter would be a good selection. However, it has slow installation process, dull program launch, hard learning curve and not so accepted price.