Are you attracted to Joyoshare VidiKit by its mighty toolkit to record, convert, cut, compress, repair, watermark and edit media files? If you're still running around looking for Joyoshare VidiKit cracked version, I guess you don't realize how risky it is. Well, stop and don't go any further. You should pay attention to what we are going to say here, learn whether it's legal to download an unlicensed program and check different ways to get free VidiKit without cracking.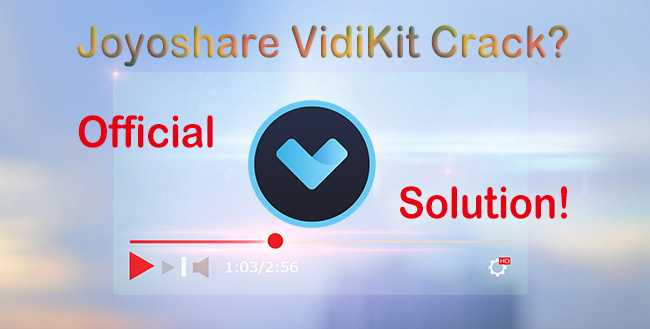 Part 1. How to Get Joyoshare VidiKit Free Download - Official Crack Way
Some people with financial burdens may prefer to use the cracked version of Joyoshare VidiKit. But in fact, you need to spend a lot of effort to find one that looks good and then install it with unknown potential risk. Why not directly resort to official website? You can put any of the following ways into practice, get the full version free download and unlock all features of this powerful video toolkit easily and securely.
1

Review VidiKit on Rating Platforms

This way actually can be your top priority considering its simple operation. Before you start looking for the cracked version, you must have utilized Joyoshare VidiKit in a free trial and have a comprehensive understanding of its overall functions. According to what you experienced, like product interface, stability, features, operation, output quality, compatibility and more, review VidiKit on any rating platform, such as Trustpilot and Sitejabber. Publish, screenshot and send it to our support team. You'll get a free license of 3 months easily.

2

Record and Publish a YouTube Video

Any YouTube creator who shows interest in recording and editing can get Joyoshare VidiKit free. As long as you know how to operate it or what it can do, you can make a 3-minute short tutorial and upload to YouTube platform so that more users can learn detailed information. After that, a free lifetime full license belongs to you.

3

Have a Post on Facebook or Twitter

You can post your own thoughts about this video toolbox on one social platform, Facebook or Twitter. Kindly let us know the best point you appreciate, where to improve and what not. Joyoshare will take these ideas into consideration and continue to update VidiKit to offer better service.

4

Join Special Events

To thank you for your support, Joyoshare will roll out different events from time to time, especially during holidays such as Black Friday, Christmas, to give out gifts. Usually, the form of participation is fairly simple. Hence, don't worry about it. There is no difficulty.

5

Write a Product Review

Some of you own and manage personal blog, website and forum, with which you can also write a product review from different aspects to give others a deep software analysis and reference about Joyoshare VidiKit.

Note: Every user who really likes VidiKit can learn more details to get free license.

Part 2. Risks of Cracked Joyoshare VidiKit

Although there are a lot of Joyoshare VidiKit crack versions available online from third-party platforms, is it really worth downloading and installing? What are the risks that come with it? If you haven't really thought about it, this is the right place to be.

1

Virus

The code of Joyoshare VidiKit crack is often tampered with to avoid license registration. This unoriginal and defective code is not actually tested many times by a professional development team. This makes it vulnerable to viruses and malware, which cannot be 100% isolated by firewalls or anti-virus software, causing long-term damage and unknown errors to your computer.

2

Bad Performance with Lags

There is no doubt that the performance of pirated Joyoshare VidiKit can be worse than an official version. The implementation of each feature may not be that perfect. Terribly, it could suddenly get stuck, or the program could crash, destroying everything you've done with your multimedia files. All of these bad situations will waste you much time.

3

Privacy Leak

The online channels to provide cracked versions are untrusted. It is impossible for them to obtain authoritative software certification. They are likely to trace and record your operations such as downloading and login. In addition, the program installed on the computer also has the potential to steal and reveal your personal privacy.

4

Illegal

All software is copyrighted. It's a crime to illegal modify and use software without official authorization. That's is to say, it's illegal for you to use cracked VidiKit without a license key.

5

No Tech Support

You can easily get into troubles with a cracked program. However, there is no technical support from official support team. You can't find a solution to fix your issue and has no way to report or feedback what happens on your computer. What you can do is give up current installed VidiKit and start looking for another unlicensed crack again? That's really a long way to go!

6

No Free Update

Apparently, Joyoshare VidiKit crack can only be used for a short time. However, the official one will provide continuous updates, offer more stunning new features and fix possible bugs, which are guaranteed.

Part 3. Cracked Version VS Licensed Version

You can make a comparison between copyrighted Joyoshare VidiKit and cracked one below to quickly know their differences:

| | | |
| --- | --- | --- |
| | Licensed VidiKit | Cracked VidiKit |
| Legal to use | √ | × |
| Secure to download | √ | × |
| Software stability | √ | × |
| Tech support | √ | × |
| Free update | √ | × |
| Privacy protection | √ | × |

Part 4. Get Official Copyrighted Joyoshare VidiKit with Coupon Code

The one who has a limited budget is entitled to get Joyoshare VidiKit from official website at a lower price. We offer a 20% discount below, which is available to both Windows and Mac platforms, for monthly plan, yearly plan and perpetual plan. Now, you can see how to apply it.

20% Off Coupon Code: MCED20ALCC

Step 1: Copy the 20% off coupon code "MCED20ALCC" here:
Step 2: Go to buy Joyoshare VidiKit for Windows or VidiKit for Mac in official website;
Step 3: Choose the plan you need and click on "BUY NOW" button to go on;
Step 4: In the new window, paste "MCED20ALCC" to "Coupon Code" and press on "Apply" to reduce price. It's all.

Conclusion:

To be sure, Joyoshare VidiKit crack is not recommended and not worth downloading, either in the short term or the long term. If you really want to take advantage of it to better manage and edit your multimedia files, you're suggested to actively participate in our official free activities, use coupon code, or join giveaway in the third-party websites we authorize.