In a world where multimedia is our ultimate source of entertainment, MP4 is the most used media as this format works for both video and audio. Among other forms, MP4 has proved to be the best one out there for its versatility and functionality. However, like every other normal program, the chances of MP4 crashing are also there. In this article, we shall look into the problem of failure of your MP4 file and provide you with the solutions to repair corrupt MP4 quickly and easily.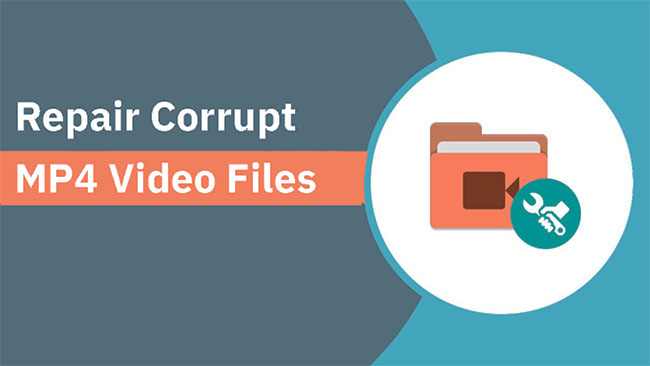 Solved: Why do MP4 Get Corrupted?
Sometimes your videos might get corrupted during recording, saving, downloading, and editing. There are many reasons for the cause of the corruption of MP4, and a few of them are listed here:
Contact with a virus-infected removable device can cause a virus in the hard drive
Sudden or improper shutdown or abrupt crash in the operating system while using MP4
Change in hexadecimal code causes trouble for the system to read the file, and hence it gets corrupted
An antivirus program on your device can affect your MP4 file
Disconnecting your device during data transfer
Unstable internet connection
Solution 1. Repair MP4 Video - Joyoshare VidiKit
Joyoshare VidiKit has an amazing success rate in repairing damaged files. It not only recovers and repairs corrupt videos but the audio as well. It is designed in such a way that it supports 25+ video and audio formats. This software is one of the best options to deal with corrupt MP4 file repair. It is a user-friendly software that can repair multiple videos at the same time. It retains the quality of video and audio after repairing it no matter to what extent your MP4 file is damaged. It offers a free trial version, but if you want to enjoy limitless features, you can go for their paid version.
Key Features of Joyoshare VidiKit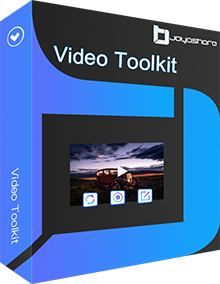 Fix unplayable, damaged, corrupted video files
Support video files from DJI, Nikon, Canon and more
Customize storage location as you want
Repair FLV, MP4, WAV, and multiple video and audio files
Built-in media player to preview video before saving files
Step 1

Launch Joyoshare VidiKit and Open Video Repair

To activate this powerful program, you can download Joyoshare VidiKit and double click the program icon on your computer. Select Repair – Video Repair to get the following window. Hit the Add button to add your corrupt files.

Step 2

Configure Settings

You can configure more settings by clicking the menu button and select Preference in the drop-down list. In the Advanced panel, you have the freedom to click Number of parallel tasks to change the number. You can also reset output location here.

Step 3

Start to Repair Corrupt MP4 Files

Press on the Repair button to start the process when you are ready. Select repaired files that you want to save and download them. You can preview them with its built-in media player in the History window before you saving your videos.
Solution 2. Fix Corrupt MP4 Files - Kernel Video Repair
Kernel Video Repair is one of the most popular file repair software that can retrieve and repair all kinds of data no matter what the size is. It allows you to repair multiple files simultaneously and also create multiple copies of the files you repaired. This software is great for beginners who have no knowledge of file repair. The free trial version of Kernel Video Repair allows you to repair your MP4 file for up to 30 seconds. However, if the free version does not fulfill your requirements, you can opt for their paid package.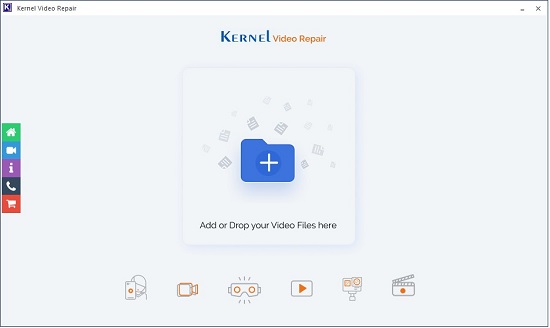 Step 1: Download and run this program. You can add your corrupt MP4 video files by pressing the + icon or dragging and dropping your files.
Step 2: Click Repair Files after adding MP4. Then, you can see a pop-up window, which allows you to choose storage location . Hit OK button once you have done it.
Step 3: Click the white Stop button to cancel the repair process. Your repaired files will be saved on your computer.
Solution 3. Repair MP4 Video File - VLC
VLC is your savior if you've run out of options to repair your corrupt MP4. Compatible with Windows, Apple, and Ubuntu operating systems, VLC not only works for your PC but is available for smartphones as well. The interactive interface of VLC works smoothly and seamlessly without any interruption or limitations. It supports all video formats and can easily repair corrupt MP4 file. If your file is corrupted, VLC will show you a text regarding repairing a corrupt file. Select "yes", and it will get the job done.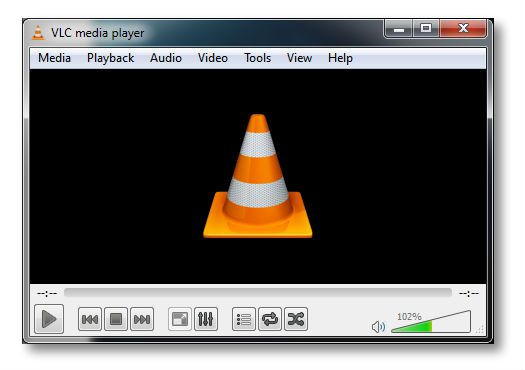 Step 1: Tap Media in the menu bar and select Convert/Save after operating this tool. To add MP4 files to your transcoding list, you can click plus-shaped icon.
Step 2: Hit Profile to select an input codec in the new pop-up window.
Step 3: It will start the repair process after you click the Start button.
Solution 4. Fix Corrupt MP4 - Fix.Video
Fix.Video can easily repair high-quality heavy professional videos if they are broken, corrupt, truncated, unreadable, and unplayable. Even if your MP4 file gets corrupted during recording, Fix.Video will fix it in no time without any hassle. Fix.Video offers a very intuitive interface. This free of cost software is available for Windows 7 and 10 and macOS X. It offers two kinds of data recoveries, Video Repair Tool and Memory Card Recovery.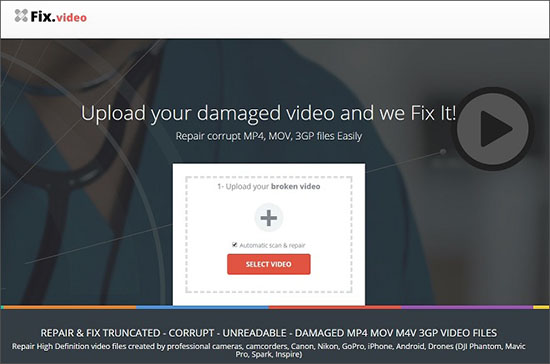 Step 1: Download it by heading to its official website. Use big plus button to choose your corrupt files.
Step 2: You can see the estimated necessary remaining time during the upload progress. Click Pause and Cancel button as you want. A new window will appear on your screen after the upload is finished. You can see the repair process now.
Step 3: You can see 4 screenshots and a small preview after the repair process.
Solution 5. Use Wondershare Repairit
Wondershare Repairit is one of the finest options to repair MP4 video. It claims to repair your corrupt and unplayable videos in one go. The advance features that it offers to make it different and better from other software. Enhanced Advance Repair option allows you to upload a sample file for your corrupt MP4 file. This amazing feature has gained a lot of success as it allows you to repair only a specific damaged part of your file. Another amazing feature that Wondershare Repairit offers is the full preview of your MP4 file.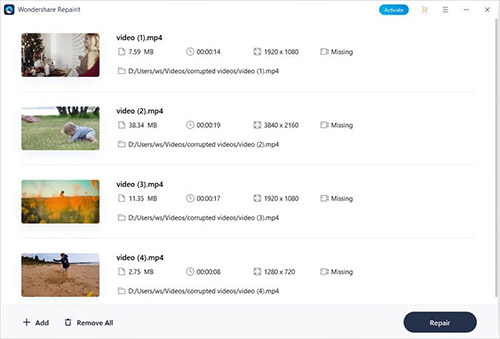 Step 1: Run Wondershare Repairit and add your files with browse option.
Step 2: You can click Repair button to begin the repair process after selecting the videos.
Step 3: Preview your repaired files to see if it is working.
Solution 6. Use Stellar Repair for Video
Stellar Repair for Video is another solution for how to fix a corrupt MP4 file. This software is compatible with Windows 10 and macOS Big Sur. It not only recovers your corrupt media but also fixes the problem of flickering, blurry or grainy videos. It has an "Advance Repair" option that lets you repair your MP4 file using "Sample File". The free version is limited to preview 20% of the video only, so it is preferable to go for the paid version to use the software without any limitations.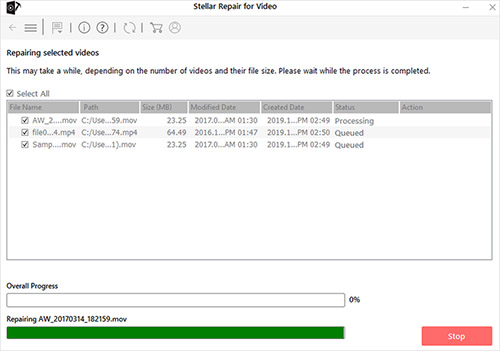 Step 1: Download this software and add your files by clicking Add File button.
Step 2: To start the repairing process, click the Repair button.
Step 3: Preview each repaired video before saving them by hitting Preview option and save videos.
Solution 7. How to Fix Corrupt MP4 - Online Converter
Online Converter is a royalty-free online video editing and repairing software. It provides simple basic features to get the job done. The maximum file size is 200MB, and you can repair your corrupt MP4 as per your reference video. It is a great option to opt for if you don't want to waste your time downloading the software as it is already available online. Therefore, it is much more convenient for the user.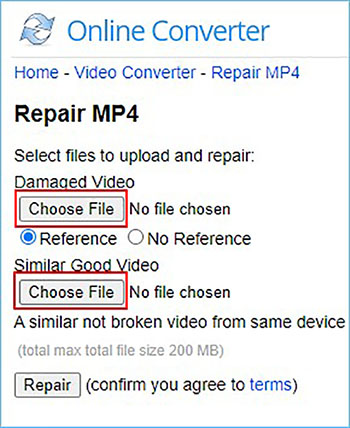 Step 1: Open this website and hit Choose File to add damaged video files.
Step 2: Upload your video files by clicking the Repair button.
Step 3: The website will show the repaired result after completing the upload.
Conclusion
We hope we have succeeded in providing you the most effective ways to repair corrupt MP4 file. Now you need not fret over your file corruption as you can easily recover it by following our article. If you want to repair your corrupt MP4 files quickly and easily, Joyoshare VidiKit is your best option, as it will show the reason if one of your files is failed to complete.