Needless to say, as a tool of communication, WhatsApp occupies a significant position in our daily life. It builds a bridge to let people closer. You as well consequently rely much on it. Almost of data files, like valuable documents, chat history, shared videos, and more, are tied to your WhatsApp account saved on your iPhone. What a disaster it would be if you delete or lost them one day accidentally. To avoid your being at a loss assuming such a terrible situation happening to you, we are going to show you how to recover deleted WhatsApp messages on your iPhone in 6 best ways as follows.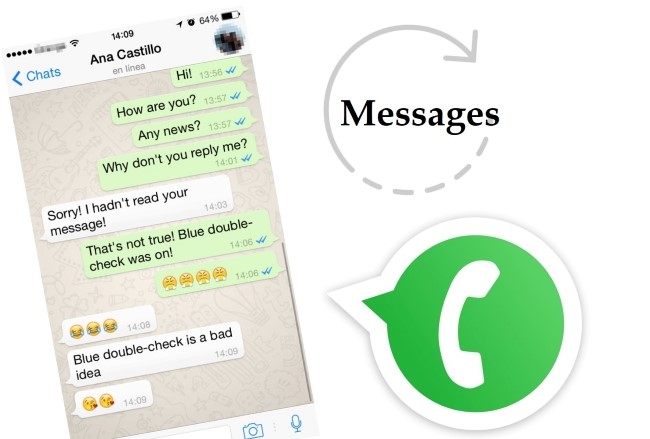 Part 1. Video Tutorial: How to Recover Deleted WhatsApp Messages on iPhone
Part 2. All-purpose WhatsApp Data Recovery Tool – Joyoshare iPhone Data Recovery
Joyoshare iPhone Data Recovery is a professional WhatsApp data recovery tool that performs as a medium to protect your data files from being overwritten and damaged during the data recovery process. Using it, there is no need to erase your data files or reinstall WhatsApp/iPhone. You are even entitled to preview all found files and selectively choose the designated one to recover.
This capable data recovery tool can work well in what it does, helping you recover deleted WhatsApp messages on your iPhone, or from iTunes and iCloud backup. Unlike other competitors, its real-time decryption & preview ability can analyze your data files at a fast speed without exporting all temporary files at a time to taking up much storage space. Best of all, you can recover any deleted or lost data from all possible data loss scenarios with a high success rate and an absolute safe guarantee.
Key Functions of Joyoshare iPhone Data Recovery: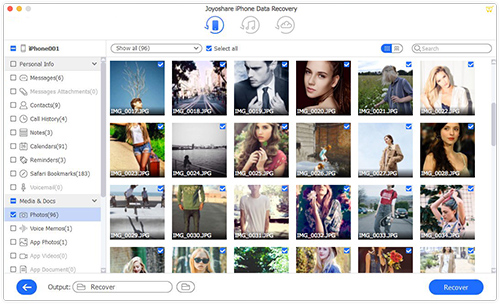 Start to enjoy the benefits of this amazing tool:
Mode 1. How to Recover Deleted WhatsApp Messages on iPhone Without Backup
It doesn't matter if you have no iTunes or iCloud backup files. Joyoshare iPhone Data Recovery offers you the possibility to find deleted WhatsApp messages directly from iPhone (from iPhone 13 to iPhone 4), iPad, and iPod touch with ease.
Step 1

Connect iPhone with Computer

To have a certain familiarity with Joyoshare iPhone Data Recovery, you'd better download and install it in advance. To get started, you should run it and connect your iPhone to your computer.

Step 2

Select File Type to Scan

Navigate to "Recover from iDevice" mode and checkboxes of "Messages & Attachments", "WhatsApp & Attachments" or other file types you think that are contained your deleted WhatsApp messages from the "Deleted Data from the Device" section. Continue to press the "Scan" button.

Step 3

Recover WhatsApp Messages on iPhone

After scanning data files, you will be led to see all definite messages and attachments. You can look through all contents from the left panel and tick desired WhatsApp messages you want to recover. Click the "Recover" button to save all of them locally.
Mode 2. How to Recover WhatsApp Messages from iTunes Backup
Supposing you have synced your iPhone data with iTunes regularly, your deleted files can be fetched from it as well. Now let's have a look at how to recover deleted WhatsApp messages on iPhone with iTunes backup.
Step 1

Choose Recovery Mode

This time, when Joyoshare iPhone Data Recovery is launched completely, you are supposed to go forward to the top menu bar and access the "Recover from iTunes" option.

Step 2

Start Scanning iTunes Backup

All iTunes backups will be presented in a list with detailed info attached, like the model, file size, backup data, etc. Choose the one you want and click the "Scan" button.

Step 3

Retrieve Deleted WhatsApp Messages

Once the scanning task comes to end, you can preview the found data files to figure out whichever you prepare to choose for further retrieval. Confirm your selection and hit "Recover" in the lower right corner.
Mode 3. How to Recover Deleted WhatsApp Messages from iCloud Backup
Similarly, you have a chance to extract iCloud backup files to find your deleted WhatsApp messages. Compared to directly iCloud recovery from iPhone, this solution is relatively more reliable with a 100% safe guarantee.
Step 1

Select Recovery Type

Simply open Joyoshare iPhone Data Recovery and head to the option "Recover from iCloud". Use your iCloud ID and password to sign in to your account. No worries; your private info will not be recorded.

Step 2

Download and Scan iCloud Backup

No sooner than you successfully log into your iCloud account, a list of iCloud backups will be displayed. Select the one you need and click the "Download" icon. Wait for a short time and press "Scan" until the downloading process ends.

Step 3

Retrieve Deleted WhatsApp Messages

It's time to go through all scanned data files and preview them one by one. Tick the messages you delete before and click "Recover" to initiate a recovery assignment.
Part 3. How to Recover Deleted Messages from WhatsApp Backup
Actually, WhatsApp cannot give you a hand to recover your deleted messages as it will not save your daily data on its servers. In spite of this, you can back up your WhatsApp chat history and media to iCloud by setting up chat backup via its settings.
Step 1. First of all, you should guarantee that you have backed up your WhatsApp messages in iCloud and turned on the "Auto Backup" option in "Chat Backup" before. To verify and check it, go ahead to "WhatsApp" → "Settings" → "Chats" → "Chat Backup".
Step 2. On the condition that you have backups in iCloud, you can uninstall WhatsApp and reinstall it from the App store. Having finished phone number verification, a notice will be shown, asking you to restore chat history. Do it so that you can availably retrieve deleted WhatsApp messages on your iPhone.
Note: By using this approach, you have to delete and reinstall your WhatsApp. At the same time, it's virtually a bit time-consuming to download and restore all backup files at a time. You might also get some recent WhatsApp messages lost in the process of recovering backup.
Part 4. How to Recover a Deleted WhatsApp Message on iPhone in Apple's Ways
Way 1. How to Recover Deleted Messages on iPhone WhatsApp from iTunes
In case you've backed up your data with iTunes, either manually or automatically, your WhatsApp messages suppose to store in the iTunes backup file as well. To get back your deleted WhatsApp messages through Apple's iTunes, follow the steps below:
Step 1. Connect your iPhone to the Mac or computer where you have your backup.
Step 2. Run iTunes and click on Files → Devices → Restore Backup orderly.
Step 3. Click on Restore after you have verified the size and date of each backup.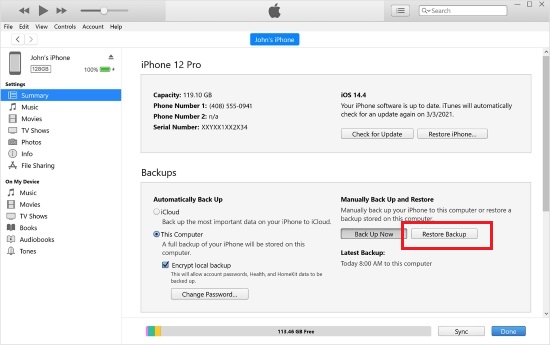 Way 2. How to Recover Deleted Messages on iPhone WhatsApp from iCloud
Apart from WhatsApp chat history backup recovery, another feasible local support in iPhone is to reformat your entire iPhone and then reinstate deleted WhatsApp messages from iCloud backup if you regularly sync your data files previously.
Step 1. Go for "Settings" → "General" → "Reset" → "Erase All Content and Settings". Afterwards, it's required to enter your Apple ID and password. Next, all data and media will be deleted and all settings will be reset when you click "Erase iPhone".

Step 2. According to the operating guide reinstall your iPhone until you reach the "Apps & Data" interface. Tap on "Restore from iCloud Backup" and sign in to your iCloud account.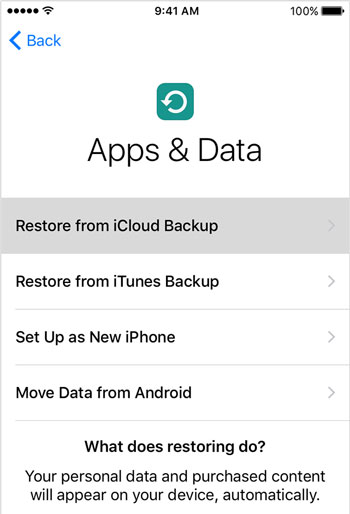 Step 3. A list of iCloud backups will be displayed in your sight. Choose whichever you need to recover and after a while, the specific backup can be downloaded.
Step 4. All restored data files will keep updated and saved in the background. You can access your iPhone and connect to the Internet. Access your WhatsApp to wait for all messages including the deleted ones to come back.
Note: Keep in mind that this way is risky and you ought to erase all content and settings on your iPhone. It gives no preview entrance for you before downloading and recovering data. Meanwhile, you have no right to selectively confirm your WhatsApp messages for later recovery. The most important thing is that you're likely to lose other key info and data in your iPhone.
Part 5. The Bottom Line
This guide shows you the process of how to recover deleted WhatsApp messages on iPhone. Backing up the data at regular intervals at the beginning has proved more effective than trying to recover it later on. It makes data recovery much easier and faster as well. But it's okay if you don't back up in advance. Compare with other ways, Joyoshare iPhone Data Recovery offers 3 modes for you to finish the repair process with or without backup in simple steps. For any questions, you can also reach out to us in the Comments section with details of your issues, and we'll do our best to help you.