Hyper-connected technology has enabled us to expect that any message that we send or receive can be accessed at any time, anywhere. But the fact is that there are greater chances of missing of SMSs from iPhone and any touch devices for that matter. For example, the screen lock used every day is likely to become a roadblock.
You probably will set a passcode on your iPhone to protect your personal information. However, if your passcode is too complicated to remember, then chances are that you could forget your passcode or enter the wrong passcodes too many times. Nothing is more depressing than that. How to get text messages off a locked iPhone becomes an emergency because there are so many memorable and precious messages that you can never lose them. This article will teach you how to recover text messages from disabled iPhone with ease.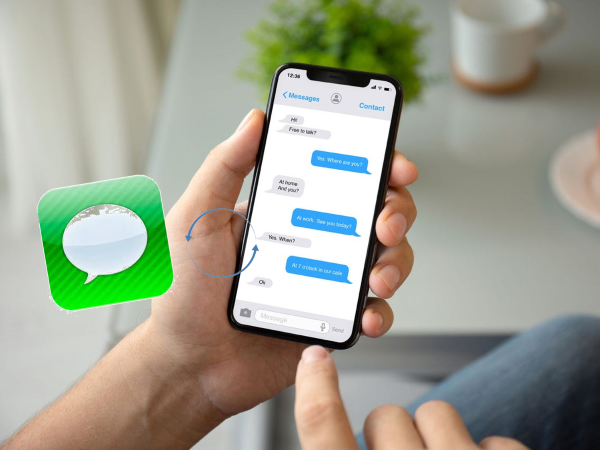 Part 1. How to Unlock Locked/Disabled iPhone
You can ask Apple Support for assistance in unlocking your iPhone. In summary, there are mainly two ways to unlock your iPhone. One way is that you have to erase your phone. At that time, your data and settings and passcode alike will be wiped out. The other solution is to restore your data and settings having backup your iPhone. You can go to Apple Support for further details.
Part 2. Let Joyoshare Pick up the Pieces [Effective & Efficient]
Although Apple has stated that users can restore lost data with the help of iCloud and iTunes backups, it is possible that restoring data from a backup may not be the best or most effective solution. When you restore from a backup, your whole backup will be erased. The process will be tedious if the backup files are too large and may cause unexpected interruptions and errors, which may cause further data loss. It's even worse when you forget your password and you are unable to open the lock.
In a word, for recovering text messages from locked iPhone, Apple is considered to have hearts but lack the strengths. Therefore, here highly recommends Joyoshare iPhone Data Recovery to help you get out of trouble.
This well-regarded data recovery tool is able to save your data from various scenarios such as iPhone locked or disabled, iOS update failure, factory reset, virus attack, accidental deletion, device damage, system crash, etc. with the highest success rate. More than recovering lost text messages from iPhone, it also supports no less than 20 data files from iPhone, iPad, and iPod Touch, including videos, all Safari bookmarks, contacts, notes, reminders, App's attachments, etc.
Besides, you are allowed to preview scanned results and choose your wanted data before performing recovery. Read on and be familiar with how to use this application to help you recover text messages from a disabled iPhone.
Key Features of Joyoshare iPhone Data Recovery:
Selectively scanning
Preview scanned files
Support the latest iOS version
Export restored data to computer
Recover data from locked/disabled iPhone quickly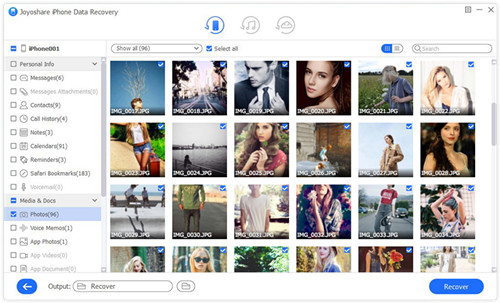 Mode 1. Recover Text Messages from Locked iPhone Without Backup
Step 1

Connect iPhone and Run Joyoshare iPhone Data Recovery

First and foremost, you need to use a suitable USB cable to connect your iPhone to the computer. Launch this program and click the first icon Recover from iDevice at the top of the screen. Your iPhone will be detected automatically within a few seconds.

Step 2

Select Messages & Attachments and Scan

When connecting is successful, your device info will be displayed in detail. Now you can select the data files you desire. Click the Scan button and wait for a while till the process is completed.

Step 3

Preview Messages and Extract Text Messages from a Locked iPhone

In this process, you will find that all deleted and existing data in your iPhone have been displayed in the category on the left side of the screen. Now you are allowed to choose "Only show the deleted" or "Only show the existing" in the "Show all" box to select your needed data, which are text messages in this case. Then you can click Recover to activate the recovery process.

Note: This method can only be applied to the situation that you have trusted your computer before. If it is your first time connecting your iPhone to your computer, this program will unable to extract data from your iPhone without entering your passcode. However, there is no need to worry because you are still able to get your text messages back from iTunes and iCloud backup.
Mode 2. Recover Lost Text Messages from iTunes Backup
If you have backed up your text messages before, you can also choose to recover from iTunes backup with Joyoshare iPhone Data Recovery.
Step 1

Launch Program and Start iTunes Recovery Mode

Open Joyoshare iPhone Data Recovery for your Windows or Mac. Hit Recover from iTunes, the middle button, at the top of the screen to begin.

Step 2

Choose Missing Text Messages and Scan

Once you have chosen to recover from iTunes backup, all your pre-loaded backups will be displayed in a list on the screen. Of course, choosing backup data from a designated location is also available by clicking the "+" button at the right corner of the screen. Next, select data types by clicking the Setting button and then go direct to Scan.

Step 3

Preview Texts and Retrieve Text Messages from Locked iPhone

When the scanning process has been completed, you can preview and choose missing files on the left side of the screen. Choose your needed data. Press Recover. Finally, your lost data will be restored quickly.
Mode 3. Retrieve Missing Text Messages from iCloud Backup
Step 1

Run Program and Log in iCloud

Another way to get back your text messages is to choose to recover from iCloud backup. Remember to download and run the application in advance. For this part, you need to click the Recover from the iCloud button. Prepare to log in to your iCloud account.

Step 2

Select Messages and Scan

With a successful login, your iCloud backups will be displayed in a list on the screen. Choose one of them (of which the latest one is suggested) to download, and then go forward to click the gear icon to select your data types. After that, you need to click Scan to extract your backup files.

Step 3

Choose Lost Text Messages to Recover

Preview the listed scanned files and find Messages. Press Recover so that your data can be retrieved from iCloud backup.
Follow the steps mentioned above to figure out how to retrieve text messages from a locked iPhone effortlessly. When the recovery process is finished, you are able to save your restored data to your computer.
Part 3. How to Back up with iTunes/iCloud
Now you can see how significant it is to back up your iPhone data in advance to recover lost text messages. We could come across many problems when using our phones in our daily life. Backing up your phone at regular intervals protects you from an everlasting loss of important data.
To back up with iTunes, you need to first open it on PC and then connect your iPhone. After that, a tiny phone icon will appear in the upper left corner on the iTunes windows. Click the icon to find the Summary temp, and then remember to press "This computer" in the Backup series. Choose "Back Up Now" and you will see a progress bar at the top of the iTunes screen. Wait for a moment and your backup process will be finished.
Similarly, to back up your iPhone with iCloud, you can go to the Settings app on your iPhone and click your iCloud account at the top. Then you are allowed to select the "iCloud" option. Try to find "iCloud Backup". Click on it and touch the "Back Up Now" button to start your backup process.
Part 4. Final Words
When you need to reply to an urgent message, the locked or disabled iPhone can be a nightmare. But, don't worry! A few things you need to implement to recover text messages from a locked or disabled iPhone are listed above. We've clearly described how to perform Joyoshare iPhone Data Recovery to retrieve them soon. If you need further quality assistance at your fingertips, text on the given Comment box.