Millions of people around the world use WeChat to communicate with each other. The app's contact list is very useful as, without it, you wouldn't be able to communicate with anyone else. Unfortunately, several times the user makes a mistake and accidentally deletes important contacts from the WeChat app. Also, you don't recall the number of the users except for one or two. If deleted, does that mean they are forever gone? Things can't be that bad. The iPhone users are lucky that those contact can be recovered, but how? So, in this blog, I will cover how to recover deleted WeChat contact on iPhone in a quick way.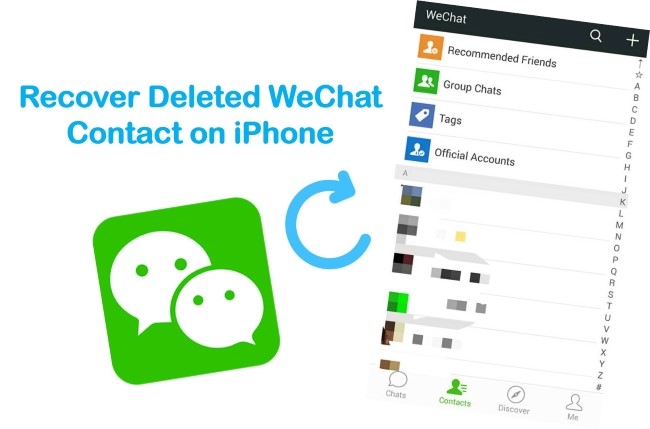 Part 1. Use Quicker-Than-Typical Tool – Joyoshare iPhone Data Recovery [100% Effective]
Joyoshare iPhone Data Recovery integrates three recovery modes, so users can choose the right method for their data recovery according to their needs. Here we highlight the feature that this program can recover and back up more than 20 iOS data types, such as notes, photos, videos, reminders, calendars, call history, Safari bookmarks, etc. It gives you a preview of all deleted data and gets them back selectively. This nifty recovery program will not replace and affect previous backups.
Key Functions of Joyoshare iPhone Data Recovery:
Recovering deleted WeChat messages on iPhone
Restore 20+ kinds of data from different data loss scenarios
Preview data in real-time and retrieve items selectively
Quickly scan and recover data under 3 flexible recovery modes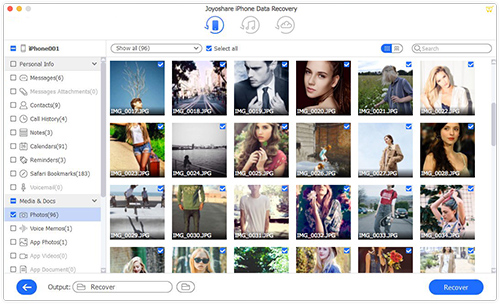 Below we will walk you through the process of actually recovering deleted WeChat contact on iPhone.
Mode 1. Recover Deleted WeChat Contact Directly from iPhone
Step 1

Run Joyoshare iPhone Data Recovery

Firstly, download and install the program on your computer. Run it and connect your iPhone to the computer with a USB cable under "Recover from iDevice" mode. "Trust" the computer on your iDevice.

Step 2

Select "Contact" to Scan

When Joyoshare iPhone Data Recovery detects and recognizes your iOS device, it will show you both device information and supported data types. By default, it scans all checked data files; however, you can only scan certain data types by clicking the "Scan" button at the right bottom of the window.

Step 3

Preview and Start to Recover

Then, Joyoshare will show you all the data which can be recovered. Each result can be previewed one by one, and you can choose what you need to select after carefully inspecting them. Once you click "Recover" all backed-up WeChat contacts will be saved and backed up to your computer's local folder.
Mode 2. Recover Deleted WeChat Contact on iPhone from iTunes
If your iPhone is regularly backed up with the iTunes app, you can now manually restore your deleted recovered WeChat contact from your iTunes backup file. Joyoshare iPhone Data Recovery never overwrites your exiting contact during the recovery process.
Step 1

Open Joyoshare and Choose Mode

Run Joyoshare iPhone Data Recovery on the desktop computer. On the top menu bar, click on the "Recover from iTunes" mode.

Step 2

Extract iTunes Backup

After all your iTunes backup files have been listed, choose the iTunes backup file that might contain your missing WeChat contact. Hit the Gear icon on the right side and select "Contact" for scanning. To enable Joyoshare to begin extracting them from iTunes backups, click the "Scan" button.

Step 3

Recover Deleted WeChat Contacts with iTunes

Once the scanning has been completed, you can preview and select each contact item individually or all of them at once. The "Recover" button helps you to export them to your computer.
Mode 3. Recover Deleted WeChat Contact on iPhone from iCloud
If you have the backup of iCloud predate the deletion, it can also be used to recover deleted contacts. Now you can recover those deleted or lost contacts using this easy step-by-step guide.
Step 1

Sign in iCloud Account

Open Joyoshare and switch to the third recovery mode – "Recover from iCloud". Enter Apple ID and passcode to log into your iCloud.

Step 2

Extract iCloud Backup

You can view all your iCloud backups after logging into iCloud successfully. Click on the backup you would like to download. Upon completion of the download, click on "Contact" and the "Scan" button.

Step 3

Recover Deleted WeChat Contact on iPhone

You will have the scanning done within a minute. Following that, you can preview your recoverable data and choose the one you want to restore. To begin the recovery, click the "Recover" button, and then your WeChat contact will appear in your computer's local folder.
Part 2. Get Back Contacts by Phone Number or WeChat Suggest Contacts
Your iPhone contacts are also used for WeChat; it will recognize them and suggest some WeChat contacts for you to add to WeChat again. Even those contacts suggestions made by WeChat are based on accounts on other social media. WeChat IDs can also be searched by phone number in the search tab due to their registration with phone numbers. So this is another useful way to recover deleted WeChat contact on iPhone.
However, the limitations of this approach are also apparent. Since some of your friends didn't use phone numbers to make WeChat IDs, you will not be able to get all of their IDs this way.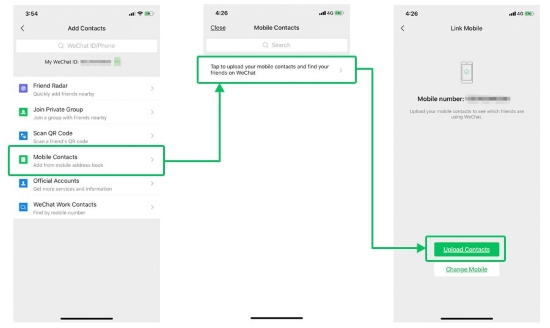 Part 3. Restore Deleted WeChat Contacts from Apple iTunes Backup
You can easily retrieve your contacts if you have backed them up on iTunes. If you are an iPhone user, this is a good choice. Here's how you can get your deleted WeChat contacts back on your iPhone by following the steps below.
Step 1. Run iTunes on PC and connect your phone with a USB cable.
Step 2. The second step is choosing your iPhone when iTunes appears and clicking on "Restore Backup".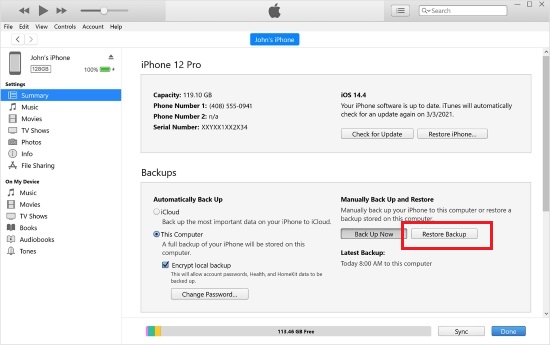 Step 3. Select the appropriate backup and tap on the "Restore" option. The process will take a while to complete, but all your contacts will be restored eventually.
Part 4. Recover Deleted WeChat Contact on iPhone from iCloud
Step 1. First and foremost, you must erase all your contents on your iPhone. To do that, go to Settings → General → Reset → Erase All Content and Settings. By doing this, you will be presented with the setup screen so you can access your iCloud backup.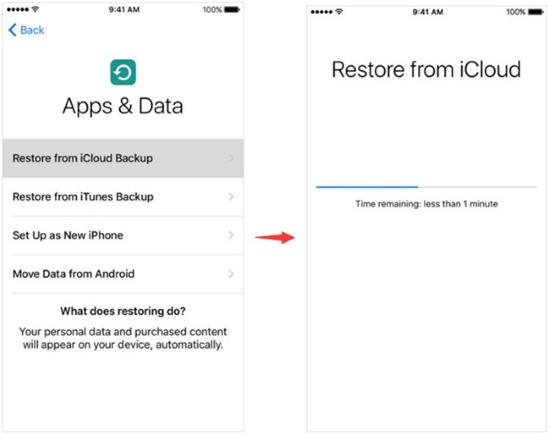 Step 2. Follow the onscreen setup instructions until you see App & Data Screen option. On the screen, you should see "Restore from iCloud Backup", Click on it.
Step 3. Now log in to your iCloud account and select the most relevant backup. Be patient and wait for the process to be completed.
Apple's Approach Is Not Ideal in Reality
First, it's true that in some cases, Apple's way works, but in other cases, it might not be feasible or advisable. There might be some unknown errors that prevent you from restoring your contacts via iTunes backup. What's worse, since backups tend to grow in size, the restoration process will take a long time. There will also be interruptions or crashes that will cause data loss during the process.
Second, although iTunes backup can be restored, it can only be restored as a whole. You cannot choose the specific content or type to restore using Apple's method.
Lastly, due to the unreadable backup format, iTunes cannot help you export WeChat contact to your computer if your device was lost, stolen, or damaged.
That is why we said Apple's method is not the best. Instead, using a recovery tool such as Joyoshare iPhone Data Recovery can prove indispensable.
Part 5. Conclusion
iPhone users often experience data loss, causing severe data loss in many cases. It's easier to recover all those contacts. If you have a backup, you can recover your data more completely. Even so, it is still many users do not have backups and they are unsure what to do. Don't feel blue! The article above should help you find every way to recover deleted WeChat contact on iPhone, regardless of whether you have a backup or not.
For more assistance with the full recovery process, take advantage of Joyoshare customer support services. They will resolve any doubts you may get while following the instructions.