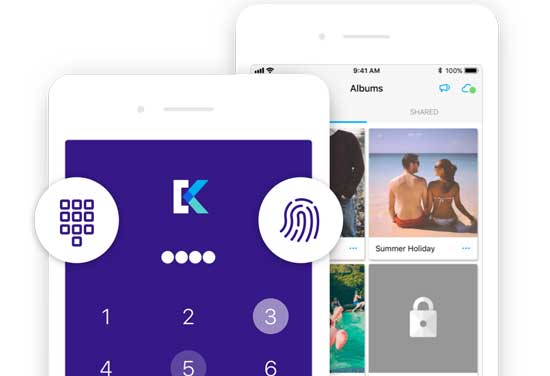 If you've ever used Keepsafe app, you know what it does. Actually, it is designed to help achieve privacy and secure freedom so that you no longer have to be afraid of important data being leaked. In other words, Keepsafe can keep your private data, photos included, on iPhone and Android, in a perfectly safe place by locking it. It has a sort of recycle bin for your deleted files, but how to recover deleted Keepsafe photos on iPhone if you emptied them? That's what we're going to show you today.
Part 1. Can Keepsafe Pictures Be Recovered?
Users often ask whether recovering deleted Keepsafe photos is possible after they deleted them. The Keepsafe app indeed offers the option of recovering deleted photos. Keepsafe app's premium and trial users can recover photos from the trash folder. Private cloud recovery will work so long as you have activated that feature on the device you are trying to recover content from.
Part 2. How to Recover Keepsafe Deleted Photos?
Option 1. Recovering Keepsafe Photos Through Albums
You are able to recover deleted photos from Keepsafe on your iPhone device if you are a Premium user who can benefit from photo recovery software. Under the circumstance where the Private Cloud function has been activated, your trash can be kept. Sounds good, doesn't it? Come and have a try now! But there are 3 prerequisites you need to consider before restoring photos from Keepsafe:
1. Before the deletion of photos, Private Cloud must have been enabled.
In some cases, however, this is not true, so enable this option anyway. It's possible that the erased photos were hidden and they will start uploading to the cloud, which will allow you to download them. Here are the steps for enabling Keepsafe cloud storage of up to 1,000 photos:
Step 1. Firstly, unlock the Keepsafe vault, tap on the main menu (three dots).
Step 2. Choose Settings → to scroll down and place a checkmark next to Private Cloud.
2. Keepsafe Trash must not have been emptied.
If you did, you cannot recover photos if you deleted Trash items since there is no backup. Follow method 2 below.
3. It is necessary to sign up for Keepsafe Premium.
Existing subscriptions/free trials also work. With it, you can always see what's in your trash but are unable to recover anything.
Here's how to recover deleted Keepsafe photos with Albums:
Step 1. Log in to the Keepsafe account and open Albums.
Step 2. You should see a trash can icon in the top-right icon.
Step 3. Recoverable items are indicated by a number in the icon.
Step 4. The deleted photos are displayed when you tap on the icon.
Step 5. Tap the Restore button in the upper left corner after selecting one or more of them.
Step 6. Make sure you are moving them to the correct album.
Step 7. The images are moved instantly if you're already using Keepsafe Premium.
Step 8. Your Keepsafe account will provide you with an upgrade if you are not.
Note: In case you fail to see the numbers in the Trash icon, you need to enable Wi-Fi or mobile data. Take a few minutes to ensure that whether they still exist, the deleted photos are uploaded. You may need to uninstall and reinstall Keepsafe. Recheck the Albums once again for an item in Trash. If still cannot recover deleted Keepsafe photos, apply the next solving tricks.
Option 2. Recovering Keepsafe Photos Through Albums [100% Effective]
Although the above method seems to work well, it can't deal with the loss of photos due to factory reset, system crash, iOS upgrade, and so on. If you want a foolproof solution, why not try Joyoshare iPhone Data Recovery here? This quick-witted tool can efficiently retrieve your deleted Keepsafe photos from situations such as virus attack, jailbreak, factory reset, mistaken deletion, etc. To make there a high success rate, Joyoshare iPhone Data Recovery gives three modes to recover from iPhone, iCloud, and iTunes backups.
Key Features of Joyoshare iCloud Backup Extractor:
Recover deleted photos from iPhone 11 even running iOS 15
Support preview photos to choose and recover in real-time
Convert HEIC to JPG according to your preferences
Output and save the recovered photos in CSV/HTML
Be adaptable to different photo loss scenarios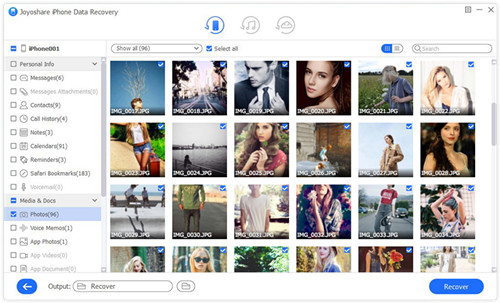 Before you start, you can download the official Joyoshare iPhone Data Recovery software directly on your computer. Have a quick installation and take the steps below:
Step 1

Connect iPhone to Computer

Launch the program of Joyoshare iPhone Data Recovery you have on your computer. You'll start with the default mode – Recover from iDevice. Next, follow the prompts to connect your iPhone. Note that you'll have to "Trust" the computer if it's the first time to build a device connection.

Step 2

Straightly Scan Photos on iPhone

Joyoshare program will soon show detailed device info on the left and the supported data types on the right after it detects iPhone. You can availably choose "Photos", "App Photos" and more files you desire to process "Scan".

Step 3

Preview and Recover Deleted Keepsafe Photos

How long it takes to scan depends on the amount of data you have. After that, you can get access to preview both deleted and existing photos from your iPhone on the results page. Later, go on the way to choose whichever photos you'd like to get back, mark them and easily press on the top-corner "Recover" option to export to your computer.
Part 3. Tips for Keepsafe Recovery
Tip 1. How to Backup Photos on Keepsafe?
Start by opening the Keepsafe app on your iPhone. Navigate to the Settings and select the private Cloud button. Move the button near the Enable Backup option to turn on it.
Tip 2. Where Are Keepsafe Photos Stored?
Photos for Keepsafe are saved in the Keepsafe folder. Typically, it is located in mnt/sdcard, mnt/flash, storage/sdcard0, storage/emulate/0, etc. This folder is located at the root of your device.
Tip 3. How Do I Recover My Keepsafe Account?
Your current verified email address should appear in the Keepsafe app once it is opened. A four-letter access code will be sent to your email box. You will be taken to your Keepsafe gallery after you enter the 4-letter code into the Keepsafe app.
Part 4. Final Words
The abovementioned how to recover deleted Keepsafe photos on iPhone might have helped you out. Joyoshare will increase your chances of recovering your Keepsafe photos. It means you will be able to retrieve a more comprehensive collection of photos. So, it is wise to regularly back up your iPhone if you want to restore it with lossless. We did our best to help you with a simple fix for the problem. If you face any errors while using Joyoshare, feel free to leave your comment or any ideas.