Q: "How to record in WoT? I seem not to be able to record any battle. Can anyone tell me how?" - From World of Tanks Official Forum
Most of us know that World of Tanks (WoT) is a classic multiplayer online game that's very popular on game consoles, mobile phones and computers. Reasonably, when many players are immersed in the fierce battle of the game and have quite a wonderful performance, recording and sharing it on social platforms is a fulfilling thing for them. But do you really know how to record World of Tanks? Don't miss all ways in this article.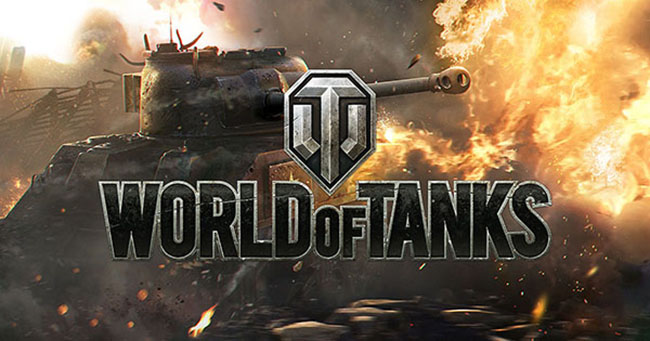 1. How to Record World of Tanks Gameplay - Default Battle Recording
Every war you participate in World of Tanks can be recorded to review later. But in fact, not only newbies, users who have played this game for a long time don't know this most direct method to record battles, let alone tried it personally. That's why we are here to show it.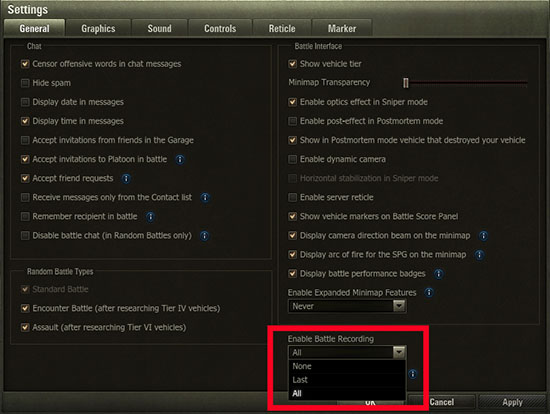 Step 1: Find the in-game Settings menu of World of Tanks and go for the "General" tab.
Step 2: Click "Enable Battle Recording" option in the bottom right corner, select "All" (or "Last" to only keep a record for the most recent battle) and confirm with "Apply".
Step 3: Now after a battle, you can close your game client and check the game client folder: C:\Games\World_of_Tanks here to see all recordings under "Replays".
Please note that sometimes your battle recordings with .wotreplay extension may fail to open on your Windows. In this case, you are supposed to check "Select a program from a list of installed programs" in the pop-up prompt window. Designate one program and go to "Browse..." to find "WorldOfTanks" file in the same game client folder. Simply click on "Open" - "Open with..." - "OK".
How to share gameplay?
If you want to share your gameplay, just navigate to its website, called wotreplays.com. Then, log in to this site. On the top of the screen, find and click "my links" tab and locate all your replays. Click on the upload replay option and select the replay that you want to share from your device. If you want to change title and input description, just move your mouse to the appropriate box. Click the upload button to proceed. To share replay with your friend, simply send the links by email.
2. How to Record World of Tanks Gameplay - Joyoshare VidiKit
Joyoshare VidiKit - Screen Recorder is a worthy World of Tanks game recorder here. Adopted with professional screen capturing technology, it's able to smoothly record the whole game process in high quality with a frame rate of up to 60 fps. What's better, there are many available options it offers to improve the recording experience, so you can customize the capturing area of your gameplay, grab microphone voice or system sound, create special image watermark, highlight the clicks, etc. All finished gameplay recordings can be saved to not only common formats but also device-compatible ones, like MP4, MKV, AVI, FLV, YouTube, Vimeo, PSP, Xbox 360, Nintendo Wii, etc.
Key Features of Joyoshare VidiKit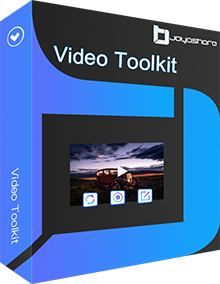 Make screencasts on computer with no time limit
Record World of Warships, WoT, PUBG and more gameplays
Specify frame rate, resolution, quality, codec, sample rate, etc.
Enable both system audio and microphone audio to capture
Trim out needless clips from gameplay and cut into small parts
Step 1

Open WoT screen recorder

Get the latest version of Joyoshare VidiKit from its official website and quickly finish installation. Run it on your computer by clicking Record - Screen Recorder and then confirm you're under "Record video and audio" mode next to the blue REC button. Click to turn on "System Audio" or "Microphone Audio" according to your actual needs.

Step 2

Enable more settings

In order to expand all the settings in this program, you need to click on the gear icon in the lower right corner. You can now decide where to save records and which format to choose. Also, it's practical for you to preset shortcuts, show cursor, adjust parameters or schedule a task.

Step 3

Start to record World of Tanks

Launch World of Tanks on your desktop and tap on the "Select Area" option under Capture Area in Joyoshare VidiKit. You can adjust the recording region to match your gameplay window. Next, simply click on the "REC" icon to begin recording. Once it starts, a recording menu bar will be shown, with which you can cut the game video into small recordings and skip any content you dislike.

Step 4

Save and edit WoT game video

You can Stop the recording until your game of World of Tanks comes to end. After that, a pop-up History window will appear. You are allowed to preview the complete video and trim it to only save whatever you satisfy.
3. How to Record WoT - Apowersoft Free Online Screen Recorder
Don't you want to install the program on your computer? Then this web-site tool, Apowersoft Free Online Screen Recorder, is just right for you, to record game video from World of Tanks with no restriction on recording time length.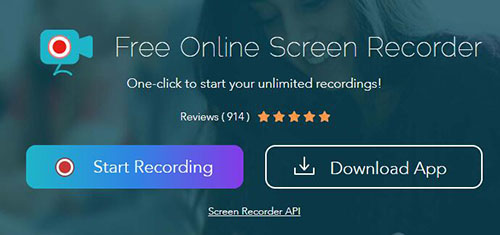 Step 1: Navigate to the webpage of Apowersoft Free Online Screen Recorder;
Step 2: Click "Start Recording" to open Apowersoft Online Launch;
Step 3: Now run World of Tanks and select whether to capture audio under "Audio Input" tab;
Step 4: Choose screen area to record by using Record tab;
Step 5: Press "Stop" to save World of Tanks game video and use Play button to check it.
Q&A about World of Tanks
Q1. Where can I find my WoT replays?
Actually, it is very easy for you to find your WoT replays, all you need to do is navigate to the default location: C:\Games\World_of_Tanks\Replays.
Q2. How do you upload a World of Tanks replay?
For uploading a Word of Tanks replay, you can follow the content of part 1 in this post. Namely, navigate to the website, choose my links - upload replay, select your replay and click the upload button.
Q3. How to save WoT replay?
Your replay will be saved automatically in default folder or your specified folder when you finish the recording with its inbuilt recording function.
Q4. Is World of Tanks a good game?
Yes. As one of the most active MMOs, it is still one of the most popular gameplays.
Q5. Is World of Tanks online only?
Except some of offline training missions and limited opportunities to play with/against A.I., this game is available for online only.
Q6. Is World of Tanks free to play?
Yes, you can access this online gameplay for free, no matter you are a novice or a professional.
Conclusion
To sum up, now, you know how to record World of Tanks online and offline within a few steps as we provide 3 solutions for your reference. Please note that the replays recorded by inbuilt recording function can only be played in the matched game version, which means that a replay from 6.9 version can only be played in a 6.9 client. So, if you want to save the recording beyond the client, you should choose to screen record it by using a third-party HD gameplay recorder.