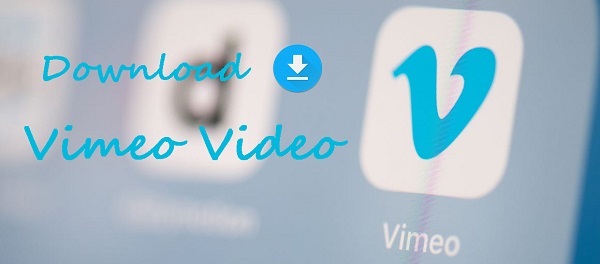 Upload and host. Collaborate and share. There are a handful of strong reasons why you might host videos on Vimeo. Over the last decade, Vimeo has grown immensely in popularity, becoming home to some of the best short films you can watch online. People of all ages are able to communicate their creative ideas here. Certainly, knowing how to record and download Vimeo videos allows you to save some quite interesting or distinctive videos shared by others on Vimeo. Have no idea where to start? No worries. Read on and let's see how to get the hang of it in the fastest and easiest manner.
Part 1. How to Download Videos on Vimeo
Generally speaking, there is a well-designed download option provided for some videos in various video-sharing websites, and so does Vimeo. Once you play a video, a "Download" button will be displayed below the video if it is available to download. In this case, simply press it and choose the resolution, like Mobile SD, SD, HD 720p, UHD, Original, etc. from the pop-up window in the way you like.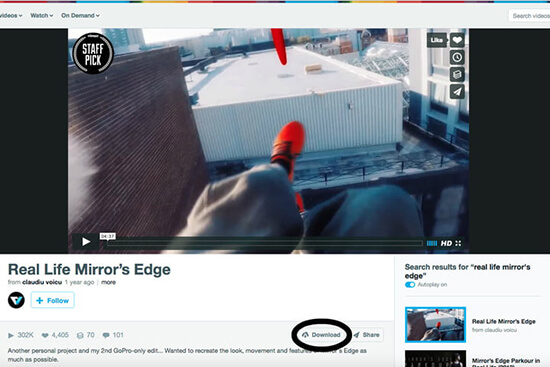 Note: Owing to different browser setup, some users perhaps find it not feasible to directly download Vimeo videos from the description section. Then you should right-click the download link and choose "Save link as" from the drop-down menu, which assists you to decide a storage location for the required video.
Part 2. How to Download Vimeo Videos - KeepDownloading
Nevertheless, don't be upset when a video is not authorized to download. You can adopt another easy yet surefire solution to get whatever you appreciate. That is to use an online Vimeo video downloader called KeepDownloading. KeepDownloading facilitates its users to download online videos from different sites, such as Dailymotion, Facebook, Liveleak, Twitter, Instagram, etc. All you need to do is to copy the URL of your preferred video and then paste it onto the website.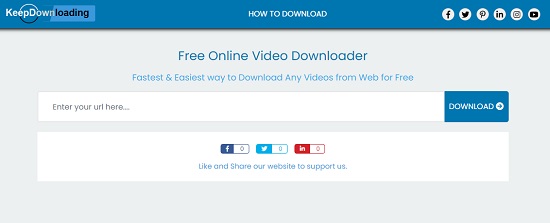 Step 1: Open KeepDownloading Vimeo video downloader;
Step 2: Copy the URL of you wanted Vimeo video and then paste it onto the box;
Step 3: Press the "Download" button and then you can see a few download options appearing below the title of your Vimeo video;
Step 4: Choose the one you want and click on it to open a preview window;
Step 5: Hover your cursor on the video and tap the button on the far right of the screen to press the "download" button to save your Vimeo video smoothly.
You must have noticed that streaming videos from Vimeo cannot be downloaded directly or by using an online Vimeo video downloader. Additionlly, the most common resolution available for download is SD, which is far from enough in many circumstances. Therefore, in order to solve this problem as well as to make your Vimeo video recording professional-looking and high-quality, a trustworthy video recorder will be introduced in the next part.
Part 3. How to Record Vimeo Videos - Joyoshare Screen Recorder
Here we highly recommend Joyoshare Screen Recorder for you to choose. It is capable of capturing any ongoing desktop video and audio activity on your computer. In addition to grab Vimeo videos, you can also take full advantage of it to make vivid tutorials, record audio from YouTube, capture streaming games, take screencasts, grab online radio, etc. in a flexible way.
Definitely, Joyoshare Screen Recorder has the edge over its opponents in that it comes with abundant recording settings. You can grab either system audio or microphone sound with switchable recording mode, select storage location, preset shortcuts, customize capturing area, schedule recording task, specify configuration info, add cursor effects, etc. Excellently, you are even empowered to skip any unwanted sections, cut captured Vimeo video or take screenshots when the recording is underway.
Key Features of Joyoshare Screen Recorder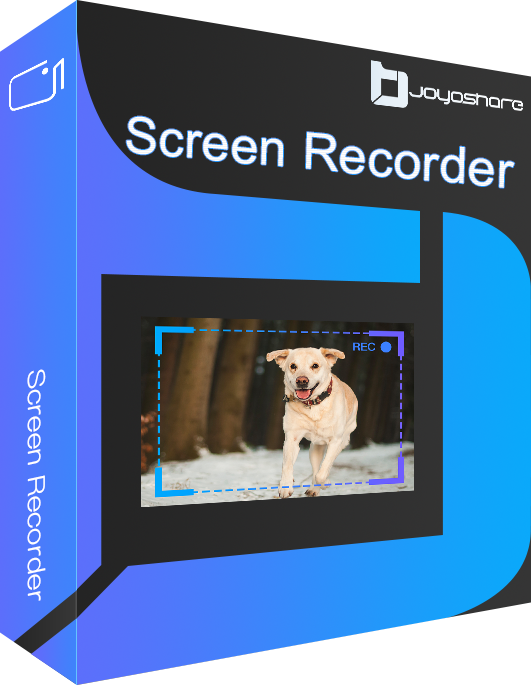 Grab Vimeo video with or without audio
Come with a well-arranged task scheduler
Download videos from Dailymotion, Twitch, Facebook, etc.
Support a wide range of output formats and mobile devices
Be able to capture video in personalized size or systematic ratio
Step 1

Launch Joyoshare Screen Recorder

As long as you have already equipped your computer with Joyoshare Screen Recorder, you can straightly run it on the desktop screen. Afterward, navigate to the right "REC" part and click the camera-like icon to switch recording mode to "Record video and audio".

Step 2

Set up recording options

Press the little gear icon on the lower-right corner of the main screen to unfold a new window, where you will be able to decide your storage location and output format for destination video. You are also capable of adjusting resolution, adding personal logo, applying cursor effects, etc. in a couple of clicks.

After that, you can go ahead to "Capture Area" on the main screen to personalize a recording region. Remember to confirm whether to grab system audio and microphone sound at the same time.

Step 3

Start to record Vimeo video

It's time to open the designated video in Vimeo and click the red "REC" button in Joyoshare to initiate a new recording assignment. After a 3-second countdown, the software will get down to capturing Vimeo video. When it is in progress, you have chance to cut recording by clicking the scissor-like icon, skip needless parts by hitting "Pause" button and stop recording by tapping the "Stop" button.

Step 4

Export Vimeo video

No sooner than the video recording comes to end, a "History" window will pop up, from which you can preview captured files one by one, delete useless ones, revise video name, or tap on "Search" icon to browse local results. If you have any questions, you can also visit the following guide video to learn how to download Vimeo video step by step.
Part 4. Download Vimeo Video to iPhone or Android
You can choose to download video from Vimeo to your smartphones so that you are able to watch them even without a Wi-Fi connection or a cell network. Steps are as follows.
Step 1: Open the seller's app after downloading on your iPhone or Android;
Step 2: Open the Vimeo video you want to download or sync within the app;
Step 3: Tap the "offline sync" button on your selected video to begin downloading the video to your device;
Step 4: Once the process is completed, you can watch the downloaded video by clicking the "Menu" button and then choosing "OFFLINE VIDEOS".
Part 5. Brief Information about Vimeo Record (Official Extension)
1

What is Vimeo Record?

Vimeo Record is a new officially released chrome extension. Different from Joyoshare Screen Recorder, which allows you to download and record videos shared by others on Vimeo, Vimeo Record focuses on enabling you to record screen during your video creation. In other words, you can use Vimeo Record to record your screen, voice, face or a combination, and every recorded video will be automatically uploaded to Vimeo.

You can use it to record company updates, product demo, feedback, etc. and once you're done recording, you will be able to immediately share it with a private link. The process of sharing your ideas will become much more efficient.

2

How to use Vimeo Record?

In the first place, click on the Vimeo logo in your Chrome browser extensions. Then connect your Vimeo account. After grant access to your microphone and camera, you will be able to tap the "Start recording" button to begin recording.
Conclusion
It is worth mentioning that the length of time it takes to download using the download option on Vimeo is dependent on a variety of factor, most likely the length of the video, data or Wi-Fi connection, etc. What's more, DRM impacts how long a video can remain available offline in the app without an internet connection, which means your downloading will expire. You can only view the downloaded video within the app. Therefore, if you want to save your wanted Vimeo videos to other devices or would like to keep them forever, you can use Joyoshare Screen Recorder to record and download Vimeo videos in a few simple steps.