Q:"How do I take a video without audio?"
Q:"Is there a way using the iPhone to record video without the audio? I would like to record the audio separately as a commentary to the video from a quiet place so I do not get all of the background noise."
Screen recording is ubiquitous in our life and work. Usually, we keep actors' voices when we record movies from streaming platforms, save music and sound effects when capturing game footages, or grab the teacher's narration from online classes for better playback. But sometimes, especially when you make your own videos or tutorials for uploading on YouTube, you might not want to distract the viewer with superfluous sound and noise, or just intend to create and add over-voice in post-processing. This is the reason why you prefer to record video without audio. If you're ever wondering how to get it done on your iPhone, Android or PC, read on to see what this article can offer.
Part 1. How to Record Video on iPhone without Audio
iMovie
Actually, you can handily mute a video on your iPhone using Apple's free video editor - iMovie. This can be done without difficulty by yourself. Just follow the steps below: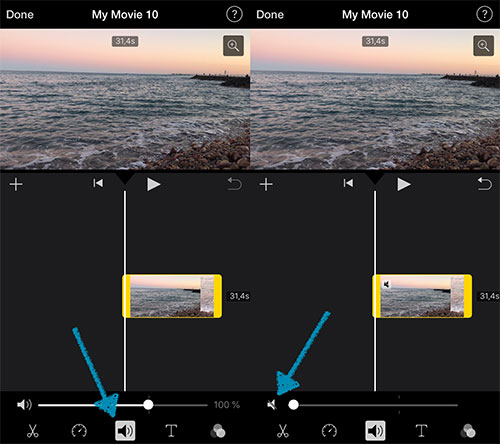 Step 1: Run iMovie app on your iPhone and "Continue" to go when you see its Welcome screen;
Step 2: Under "Projects", tap on the "+" sign > New Project > Movie;
Step 3: Select a video to add to your new project;
Step 4: Press on the video clip in iMovie in its timeline;
Step 5: Now click on the audio button to slide it to the left until you can see a mute symbol;
Step 6: Finish your video editing process with "Done" and decide how to save it using "Share" option.
Camera Plus Pro
Camera Plus Pro is one of the most popular camera and photo editor for iPhone. It can capture, record and edit videos in 480p and HD. Just get it started with $0.99 and you can effortlessly get a recorded video on iPhone without sound included here: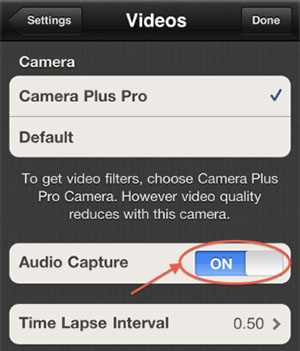 Step 1: Download, install and run Camera Plus Pro from App Store;
Step 2: When Main camera preview is shown in your sight, you can hit "Options" - "Settings" - "Videos" - "Audio Capture";
Step 3: Set "Audio Capture" in off status, click Done to confirm it, and start your recording on iPhone.
Part 2. How to Record Video without Audio on Android
Currently, most of Android devices come with default screen recording feature, which however, captures system audio directly and only offer option to disable external sound. That's why you need to resort to another tool, such as Secret Video Recorder, if you'd like to know how to record video without sound on Android.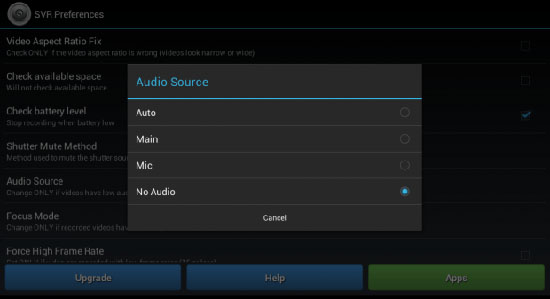 Step 1: Equip your Android with Secret Video Recorder;
Step 2: You can see "SVR" and "SVR Preferences" on the screen after program is installed successfully;
Step 3: Now tap on "SVR Preferences" - "Audio Source" - "No Audio" to set sound setting;
Step 4: Go back to your Android screen and click on "SVR" to start recording your desired content into video without audio.
Part 3. Record Video without Audio on Windows and Mac
Joyoshare VidiKit - Screen Recorder can do what you want in an ideal and easy way. It provides you with entrance to record video with audio synchronously through your microphone and computer system. To avoid unexpected noise and exclude original sound from video, you can freely disable them. Aside from that, this screen recorder can accomplish take-scheduling, snapshot-taking, parameter-presetting, watermark-customizing and more.
Key Features of Joyoshare VidiKit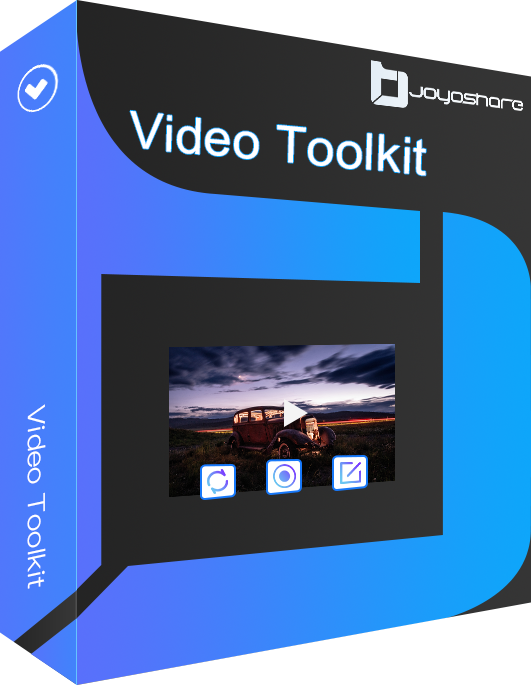 Record video with audio or without sound flexibly
Support capturing meetings, games, online lectures, etc.
Grab both external and internal sounds
Set resolution, codec, frame rate and more key parameters
Schedule, effect, watermark and trim recorded videos without lag
Step 1

Open Joyoshare VidiKit on Computer

Go to Joyoshare official website to download the latest version of VidiKit. Get it installed and launched on your Windows or Mac. Find and open "Screen Recorder" program. It puts you under "Record video and audio" mode.

Step 2

Disable Audio and Check More Options

There are "System Audio" and "Microphone" in the center of the interface. You can simply hit on them to turn off sounds. Then quickly select an area to record under "Capture Area" and press the gear "Options" icon to confirm format, shortcuts, watermark, cursor and click effects and recording task.

Step 3

Record Video without Sound in VidiKit

Plan what you want to record in advance. Afterwards, click on the blue "REC" button to start recording video without audio in 3-second countdown. In the menu toolbar, you can see "Pause", "Stop" and "Cut" options to let you make different operations.

Step 4

Save and Edit Recorded Video with No Sound

Your captured mute video will be saved locally in "History" window. It's doable to rename it using Edit tool, preview to check whether there is really no audio, and trim to get smaller pieces.