Keynote, as a presentation software developed by Apple, makes it simple for users to create stunning and beautiful presentations. With it, you could present an impressive story by adding dynamic backgrounds and live videos. Keynote also makes it possible to complete a group presentation when members are apart. Hence, so many Apple users combine their ideas with presentations by using Keynote. If you want to record Keynote presentation for creating lectures, sharing on social platforms, saving locally, and so on, this post will help.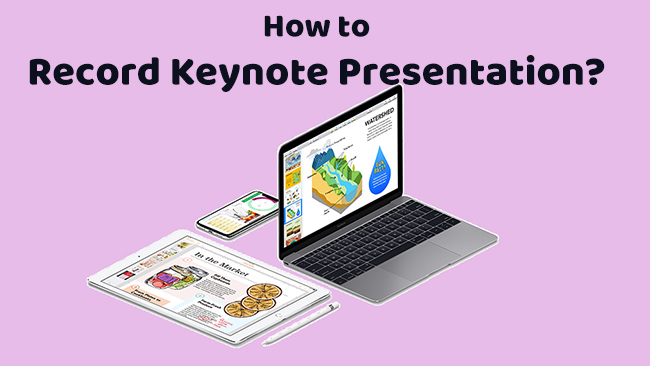 Part 1. Record Keynote Presentation via Built-in Feature
Keynote is a spectacular software. Its built-in recording feature can record your presentation with ease. This is especially helpful when you want to deliver a prerecorded presentation. You could also record with voiceover narration. What's more, it's easy to explore the recording feature with its intuitive layout on Keynote.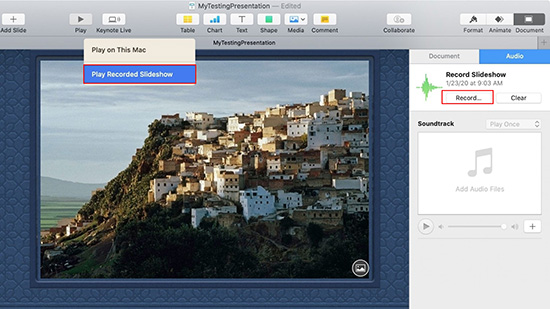 Step 1: Open the software, and select your first slide in the slide navigator.
Step 2: At the top of your screen, choose Play in the menu, followed by Record Slideshow. Then a new window would appear with recording controls. Or you could click on Document in the top right corner, then choose Audio, followed by Record.
Step 3: Before you start recording, you could adjust the presenter display freely. Then click the red circle button to record your presentation.
Step 4: During the recording process, you could tap the Left Arrow key and Right Arrow key to switch the slide. And you could press the number to jump to a different slide.
Step 5: You could click the red Stop button to end recording presentation. And the recording would be saved by pressing the Escape key. Last, you'll see the file in the sidebar.
Part 2. Record Keynote Presentation via Third-party Tools
Though Keynote's recording feature is quite useful, there are some limitations while recording. For example, it offers restricted recording modes and slightly deficient editing features. If you want to create more eye-catching recording videos on Keynote, it's wise to use a third-party tool to highlight your videos.
Joyoshare VidiKit Screen Recorder
Joyoshare VidiKit is a mighty screen recorder, allowing you to create a unique recording video according to the actual situation. It can record videos in 4K and render your scene to life. It also supports recording all screen video with audio while preserving high quality. In addition, Joyoshare VidiKit offers more recording modes, you could record anything in any way as you like. This screen recorder can be regarded as an audio recorder as well, all types of audios are covered by it. When you're stretched for time, you only need to schedule your recording tasks in advance and leave it behind. This tool would bring great convenience to any recording activities.
Key Features of Joyoshare VidiKit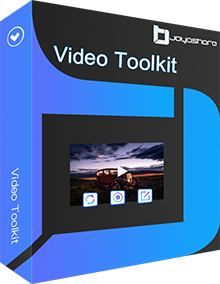 Record Keynote presentation in HD or 4K quality with no lag
Free to reset codec, frame rate, sample rate, bitrate, and more
More valuable features of adding watermark, highlighting clicks, etc.
Enhance recording files by editing after recording and preserving in high quality
Step 1

Start Joyoshare VidiKit for Keynote

Download an official version of Joyoshare VidiKit on your Mac. Then open it and browse the interface. You are supposed to click Record on the left side, and then choose Screen Recorder.

Step 2

Customize Recording Region

With a new window appearing, you could the customize recording region in Capture Area. By clicking the + button, you are able to adjust the recording size to fit your Keynote presentation. Also, you could record with the System Audio and Microphone Audio, or shut them off before recording.

Step 3

Configure Recording Settings Properly

Click the Options icon at the right bottom, you could configure specific recording settings. For instance, if you choose MP4 format, you could further adjust video and audio parameters by clicking the icon floated on the top right corner of MP4. Besides, you are able to add watermark, make scheduled recording time, highlight cursor and clicks to meet your recording demands.

Step 4

Record Presentation on Keynote

Prepare what presentation you'd like to record in advance. Then click the blue REC button and start to record. While recording, you are available to take screenshots, cut videos, or skip the content you don't need.

Step 5

Edit Keynote Presentation Video

You can preview your recorded videos in History window after you hit the Stop button. Then you could edit them by clicking the Edit icon. You can also rename files and locate your file position.
Aiseesoft Screen Reorder
Aiseesoft Screen Reorder is also a trustworthy tool to record Keynote presentations. It is a user-friendly screen recording solution for capturing screen, video, game, etc. Aiseesoft Screen Recorder allows you to record everything on screen with selected audio. There are still more features to optimize your recordings, such as real-time drawing, diverse output formats, schedule recording, and more.

Step 1: Launch Aiseesoft Screen Reorder on your PC and start it. Then select Video Recorder in the first place.
Step 2: You need to select the recording area by choosing Full or Custom to get a full or customized screen. And you could choose to turn on or off the System Sound and Microphone next to it.
Step 3: When everything is prepared, hit on REC button to start recording Keynote presentation and click the Stop button to end the process.
EaseUs RecExperts
EaseUs RecExperts is another full-featured screen recorder you can choose. It is easy to capture any region on Mac for recording high-quality videos. More strikingly, it can record all 2D or 3D gameplay moments with no lag. Also, you could use it to edit your Keynote presentation to enhance its virtual performance.

Step 1: Download EaseUs RecExperts on your Mac. Then select a recording mode, Full Screen or Region.
Step 2: After defining the recording region, you could adjust the audio next to it. You can choose to enable or disable the System sound or Microphone.
Step 3: Click the REC button, and the tool will start to record. If you want to end the recording, click the Stop button.
QuickTime Player
QuickTime is a multimedia software created by Apple, which supports playing, recording, transcoding digital media formats, and so on. Hence, it is a good way to record Keynote presentation video with QuickTime Player. Here are the steps guiding you to record on Keynote.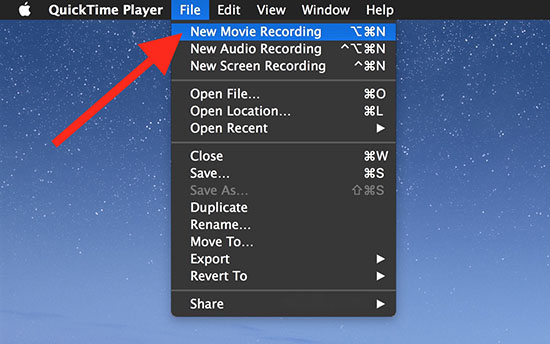 Step 1: Open QuickTime Player. Then go to File, followed by New Movie Recording.
Step 2: A recording window would appear. Before starting, you could click the arrow next to the red button and adjust the settings. Then click the Record button.
Step 3: A popup will show up on your screen. You could click anywhere to get a full recording screen. Or you could drag over the section you'd like to record. After that, click on Start Recording. When it's over, click on the Stop icon in the menu bar.
Part 3. FAQs of Recording Keynote Presentation
Q1. Can I export Keynote presentation to PowerPoint or another file format?
A: Yes, Keynote presentation works well with Office, you could export Keynote presentations as PowerPoint or another file format without trouble. Just open the presentation, and go to File. Then locate Export to, and select the format you want.
Q2. How to add live videos to presentation slides?
A: It's quite simple to add live videos on Keynote. Open the Keynote and select Media in the toolbar. Then click Live Video to complete the task.
Q3. How to record a Keynote presentation with audio?
A: You can record audio in Keynote directly by choosing Record Audio in the toolbar. If you want to have more audio options, Joyoshare VidiKit is recommended for use.
Part 4. Conclusion
If you prepare to record Keynote presentation, this post would be right for you. Though Keynote has an internal recording function, it still may fail to meet your needs. In this case, Joyoshare VidiKit is a more comprehensive solution for recording Keynote presentations. With the methods outlined in this post, I believe you will create a better Keynote presentation recording with ease.