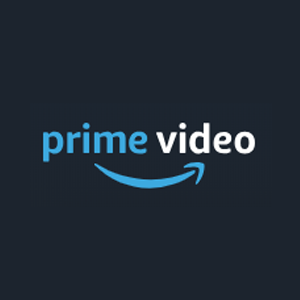 Q:"How do I screen record an Amazon Prime video?" - From Quora
Amazon has an amazing subscription service called Amazon Prime, which brings its members a huge collection of movies, TV episodes, music, books, and more. Users who have downloaded the Amazon Prime Video app on iOS, Android, PC, or other devices will be able to use the download feature to save their favorite videos. However, not all Prime videos are available for downloading, and a downloaded movie or TV episode could take up too much space. Therefore, in today's article, we will show you how to record Amazon Prime Video on different devices.
Part 1. Amazon Prime Video Download - Amazon Prime Video App
The Amazon Prime Video app is available on App Store, Google Play, Galaxy Store, or from Microsoft. It is a streaming video service by Amazon. If you have joined the Amazon Prime membership, you can enjoy Prime Video benefits. For example, you will be able to watch exclusive movies, sports, TV shows, as well as Amazon Original series on your favorite devices, like iPhone, iPad, Apple TV, Android, and Windows 10. Moreover, Amazon Prime members are allowed to download thousands of eligible TV episodes and popular movies so that you can watch them anywhere, whether you are on the road or on the way home.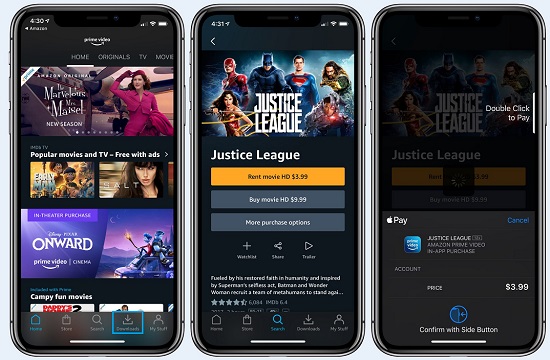 Step 1: Install the Amazon Prime Video app on your iPhone or Android or another compatible device, then log in with your Amazon Prime or Prime Video account;
Step 2: Search the title of the movie or the TV show you would like to download and open the video details page, then press the "Download" button;
Step 3: You can select where your downloaded movies and shows are saved; it would be better if you have an SD card in your smartphone as your downloaded video files could get quite large;
Step 4: Next, you will be able to choose the output quality for your movies, and after that, click the "Start download" button to start the Amazon video download.
Step 5: To watch your downloads, you can tap the "Downloads" button in the Prime Video app on your iPhone or iPad; but for Android and Fire owners, you can click the left navigation menu at first, then tap the "Downloads" tab to select the movie or show you want to watch.
Part 2. How to Record Amazon Prime Video on Windows PC
Option 1

Joyoshare VidiKit

Joyoshare VidiKit (upgraded from Joyoshare Screen Recorder) is one of the most advanced streaming video recorders for Amazon. Its easy-to-operate interface and professional features make it a perfect tool for recording all onscreen activities in up to 4K quality. With its leading-edge screen capturing technology, this software enables you to record live streaming movies and shows from Amazon Prime, Hulu, Hotstar, Disney Plus, and other sites with only a few clicks.

With the help of this smart Amazon Prime video recorder, you can record and save Amazon videos in any format you like, such as MP4, MOV, SWF, FLV, WMV, and so forth. Besides, it can capture the audio tracks including system and microphone sounds. You can even select the capture area and preset auto-recording tasks flexibly all according to your own needs. There is no problem to save movies with no watermark, no latency, and no time limit.

Key Features of Joyoshare VidiKit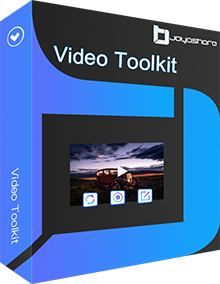 Record video on Hulu, Disney Plus, HBO Go, CBS, Netflix, etc.
Save all movies and shows in up to 4K quality with no watermark
Export videos to MP4, FLV, MPEG, AVI, MKV, F4V, WAV, APE, etc.
Grab the entire computer screen or a customized region of any size
Change resolution, codec, bitrate, frame rate, sample rate, and more
Use the built-in media player to play downloaded videos and audio
Step 1: Install and Launch Joyoshare VidiKit
The first step is to download Joyoshare VidiKit and install it on your PC. After that, you need to tap the "Record" tab on the left side to open the screen recorder. If you want to record Amazon videos with sound, you can click the

icon.

Step 2: Select Capture Area
Next, select your recording area by pressing the "+" button on the upper left corner of the main screen. The capture frame will appear immediately, which can be used to adjust the screen size. Moreover, the software also allows you to choose from a list of standard ratios. You are also free to manually change the width and height of the frame as well so that it can well fit the movie window you want to record.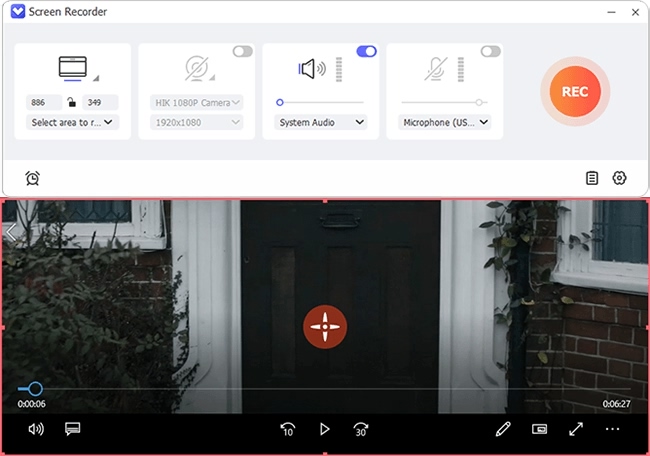 Step 3: Adjust Recording Preferences
To gain access to more custom recording settings, you can click the gear icon near the "REC" button. After that, you will be able to select your output format and configure many parameters like codec, quality, bitrate, and more. If the Amazon Prime Video or Amazon Instant Video you are about to download lasts several hours, you can make use of the "Record time options" to set up the start time and end time of your recording task. Many other features include showing and highlighting cursor and clicks, inserting a watermark, etc.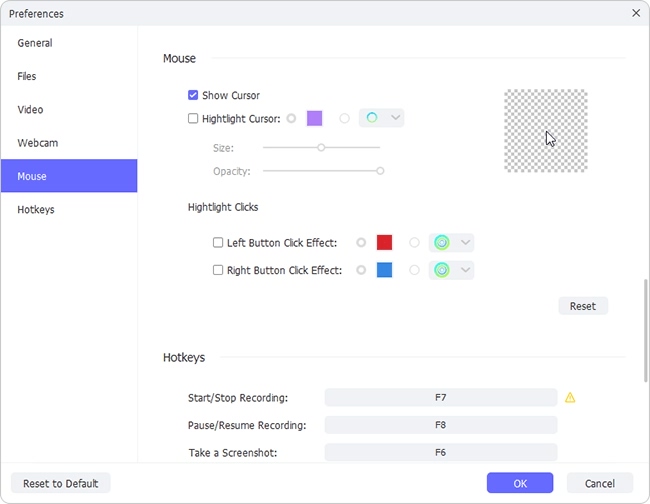 Step 4: Record Amazon Prime Video to PC
Finally, you are able to click the "REC" button to start to record Amazon Prime Video. A three-second countdown will start so that you can get ready to play your favorite movie or show. A minimized toolbar can be found. You can use the "Pause" button to skip unwanted content, the "Cut" button to create many movie clips, and the "Stop" button to quit the recording process.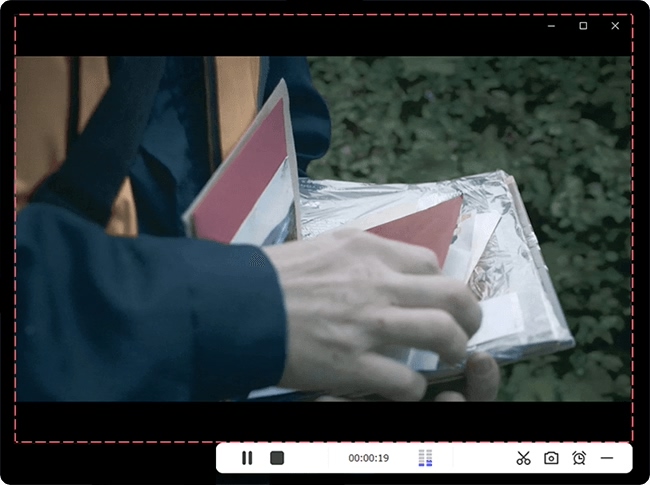 Step 5: Edit Recorded Amazon Videos
You will find your recorded movies and shows on the pop-up History window. Now you are free to use the built-in media player to play your movies straightforwardly. You can also press the "Edit" icon to trim and cut your videos. If you have recorded and saved audio files, you can also edit their ID3 tag information.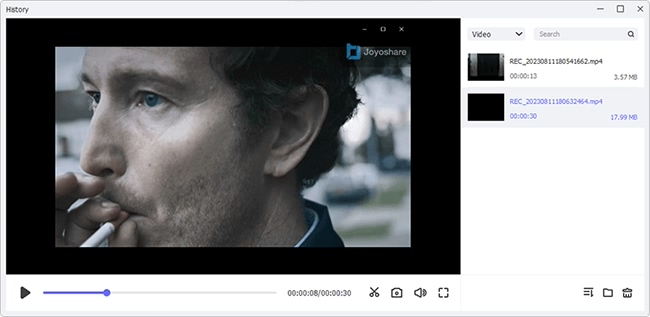 Option 2

EaseUS RecExperts

EaseUS RecExperts is one of the best Amazon Prime Video rippers. Supporting both Windows and Mac operating systems, this software offers a large variety of features to record live streaming videos. You may want to record an Amazon movie or a TV episode in a higher resolution, and EaseUS RecExperts can capture your computer screen to up to 4K resolution. Moreover, this program supports capturing system sounds and microphone voice. It can quickly your movie clips and save it as GIFs, which will bring you a lot of fun.

Step 1: Start EaseUS RecExperts on your computer; pressing the "Full Screen" button will enable you to record the entire computer screen, and if you click the "Region" button, you can start to grab a specific area to record;
Step 2: There are many buttons at the bottom of the screen, which will allow you to change video output quality, show mouse cursor, set up the countdown timing, etc.; you can also choose to turn on your webcam and system audio on the main screen;
Step 3: More options will become accessible when you press the "More options" button on the main screen, and after that, you will be able to change your save path, choose an output format, and more;
Step 4: When you are done setting, you can prepare the Prime video you want to save and click the "Record" button to start to use EaseUS RecExperts to record Prime video to PC or Mac.
Option 3

FonePaw Screen Recorder

To easily and quickly record from Amazon Prime video, you can give FonePaw Screen Recorder a try. As an all-powerful screen recording and capture program, it can effectively record computer actions and webcam in HD, so you can save your favorite Amazon videos in high quality without any problem. FonePaw Screen Recorder has many powerful features. When you choose the "Video Recorder" option on its home interface, a dotted capture frame will show up and you can use it to grab any specified window. Many other options can be seen on the main screen as well. For instance, you will be able to record audio from system and microphone, add a webcam overlay, and more.

Step 1: Having opened FonePaw Screen Recorder on your computer, you can press the "Video Recorder" button;
Step 2: Open the movie or show you want to record from Amazon Prime, then use the capture frame to set your recording area; you can choose to either record in full screen or a partial screen;
Step 3: If you press the "Advanced Recorder" button below the "REC" button, you can also select many region sizes;
Step 4: You can find a gear icon on the submenu, and you can click on it to adjust your output format as well as more specific recording settings related to your screen recording;
Step 5: When all settings are settled, you can tap the "REC" button and let FonePaw Screen Recorder start to rip Amazon Prime Video.
Option 4

Audials Movie

What makes Audial Movies different from other streaming video recorders is that it can record video clips from Amazon Prime at 2X speed. It has an excellent performance in batch recording, which allows you to record several movies at once. More amazingly, when you use Audials Movie to record videos, the video tags such as name, actors, genre, director, etc. will be automatically saved as well. Audials Movie allows you to record movies from HOB Max, Hulu, YouTube, and more. But it only has a Windows version.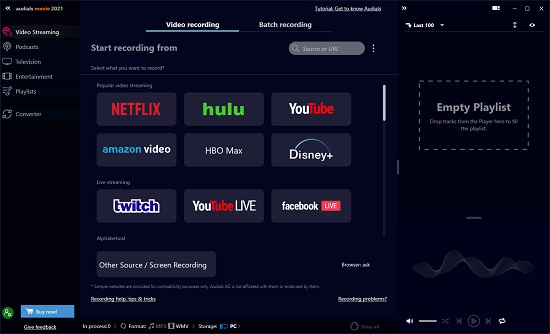 Step 1: Download, install, and launch Audials Movie on your PC, then go to the "Video Streaming" tab and select the "amazon video" option;
Step 2: Next, on the resulting window, you need to choose the browser like Chrome, Firefox, or Edge that Audials Movie uses for recording movies;
Step 3: After setting up more recording preferences, you can open amazon.com and select the video you would like to record, and the recording will start automatically when the video is played;
Step 4: After the recording process is finished, you will find your downloads on the right side of your screen, which will be saved in AVI, WMV, MP4, 3GP, etc.
Part 3. How to Record from Amazon Prime on Mac
If your operating system is macOS Mojave or the later versions, you can benefit from its pre-installed recording feature, which can be called Screenshot Toolbar. Just using the shortcut "Command + Shift + 5", you can initiate a recording process to capture and save your desired Amazon Prime Video.

Step 1: Press "Command + Shift + 5" together on your Mac keyboard to activate Screenshot Toolbar on desktop;
Step 2: Check and select whichever mode you like for recording, like "Record Full Screen", "Record Selected Portion";
Step 3: Prepare your Amazon Prime Video and click "Record" button to record it;
Step 4: End your recording by pressing Command+Control+Esc or simply clicking Stop button.
Part 4: Learn Amazon Video, Amazon Prime, Amazon Prime Video
Amazon Prime is a subscription service that has many benefits like Prime Reading, Prime Music, and Prime Video. People who subscribe to Amazon Prime can also get free delivery and returns on Amazon's merchandise, borrow books for free, exclusive deals, over two million songs, free games and loot, and more.
Prime Video is a service within Amazon Prime, which allows you to watch many movies, TV shows, or Amazon Original series for free. There is an Amazon Prime Video app for iOS, Android, and PC as well, which can be used after subscription. Prime videos are marked "Prime".
The Amazon original programming service was first debuted as Amazon Unbox in 2006, then it was renamed Amazon Video on Demand in 2008 and later Amazon Instant Video in 2011. The word "Instant" was dropped in 2015 and finally, it was renamed Amazon Video. Amazon Video becomes a service that allows you to buy or rent digital copies of a movie or TV title. You don't need to be an Amazon Prime member to watch videos. Of course, many of these titles can also be watched on Prime Video if you are a Prime member.
Part 5. FAQs about Screen Record Amazon Prime Video
Q1. How to screen record Amazon Prime on iPhone and Android?
A: Such kind of question will not trouble you anymore since both iPhone and Android devices come with built-in screen recording feature. You just have to enable it on your Control Center or Quick Settings. Then play Amazon Prime Video and start recording it.
Q2. Can you record from Amazon Prime?
A: Amazon has strict rules to protect their copyright, and as a result, videos are protected. To record from Amazon Prime, you should abide by the Amazon's Terms of Use and copyright laws. Don't violate it in your country.
Q3. Can I download Amazon Prime Videos to PC?
A: No. Amazon Prime Videos can only be downloaded on iDevices, Android and tablets. The official website offers no way to directly download videos from Amazon Prime to your PC. To keep your wanted content on PC, you can resort to any screen recording software.
Conclusion
Only you are an Amazon Prime member can you use the download option in the Amazon Prime Video app to save your favorite movies and shows. It is also worth mentioning that not all Prime videos are available for download, so you may need to use a smart and handy video recorder to record Amazon Prime video. Another available tools we introduced above are all able to rip Amazon Prime Video in high quality on Windows PC and Mac. And among them, Joyoshare VidiKit (originated from Joyoshare Screen Recorder) has the easiest-to-use design. You can use it to record all computer actions with no latency, no time limit, and no watermark.