"Stream Anywhere with Spectrum TV." Indicated by the slogan, Spectrum TV has a good viewing experience with above 125 channels and thousands of on-demand titles. Also, Spectrum canalizes its energies into the content and has lots of trending shows, such as Jungle Cruise, Dangerous, etc. It is natural that users are desirous of recording their favorite programs or live shows on Spectrum TV for offline watching. This post aims to demonstrate how to record on Spectrum TV in the least costly manners. You can read to find out what works best for you.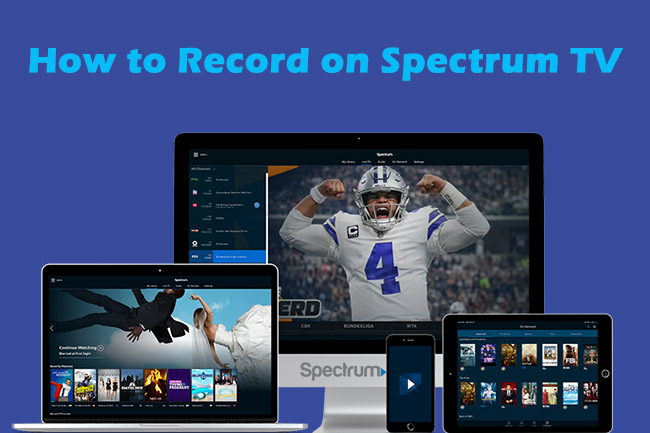 Part 1. How to Record a TV Show on Spectrum with Cloud DVR
Spectrum does have DVR feature which allows you to record series or movies and watch them remotely later on. With it, you can record programs you like and the recording files would be saved to the cloud. The latest version of Spectrum is compatible with Chrome, Firefox, Safari, and Microsoft Edge. You can easily use DVR service by following the guide below.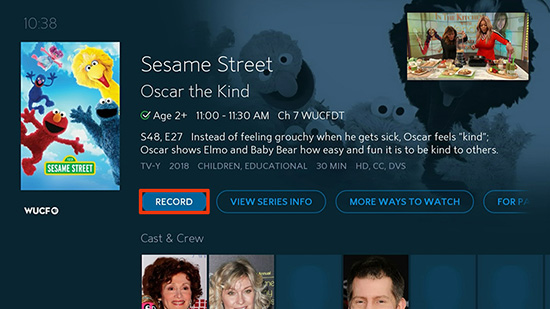 Step 1: Make sure that you have subscribed to DVR service and got a DVR Spectrum Receiver.
Step 2: Search for the content you'd like to record and select it to land on the information page.
Step 3: Click Record. If the recording goes smoothly, a confirmation message and circle icon in red would appear.
Step 4: If you want to record a series, you need to choose Record Series on the information page. Then there are several options you could choose based on your actual needs. After that, click Confirm or Record.
Step 5: To locate your recordings, you need to head to DVR, and find My Recordings to get the videos. If you are on Roku and Apple TV, you're required to go to My Library and click Recordings to watch recorded shows. Then click Play button to watch the show you like.
Part 2. How to Record Shows on Spectrum TV with Joyoshare VidiKit
There is also an incredible way to record TV shows without a DVR. Any favorite programs, sporting matches or movies on Spectrum could be recorded with the aid of Joyoshare VidiKit. This comprehensive screen recording tool is able to capture all your screen movements with high quality. It also guarantees the flow of videos at 60fps with no delay. Joyoshare is also versatile, and you could design your recording screen or create schedule recording tasks in a simple way. More than that, there is no time limit to capture either your screen video or audio. It is straightforward to record all screen activities without restriction. You could also experience more features to enhance your recording, such as taking screenshots, hiding cursor, and much more.
Key Features of Joyoshare VidiKit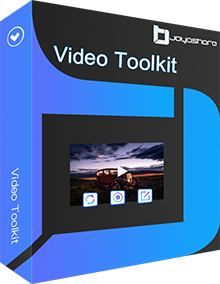 Screen record on Spectrum TV in high-resolution with no lag
Work as an intelligent audio recorder to get various sound
Give multiple recording modes in any format
Trim videos and rename files easily after recording
Step 1

Open Joyoshare VidiKit

Run Joyoshare screen recorder on your desktop, and you'll see four different sections on the left side. Click Record and select Screen Recorder to activate the recording panel.

Step 2

Designate Capturing Area

You could freely designate the recording area by clicking the + button in the bottom right of the rectangle. The edges can be dragged as required. After setting the area, you need to adjust the audio ahead. You'll recognize two sound-related icons, which are System Audio and Microphone. In order to record crystal clear sound, you could turn on System Audio and switch the volume slide to a proper position while disabling the Microphone.

Step 3

Adjust Optional Recording Settings

This professional screen recorder is also developed with advanced settings for you to adjust. Click Options and you'll get a new setting interface. Here, you can select a format in Format option and decide relevant parameters in accordance with the real situations. Besides, you can preset recording duration in Record time options.

Step 4

Start Recording on Spectrum TV

After adjusting settings, you can open Spectrum TV and get the content you prepare to record. Then go back to Joyoshare VidiKit and click REC button to start recording.

Step 5

Preview Spectrum Videos

When your favorite show is over, you can click Stop button to put an end. The videos could be previewed in History section. You can delete, and rename your Spectrum files in this part.
Part 3. FAQs about Recording Shows on Spectrum TV
We have collected some frequently mentioned questions that are related to recording on Spectrum TV. Hope you can get a little enlightenment from these answers.
Q1. How to record a series on Spectrum TV?
A: You could navigate to Record Series on Cloud DVR or use a third-party recording software to record a series on Spectrum easily.
Q2. How to delete unwanted recordings on Spectrum TV?
A: It is easy to delete a recording on Spectrum TV. Just locate the program's information page and click Delete Recording option. Then confirm your choice on the following screen.
Q3. Why I can't record on Spectrum TV with My DVR?
A: There are many reasons that could possibly cause the phenomenon, such as DVR isn't powered on or a weak Internet. But the most likely reason is insufficient storage. You can try removing some unnecessary recorded videos and try recording on Spectrum TV again with the extra space.
Q4. What is the capacity that Spectrum DVR can record at once?
A: The capacity of Spectrum TV is different based on whether you choose cDVR or cDVR Plus. The previous one allows you to record up to 50 live videos at once while the latter is 100.
Q5. Can I record on-demand programs with Spectrum DVR?
A: On-demand programs are not supported with Spectrum DVR. But HD and premium programs could be recorded easily by this way. If you want to record on-demand content, you can resort to a professional recording tool to record them instead.
Part 4. Conclusion
If you are an avid viewer of TV shows and want to figure out how to record on Spectrum TV, I am sure that you'll find this task less difficult after reading this post. To sum up, you could record what you like on Spectrum TV using a built-in Cloud DVR or a screen recording tool. Both ways are tested effective and helpful, you could try them on your own.