Have you wondered how you can record any ongoing activity, for example, live streaming video, Google Hangouts conversation, Yahoo Messenger call, remote desktop session, YouTube hot movie, etc, on your Mac screen without sacrificing original quality? There is no need to think it for a long time. A decent screen recording program for Mac is able to make any desktop video and audio to be captured possible. Faced with a large number of screen captures, you may hesitate to pick up one from them to use. After looking through this review to understand top-listed 10 best screen recorder for Mac, you will know which one can hit your preferences completely.

1. Joyoshare VidiKit - $19.95
Equipped with the most top-leading capturing technology, Joyoshare VidiKit - Screen Recorder for Mac delivers a comprehensive platform to grab any Mac screen video and audio activity in high quality. Amazingly, it supports record video with audio synchronously so that you can turn on both system sound and microphone voice. According to your preference, you have right to customize capture area in flexible way or directly choose a systematic ratio. Furthermore, there are multiple considerate designs, which allow you to use shortcuts, make screenshots anytime, trim video and add effect to cursors.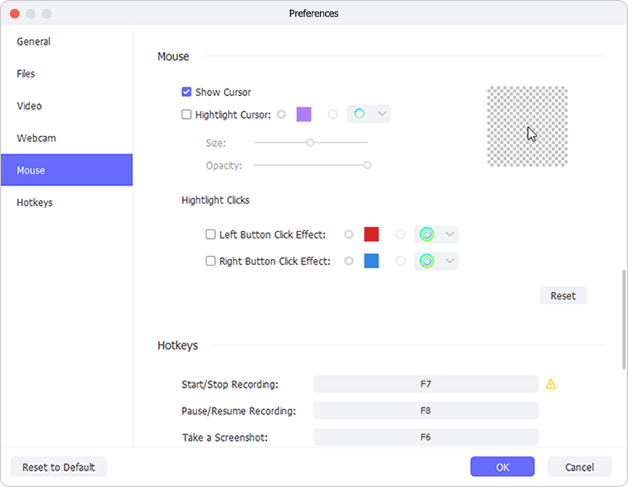 Pros:
Record screen on Mac easily and quickly
Grab video with audio in perfect synchronization
Come with task scheduler to preset recording assignment
Allow screenshots-taking and video-cutting
Support a wide range of formats and devices
Cons:
Add watermark to free version
Without professional video editor
2. QuickTime - Free
By default, Mac is well developed with a built-in program called QuickTime. Applying the latest streaming technology, this free screen recorder for Mac can work as an effective movie viewer. It can perform as a handy recording tool to capture Mac screen together with audio efficiently. With a clean and elegant operating interface, QuickTime empowers you to select full screen or a specific area to record. Even though QuickTime comes with limited recording and editing features, it can export video in high quality. One delighting point is that there is no time limitation to have a recording on Mac by getting help from this local support.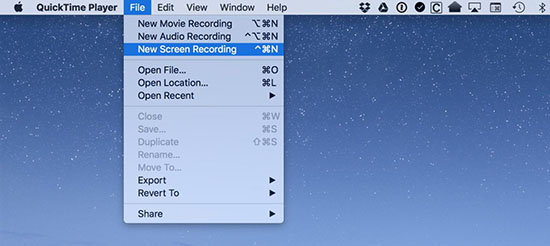 Pros:
Record microphone audio as well as system sound
Capture Mac screen together with audio easily
Produce high-quality video without recording length limitation
Select entire desktop and a specific area to record
Cons:
Support basic recording and editing demands only
3. ScreenFlow - $129
ScreenFlow is also a brilliant choice to record your Mac screen. This good screen recorder for Mac is capable of capturing full screen, choosing recording region, zooming some video to let users have a professional look. Files from both iTunes and iPhoto libraries can be imported to this smart recording program for later editing. Amazingly, once you flip the video clip in timeline, you can get access to play the same video in reverse. There are also some superior features, like adding animation, publishing subtitles, previewing videos, etc. Without doubt, you can share your recording directly to YouTube, Imgur, Vimeo and more other platforms.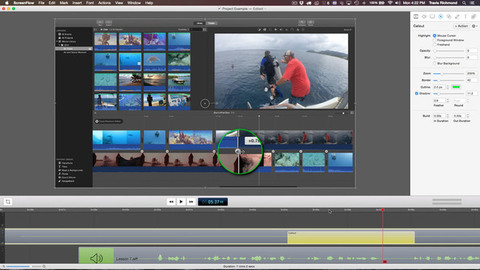 Pros:
Support recording iPad and iPhone screen as well
Present video in high quality even on retina displays
Offer ability to add text and video animations
Play the same video in reverse by flipping it in timeline
Cons:
Need to pay for it with high cost
4. Snagit - $49.99
Known as a powerful screen recorder for Mac, Snagit is commonly considered as a full-featured capturing tool. It offers ability to let you have a quick retrieval by storing all your previous recordings at the bottom in a tray. In addition, your captured video will be saved as MPEG-4 format. Magically, if you have short screen recording file, you are allowed to transfer it as an animated GIF format. It gives chance to you to add shadow, blur, reflection or even effect to any video or screenshot. Surely, if you have a need in annotating text, arrow, shapes, etc, to your Mac screen recording, Snagit can make it as well.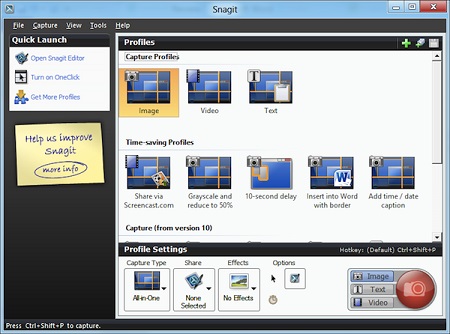 Pros:
Support turning short recording to animated GIF
Equip with professional editing tool
Add annotation to screen recording file freely
Grab system audio and use webcam to record
Cons:
With only 15 days free trial
Does not offer timeline controls
5. Camtasia - $249.99
Camtasia is a fairly professional screen and audio recorder for Mac. You may wonder why it can stand out from a large range of capturing programs. You can have a Mac recording in full screen or select a specific region to capture. Watch the whole video and you will know where is dissatisfying. It is feasible to remove unpleasing clip and add extra segment. Moreover, you can pay more attention to edit recording orderly. Before you share it to others, you have chance to preview it. One special point is that there is no need for you to separate audio program with your own narration.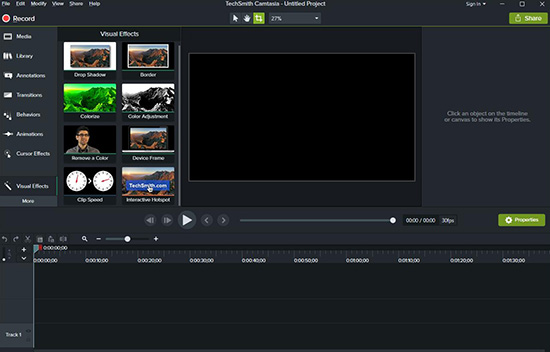 Pros:
Add annotation by using callouts, arrows, lines, shapes, etc.
Make transitions anywhere you want to flow smoothly
Come with exact timeline
Present text and media with animated behavior
Allow cursor effects, voice narration and audio effects
Cons:
With only 15 days free trial
6. OBS Studio - Free
Being well-designed as an open source to record screen for Mac free of charge, OBS Studio can be used to capture both video and live streaming with ease. To filter unexpected intervention, it fits out itself with a built-in audio mixer. The wonderful feature of OBS Studio is that it takes the aid of your PC's GPU to output high-quality video. It also deserves to mention that there is no restriction on the video length when you have a recording. Briefly, you don't have to worry about passing a designated time. If you would like to playback these recordings later, you can output them in your PC locally.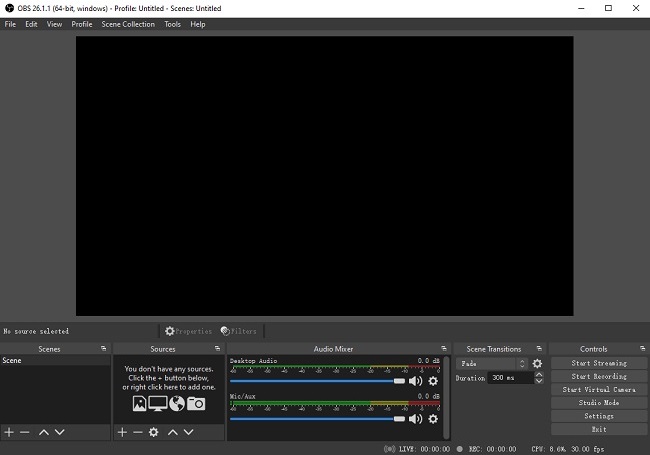 Pros:
Record Mac screen without time limitation
Support live streaming recording
Produce videos in MP4 and FLV format
Act as an open freeware truly
Cons:
Cannot link to an audio file as a main source
With steep learning curve that is unsatisfying to average users
Some audio tracks cannot be grabbed with Replay Buffer
7. Screencast-O-Matic - $1.65
As an excellent screen recorder for Mac, the paid version of Screencast-O-Matic comes with multi functions like taking screen shorts, previewing recordings, customizing recording area, adding texts and graphics and more. The best part of this recording tool is that it allows you to record your webcam and screen simultaneously or separately.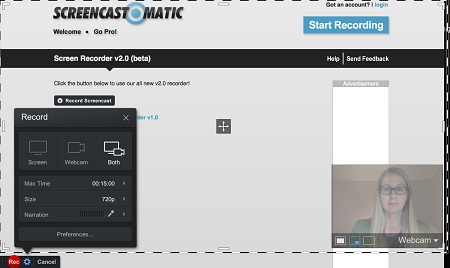 Pros:
With video editor to enhance your recordings
Save your videos online
Provide the trial version
Cons:
Need internet access to operate
Free users cannot capture computer system audio
8. Icecream Screen Recorder - Free
Icecream Screen Recorder for Mac is the best recording too, for you to record video and audio and allows you to capture full screen or a specific window as per your need. It can also create schedule recording task and customize your own watermark. What's more, you have the freedom to highlight your mouse-click animation and use hotkeys during the recording process.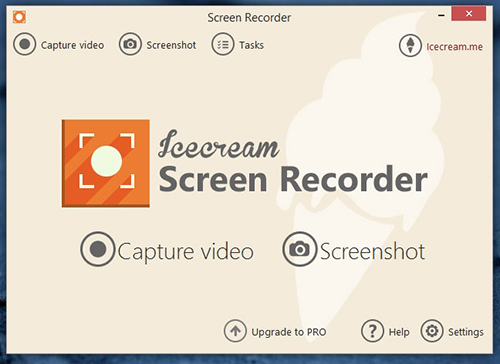 Pros:
Friendly interface for beginners
Create future recordings without your involvement
Multiple tools are available like video converter and video editor
Cons:
Without DirectX/OpenGL/Vulkan capturing technology
Cannot change background when livestreaming
Only a few screen cropping ration
9. Apowersoft Screen Recorder - $9.95
Compatible with macOS and Windows, Apowersoft Screen Recorder for Mac provides an interesting interface that is equipped with functions like recording webcam and editing recording. After recording, you can preview and share your recordings to YouTube with a few clicks using this screen recorder. You can term it as your best screen recorder to help you record online movies, music, meetings and more.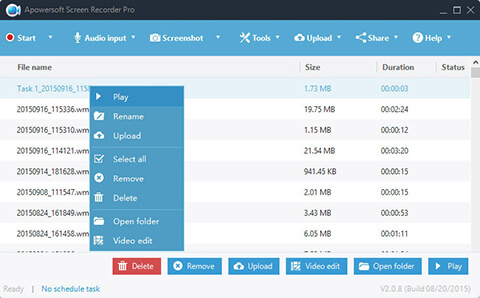 Pros:
Add annotations like text notes, shapes, arrows and icons
Easy-to-use
Can record your webcam
Cons:
Cannot record on the second monitor
Sometimes crash on macOS
Lack of editing options
10. VLC - Free
It is a free, open source and cross-platform multimedia software, enabling you to play and optimize your videos as they are downloading. This free screen recorder for Mac is highly customizable and is expandible via plugins. Besides, you can use it to record online music, gameplays and lectures as you want. You can change the frames per second before you start the recording process according to your need.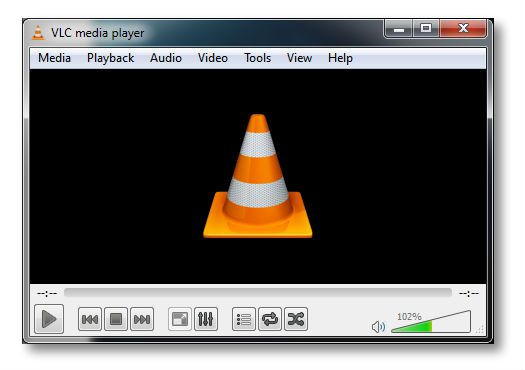 Pros:
Customizable frame per second
Download files from YouTube
Supports a wide range of formats
Cons:
Can only capture full screen in RAM format
Create enormous sized videos
Cannot use shortcuts
Conclusion
The above top-listed top 10 best screen recorder for Mac are designed with fascinating characteristics. Taking some recorders as example, Joyoshare VidiKit for Mac can offer colorful recording options and extensive output formats; QuickTime can let you initiate a recording on Mac instantly without any installation; ScreenFlow can provide abundant features to capture screen in special way. No matter which one you love, you should try it in person. If you want to choose a powerful tool, Joyoshare VidiKit is your best option, as it allows you to customize recording area, resolution, quality, frame rate before start recording and use shortcuts during the recording process.