Q:"My WhatsApp is not opening on my iPhone 5c, whenever it opens it closes automatically. I tried to restart and reinstall. But the result is zero. How to solve this issue? Please help me. Thank you!" — An iPhone user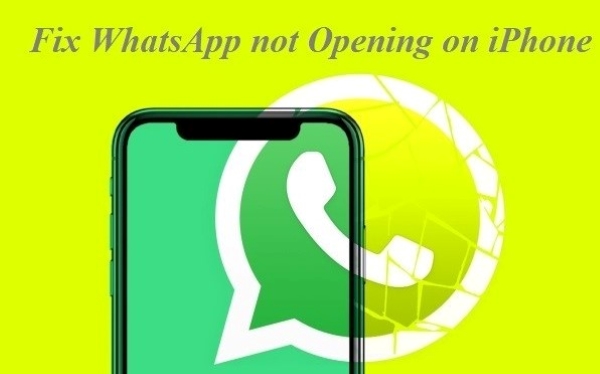 WhatsApp is a wonderful communication tool to keep in touch with your pals across the globe — everyone these days likes to share innovative photographs or videos, and WhatsApp is primarily responsible for the trend. However, users occasionally have issues with WhatsApp not opening on iPhone, which may be particularly aggravating in daily life. Luckily, there's a solution in place for such problems! Let's jump to the list of solutions.
Solution 1. Using Joyoshare UltFix iOS System Recovery [Zero Data Loss]
Joyoshare UltFix iOS System Recovery is an all-in-one multi-platform repairing tool for many iPhone users. Whether you want to fix WhatsApp is not opening, WhatsApp notification not working, or just any other iOS system problems you encountering, Joyoshare UltFix is the first thing that comes into the mind of a majority of iOS users.
With the advanced tool and having all the right way at your fingertips, you will be ready to fix it quickly. The following step-by-step process of fixing WhatsApp is not opening will help you in a jiffy.
Step 1

Download Joyoshare UltFix to Your PC

Launch the Joyoshare UltFix and connect iPhone to the computer. Press the Start button to proceed.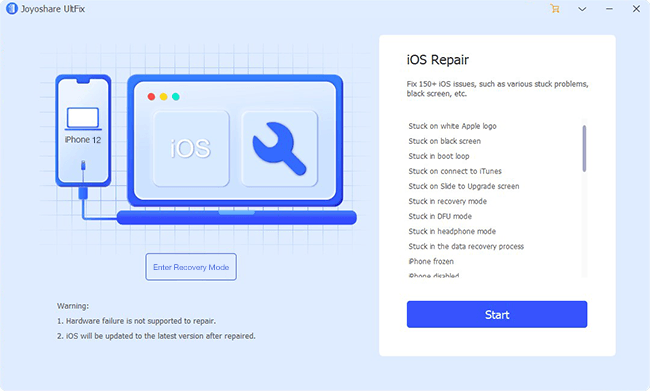 An added bonus: If the device fails to enter DFU mode, you can through one click to put it in Recovery mode for free.
Step 2

Choose Standard Mode

Then, you'll see the firmware downloading interface. The program can automatically detect your device and help you to Download the latest firmware package for your iPhone.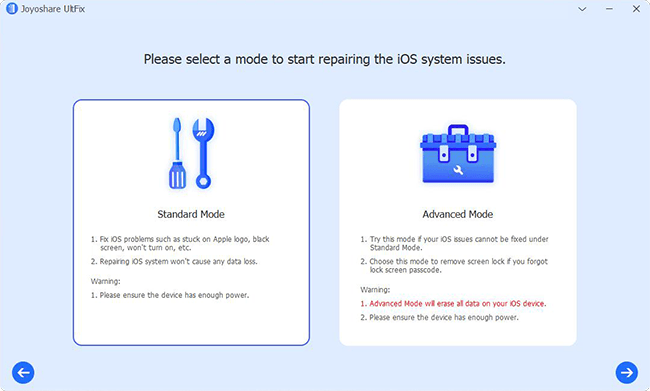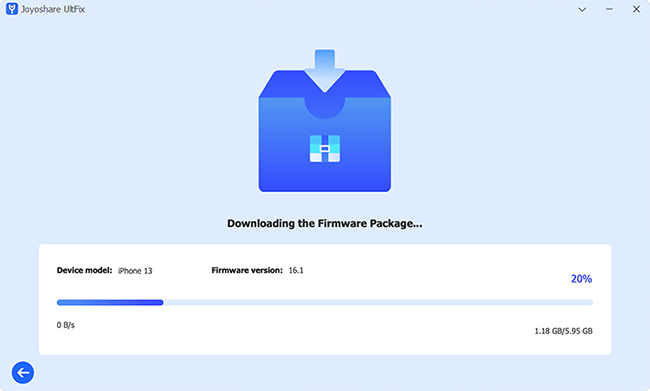 Step 3

Fix WhatsApp not Opening on iPhone

Under this interface, click on the Repair button and let Joyoshare UltFix handle the troubleshooting. Things will get fine soon.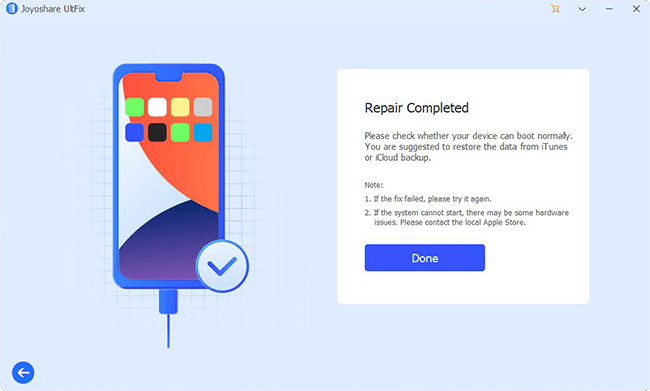 Solution 2. Restart Your iPhone
Believe it or not, it seems a good way to fix most smartphone issues. Just simply restart your phone and see if WhatsApp works.
On an iPhone 6s/6s Plus or earlier
Press the Power button & Home button for a few seconds.
On an iPhone 7/ 7 Plus
Press down and Hold Sleep/Wake button & Volume Down button, then stop pressing when the Apple logo shows.
On an iPhone 8/ 8 Plus and iPhone X
Tap quickly on the Volume Up button, followed by the Volume down button.
Hold the Power button for a few seconds until the Apple logo flashes on the screen.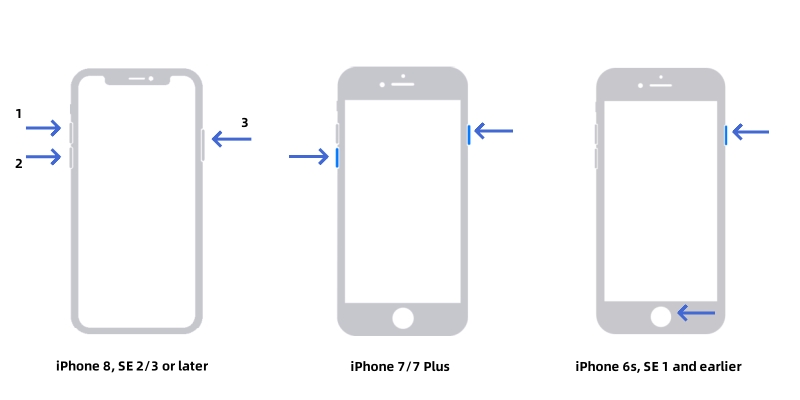 Solution 3. Free up Storage Space
Enough storage space guarantee WhatsApp send and receive messages or make calls smoothly. If you keep your smartphone long enough, data can build up and affect software operation, like WhatsApp won't open on iPhone. To solve this issue, you can check the best ways to fix iPhone storage full problem out. Here are the maximum helping tips to free up storage space on your iOS device — iPhone.
Solution 4. Close and Reopen WhatsApp
If WhatsApp is not opening on iPhone after updating iOS, try closing out of the app and then opening it again. Sometimes, this simple step can magically fix those minor glitches causing the app crashes. So, here's what you need to do:
Step 1: To close WhatsApp on iPhone 8 or earlier models, press the Home button twice times. To close WhatsApp on iPhone X or later models, go to the Home Screen, Swipe Up, and pause in the middle.
Step 2: Now, swipe up on the WhatsApp icon all the way up to close it.
Step 3: After this, reopen WhatsApp and see if it still keeps closing.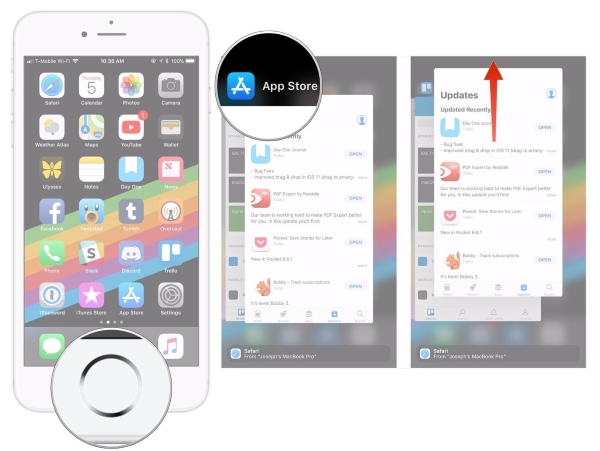 If the crashes continue, then move on to the next solution.
Solution 5. Update WhatsApp to Latest
Keeping WhatsApp up-to-date is helpful, because the bug may in the app. Most of the relevant problems get fixed after updating.
Here's what to do:
Step 1: Go to the App Store > Today tab > user profile
Step 2: Scroll down to check out the list of apps available.
Step 3: Tap UPDATE next to WhatsApp.
If the crashes continue, then move on to the next solution.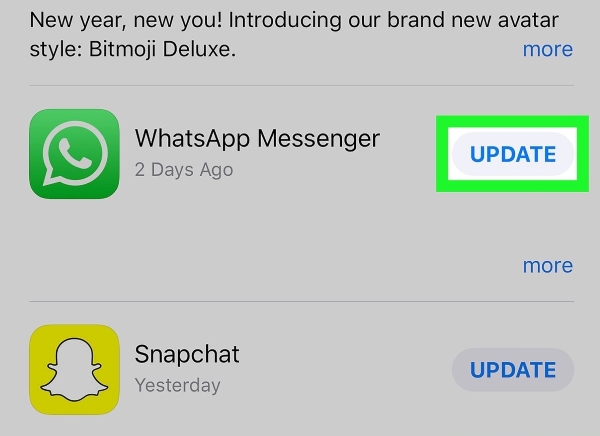 Alternatively, you can head to Settings > App Store to turn on Automatic Updates.
Solution 6. Check Content Restrictions on Your iPhone
The issue can result from WhatsApp notifications stopping working on iPhone, so a check of Content restrictions on your iPhone can rule out this possibility in your troubleshooting. It occurs when you enabled some restrictions to prevent your kids or strangers from snooping into other apps. If you did, the apps and services will become limited or hidden on your iPhone completely.
To configure it,
Step 1: Head to Settings > Screen Time > Content and Privacy Restrictions > Content Restrictions.
Step 2: Tap Apps and then modify restrictions based on your preferences.
Step 3: When you receive a pop-up message, make sure to Allow notifications.
Step 4: Reboot your iPhone after lifting restrictions and see whether WhatsApp is working properly or not.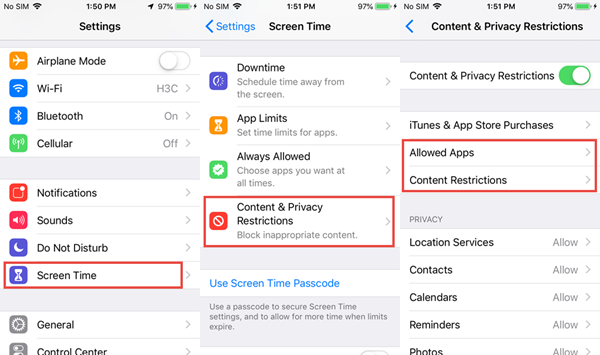 Solution 7. Reinstall WhatsApp
In some cases, the app may be completely corrupted or there's no update available, your best bet is to uninstall WhatsApp from your iPhone and then reinstall the latest version. Make sure to back up your data before deleting it.
Here is how:
Step 1: On your Home Screen, hold a long time to the WhatsApp icon.
Step 2: Tap on the Delete App option to uninstall WhatsApp.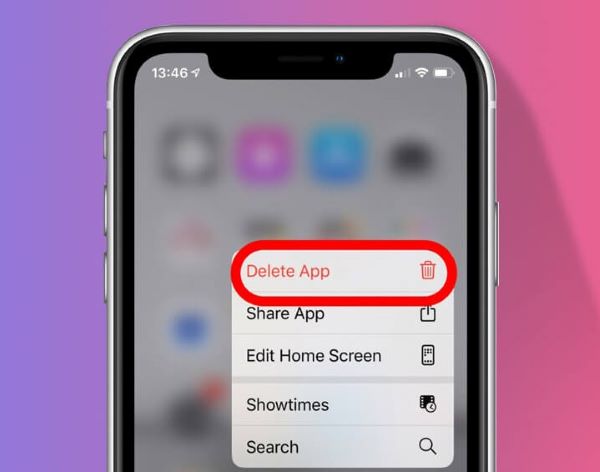 Solution 8. Reset Network Settings
Some iPhone users encountered WhatsApp crashing and not working issues, but then he got a quick fix by resetting network settings. I guess you haven't tried this yet. Here's what you should do then:
Here's what you should do then:
Step 1: Firstly, open the Settings app and select General.
Step 2: Hit Reset at the bottom of the menu.
Step 3: Lastly, tap on Reset Network Settings.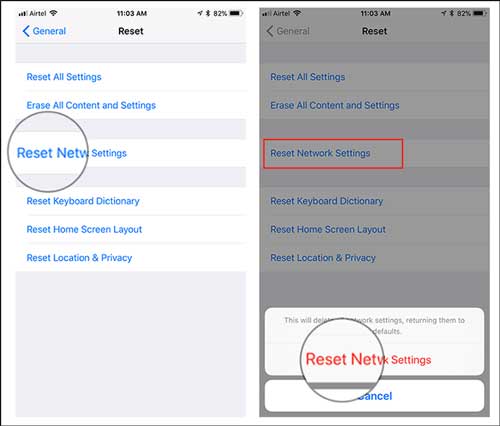 Solution 9. Reset All Settings on Your iPhone [Data Loss]
If the above-mentioned ways can't help you fix WhatsApp not opening on iPhone 5c, iPhone 6, iPhone 7, and other iOS devices, then try the last troubleshooting method.
Software updates on your iPhone will automatically override your iPhone settings, which triggers some conflicts with WhatsApp on your iPhone. Therefore, If the recent system software update has caused the phone software to malfunction, resetting all settings should help you. But please note that all of your preferences for Wi-Fi, Bluetooth, General, Notifications, and Privacy, etc. will be lost.
To do this, go to Settings > General > Scroll to the bottom and tap Reset > Tap Reset All Settings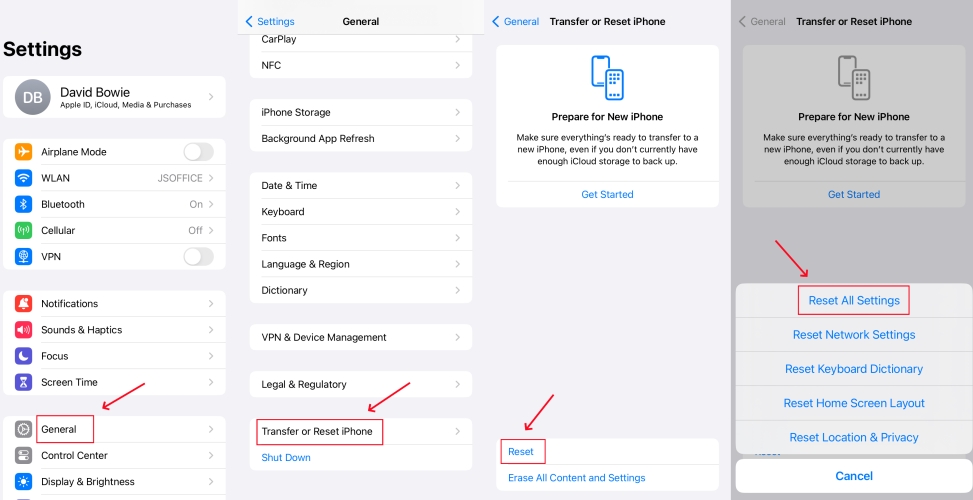 Conclusion
Our article content above provides the top 8 solutions to solve the WhatsApp not opening on iPhone. I'm sure you've found one works. It's worth mentioning that what effectively and easily does is to use Joyoshare UltFix iOS System Recovery. It's easy to get started even if you're a newbie. Let Joyoshare help you connect with your friends and loved ones again!