More and more users are using TikTok as their daily entertainment, but sometimes some glitches generate such as TikTok keeps crashing on iPhone. As a consequence, you are unable to watch, upload or share videos in this software. When you come across this annoying problem, you may wonder what the trigger is. In this article, it will be explained in detail. Meanwhile, the corresponding workarounds dealing with this situation are offered. If your iPhone gets stuck in the TikTok crashing issue, keep going to read it.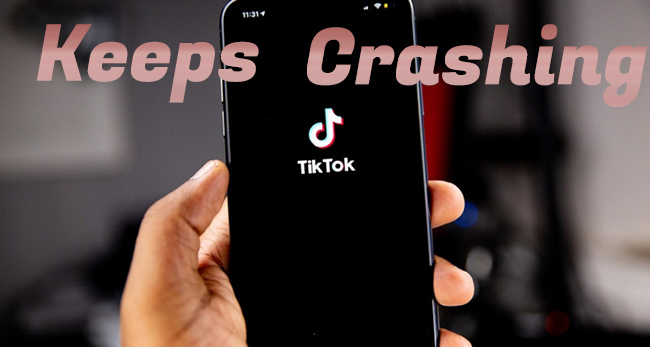 Part 1. Why Does TikTok Keep Crashing
The trigger could be separated from three aspects – the TikTok app, iPhone settings and the iOS system. For the first one, the causes consist of outdated software and TikTok server error. If you are using the previous TikTok version where some bugs exist but are repaired by developers in the latest one, the crashing will remain on your version. While the bugs have not been fixed by TikTok server, you are unable to use it smoothly, so you could give them feedback.
Insufficient memory, unworkable network, iOS system glitches, and Apple server constitute the latter two reasons. When TikTok works well on other devices, you can conclude that the trigger is your iPhone itself. Therefore, you can troubleshoot it from these aspects one by one.
Part 2. How to Fix TikTok Crashing on iPhone
Solution 1

Force Close TikTok

You will close and reopen TikTok as soon as it crashes on your iPhone. If it doesn't work and TikTok app keeps crashing, you need to force close it from the backend system. Here is how to do it.
iPhone with a Home button: double press the Home button to enter the App Switcher, swipe TikTok up from the bottom or tap the red "-" icon at the top-left corner.
iPhone without a Home button: swipe up in the middle of the screen, swipe up TikTok in the App Switcher.
Solution 2

Update TikTok to the Latest Version

The crashing error may be fixed by TikTok on the newest version. Since you disabled the Automatic Apps and Automatic Downloads feature, you will fall into this issue from time to time. Thus, to get rid of this problem, you'd better update your outdated app to the latest one manually. Open App Store on your iPhone, tap the icon of your profile in the up-right corner, scroll down to find the AVAILABLE UPDATES column, and choose Update All or hit the UPDATE button next to TikTok. If there is only an OPEN button, you have already gotten the latest version.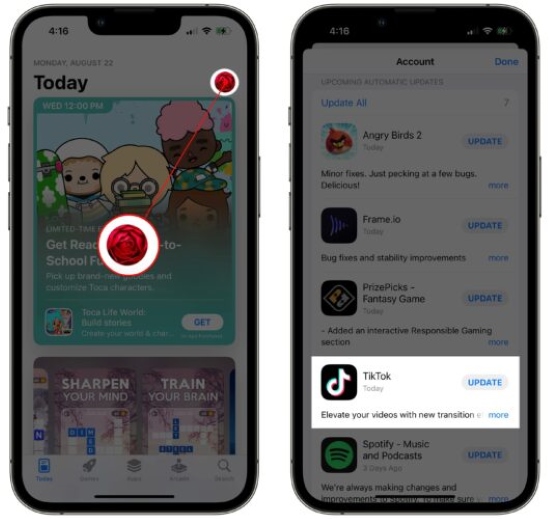 Solution 3

Delete and Reinstall TikTok

In case updating cannot solve your problem, you could consider that the bug exists in the TikTok cache. One way to solve it is to delete the software rather than offload it since the glitch will go with the deleting operation while it remains in the other operation. Locate TikTok on your screen, long-touch it, select Remove App on the menu and tap Delete App. Then, you can open App Store to redownload it.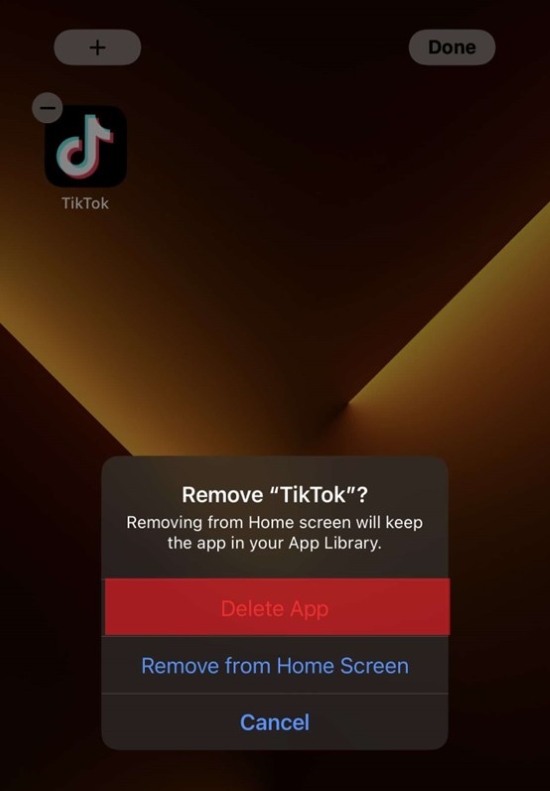 Solution 4

Check Internet Connection

Sometimes, apps close because of bad network conditions. Hence, it is necessary to check your Internet connection on your iPhone. There are three features you need to troubleshoot: Wi-Fi, Cellular and VPN. First of all, head to Settings and enter the WLAN interface. You have two things to do here. The first one is to turn off Wi-Fi and turn it on again. The second one is to tap the network you connect to, choose Forget This Network, and re-add it. Next, tap Cellular on the Settings app, likewise, disable and enable it to refresh the Internet. And pay attention to toggle the Low Data Mode off here. Lastly, turn off VPN on Settings or exit the VPN app you are using.
Solution 5

Clear Cache

This method consists of two parts as well – clear cache on TikTok and on your iPhone. On TikTok, tap your Profile, hit the three-dot icon on the up-right corner to enter the Settings and Privacy interface, and select Clear Cache. If you are unavailable to enter TikTok because of the crashing, and the memory on your iPhone will run out, you need to clear the cache on Settings. Choose General this time, find iPhone Storage, and tap the Enable option under RECOMMENDATIONS. Make sure you get more than 1 GB of memory on your iPhone.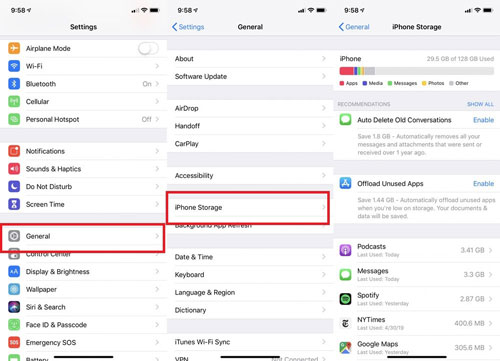 Solution 6

Restart iPhone

After so much inspection of TikTok app, if there is nothing wrong with it, it is required to fix the problem on your iPhone. The first and easiest method is to restart iPhone. Navigate to Settings, hit General, scroll down to the bottom, find the Shut Down bar, and drag the power-off slider to turn off your iPhone. Then, you can hold the Side button to turn on it.
Solution 7

Reset All Settings

When you don't know the exact reason, try to reset all settings on your iPhone. Go to Settings, tap General, scroll down to Transfer or Reset iPhone, select Reset, and choose Reset All Settings on the pop-up list. Once the reset progress ends, all the settings you set up before will be erased. Then, you can check if TikTok could be used as normal.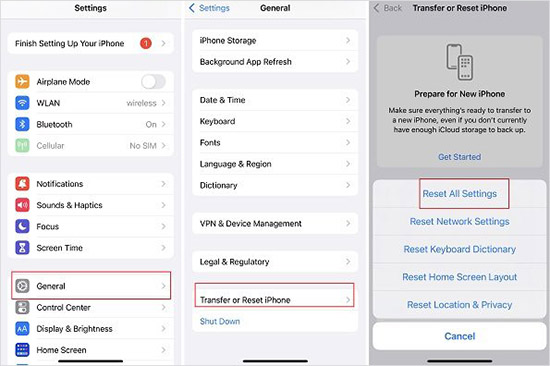 Solution 8

Upgrade iOS Software

Not only outdated apps but also unmaintained iOS software will cause the constant crashing issue. It is recommended upgrading the iOS system on your iPhone to the latest version regularly. Enter General on Settings, tap Software Update, and hit the Download and Install option. After you update to the newest version, open TikTok again and see if it keeps crashing on your iPhone.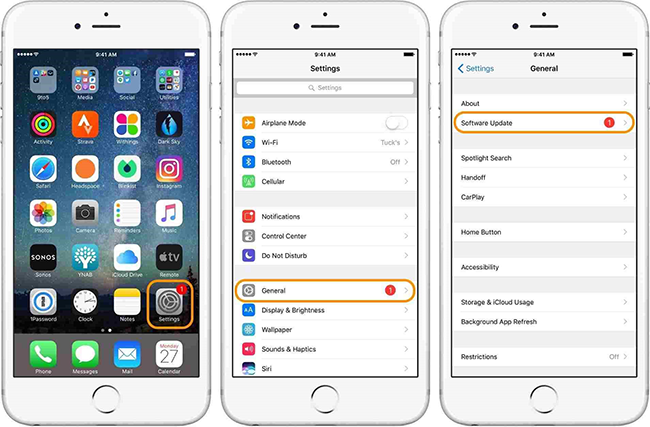 Solution 9

Restore iPhone

Restoring is capable to put your iPhone into the default state, which implies that most system glitches could be solved. You can restore iPhone on Settings or using iTunes. The former requires you to launch the Settings app, select General, find Transfer or Reset iPhone, and tap Erase All Content and Settings. On iTunes, you should first plug your iPhone into your computer, then locate your iPhone, and click the Restore iPhone button.
Part 3. Fix TikTok Crashing on iPhone via System Repair Tool
Joyoshare UltFix is an optimal solution to fix the abnormal crashing on apps led by an iOS system error. No matter TikTok, Snapchat, or Instagram keeps crashing, they all could be repaired with no data loss. Not only iPhone but also iPad and iPod touch are supported by this program. You don't have to worry about your privacy and the success rate, Joyoshare UltFix assures you 100% safe and a high rate of success. Within 4 steps, you could have fun with TikTok again.
Main Features of Joyoshare UltFix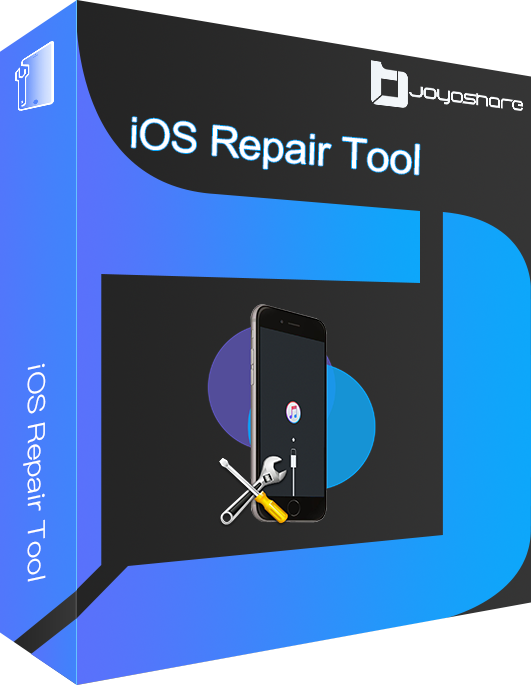 Fix over 150 iOS issues with no data loss
Compatible with the latest iOS 17, iPhone, iPad and iPod touch
Downgrade iOS to the previous version
Enter/exit recovery mode with one click for free
Step 1

Run Joyoshare UltFix and Connect to Computer

Install and run this program on your iPhone, and plug your iPhone into your computer. Bear in mind that you should install iTunes in advance. On the main screen, click iOS System Repair.

Step 2

Enter Standard Repair

Click the Start button and you will see there are two modes for you to choose. Standard repair mode will not cause any data loss, so you'd better click the left option. If your iPhone is detected without a problem, you can move to the next step. On the contrary, if it fails to be recognized, put your iPhone into DFU mode or recovery mode following the on-screen guide.

Step 3

Gain Firmware Package

As soon as you complete the confirmation of your iPhone's information, click the Download button. Then it will download and verify the firmware package automatically.

Step 4

Repair Faulty iPhone

Click the Repair button and your iPhone will be repaired within a few minutes. After that, you could restart your iPhone and open TikTok again to see whether the crashing issue disappears.
The Bottom Line
This post tries to make you understand why your TikTok keeps crashing on iPhone, and collects up to 10 solutions to help you fix it. It is hoped that you have read the whole article and done the methods one by one and step by step. If the problem is not very severe, it could be solved instantly. But if not, you could feedback to TikTok and contact their service staff, or contact Apple Support to fix your iPhone. Whichever workaround you adopt, wish you make it.