iPhones come with a very important slider on the left side that lets you switch between ringing and silent mode without having to push any additional buttons. You can simply slide your iPhone down to muffle the sounds while you are in class or a meeting, and then turn it up once you are done. So it's a very appealing feature in which Apple can claim pride. But keeping in touch with your iPhone is the point of the gadget. You feel frustrated when you discover you missed important messages, calls, and reminders. Especially when you find the reason is the silent switch not working.
Below are some great tips to fix the iPhone silent switch not working or it's stuck. These methods work for iPhone 13, 12, 11, 6, 6 plus, 4, and other iPhone models. Let's dive in!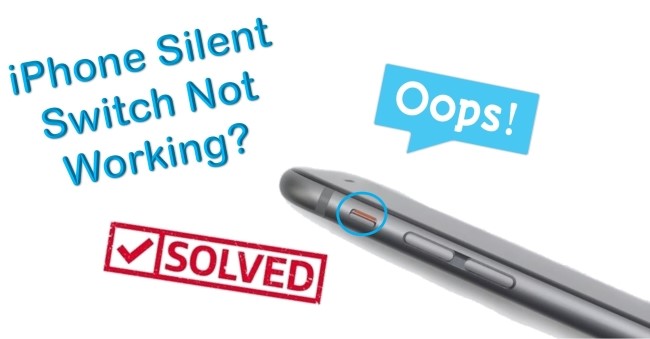 Part 1. Why Is My iPhone Silent Button Not Working?
Similar to any other electronic device, the iPhone is susceptible to malfunction at any time. When the slider stops working, it doesn't necessarily mean the end of the world. If your iPhone is still covered by a warranty, you could easily get a replacement. If it's not, the cost of having a third party repair the silent toggle button wouldn't cost much.
System bugs or glitches can be the culprit. Using a third-party tool to repair the iOS system can be another effective way. It's possible that the software enhanced button on iPhone could help if you don't want to repair the hardware switch for the ring/silent toggle.
Part 2. How to Resolve iPhone Silent Button Not Working?
Solution 1. Check and Clean the Switch
The switch button itself should be the first thing you check. It is located above the volume button on your phone. The silent switch button should be cleaned with a soft cloth. Clean it regularly to prevent dirt or dust from causing it not to work. Don't forget to check your silicone case, too. Some users discovered that a tight silicone case was to blame for the problem. Try removing or replacing your iPhone case. Make sure the switch is not on. Check it again a few hours later. When the orange/on detail does not appear, it's off or fixed.
Solution 2. Keep Pushing the Silent Switch
Users reported that after repeatedly pushing their Ring/Silent buttons back and forth 4-5 times, their phones began to work normally.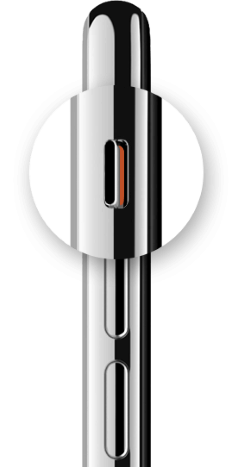 Solution 3. Turn ON Assistive Touch
Hardware buttons cloud eventually wear out and cause issues to use, so Apple makes sure to plan for this. Apple service centers aren't all available around the globe, many users may not want to have their iPhone tempered by a non-authorized service center. Consequently, an Assistive Touch button was introduced with iOS that recreated the functions of every hardware button. Turn on Assistive touch, it's a common way to solve this mute button issue. Here's what to be done:
Step 1: Go to the Settings → tap on the General → select Accessibility.
Step 2: Turn on the Assistive touch option, and back to the home screen. A white circle should appear on the screen.
Step 3: Tap on the circle and select "Device".
Step 4: Now you have the option of either "mute" or "unmute".
Step 5: After this step, you can turn off the Assistive touch (if you want).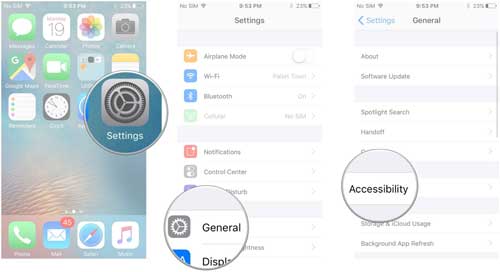 Solution 4. Turn the Ringer Volume Down
Default settings on the side of your iPhone change the Volume of media (such as music or videos), not the volume of ringers or alerts. But turning the ringer volume down to a minimum level will function similarly to silent mode. To do that: Go to iPhone Settings → Sounds & Haptics → Ringers and Alters. Now, by adjusting the volume manually to its lowest point, you can get rid of the doubt about my iPhone silent button is not working.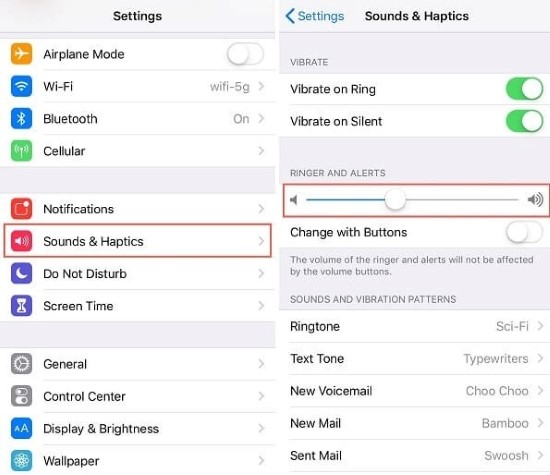 Solution 5. Force Restart Your iPhone
A force restart may also be needed if the issue was caused by a problem with settings or a bug in the operating system. The steps below will show you how to force restart your iPhone:
For iPhone 8 and later models: Quickly press and release the Volume Up button, followed by the Volume Down button. Then hold the Side button until the Apple logo appears on the screen.
For iPhone 7/ 7 Plus: Keep pressing the Sleep/Wake button and Volume Down button at the same time. Do this for at least 10 seconds, and release them until the Apple logo flashes.
For iPhone 6s and earlier: Press and hold both the Home and the Power buttons at the same time. When the Apple logo shows on the screen, let go of the buttons.
Solution 6. Enable Text Tone to None
The Test Tone can be set to none if you are only interested in making some specific notifications disappear, such as messages and emails. The Text Tone is a feature for silently receiving notifications. This can be accomplished by running the Settings app on iPhone, tapping on the Sound and Haptics button, and enabling the Text Tone to None.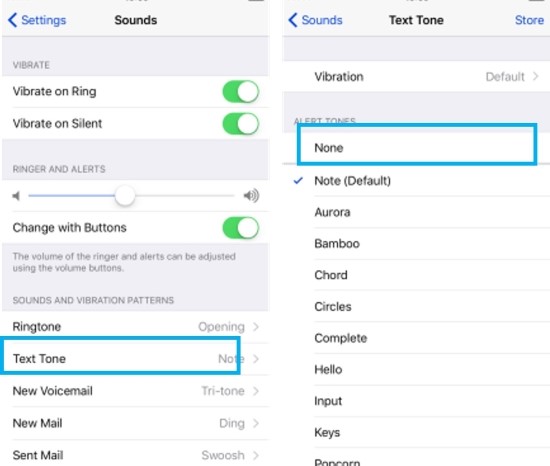 If none of the above methods work for your situation, then it is time to consider repairing your phone system. The repair process can be simplified with the help of professional tools.
Solution 7. Ask Supports from Joyoshare iOS System Recovery [Easy & Effective]
Joyoshare UltFix iOS System Recovery has been highly successful ever since it was launched. Since your phone will inevitably malfunction, users may come across various issues. There's no need to worry when the problem arises as there is Joyoshare UltFix that is designed to fix over 150 issues in a lossless way. It's a powerful toolkit, so it was more than capable of fixing the iPhone silent switch not working. It was in its control to fix the iPhone power button not working, GIFs not working on iPhone, and more.
People everywhere have found it a great program to repair issues conveniently. This should be a no-brainer, but you'd be surprised how simple the way to overcome the unsolvable problem you think. There is a bonus that its free trial version offers you the privilege to enter Recovery Mode for free. Without any ado, let's dive into how the iOS System Recovery software works.
Key Features of Joyoshare iOS System Recovery: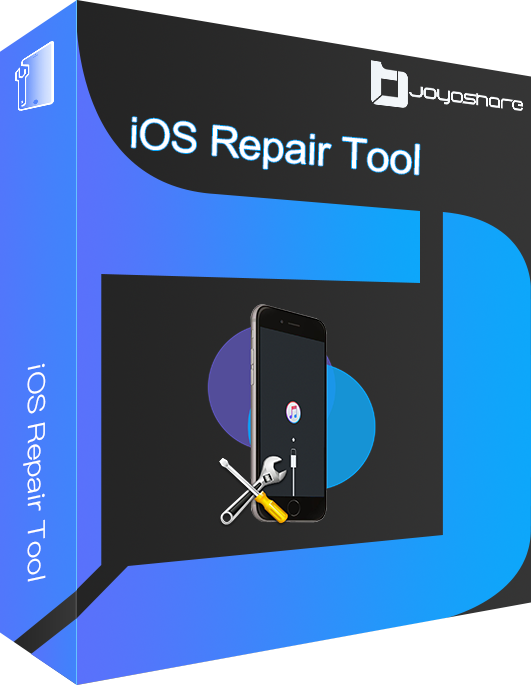 Fix iPhone silent switch not working with simple steps
Compatible with the latest iOS version - iOS 15
With a free option to get into or out of Recovery Mode
Resolve 150+ errors on all iOS devices like iPad, iPod and iPhone
Step 1

Install iOS System Repair

Get the application from the official website and install it on your computer. It can either be a Mac or a Windows computer. Remember to launch the program after installation. Then connect the malfunctioning iPhone. The software will automatically detect your device. Simply click on the start button.

Step 2

Choose Standard Mode

On this user interface, you will see two options. One of that will be the " Standard Mode" option. Click on it, which will repair your phone while protecting your data.

Step 3

Download Appropriate Firmware Package

Don't worry if you are unfamiliar with this process; the software will guide you through the steps to select and download the correct firmware for your iPhone. Various details about your device will now be displayed. Read the information carefully. If something is wrong, correct it. And then click on the Download button.

Step 4

Fix iPhone Side Silent Button Not Working

You will find an option that says "Repair" after you have downloaded the firmware. Click on it. A repair will be performed and your iPhone will be restored to its original state. A signed version of iOS will also be installed.
Part 3. The Bottom Line
By following the set of fixes in this article, you understand how to resolve the iPhone silent switch not working. One of them will prove effective in resolving the issue. Among the methods above, Joyoshare UltFix iOS System Recovery is quite good. Using this tool makes the repair process more versatile and helps you get the work done in far less time. If you cannot follow the steps properly, take professional help. Contact expert email support services to get the issue resolved.