Apple's Shortcuts, formerly Workflow, is an iOS app that streamlines your processes. This major change came with iOS 14 and makes your experience more personalized. Not just in functionality, but also in aesthetics, iOS 15 was supposed to get better. Though Shortcuts has seen improvements in some areas, it is not an entirely bug-free application.
Similar to other Apple features, Shortcuts also had its fair share of bugs. iPhone users are most likely to encounter a crash or a "no shortcut in use" error. These issues will, of course, be addressed by Apple in the future, but for now, we'll need to solve them ourselves. This guide will be of great help to you if you are in a similar situation. Keep reading to find out the answer "why are my shortcuts not working on my iPhone" and how to get it to work again.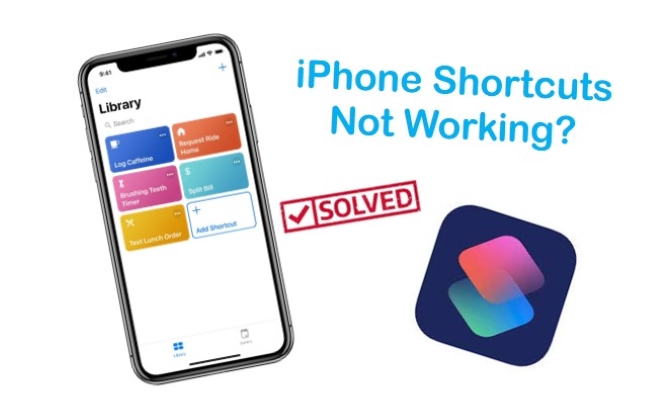 Part 1. Why Are My Shortcuts Not Working on iPhone iOS 15?
The new version of iOS 15 has minor software upgrades including tweaks to existing features designed specifically for modern users. There is no 100% stable software in the world, and this applies to all giant companies. Due to RAM management and resource-saving mode issues, some features do not work smoothly. Luckily, fixing the shorts issue is not impossible. You can refer to the next part which we have already covered different ways to address it.
Part 2. How to Easily Fix Shortcuts Not Working iPhone?
Way 1. Synchronize iCloud in Shortcuts
Have you created the Shortcuts on another device? The synchronization between Apple devices is handled by iCloud. Force the Apple ID to re-sync with the server and update your iPhone information.
Step 1. Open your "Settings" app om iPhone.
Step 2. Swipe down to choose the "Shortcuts" app.
Step 3. Tap to turn off the "iCloud Sync" to continue.
Step 4. Re-enable "iCloud Sync" in the iPhone after waiting for a couple of seconds.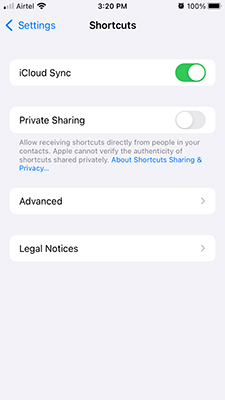 Way 2. Quit Shortcuts App
iPhone Shortcuts not working can be fixed by simply closing and reopening the application. To do this, swipe up from the bottom of the screen to bring up the app switcher. Just find Shortcuts and swipe up to close it. launch the app again from the home screen and it should be working properly.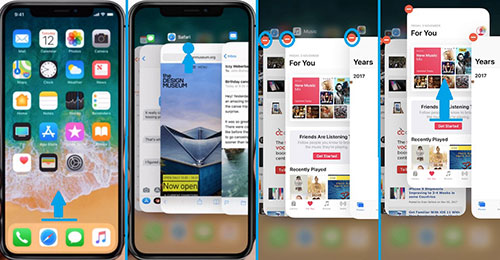 Way 3. Restart Your Device
While we are starting with one of the most basic solutions out there, it has proven useful to many. When you are having trouble using a Shortcut since updating to iOS 15, please try switching your iPhone off for a minute, restarting, and then trying again. The applications will have enough time to recalibrate and possibly even perform as intended. To turn off your phone
For an iPhone X, iPhone 11, iPhone 12, or iPhone 13,
· Press and hold both the Power button and either of the Volume buttons.
· When the power off slider appears, drag it to the right until the screen goes dark.
· After 30 odd seconds, your iPhone will switch off completely. Press and hold the Power button until the Apple logo appears.
For an iPhone SE, iPhone 8, or earlier,
· Press and hold the Power button.
· Drag slide to power off to the right to turn off your iPhone.
· Press the Power button until the Apple logo appears.
Then, go to the Shortcuts app and give it another shot.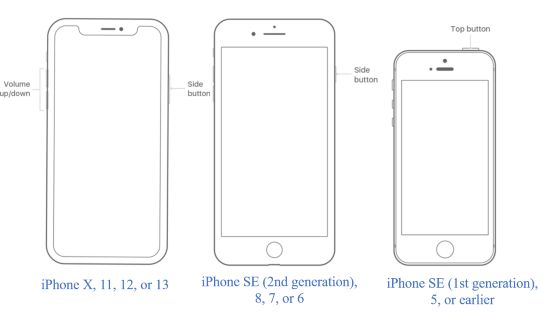 Way 4. Clean up Your Storage
Another best way to resolve a variety of issues is to clear out the clutter on your iPhone. To manage your storage, Open the Settings → General → Storage & iCloud Usage → Manage Storage. Delete anything you don't require. Or you can refer to another article that can free up your phone's memory to a greater extent.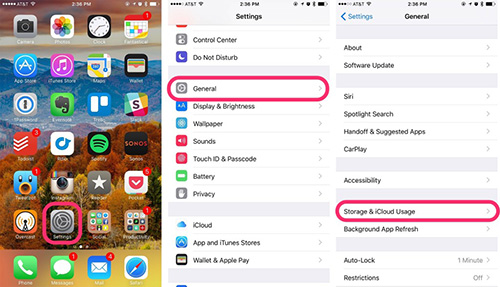 Way 5. Delete Old Automation
If you used to implement automation and Shortcuts through the Shortcuts app in iOS 14, you may have a difficult time making Shortcuts work. Therefore, we recommend you remove your old automation and Shortcuts so that you can create them from scratch on iOS 15.
Step 1. On your iOS 15-running iPhone, open the "Shortcuts" app.
Step 2. At the top right corner, tap on the "Select" button.
Step 3. Tap the "Delete" button within the prompt to confirm this process.
Step 4. It's done! You can start again by tapping the "+" button at the top-right corner after the shortcut is removed.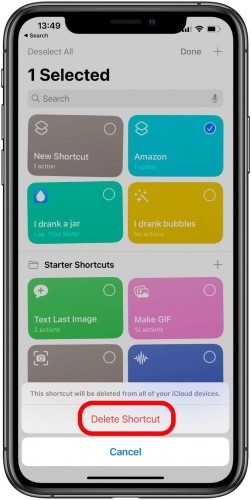 Way 6. Run Official Shortcuts Before Unofficial Ones
Automating and Shortcuts have become an integral part of the iOS 15 ecosystem, so there are many Shortcuts to use popular services on the internet. Unfortunately, many users have run into unexpected errors when attempting to use them. The untrusted shortcut error might appear if you downloaded a shortcut from an untrusted website. Even though it's somewhat illogical, before running an unofficial shortcut, try using an official shortcut from the Shortcuts app. That may be the real fix for Shortcuts not working on iPhone. There is a list of default Shortcuts in the Shortcuts app under the "Starter Shortcuts" tab.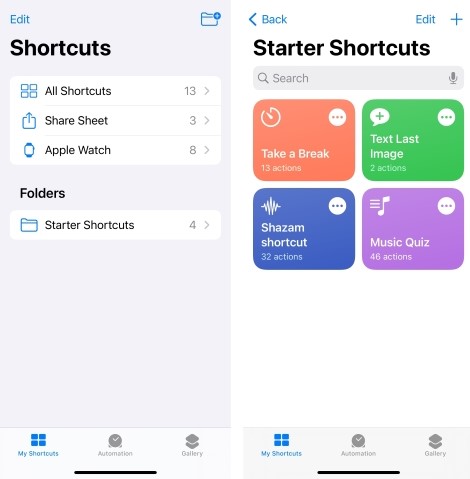 Way 7. Professional iOS System Recovery Tool Would Be Necessary [Easy & Effective]
If the error continues, a more professional tool – Joyoshare UltFix iOS System Recovery – could be the elixir of the issue. It is the best bet to fix dropped iPhone that won't turn on the issue and prevent data loss. Joyoshare UltFix not only can deeply repair troublesome iPhone issues but it is also compatible with iPhone/iPad/iPod touch/Apple TV. In addition to this, this easy-to-use program is designed with two repair modes to help you easily fix over 150 problems, including Standard Mode and Advanced Mode. iPhone alarm not working, iPhone caller ID not working, Netflix not working on Apple TV, all of these problems are just a piece of cake for it. That's why iOS users put their minds at ease when they go for this option.
Key Features of Joyoshare iOS System Recovery: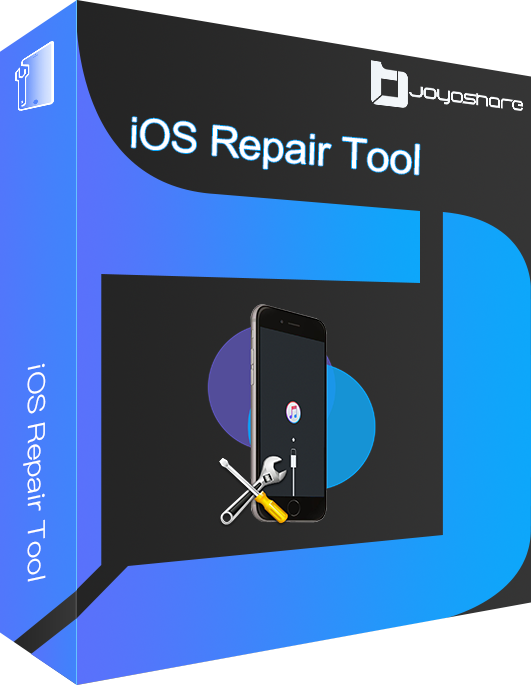 Fix iPhone Shortcuts not working with simple steps
Compatible with the latest iOS version – iOS 15
With a free option to get into or out of Recovery Mode
Resolve 150+ errors on all iOS devices like iPod, iPad and iPhone
Following the steps mentioned below will be free of any issues that bring you back to a normal phone.
Step 1

Download and Run Joyoshare Tool

Connect your iPhone to a computer via USB. After connecting successfully, click the "Start" button and proceed to the next step.

Step 2

Choose Standard Mode

Here simply click on Standard Mode. It can address most of the typical iOS issues. Most importantly, your data will not be damaged.

Step 3

Download Correct Firmware Package

In this step, it will detect your device automatically, then check the information and confirm. If it reads incorrectly, please choose the right one and "Download" the proper package.

Step 4

Start Fixing iPhone Shortcuts Not Working

After the firmware is downloaded completely, click the "Repair" button it will automatically repair your iPhone. It takes some time, make sure to keep the device always connecting to your computer during the repair.
Way 8. Reset Your iPhone to Factory Settings
Try resetting your device to factory settings if your Shortcuts are still not working in iOS 15. Please note that it will delete all of your Settings, your website login info, and all of your data. To do this, head over to Settings → General → Transfer or Reset iPhone → tap on Erase All Content and Settings and confirm it.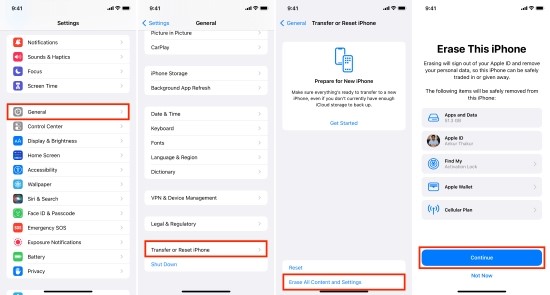 Part 3. Summary
Shortcuts in iOS 15 is not exactly a bug-free application. If you are confused about "why are my Shortcuts not working on my iPhone", and wonder how to fix it. Check out this post. We hereby conclude some ways to resolve it. Joyoshare UltFix iOS System Recovery handles this situation in a more professional and convenient. It helps you in a time-consuming and hassle-free way. We are sure this guide would help you get out of trouble in simple steps. If you still find it tough about this issue, feel free to tell us in the comments box with your detailed issues, we will try our best to help you out.