Sometimes, iPhone users have to restore their devices using iTunes. It helps install fresh firmware on your iPhone for smooth and improved performance. Even though the iPhone restoration process using iTunes is pretty straightforward, some users encounter technical glitches with iTunes stuck preparing iPhone for restore being one of the most common problems. This error makes it impossible to restore your iPhone, which can be very frustrating. If you have encountered this problem, this article will eliminate your misery by equipping you with the 7 most effective solutions to resolve the iTunes stuck on preparing iPhone for restore disaster.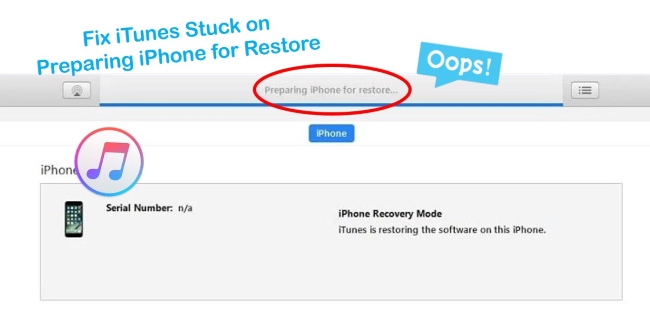 Part 1. How Long Does It Take Preparing iPhone for Restore?
Some factors contribute to the iPhone restoration, so a specific time can't be determined. Depending on how much data you want to restore, for instance, will determine the time it takes. About 15 minutes are required for iPhones to be prepared for restoration.
However, according to some users, the software took over 15 minutes to download, causing their phone to exit Recovery mode. The restore fails again when you click it again. When I try to restore my iPhone, it seems to take forever. How can this affect the restoration process? Situations vary. Next part, you'll get an effective way to fix the annoying problem.
Part 2. How to Fix iTunes Stuck on Preparing iPhone for Restore?
Method 1. Check Network
Poor internet connection may be the reason why your iTunes is stuck with a Preparing iPhone for restore notification. In essence, poor internet connection derails iTunes-Appel server connection thus delaying the restoration process. Therefore, you should ensure that you are running on a stable internet connection. If it is not working well, we recommend switching to a more fast, stable and reliable internet connection.
Method 2. Use an Original USB Cable
If your network is working well, it would be best if you confirm the USB connection before moving on to more complex solutions. A loose or faulty USB connection may also contribute to the preparing iPhone for restore stuck issue. It is highly recommended that you only use an original Apple USB cable. You can also use a different cable to make sure that yours is not faulty. Again, try using a different USB port; the one in use may be defective or unresponsive.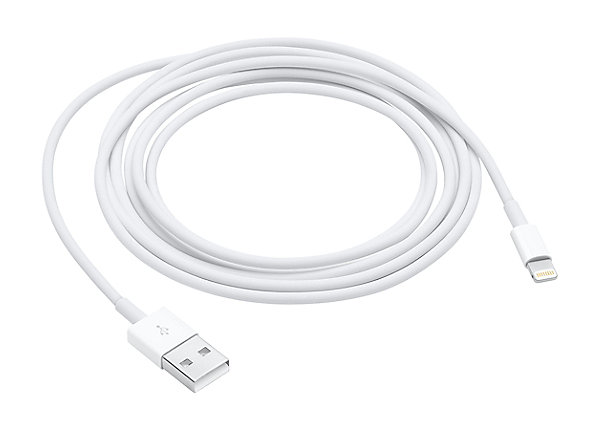 Method 3. Restart Computer and iPhone
It could be possible that iTunes stuck preparing iPhone for restore error could be resulting from a software glitch either from your iPhone or PC. A simple restart for both devices can go a long way in eliminating any software bugs that may be causing the problem.
For iPhone 6S and earlier,
Press Sleep/Wake button & Home button until the Apple logo shows up on the screen.
For iPhone 7/ 7 Plus,
Simply long-press the Sleep/Wake button & Volume Down button at the same time. Do this for at least 10 seconds, until the Apple logo flashes.
For iPhone 8/ 8 Plus, iPhone X, or later,
Quickly press the Volume Up & Down button one by one. Hold the Side button until the Apple logo shows up.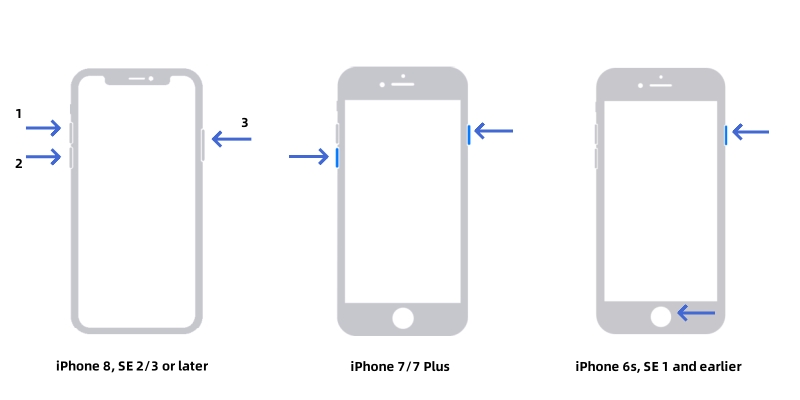 Method 4. Reupdate iPhone
Reupdating your iPhone provides you with an excellent chance to fix your iTunes stuck on preparing iPhone for restore problem. Ideally, it helps refresh your software, eliminating any glitch that could be deterring the iPhone restoration process. Here is a simple guide that will help you re-update your iPhone using iTunes.
Step 1. Launch iTunes and connect your iPhone to your PC;
Step 2. Your device will detect. Click on the name of your device and then on the Summary option of your device;
Step 3. Click Update to reupdate your iPhone. Wait until the process is complete.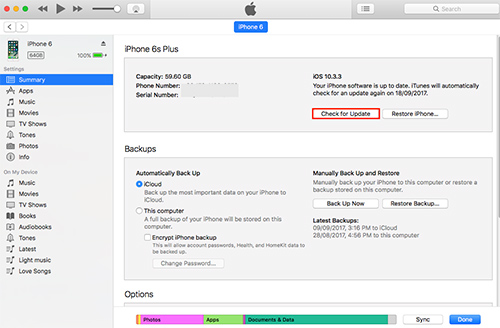 Method 5. Update iTunes
To ensure optimal and smooth performance for your iTunes software, it is essential that you regularly update the program. In this case, running obsolete iTunes software could be the root cause of being stuck preparing iPhone for restore. To update iTunes, simply follow the steps below.
Window iTunes update:
Launch iTunes → Help → Check for Updates.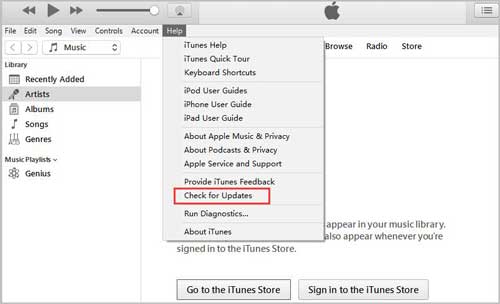 Mac iTunes update:
Launch iTunes → iTunes → Check for Updates (For macOS before Catalina).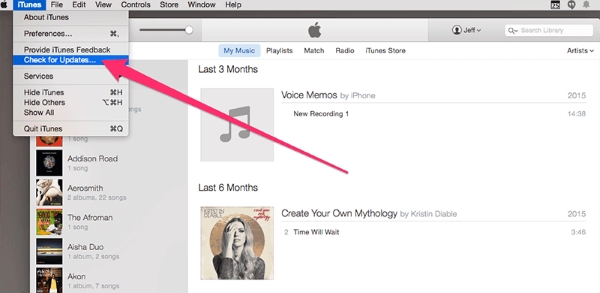 Method 6. Disable Antivirus Software
Be restoring or updating your iPhone using iTunes, it is important that you disable anti-virus protection on your device. Most third-party protection software blocks iTunes- Apple server connection and hence causing your iTunes stuck on preparing iPhone for restore problem. Simply access the setting menu and find the Disable option to temporary stop protection.
Method 7. Use the Professional iOS Recovery Tool – Joyoshare iOS System Recovery [Hot]
If the issue is yet to be fixed, then it is highly probable that your iPhone has a severe software glitch. Here, you will need third-party software to help resolve the iOS software problem. Joyoshare UltFix is a versatile and powerful program designed to iOS device users resolve over 150 different system issues, including our iTunes stuck on preparing iPhone for restore problem. The software works fast and also guarantees users a data lossless iOS repair/recovery process. Apart from this issue, it can also fix iPhone stuck in black screen, boot loop, frozen screen, etc. Below is a detailed guide on how to use Joyoshare UltFix to fix the iTunes stuck on preparing iPhone for the restore problem.
Key Features of Joyoshare UltFix iOS System Recovery: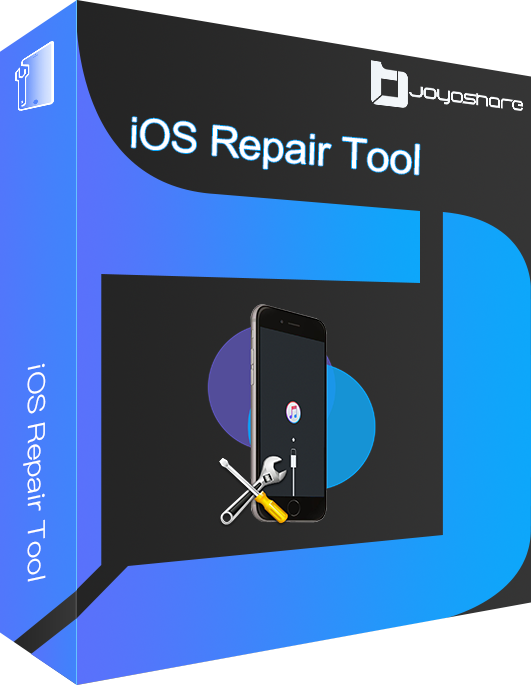 Compatible with all iOS devices
Uniquely designed with dual repair mode
It can repair 150+ possible iOS problems
Free exit or get into recovery mode quickly
Zero data loss to guarantee maximum data protection
Step 1

Launch Joyoshare UltFix and Connect iPhones

Start the Joyoshare software, and using a genuine Apple USB cable, connect your iPhone to your PC. Click Start to proceed to the next step.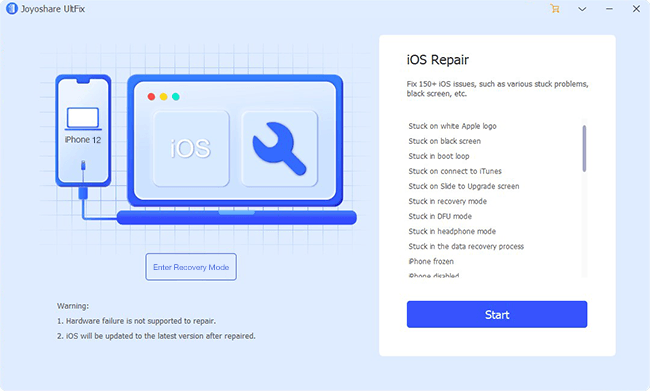 Step 2

Select Repair Mode

Two options will appear on your screen. Select Standard Mode as your repair mode. It guarantees 100% data safety. Do not use the Advanced Mode – it will lead to data loss. Click Next to proceed.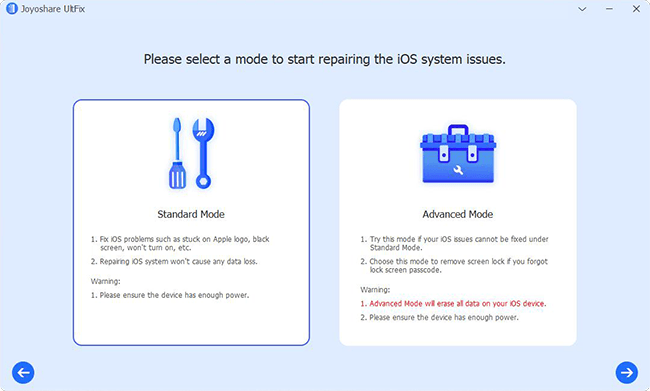 Step 3

Download Firmware Package

Click Next to get ready to download the firmware package. Confirm if the firmware matches your iPhone info before hitting Download to start the download process.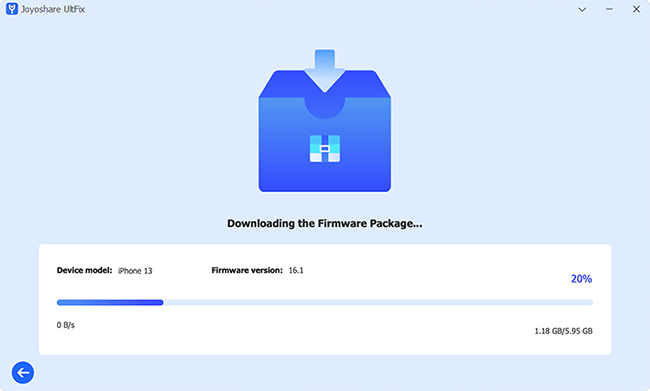 Step 4

Fix iTunes Stuck on Preparing iPhone for Restore

Click Repair to start the iOS repair/recovery process. Make sure that your iPhone is connected during the entire process. Wait, it may take a few minutes. After it is complete, boot your iPhone and check if the problem is resolved.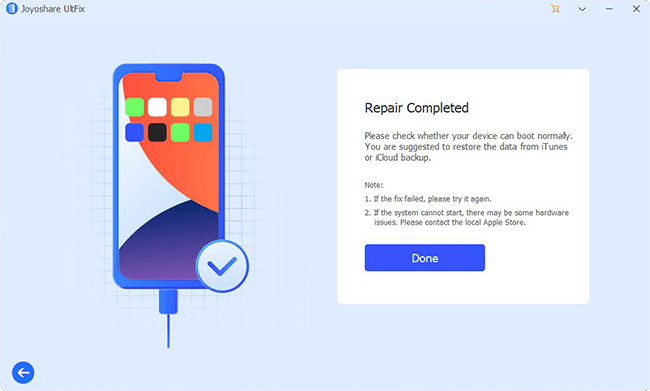 Part 3. Final Thoughts
We hope that the above-provided solutions will help your resolve the annoying iTunes stuck on preparing iPhone for restore issue. In any case, the solutions are easy to execute. However, using Joyoshare UltFix provides you with an amicable chance to fix not only iTunes issues. The software is easy to use, fast, and remarkably effective. Also, the software ensures that your iPhone is updated to the latest iOS version after repair. All you have to do is download, install and follow the guide above to resolve your issue and any other iOS system-related problems.