iPods are very popular, especially among music lovers. But just like any other gadget, your iPod touch can experience problems because of various reasons. Most of the common issues that can affect your iPod include when your iPod won't turn on at all or when you have plugged the iPod, but it is still refusing to turn on. You do not have to worry because there are several methods you can use to fix your iPod touch that is not turning on. What is important most is that you have to know some of the reasons first and then choose an optimal solution.
The Reasons Why iPod Won't Turn On
There are many reasons why your iPod may not be turning on. Some of the most common causes of this problem are:
1. Damaged or outdated iOS;
2. Low battery;
3. Broken charger;
4. Dirt on the charging port or/and charger;
5. Irresponsive screen;
6. System glitches or software bugs.
Solution 1: Charge iPod
Most people usually panic when they notice that their iPods are not turning on. But the truth is that the device might be failing to turn on because the battery is too low. This especially happens when you keep the iPod for prolonged periods without using it. If you keep the device off for several weeks or months, the battery will have no power, and it will not turn on. To solve this, just plug the device into a charger and leave it for about thirty minutes. It might not indicate anything during the first few minutes. But if you leave it charging for more than twenty minutes, it will eventually turn on and show it is charging.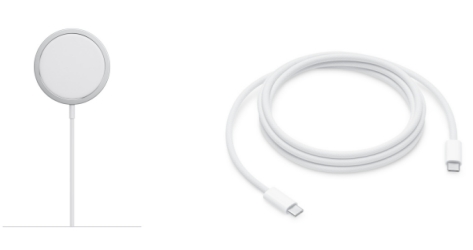 Solution 2: Force Restart iPod
Sometimes the iPod needs to be force restarted so that it can work properly. The process of force restart just involves forcing the device to start whenever it doesn't turn on normally. To force restart your iPod, just long-press the 'Home' button together with the 'Sleep' button for about fifteen seconds. If the process is successful, the Apple logo will appear on the screen, and this will indicate that the device is switching on. You can press the two buttons for longer since there are some devices which take even sixty seconds to switch on. It is not advisable to use this option regularly. But you can use it whenever the iPod refuses to turn on in a conventional manner.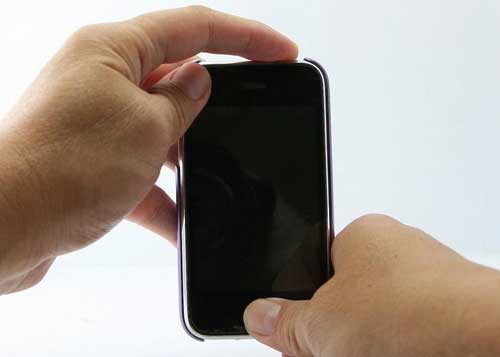 Solution 3: Clean Charger and Charging Port
The charger and the charging port of the iPod usually get dirty easily. Dust and other types of soft dirt will get into the port after using the iPod for a certain period. The dirt will block power from getting into the iPod, and this will result in the "iPod doesn't turn on" situation. As a way of turning on iPod touch, you should take time to clean the port and the charger. Use things such as a toothpick or a sim card remover to do the cleaning. You should be gentle because using too much force might cause further damages. With this, you shall have solved the issue of iPod won't turn on or charge.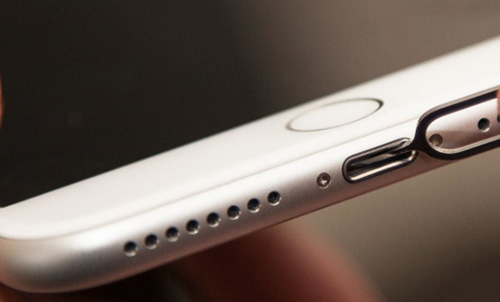 Solution 4: Update by Using iTunes
You can also use iTunes to fix your iPod touch won't turn on. The entire process is simple and straightforward where you do not need to be an expert to complete it. The software you get will come with detailed instructions which will guide you on how to update effectively. To do it, you shall need to get the latest version of iTunes. Next, just connect the iPod to a computer, and select iPod device icon. Below the "Summary" tab, you will see a button labeled 'Check for Updates' or "Update" which you should click. iTunes will start the process of updating your device. Within a few minutes, your iPod will be reset, and it will turn on normally.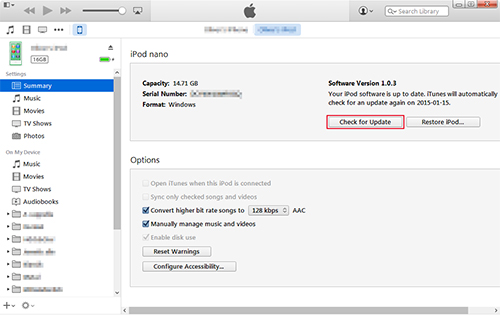 Solution 5: Fix and Update iOS System using Joyoshare UltFix (No Data Loss)
Sometimes your iPod might fail to turn on simply because of some unexpected software-related glitches. When this happens, you need Joyoshare UltFix, a professional iOS repair tool, to fix the underlying problems. This typical program is specially designed to keep your iPod, iPad, iPhone and Apple TV free of potential system issues, including iPhone stuck on verifying update, iPad is disabled connect to iTunes, Apple TV Airplay not working, black screen, white Apple logo, etc.
It's worth knowing that it has excellent compatibility to support all types of iOS devices, Apple TVs and iOS versions. You can even use it for free in one-click mode to fast exit or enter recovery mode. Besides, its standard mode allows you to repair issues with no data loss while the advanced mode helps you to factory reset devices without using passcode, iTunes and iCloud.
Key Features of Joyoshare UltFix iOS System Recovery:
Fix iPod, iPad and iPhone won't turn on
Support repairing different system issues without losing data
Compatible with lots of iPhone, iPod, iPad and Apple TV devices
With free function to exit or enter recovery mode in one click
Offer advanced mode to factory reset Apple TVs and iOS devices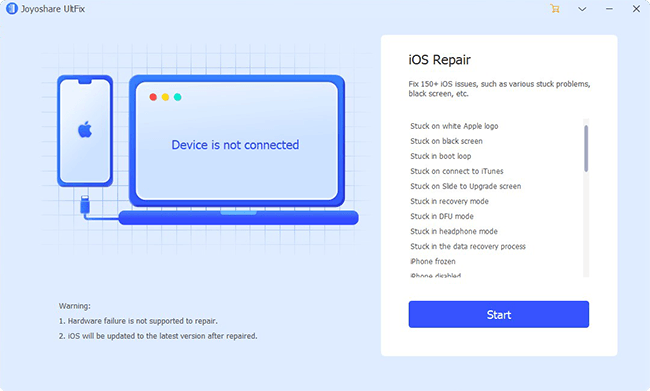 Step 1

Install program and connect iPod

This is a straightforward step where you just need to go to the official website to download the program. After downloading, easily install it properly on your computer and connect your iPod to the computer using a USB cable.

Step 2

Choose repair mode

Afterward, get "Standard Mode" selected > click "Next" > follow the instructions to boot your iPod into recovery mode or DFU mode.

Step 3

Download and verify the firmware package

As long as the connected iPod is put into chosen mode, your related device info will be shown. Check it in your own way and then press the "Download" button to download and verify the firmware package. Please ensure plug iPod all the time and guarantee a good network connection.

Step 4

Start fixing iPod won't turn on

Since all operations are done, you are enabled to click the "Repair" option to start fixing iPod system problem and make it turn on again as normal.
Solution 6: Restore to Factory Settings
Besides aforementioned workarounds on repairing iPod not turning on, you can restore it to factory settings too. This shall erase all the details and contents on the device, and the iPod will return to the way when it was new. It is advisable to use this option when you are sure that all the other options have failed. You should make sure you have a backup for the data before deciding to use this option.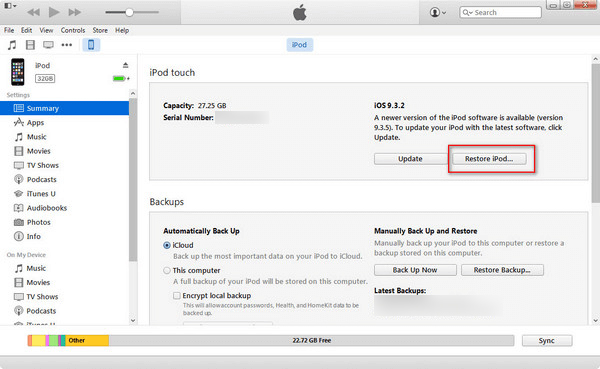 The process of restoring the iPod to factory settings is simple, and you can do it at the comfort of your home. To achieve this, you need the newest iTunes version on your computer. You should then connect the device to your computer. After connecting, you should click the 'Restore iPod' button, which is on the "Summary" tab. You should then go to the 'Restore' option which will reset your device using the latest iOS.
Conclusion
Whenever you hear someone saying "my iPod won't turn on", you can help such a person with the outlined solutions. Some of the described solutions are meant to deal with hardware issues, while others deal with software issues. But they are all effective in dealing with an iPod that won't turn on or charge. You can try some of the solutions until you get the one that shall restore your iPod touch. The solutions are simple to implement without requiring any technical skills. Therefore, by applying the six demonstrated solutions on how to turn on iPod touch, you shall be able to continue enjoying your gadget in a convenient manner.