"Help! My iPod touch keeps restarting over and over! I updated it this morning and since then it is stuck continually restarting itself. It turns itself back on again and this repeats until the battery dies. I charged it thinking once it had died it would fix its problem, but it continued even after that. I've tried the full restart by holding the home button and lock screen, but that only stops it for a second. Any suggestions on how to fix it?" – From Apple Community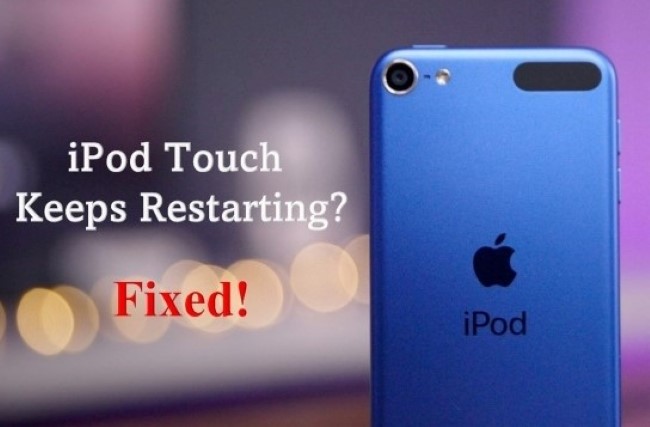 The iPod touch is one of the most celebrated devices, and chances are, you've come to use it almost every. Like other iPod users, you value the ease of dependability you get almost always. The "almost" part comes in when your iPod touch keeps restarting. Whenever you encounter this problem, the whole iOS experience is like getting stuck in a boot loop. Been there, done that. I can feel the agony you're going through right now. If you find yourself trying to fix this error to no avail, this guide will walk you through the process.
Solution 1. Hard Reset iPod Touch
Your iPod touch keeps restarting because of a software crash. To put it simply, a hard reboot is an effective way to resolve many problems, this one is no exception. You can follow the guide below:
iPod touch (7th generation)
Press and hold down the Top button and the Volume Down button for at least 10 seconds, until you see the Apple logo.
iPod touch (6th generation) and earlier
Keep holding the Top button and the Home button for at least 10 seconds. Do this until the Apple logo shows on the screen.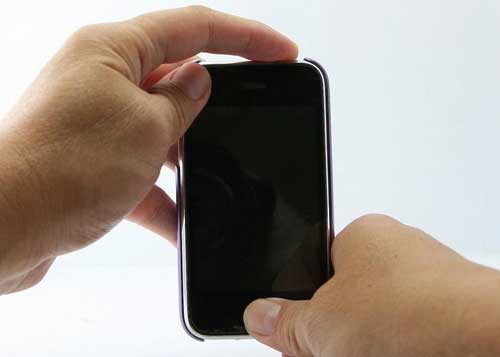 Solution 2. Update Software on iPod Touch
Did your iPod touch start rebooting repeatedly after an iOS update? If so, it is very likely that this issue arises from a software bug. You should update the software to fix the problem. There are two ways to update software for iPod. Here's what you should do then:
Way 1. Update iOS on iPod: Open "Settings" on your iPod touch → head to "General" → "Software Update" to check if any software update is available. Then click Install Now to download and install the latest update to your iPod.
Way 2. Update iOS for iPod with iTunes: Connect your iPod to your computer with a USB cable. Open your iTunes, go to "Device" → "Summary" → click the "Check for Update" button. Then follow the onscreen instructions to update iOS for iPod.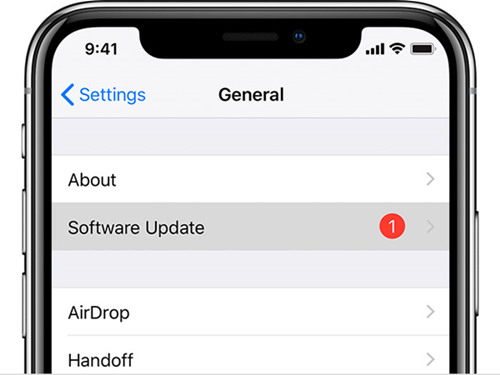 Solution 3. Clean iPod's Charging Port
A reboot is sometimes caused by charging a headphone or plugging it in. The lint or dust in the port can cause problems with charging or electrical connection, so cleaning the lightning port will be a solution to fix the iPod touch keeps restarting. It can be done with a toothpick or small needle.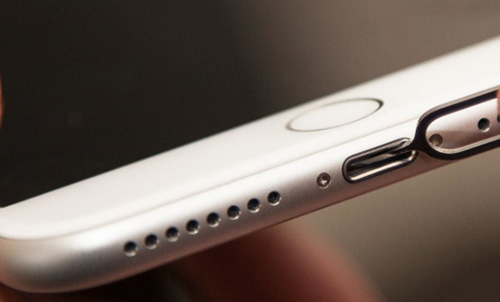 Solution 4. Remove the SIM Card and Reinsert It
iPod tends to get stuck in a restart loop if the device's connection to the wireless carrier is facing a problem. If the iPod's connection to the wireless carrier is experiencing issues, it may get stuck in a restart loop. Removing and resetting the SIM card is one of the easiest and most reliable methods of fixing the connection problem.
Shut down your iPod at first. After that, use the ejector tool (or a safety pin), which comes with the iPhone in the box, to pop out the SIM tray. Remove the SIM card. After that, wait a few seconds and then reinsert the SIM.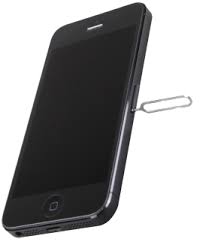 Solution 5. Check If Something Wrong in Apps
Remove the problematic apps if the iPod touch keeps restarting trouble persists even after a software update. How can you figure out what app is causing the problem? As for iOS, it has a feature called "Analytics," which is useful in diagnosing issues. Through thorough testing, it digs out the problematic areas, making it a little easier to pinpoint the problem. Simply go to Settings → Privacy → Analytics & Improvements → Analytics Data. Then, go through the entire list and identify any apps that may have appeared more than once.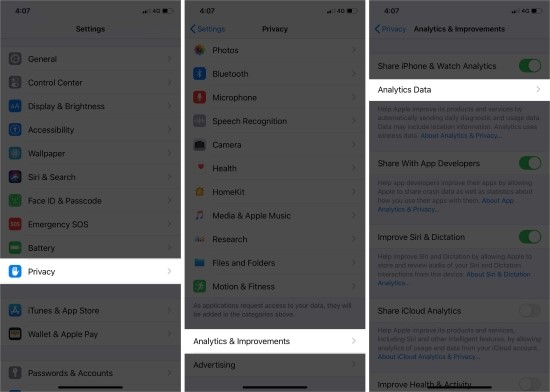 Solution 6. Delete All Outdated Apps
Outdated apps tend to cause a lot of problems. The performance of your iPod may be affected, and you might even experience unexpected crashes. It's a good idea to wipe out some apps on your device that hasn't received any love from the developers.
In iOS 13 or later, tap and hold the app when the menu appears, choose Delete App. And touch Delete again to confirm the action.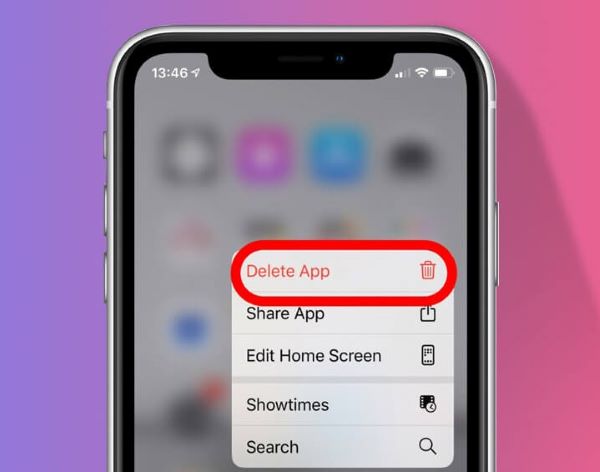 In iOS 12 or earlier, likewise, keep holding the app and hit the X bubble, and tap Delete bubble in the popup that appears.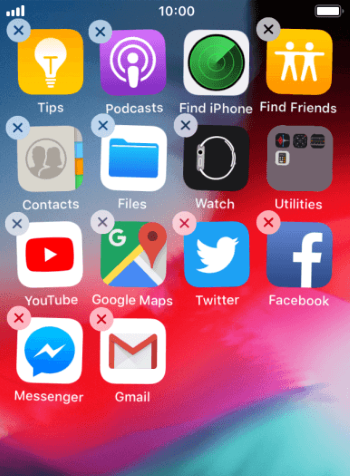 Solution 7. Update All Apps
Updates are frequently received by most apps to improve performance and fix bugs like iPod touch keeps restarting. Take advantage of the "Automatic Updates" feature found in Settings → App Store → App Updates to make sure all your apps are up to date. Update your apps manually is also works. To do that: open App Store → Your Profile → Update All. This way can update all of the apps installed on your iPod touch in one go.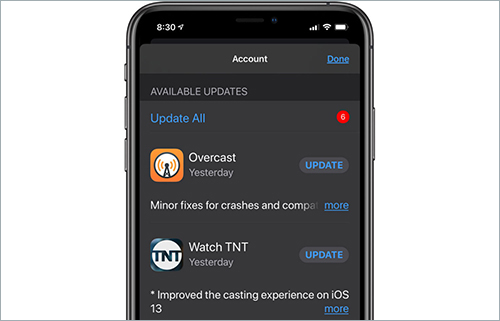 Solution 8. Clean up Your iPod Touch
A clean-up of the entire device may help in fixing your iPod's problem if it still restarts. File corruption or an overcrowded storage space might be at the root of this problem. Be sure to backup all important files before beginning this marathon of a cleanup. Let's check out:
Stpe 1: Go to "Settings" → navigate to "General".
Stpe 2: Hit on Usage and Manage Storage tabs to find the applications that occupy your iPod touch's memory.
Stpe 3: Delete cache data on each large app.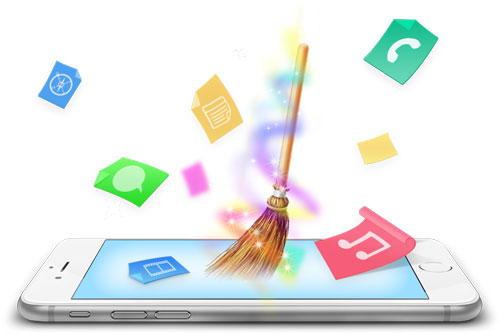 Solution 9. Use iOS System Recovery Program [Highest Success Rate]
Joyoshare UltFix iOS System Recovery is designed to take the stress out of error repairing by allowing you to resolve the iDevice issues you're experiencing with. It provides powerful features for users to fix over 150 iOS-related issues with two repair modes effortlessly, which reduce stress, relax and improve performance. In a word, this versatile software can not only resolve the iPod keep restarting issue, but it can handle numerous other iPod issues, including iPod won't turn off, your device is stuck in a boot loop, Apple logo, and several other common problems. What's more, our program is compatible with all models of iPod, iPhone, and iPad.
Key Features of Joyoshare UltFix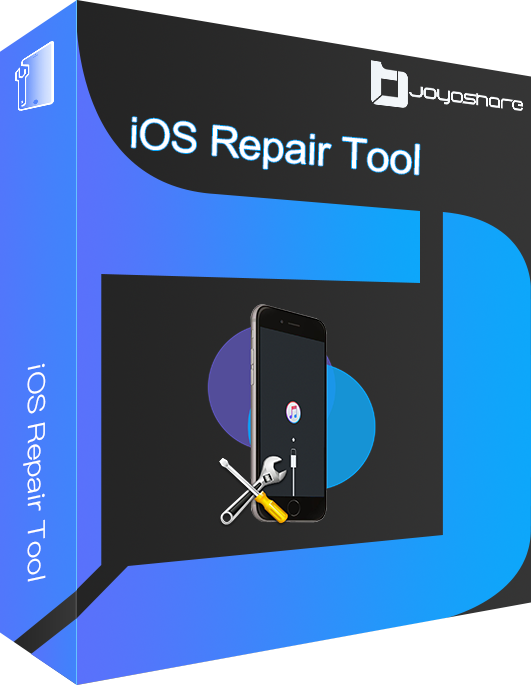 Support iOS 15
Fix iPod Touch keeps restarting
Repair more than 150 iOS system problems
Enter/exit recovery mode with one click for free
Here we showcase steps of how to use this program easily:
Step 1

Download, Install, and Run Program

Download Joyoshare UltFix from its official website. Then install and open it. You should connect your iPod to the computer.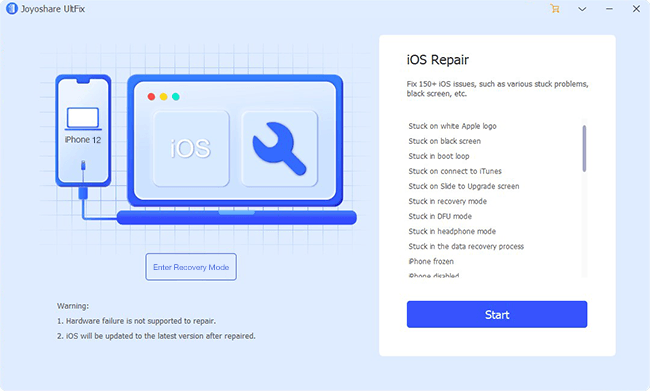 Step 2

Choose Repair Mode

Here you should see two modes on the interface – Standard Mode or Advanced Mode. Click on the Standard Mode, which is enough to fix your iPod restart error with no data loss.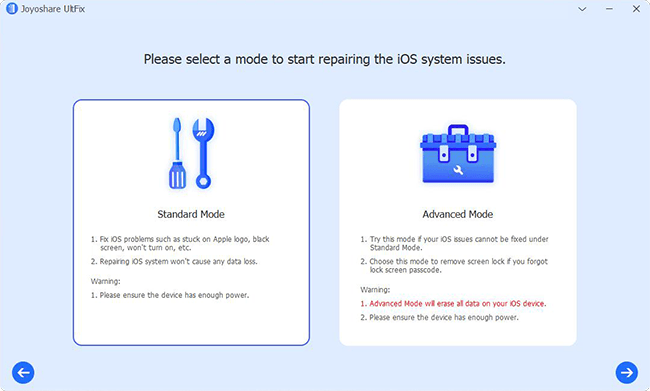 Step 3

Download Firmware Package

After you have confirmed your iPhone information, you are allowed to click Download in the right corner of the screen to begin downloading the firmware package.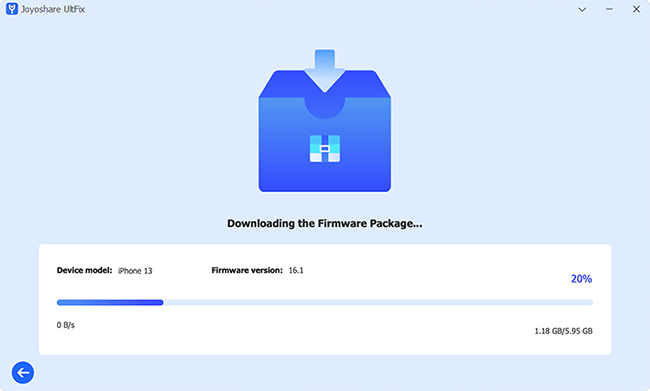 Step 4

Start to Fix iPod Touch Keeps Restarting Over and Over

When the downloading process has been completed, you can press Repair to unzip the package. Wait for a few minutes and Joyoshare UltFix will help you fix iPod touch keep restarting issue.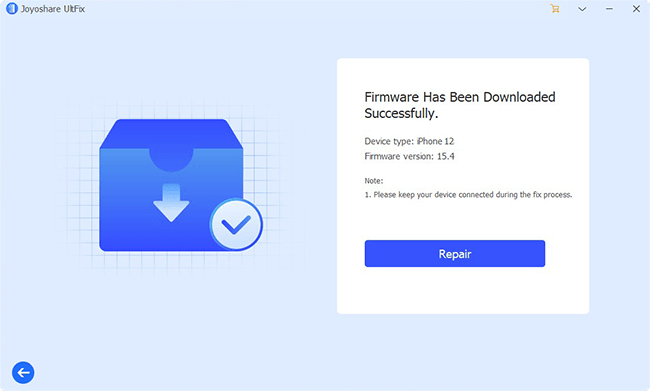 Solution 10. Reset All Settings
The next step that you should take is to reset all settings after you've tried the methods above. This is a common measure taken to adjust system settings in the event of a malfunction.
Steps to perform the operation:
Stpe 1: Open Settings → General → Transfer or Reset iPhone → Reset All Settings orderly.
Stpe 2: The passcode may need to be entered. To restore the settings to factory default, tap Reset All Settings.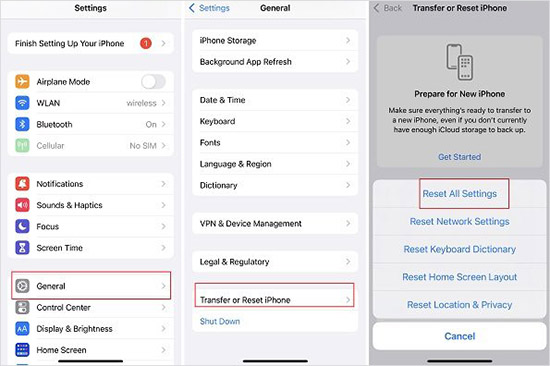 Conclusion
With the prominent roles that the iPod touch plays in our daily lives, it's nearly crippling to experience iPod touch keeps restarting. The iPod may be continuously restarting due to a problem caused by a dislodged part or other physical damage. Your phone may need to be repaired if it has broken internally or externally after you dropped it.
Go through this post or simply choose the all-in-one program – Joyoshare UltFix to help you out. So, you won't face any difficulty in fixing the iPod issues yourself. But if you still have got any doubts regarding it, feel free to connect to Joyoshare customer service professionals or leave your comment below.