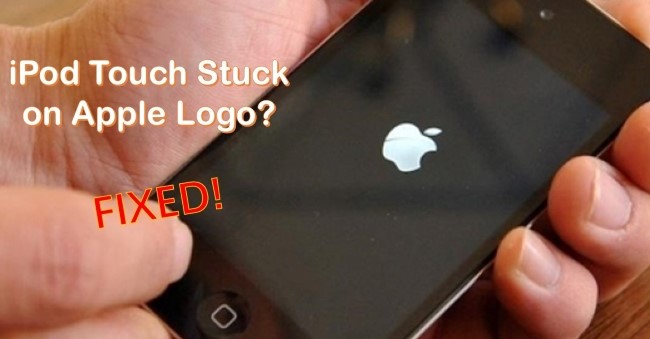 Q: "My iPod touch 5 stuck on Apple logo. I do not have any backups and I'm terrified of losing all of my data, as I have important pictures and other data. If anyone has any way to help, it would be greatly appreciated. Thank you so much!" – Chalster from Apple Discussion
Many people bothered by iPod touch stuck on Apple logo problem are seeking for help. Although this is fairly a common problem, it is quite distressing to say the least, especially when you have no idea how to fix it. It became even more fearful considering that you could lose your data trying to fix it. Fortunately, you can learn 6 tips here to repair this issue at home without damaging your data. This guide fits iPod touch 5th generation stuck on apple logo.
Part 1. Possible Reasons that Lead to iPod Touch Stuck on Apple Logo
Failed software update: when updating iPod, the update may fail to complete successfully. In such a case, when you try to restart your iPod, it will get stuck on the Apple logo and becomes disabled to restart.
Failed jailbreak: some iPod users will have a jailbreak in order to gain more control over their devices. If the process cannot finish normally, your iPod touch is likely to experience a death screen where the device gets stuck on the Apple logo or a white screen.
Hardware problem: a hardware problem can at times be the cause of your iPod stuck on Apple logo problem. If there is a loose connection between the motherboard and the screen, then your iPod's inability to start will occur and may end up getting the device stuck on the Apple logo.
Problem with restoring from a backup: In case your iPod runs into some unexpected problems and after repair you try to restore the data from a backup, you may also meet this issue especially when the backup process fails.
Part 2. 6 Best Ways to Fix iPod Stuck on Apple Logo
#1

Force Restart iPod

One of the first things you should do when working on how to fix iPod touch stuck on Apple logo is to force start the iPod. Force starts works well if the problem is caused by a failed jailbreak or iOS upgrade. If this does not help your case, then you can try the next solution to see if it works. This way you will be able to know if the problem is a major issue or just the usual stuck problem.

1. Press & hold the "Power" and "Home" buttons at the same time;

2. When the Apple logo appears released all the buttons simultaneously;

3. Now check and see whether your iPod is not stuck on the Apple Logo.

#2

Update iOS Firmware

Considering the Apple logo stuck problem is often caused by a failed attempt to change the iOS, the best solution is to try and update the firmware on your computer. To do this, follow these steps:

1. Connect your iPod to iTunes: Connect your iPod to a safe and trusted computer using a USB cable. Ensure there is a fast and stable network all the time;

2. Check and make update: Locate the iPod icon on iTunes and then click on the "Summary" menu. Here find and click on the "Check for Update" tab. iTunes will check if there is any new update and then automatically make the update.

If you are a mac user who hasn't updated to macOS Catalina, just use iTunes to update the firmware. But on mac with Catalina, you have to use Finder to update the firmware. Follow the steps below.

1. Connect your iPod to the mac, then open the Finder;

2. In the Finder sidebar, select your iPod touch, then click General at the top of the window;

3. Click Check for Update and confirm updating.

#3

Restore iPod to Factory Settings in Recovery Mode

One of the easiest ways to solve the iPod touch stuck on Apple logo with the loading circle problem is to restore your iPod to the factory settings to solve an issue caused by the operating system.

Step 1. Turn your iPod to recovery mode: switch off your iPod and let it rest for a few minutes. Now get it connected to a computer. Press and hold both the "Power" and "Home" buttons simultaneously until you see the "Connect to iTunes" symbol display on your screen;

Step 2. Restore to factory settings: You will see an iTunes notification pops up, select "Restore" to start the process of restoring your iPod to the factory settings. Your iOS will also be replaced with the latest version.

#4

Restore iPod in DFU Mode

If the above solutions are not working and you had backed up the data on your iPod to iTunes, then you should consider the DFU mode. This is an effective method to solve many issues associated with a software update. However, this method also makes you lose the data on your device.

Step 1. Switch off your iPod;

Step 2. Download and install the iTunes application on a secure computer;

Step 3. Using a USB cable, connect your iPod to the computer, then start the iTunes;

Step 4. Now press and hold the "Home" and "Power" buttons simultaneously for about 10 seconds before releasing the "Power" button while still pressing the "Home" button until the iTunes app indicates that it has detected an iPod in recovery mode;

Step 5. Now click on the "OK" button on the iTunes app to start restoring the iPod. The iTunes will restore your iPod touch to the factory settings and then install the latest iOS version.

#5

Fix iPod Touch Is Stuck on Apple Logo Using iOS System Recovery [No Data Loss]

To protect your iPod touch data from being damaged, Joyoshare UltFix iOS System Recovery can be taken into consideration. It does a good job of fixing iPod stuck on Apple logo, iPod failed to update, iPhone stuck in data recovery process, iPad bricked, etc. with no data loss. More conveniently, it is able to automatically and quickly assist you to exit the recovery mode within one click for free.

Furthermore, the full compatibility of this iOS repair tool even enables you to fix 30+ iOS issues for iPhone and iPad besides iPod. It also supports iOS devices running iOS 13. Additionally, there is an option to factory reset any of your iDevice without requiring a screen lock passcode.

Key Features of Joyoshare UltFix iOS System Recovery:

Repair iPod stuck on Apple logo with no data loss

Fix over 30+ iOS issues in professional ways

Freely enter and exit the recovery mode for you

Factory reset iPod touch to factory settings without using passcode



Step 1: Run the downloaded Joyoshare UltFix on your computer and connect your iPod touch to "Start".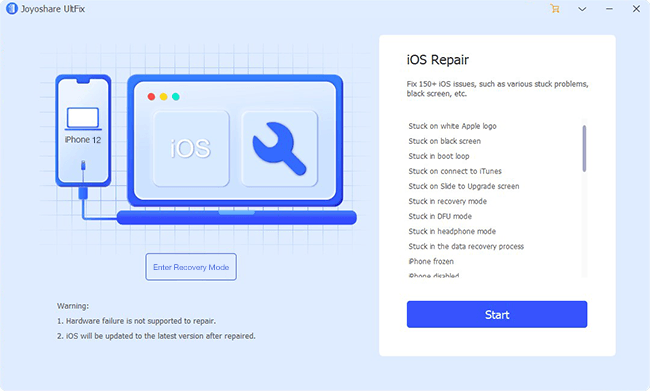 Step 2: Choose the "Standard Mode" to get your iPod touch out of the Apple logo boot screen without losing data. Then you're asked to put the device to DFU mode or recovery mode at every step.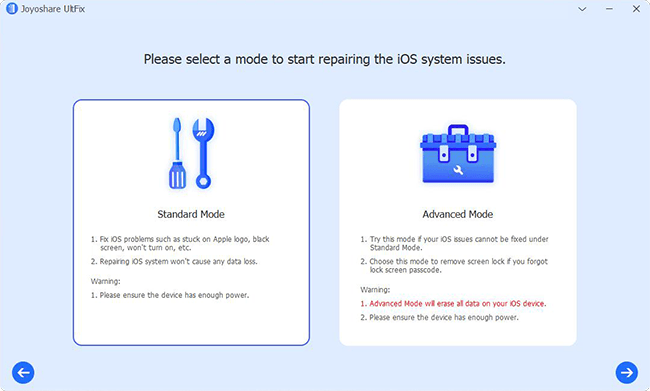 Step 3: You'll be prompted to confirm the device model for your connected iPod touch. After that, simply press the "Download" button to download and verify a matching firmware package for iPod.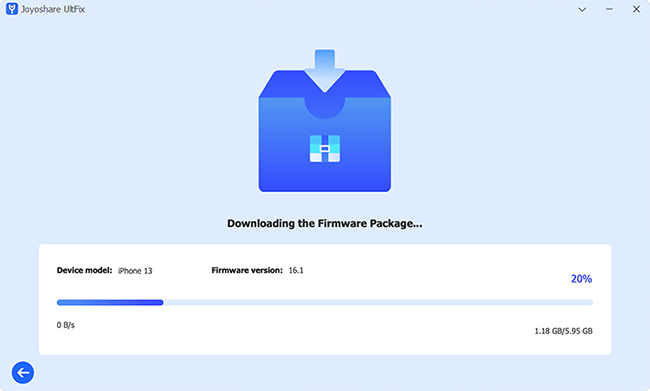 Step 4: Next you have to click the "Repair" button to start fixing the iPod system. Wait for its completion and your iPod touch will be back to normal without stuck Apple logo screen.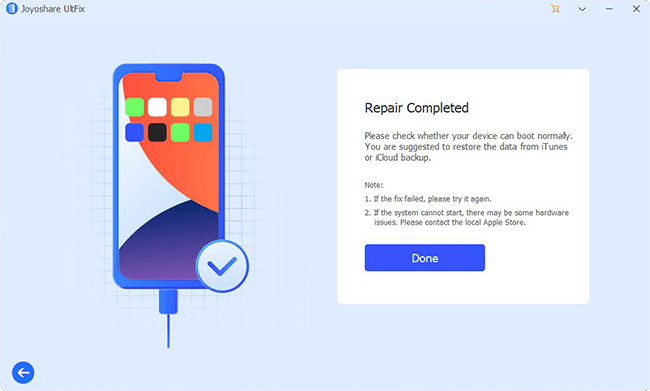 If all the solutions mentioned above failed to function, it is high time that you went to the nearby Apple outlets to have your iPod touch fixed. The reason is that the stuck is very likely caused by some hardware issues, which should be solved as fast as possible. The safest way to fix iPod hardware is to ask the professional technicians of Apple to do the job.
Conclusion:
Calm down first if your iPod touch stuck on Apple logo and gives you no response, for that any problems will be solved in the end. We are sure that you will gain more knowledge and manage to make your iPod touch back to normal with the 6 useful tips. Please pay attention to our website if you want to know more about how to deal with different iOS issues.