There is no doubt that Activation Lock has done more than any other security measure to prevent the theft of Apple's iPhone, iPad, and Apple Watch. Without the right Apple ID password, using the device is nearly impossible. The data on this device cannot even be erased – it's completely locked down.
Activation Lock security is great for protecting your data if your device is stolen, but it's not so great if you legally own a device that still has an Activation Lock. That's the complaint from users recently, they grumble that their iPhone stuck on Activation screen. Luckily, there are ways to disable the Activation Lock on your own. Here's how it works.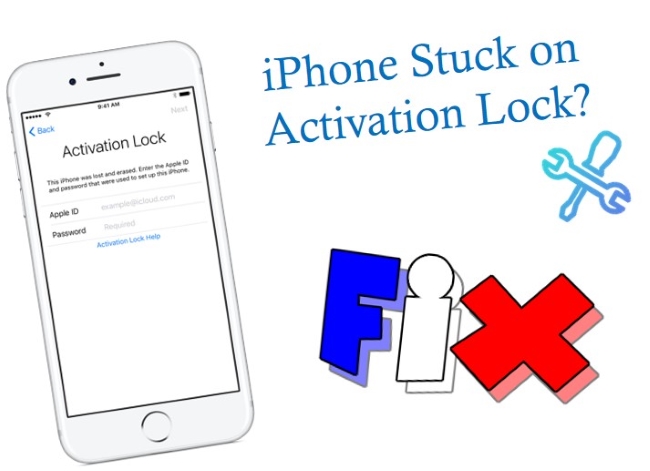 Solution 1. Use iTunes to Activate Your iPhone
If you have downloaded the latest version on your computer, iTunes is a good way to activate your phone if your iPhone is stuck on Activation Lock. Here's what to be done.
Step 1. Launch the latest version of iTunes and turn off your iPhone.
Step 2. Connect your iPhone to the computer with a cable. Then you should get the below message Welcome to your New iPhone.
Step 3. The iPhone will be detected by iTunes and you will be given two options: set up as a new iPhone or restore from backup. Select Set up as New Phone. By doing so, the iPhone will be activated.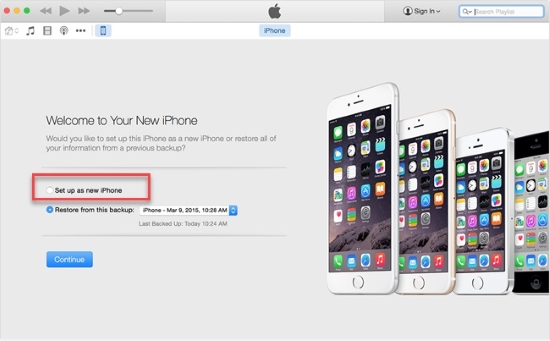 Solution 2. Use iCloud to Remove iPhone Activation Lock
iCloud is another ideal way to fix iPhone is stuck on Activation Lock.
Step 1. Launch a web browser, sign in to iCloud.com with your Apple ID and password;
Step 2. After logging in, go to Find iPhone. So that you can remotely perform actions on your phone.
Step 3. Click All Devices at the top of the screen. Choose the device that you want to remove from iCloud.
Step 4. Click Erase iPhone, followed by Next until the device is erased.
Step 5. Click Remove from Account.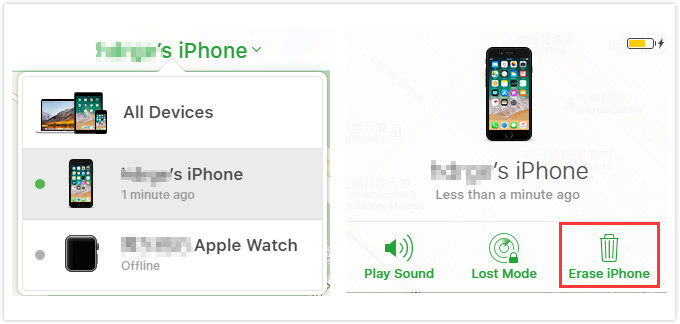 Solution 3. Use Advanced iOS Repair Tool – Joyoshare UltFix [Data Security]
A great repairing software called Joyoshare UltFix iOS System Recovery will be discussed in this part. It got a ton of stuff for iOS and there is no risk of data loss. Apart from repairing iPhone stuck in Activation lock, the toolkit can fix all kinds of iPhone "stuck" errors. If your iPhone is stuck on the Apple logo, iPhone stuck on the loading screen, etc., this is the software to fall back on. It provides users with Standard Mode and Advanced Mode, which are designed for resolving iOS-related issues completely. Simply put, this software can rectify over 150 iDevice iOS-related issues with several taps.
Key Features of Joyoshare iOS System Recovery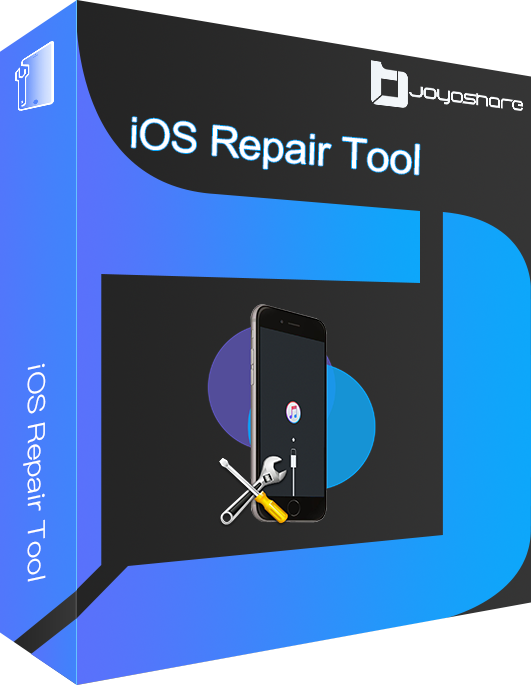 Fix iPhone stuck on Activation Lock screen with simple steps
Repairing can be done in two modes – Standard Mode and Advanced Mode
Simple to use for both Windows and Mac users to resolve iPhone difficulties
Work well with iOS 15 and all iPhones and iPads
Use it correctly by following the underneath steps to successfully fix the "iPhone stuck on Activation screen".
Step 1

Install Joyoshare UltFix iOS System Recovery

Make sure you download the program from the official page, which you can click on the download button above. Then install and launch it on your PC or Mac, then click Start.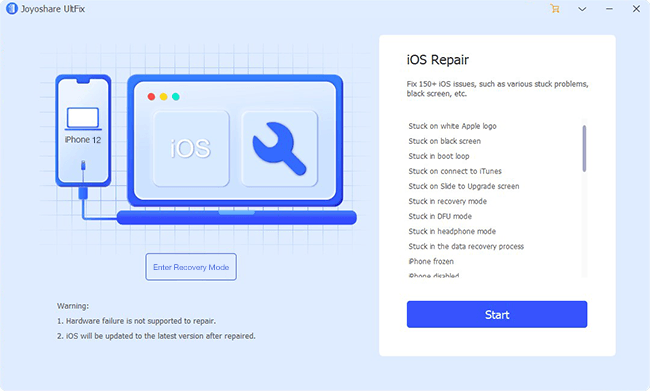 Step 2

Choose Standard Mode

On this interface, you will see a page with two modes. Click on Standard Mode and go to the next page. Please note that this mode can easily fix the problem while protecting your phone's data. Advanced Mode is used to overcome more serious issues but will erase all of your data.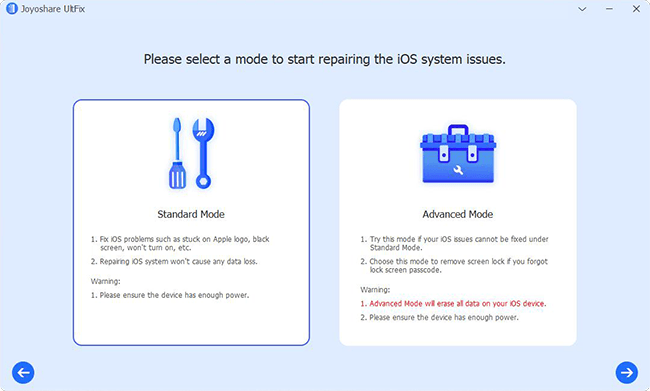 Step 3

Download Firmware Package

On the next screen, it will show your iPhone information, check them carefully. Then Download the correct firmware package.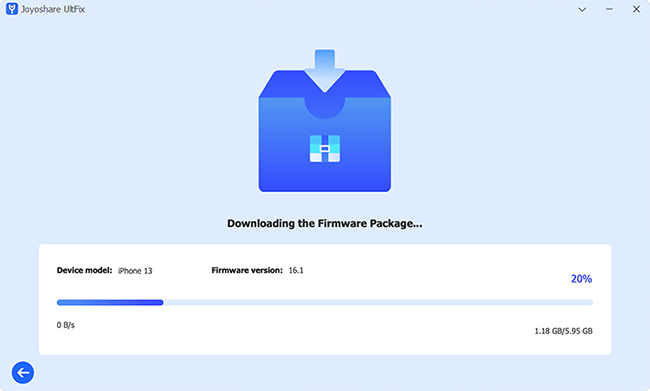 Step 4

Fix iPhone Says Activation Lock

After the firmware is downloaded, you'll see a Repair button. Click on it to initiate the repair process. When it's done, you can disconnect your device and the error will be fixed. Attempt the repair process again if the problem persists.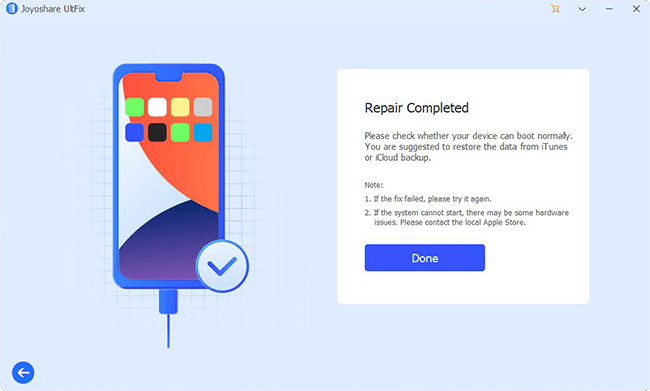 Solution 4. Ask Apple to Bypass the Activation Lock
You do not have many options if you cannot remember the Apple ID password. There is a possibility that Apple will help you erase and unlock your device. Proof of legal ownership will need to be provided, including the device's serial number, IMEI, or MEID. If you have the documentation and are ready to erase your device, you can head to their Activation Lock support page to fill out the Activation Lock support form. Just note that even if you fill out every form correctly, there is no guarantee they will help you.
Conclusion
Several methods can be used to troubleshoot the issue after you reboot your device. Joyoshare UltFix iOS System Recovery tool is a top-rated choice among users due to its high success rate. Easy to use, quick, and lossless, all of these are the outstanding features of it, which makes it to be the cut of the rest. Also, as we mentioned above, the Apple customer service may provide corresponding help for you if other methods don't work. Hopefully, you got the concept of how to do it when iPhone stuck on Activation screen.