Settings application is a vitally important part of iOS devices. It controls how the devices operate. You are not able to do a lot of things without it, such as setting iPhone network, changing ringtone, setting up passwords, adjusting screen light and so on. All in all, you will be quite disturbed when iPhone settings icon missing problem occurs.
Reasons for the problem are various. Maybe you just accidentally move it into a folder. Or your iPhone fails to jailbreak. It is also possible that iPhone is attacked by virus or there is an unknown error with iPhone system. Whatever the cause, you don't have to worry too much. 5 simple and workable methods are collected below to help you retrieve the settings icon on the iPhone.
The Thing You Need to Do before Going Further
Presumably, whether iPhone data will be erased in the process of repair is a matter of great concern to everyone. In this regard, it can be said that not all the methods listed below promise not to cause data loss. Thus, it is very necessary to make backups of your iPhone data using iTunes or iCloud so as not to lose your precious data. To do it, please refer to the following.
To back up with iTunes: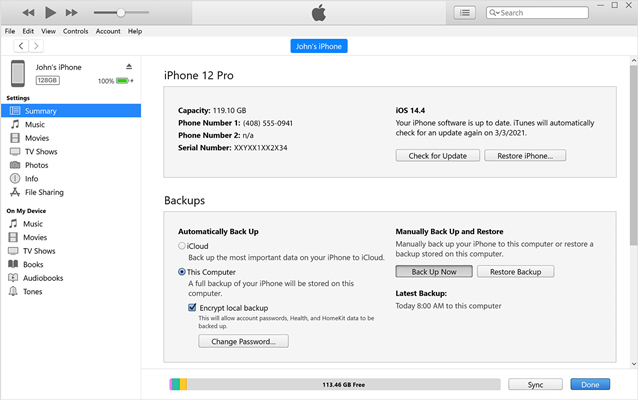 Step 1: Firstly, please connect your iPhone to the computer. Then open iTunes. If you use a Mac computer with macOS Catalina, you need to open "Finder";
Step 2: You will be required to enter passcode to "Trust" the computer if your iPhone has not been synced with iTunes before;
Step 3: When your iPhone icon appears on the screen, click it to enter another interface, in which you should click "Summary" and choose "Back Up Now" on the right panel.
To back up with iCloud:
Note: Making a backup of iPhone with iCloud needs to draw support from Setings app. In the situation where iPhone setting icon disappears, you can temporarily access to Settings by searching it on Spotlight Search.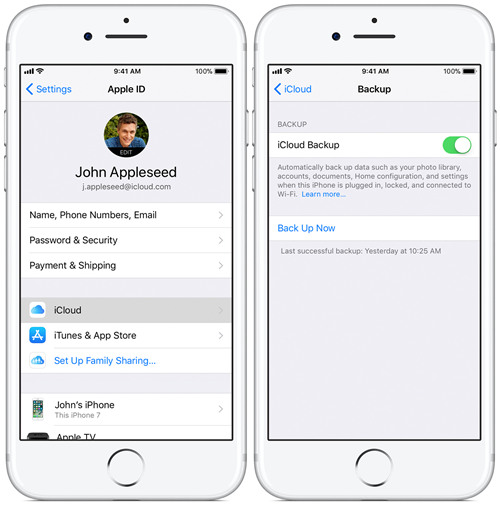 Step 1: To begin with, connect your iPhone to a Wi-Fi network. After that, get into "Settings" with the help of Spotlight Search;
Step 2: Next, tap on your Apple ID and then choose "iCloud". For users with the iPhone running iOS 10.2 and earlier, directly scroll down to "iCloud" after entering "Settings";
Step 3: Make sure that "iCloud Backup" is turned on. If not, you should click to enable it. Lastly, touch "Back Up Now".
Part 1: Move It Out from the Folder to the Screen
You know, the iPhone settings icon won't be deleted under normal situations. So, it is the possible reason that you move it into a folder incidentally, which causes the issue that settings icon disappeared from iPhone. If this is the case, you can search it in the spotlight that is located on the right side of the screen. While searching, it may show the folder the settings icon has been moved. Then you just get into the folder and move the settings icon to the home screen.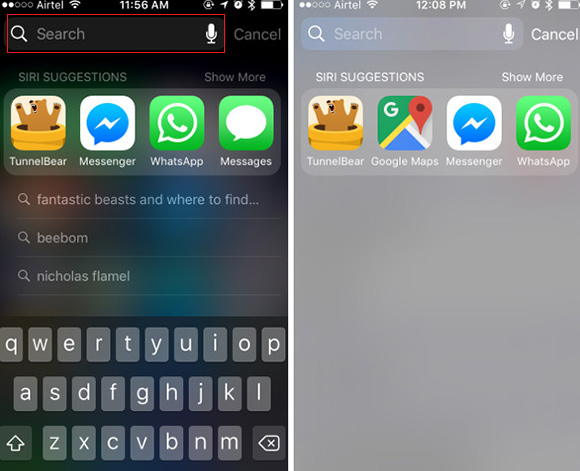 Part 2: Reboot the iPhone
If you are sure that the settings icon is not moved into a folder or other place, you might as well restart your device to fix the issue of settings icon missing from iPhone. This is the most common way to solve this type of problem on iPhone. The steps to do are dead easy. You just keep pressing and holding the "Power" button until "slide to power off" shows on the screen. Then you should drag the slider to the right side to turn your iPhone off. After this, it is necessary to press and hold the "Power" button again until you feel a vibration. Wait a moment; your iPhone will be restarted.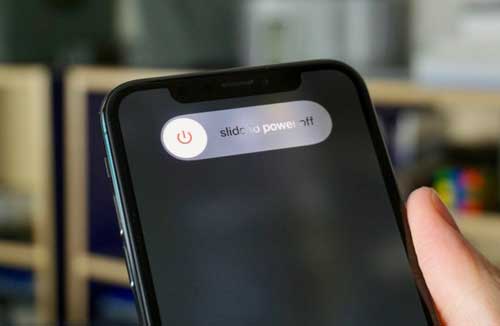 Part 3: Reset Home Screen Layout on iPhone
In the ordinary way, doing a full restart can get the iPhone setting icon missing matter settled. In case not, try resetting home screen layout to tackle it. But it should be noted that performing the method needs the help of Settings app. Maybe you wonder how to enter the settings interface when the settings icon disappears. For this, the following gives a step-by-step guide to teach you how to get it done.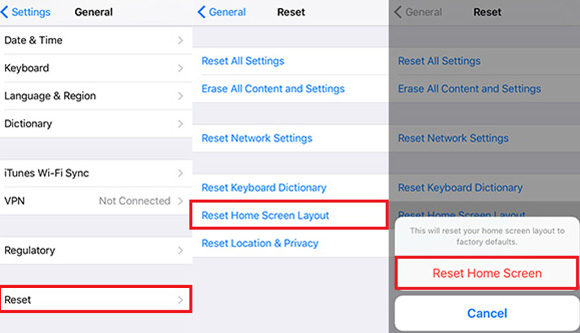 Step 1: First of all, open Spotlight Search by sliding your finger down on your iPhone screen. Afterwards, type "Settings" in the search bar to start settings application;
Step 2: After getting into "Settings", please choose the "General" option and followed by "Reset";
Step 3: On "Reset" window, scroll down to "Reset Home Screen Layout". You might be asked to enter passcode to confirm this option. Once confirmed, click "Reset Home Screen" to restore the home screen layout to factory screen layout.
Part 4: Restore iPhone via iTunes
Restoring iPhone with iTunes is another workable method to recover lost settings icon on iPhone. However, it is worth noting that the action will remove the whole data information and media files from your iPhone. Therefore, you had better back up the significant data files before operating. After backup, follow the steps below to restore your iPhone.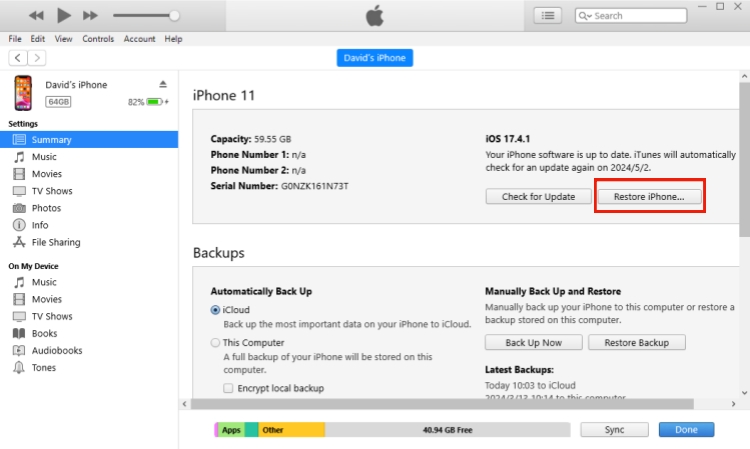 Step 1: Open iTunes. If you are a Windows user, double-click the iTunes icon. If you are a Mac user, open it from "Finder". Next, connect your iPhone to the computer with its original cable. (If your iPhone has not been synced with iTunes before, you need to enter passcode to trust the computer);
Step 2: Once iTunes recognizes your iPhone, touch the iPhone icon to get into next window. On the right panel of this window, just tap on "Restore iPhone...";
Step 3: The process needs some time. Once done, don't forget to recover all wiped data to your iPhone and ccheck if the missing icon is recovered.
Part 5: Make Use of Joyoshare UltFix without Missing Data
An ultimate solution to iPhone setting icon missing problem is by means of Joyoshare UltFix iOS System Recovery software. It is a high-tech iOS issues repair tool that provides two repair modes to work various system failures on iPhone/iPad/iPod/ and Apple TVs.
Concretely speaking, it can both settle tough problems like iPhone is disabled in "Advanced Mode" and repair general issues like iPhone Siri not working, iPhone setting icon disappearing, etc. without damaging any data in "Standard Mode".
Moreover, Joyoshare UltFix enables all supported devices to enter/exit the recovery mode for free. That means you all enjoy this service whether you are a registered user or not. By the way, it is very maneuverable. Even without any help, you can manipulate it.
Key Features of Joyoshare UltFix iOS System Recovery:
Offer two repair modes to fix 30+ iOS problems
Restore lost settings icon on iPhone with no data loss
Support almost all iOS device models and the newest iOS 13
Let any iOS device enter/exit the recovery mode for no charge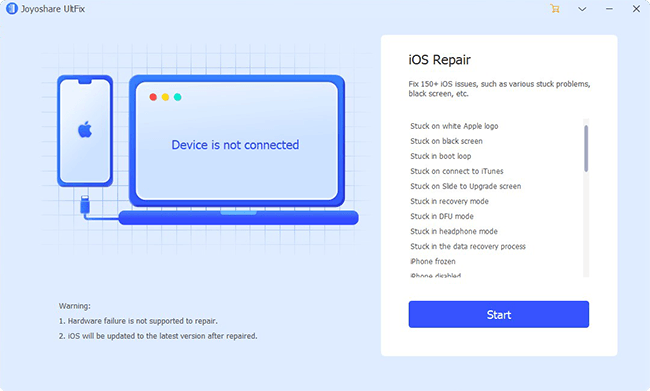 Step 1: Download and install Joyoshare UltFix on your computer. After running it, please use an Apple USB cable to connect your iPhone with it. You don't click on "Start" to proceed until the iPhone is detected;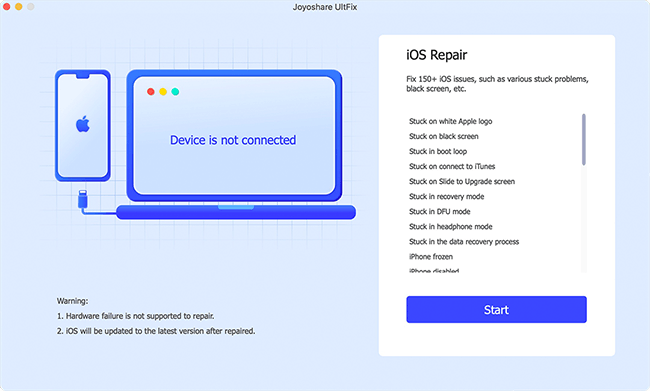 Step 2: This step requires you to select one mode to repair your iPhone system issue. In order to avoid losing data, you should choose "Standard Mode". Also, for your iPhone setting missing issue, it is enough;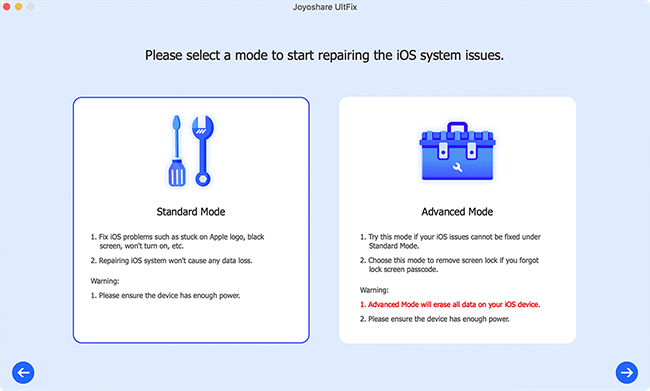 Step 3: After choosing a repair mode, touch your iPhone model and follow the on-screen indications to put the iPhone into DFU mode or recovery mode;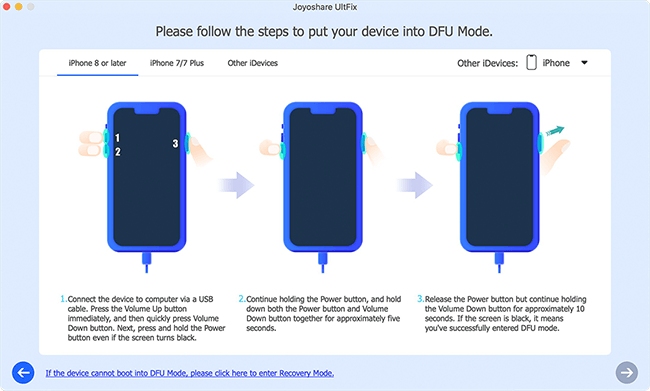 Step 4: This section, Joyoshare UltFix will recognize all basic info of your iPhone. You have to confirm it so that you can click "Download" to download and verify the firmware package;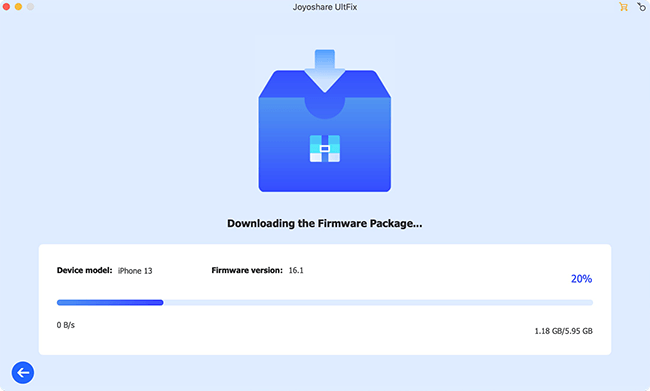 Step 5: Eventually, just tap on "Repair" to get the firmware package unzipped and then the program will starts the repair process. Pretty soon, your iPhone settings icon will be restored on the screen.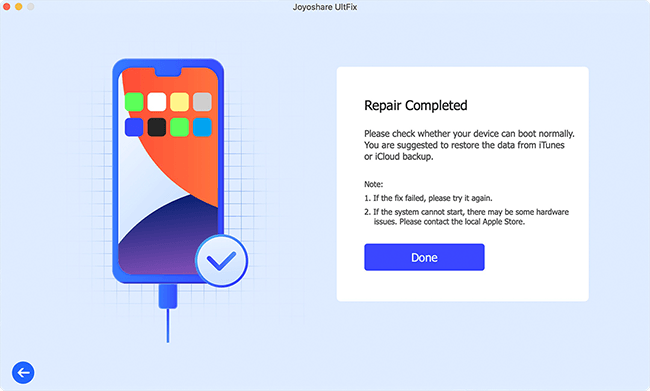 Conclusion
Undoubtedly, iPhone settings app is indispensable for Apple users. Maybe you were upset that you couldn't access the settings an hour ago, but by reading this article, iPhone settings icon missing can be repaired now. All method above are efficient in restoring the iPhone missing setting icon. You just need to choose one of them according to your real situation. Though, suppose you hope the problem can be resolved without data loss, it is better to make use of Joyoshare UltFix.