Settings application is a vitally important part of iOS devices, because it controls how the devices operate. You are not able to do a lot of things without it, such as set iPhone network, change ringtone, set up passwords, adjust screen light and change iPhone settings. All in all, you will be quite disturbed if iPhone settings icon missing problem occurs. Reasons for the problem are various. Maybe you just accidentally move it to a folder. Or your iPhone fails to jailbreak. It is also possible that iPhone is attacked by virus or there is an unknown error with iPhone system. Whatever the cause, you don't have to worry too much. 5 useful and simple methods are collected below to help you retrieve the settings icon on the iPhone.
Part 1: Move It Out from the Folder to the Screen
You know, the iPhone settings icon won't be deleted under normal situations. So, it is the possible reason that you move it into a folder incidentally, which causes the issue that settings icon disappeared from iPhone. If this is the case, you can search it in the spotlight that is located on the right side of the screen. While searching, it may show the folder the settings icon has been moved. Then you just get into the folder and move the settings icon to the home screen.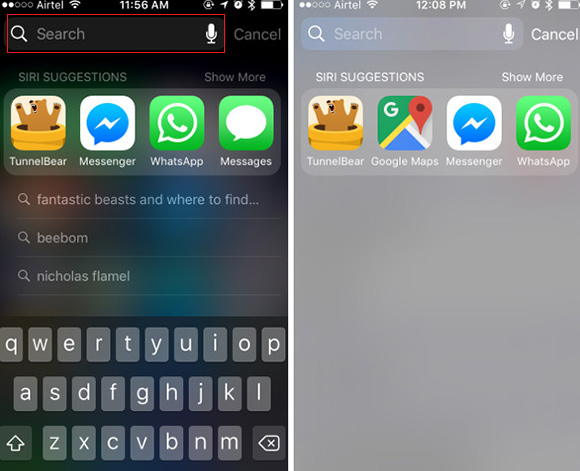 Part 2: Restart the iPhone to Fix Settings Icon Missing from iPhone Issue
If you are sure that the settings icon is not moved into a folder or other place, you may restart your iPhone to get it back. This is the most common way to solve this type of problem on iPhone. The steps to do are dead easy. You just keep pressing and holding the "Power" button until "slide to power off" shows on the screen. Then you should drag the slider to the right side to turn your iPhone off. After this, it is necessary to press and hold the "Power" button again until you feel a vibration. Wait a moment; your iPhone will be restarted. You can check if the settings icon is restored with this method.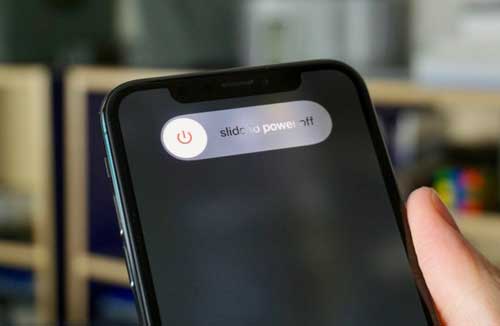 Part 3: Reset Home Screen Layout to Restore Missing Settings Icon on iPhone
This is a method that you need to use settings application to complete it. Maybe you wonder how to enter the settings interface when the settings icon disappears. The following step-by-step guides teach you to repair iPhone settings icon missing on iPhone.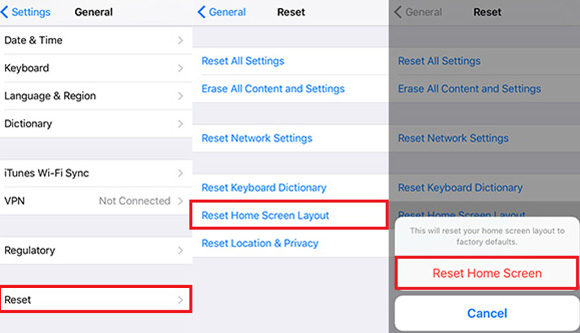 Step 1: You need to type "Settings" in the search bar to start settings application;
Step 2: After getting into "Settings", you should tap on "General";
Step 3: Then you can select "Reset" and click "Reset Home Screen Layout";
Step 4: You need to confirm the option, and the home screen will be reset after soon.
Part 4: Restore iPhone via iTunes to Recover Lost Settings Icon on iPhone
If the above methods are not helpful, another way to resolve the problem is to restore your iPhone. You just use iTunes to do it, because the settings application can't work until the settings icon is restored. It is worth mentioning that restoring iPhone will remove the whole data information and media files. Therefore, you had better back up the significant data files before operating. After backup, follow the steps below to restore your iPhone via iTunes.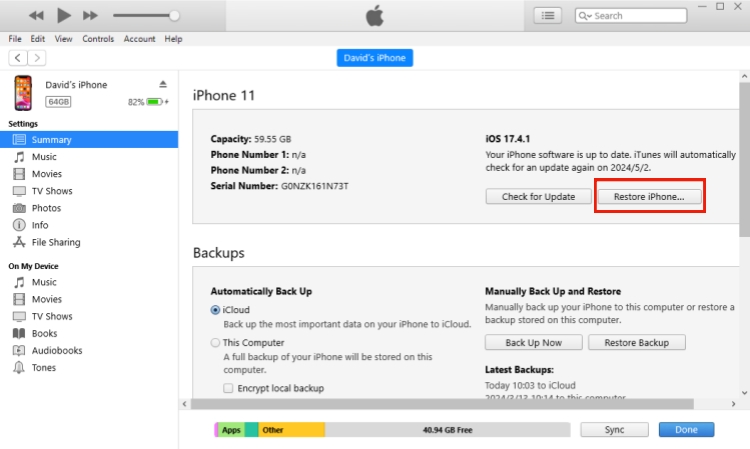 Step 1: Connect your iPhone to the trusted computer with its original cable;
Step 2: Open iTunes and enter the password on your iPhone if you set;
Step 3: iTunes will recognize your device. Then you need to click "Summary";
Step 4: Finally, just select "Restore iPhone". Your iPhone will be reset after a minute.
Part 5: Make Use of iOS System Repair Software without Missing Data
If you are worried that the above methods will cause data loss, you can use Joyoshare UltFix iOS System Recovery to fix iPhone settings icon missing problem. As a high-tech iOS issues repair tool, not only does it not cause data missing, it also provides two repair modes. "Advanced Mode" can factory reset your iPhone and fix serious system problems while "Standard Mode" fixes over 30 kinds of iOS system problems without losing data information, like iPhone failed to update, iPhone is disabled connect to iTunes, iPhone camera not working and so on. Actually, in addition to iPhone system issues, it supports to fix other iOS devices system failures.
Moreover, Joyoshare UltFix enables users to enter/exit the recovery mode with one click freely. That means you all use this feature whether you are a registered user or not. If your iPhone stuck in recovery mode, you can get it back to normal with Joyoshare UltFix at ease. By the way, it is compatible with the latest iOS 12.3.
Key Features of Joyoshare UltFix iOS System Recovery:
Restore lost settings icon on iPhone simply
Offer two repair modes to fix iOS system issues
Enter/exit the recovery mode with one click freely
Support all the iOS devices and the newest iOS 12.3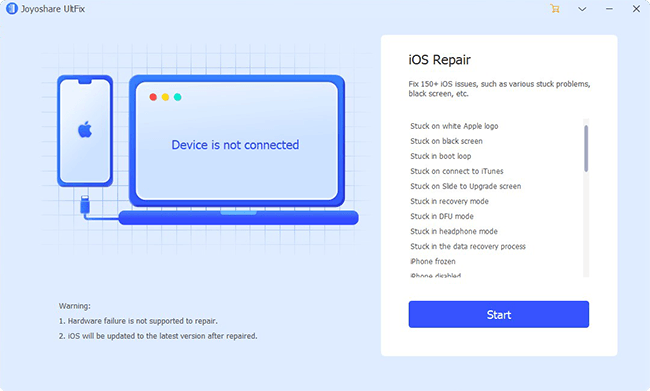 If you are unfamiliar with it, you will follow the step-by-step guides given below.
Step 1: Download the installation package of Joyoshare UltFix and connect your iPhone to the computer. Then click "Start" to operate step 2;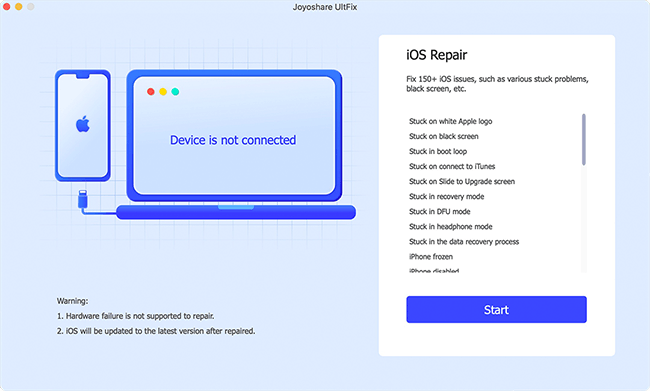 Step 2: This step is to select one mode to repair your iPhone system issue. You should choose "Standard Mode" according to your true condition;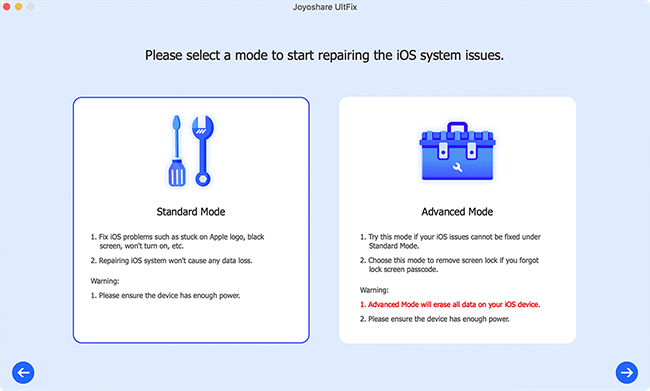 Step 3: After clicking "Next", please follow the on-screen indications to put your iPhone into DFU mode or recovery mode;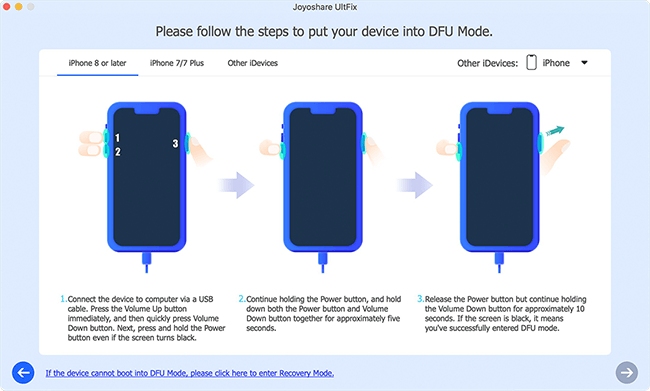 Step 4: This section, Joyoshare UltFix will recognize your iPhone model. After you confirm it, you can click "Download" to download the firmware package and verify it;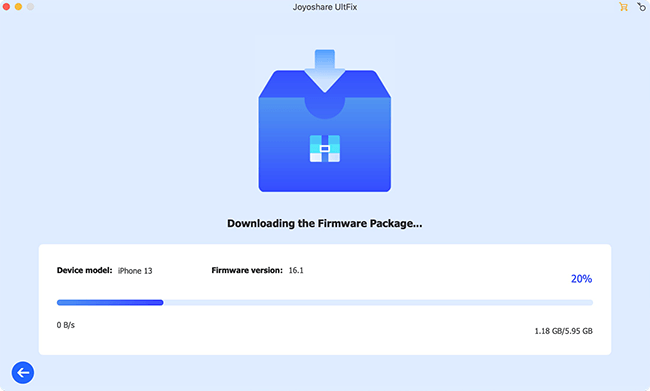 Step 5: Eventually, just tap on "Repair" to unzip the firmware package and start fixing. Pretty soon, your iPhone settings icon will be restored on the screen.