Q: "Can someone help me fix this problem? I am perturbed! Imagine my iPhone screen goes black during call and only comes back when the phone call is over. It propels me to push the power button to turn on the screen, which goes back to black in a second. Can this be fixed?" - From Troubled User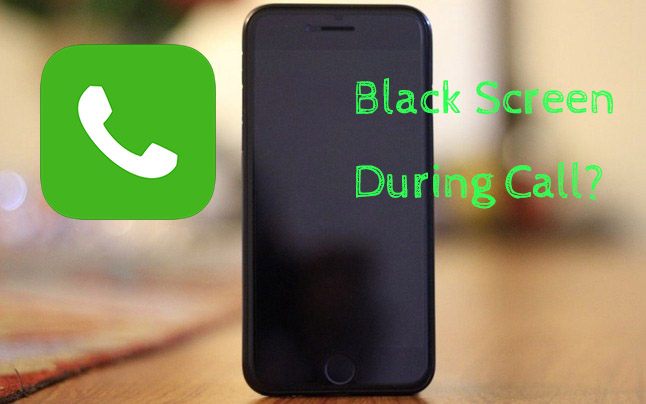 Well, every phone user wants something that offers a 'simple user experience'. It isn't very comfortable when you cannot conclude a phone conversation just because your iPhone screen goes black during a call. This problem is solvable. However, giving up is not a solution at all. Why don't you try these methods?
Part 1. Remove Protector and Clean Screen
You could be wondering why your screen is losing sensitivity and not responding upon command. This is because the iPhone screen gets dirty very easily as you continue using it. Dust and sweat usually take cover under your protector and slowly interfere with the proximity sensor. The two can also cause the 'iPhone goes black during call' issue.
To stay safe, slowly peel off the protector as you use a microfiber cloth to clean the screen in the process. Continue cleaning until you eradicate all the tape strips. Wipe the entire surface, and then return the screen protector on the phone's face.
Part 2. Uncover Proximity Sensor
Another way is to check if something is blocking your iPhone sensor. Your device's screen goes black when making a call if something blocks the proximity sensor. Simply uncover the sensor to fix it.
Part 3. Force Restart iPhone
You can fix several simple problems by just restarting your iPhone. For iPhone X and iPhone 12, you can simply press and hold the power button plus the volume button until the slider pops up. But for iPhone 8 and earlier, press and hold the power button until you see the slider. Go ahead and turn on your iPhone after a few minutes.
Part 4. Disable Reduce Motion
Quickly run to the Settings app and choose 'Accessibility' from the list on your screen. Click the 'Motion Screen' icon to access the 'Reduce Motion' tab. Now change the toggle switch to on. By doing that, you would have turned off most of the animation effects that would be causing the 'iPhone goes black' issue.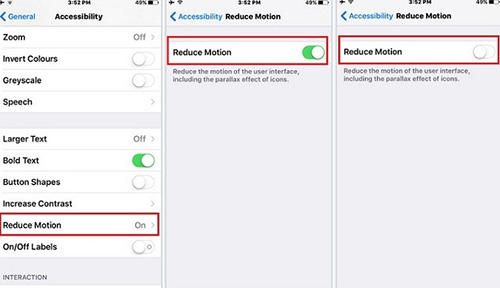 Part 5. Reset All Settings
After refreshing and awakening your device memory, it's time to reset your device setting to solve the 'iPhone goes black during call' error. Note that this method will erase not only the settings and data but also the applications on your iPhone. To avoid losing the necessary data, you can do a backup before you take the process.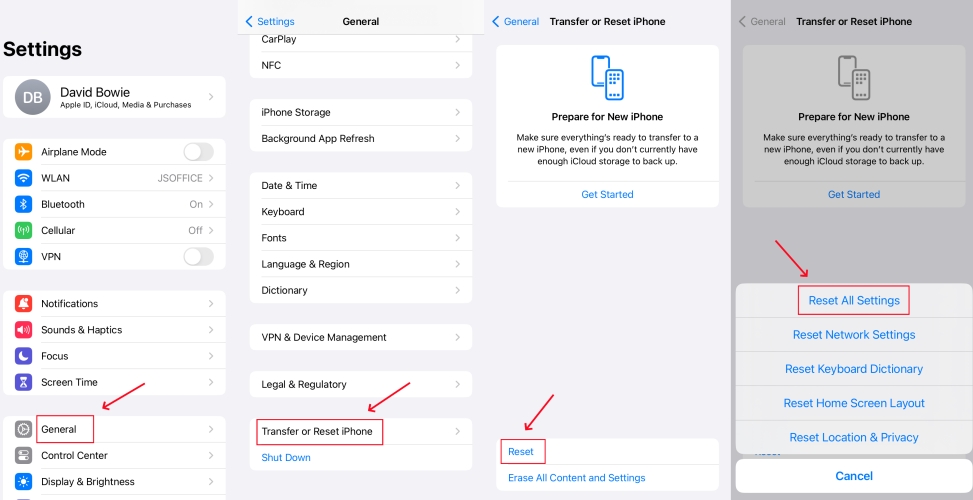 The steps to delete all contents and settings are just the same as 'reset all settings.' Launch Settings > General > Reset > Reset All Contents and Settings, log in your password, then click on the 'Erase iPhone' to confirm all the contents and settings are now erased.
Part 6. Solve Software Glitches with No Data Loss
Most iPhone users claim that they're unable to eliminate the black screen even after deploying the methods above. However, the methods mentioned above are effective mostly on iOS problems. At times they can fail to address this typical challenge. That's why you need a professional troubleshooting tool that can solve this issue.
Joyoshare UltFix iPhone System Recovery is the ultimate solution to the iPhone screen goes black when making a call problem. This dedicated troubleshooter fixes most of the iOS and iTunes software-related problems. No matter the magnitude of your problem. Remarkably, it has a lossless repair mode and allows free option to exit or enter recovery mode.
Key Features of Joyoshare iPhone System Recovery: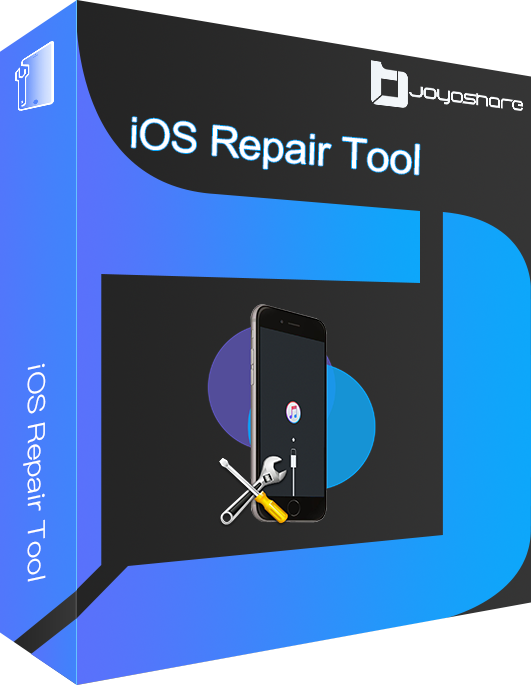 Repair iPhone screen goes black during call easily
Initiate lossless repair process to kinds of iOS problems
With free access to quickly exit and enter recovery mode
Support nearly all iPhone, iPad, iPod and Apple TV devices
Step 1. Download Joyoshare UltFix iPhone System Recovery and launch it on your computer. Then connect your iPhone to the software and press the 'Start' button to start the process.

Step 2. After a successful connection, choose a repair mode from Standard and Advanced for your iPhone. The Standard mode deals with fundamental iOS issues, you can use it to resolve this iPhone black screen during call problem. Followed by that, simply put your device to DFU/recovery mode.

Step 3. Here, Joyoshare UltFix will unearth the problem and download the right firmware package for your iPhone device. Just confirm your device, "Download" and verify the package.

Step 4: The software will start repairing your device once you click on "Repair" option. Don't disconnect the device while the process is on to complete the fixing process successfully.

Part 7. Restore iPhone with iTunes

You can restore the iPhone with iTunes if you suspect that some errors are occurring because of wrong settings or some data. Open iTunes on your PC then connect the iPhone to it. Then find and press the 'Restore iPhone' button. Your device will get restored to previous default settings.
Conclusion
Fixing the iPhone screen goes black during call problem is now simple. Especially when you have Joyoshare UltFix iPhone System Recovery at your disposal. This professional troubleshooter software can fix more than 30 iOS problems. It's compatible with nearly all iOS devices, so you won't go round to looking for what's compatible with your device. Anyway, hope you can choose any suitable method above to put your iPhone goes black during call issue to rest.