Owning Apple devices comes with its unique perks. For instance, when you are working on one device and wish to continue your work on the other, you can seamlessly transfer your work to the other Apple device. But sometimes, when you plug your iPhone into Mac, whether to transfer data or simply charge your iPhone, iPhone keeps connecting and disconnecting from Mac. It hinders the work and affects work quality, and is annoying. The culprit can be faulty software or hardware malfunctioning. To help you fix this minor but irritating issue, we bring you all the possible solutions guaranteed to help you resolve this issue. All our suggested fixes do not require any professional experience, and you can perform them efficiently independently. So, let's get started.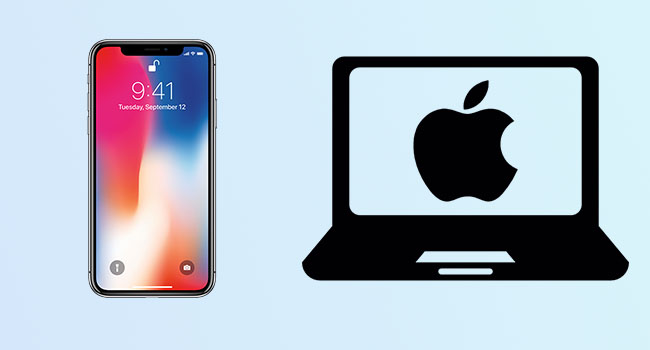 Why Does My iPhone Keep Connecting and Disconnecting from Mac
There could be several reasons why iPhone keeps connecting and disconnecting when plugged into Mac. The most common reason for this inconvenience is the issue with the cable; either the cable is not working, you have not plugged in correctly, or you are using a non-Apple authorized cable. If that's not the case, your iPhone might be disconnecting due to a hardware or software issue. In case of a software problem, you can restart your Mac or iPhone device and re-plug it.
Way 1: Check the Basics
Before moving on to the complex fixes, perform the basic checks. You can check your cable by attaching it to your iPhone charger and plugging the charger into a socket. If iPhone charges, then the problem is not with the cable. Using defective, damaged, or non-Apple cables will create disturbance as well. Change the cable and connect it to the port. Because sometimes, software bugs can be the cause why Mac connects and disconnects iPhone. Also, check the charging port on your iPhone and iPad and remove the debris. Minor bugs often cause connectivity issues. Restarting them removes the bug and clears cache and garbage from memory. If restarting doesn't seem to work, make sure your devices are upgraded to the newest version. It helps you avoid multiple software issues.
Way 2: Use Joyoshare UltFix
When connecting iPhone to Mac, the guaranteed solution that keeps disconnecting is using the most powerful software like Joyoshare UltFix. It is a perfect way to fix all your mind-boggling iOS device issues easily. The tool removes all errors and resolves the connecting and disconnecting issue without any data loss. Plus, after launching this tool, you are allowed to enter recovery mode and DFU mode without any cost.
Key Features of Joyoshare iOS System Recovery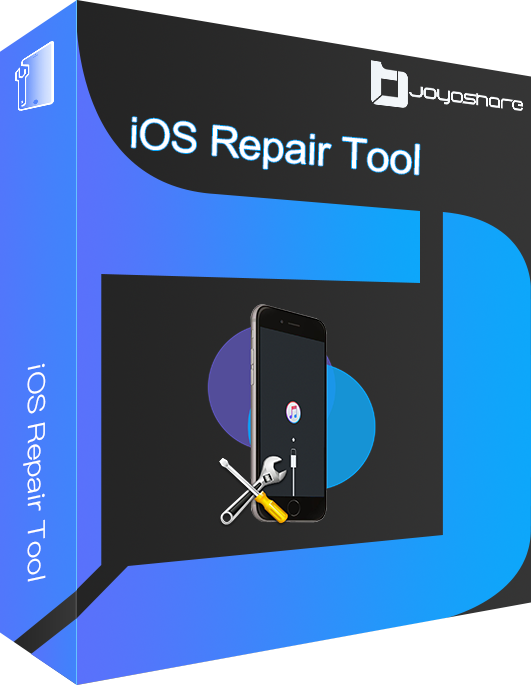 Highly authentic and professional and never jeopardize your privacy and security
Compatible with all iPhone models and iOS versions
Designed with dual repair mode
Can repair 150+ possible iOS issues
Step 1

Download and install recovery tool

Download Joyoshare UltFix on your computer and connect your iPhone with a computer with a USB cable and launch the program. Click Enter Recovery Mode and Start options to proceed.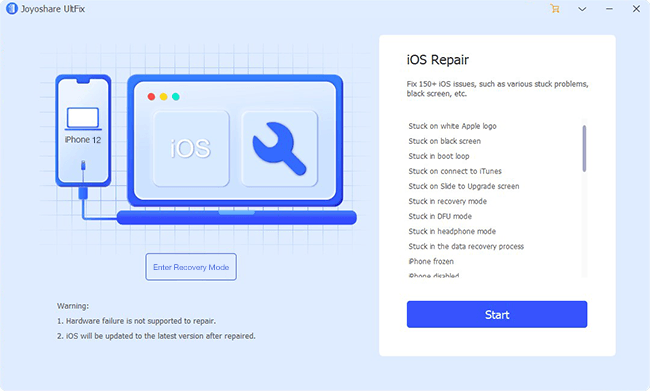 Step 2

Choose wanted repair mode

Select the Standard Mode at the left side of the interface to fix the iPhone that keeps connecting and disconnecting from Mac without losing any data.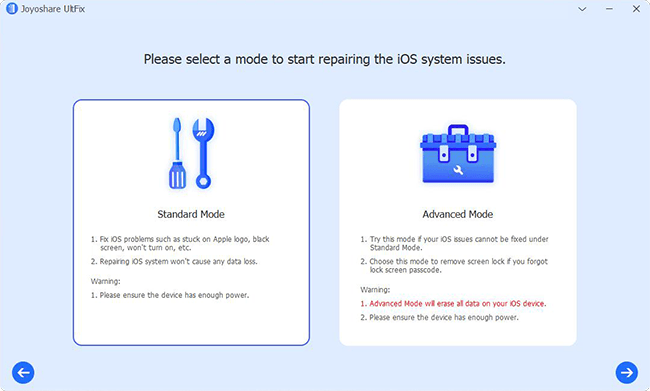 Step 3

Confirm information and download the firmware package

Click on Next and once your iPhone is prepared, check your iPhone information and download the right repair firmware package for your iPhone model.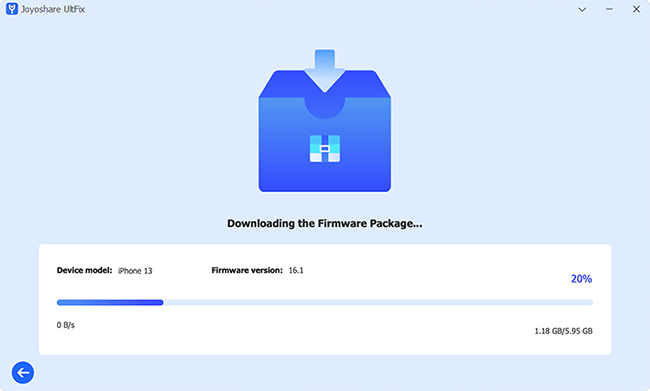 Step 4

Repair iPhone issue

After downloading firmware package, click Repair button to start the process.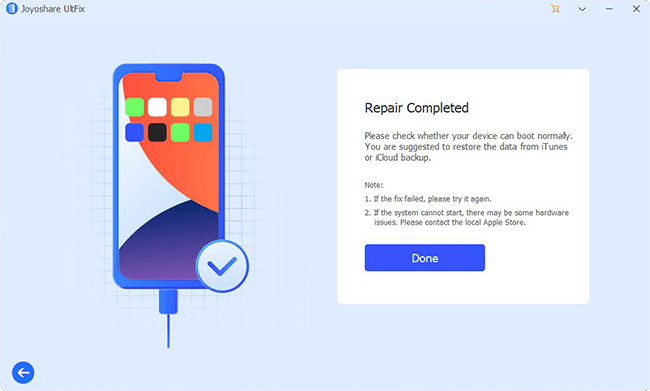 Way 3: Reset iPhone Location & Privacy Setting
A lot of times when we have not connected our iPhones to Mac device for a long time, the system does not trust the device easily. iPhone connects and disconnects from Mac repeatedly can be fixed by resetting the iPhone location and privacy settings in your iOS device. Here's how you can reset your iPhone location and privacy settings.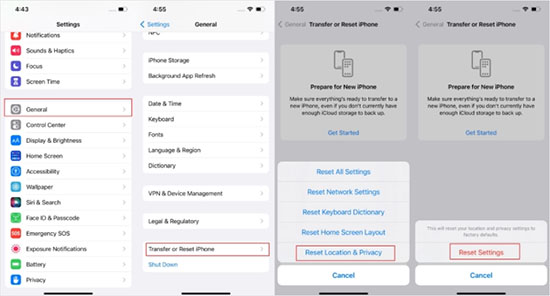 Step 1: Go to the Settings option on your iPhone and tap on General.
Step 2: Find the Transfer or Reset iPhone option. In the Transfer or Reset iPhone option, tap on Reset button.
Step 3: Before the system erases everything, you will be asked to enter your passcodes.
Step 4: Enter your iPhone password and confirm.
Way 4: Restart the USBD Process
One solution that worked in our case when we had our iPhone connecting and disconnecting from Mac continuously is stopping or restarting the USBD process. To restart the USBD process, open the Terminal app from Spotlight and enter the command sudo killall -STOP -c usbd. This command pauses the USBD process. Then you can connect the USB cable and check the charging status. Unplug the device if the issue does not resolve and try the command "sudo killall -CONT -c usbd". It is the command for restarting this process. Pausing this process reduces the power output and device charges slower than usual. But it is effective to avoid the device connecting and disconnecting continuously.

Way 5: Reset SMC and NVRAM
One way to fix iPhone keeps connecting and disconnecting from Mac issue is by resetting the SMC and NVRAM. SMC managed the amount of power sent to the USB port whereas NVRAM like None Volatile Random Access Memory stores settings for quick access. Here's how you can reset SMC and NVRAM settings on Mac.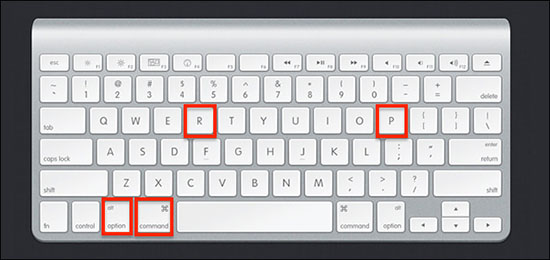 Reset the SMC settings
Step 1: Shut down your Mac device.
Step 2: Then press Control + Option + Shift + Power keys and hold these buttons for at least ten seconds.
Step 3: Then release the keys and turn on your Mac. Reconnect your iPhone and it will not disconnect any longer.
Reset the NVRAM settings
Step 1: Shut down your Mac computer.
Step 2: Switch it on again. Press and hold the keys Option + Command + P + R.
Step 3: Release the keys after 20 seconds and your device will restart automatically.
Step 4: Reconnect your iPhone and it will work perfectly fine.
Way 6: Contact Apple Support
The last resort in case none of the above fixes work, contact Apple Support. If there will be hardware issue, they can repair it. You can contact them through Apple Support via live chat, iPhone, or email. If the situation worsens, schedule a Genius Bar appointment online.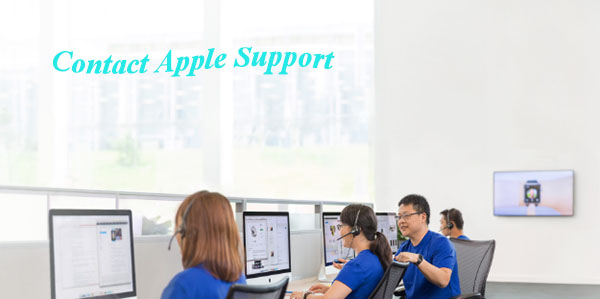 Conclusion
iPhone keeps connecting and disconnecting from Mac is an issue that can be fixed with simple tips and tricks. The above fixes are sure to solve your problems in a minute. Out of all the solutions, Joyoshare UltFix can help you resolve complex iPhone issues instantly without any data loss. Try our little guide and enjoy the amazing benefits offered by the most powerful software in town.