Q:"Please help! I have installed Mobile Joomla, but I get a message of Safari cannot connect to server while clicking the site on my iPhone. Any solutions?" - Johnny J from Mobile Joomla Forum
We all know that Safari is the default browser specified on iOS device. It's usually the preferred choice when iPhone users browse a webpage or search for something. However, you may get into a issue, only to find Safari not working on iPhone. Still seek solutions over the Internet to fix certain problem like Safari cannot connect to server? Don't miss the best 9 popular ways introduced in this article.
Possible Causes of Safari Cannot Connect to Server:
Wrong website URL that you enter to search;
Weak signal of iPhone cellular data or poor Wi-Fi network connected to iPhone;
Previous browsing data and cache is one of the triggers of this issue;
The recent iOS version is not downloaded and installed on iPhone;
iPhone system bugs and failures;
Something troublesome with DNS server settings.
Part 1. Check the Website URL You Enter
This is the first and easiest solution in this list to the matter that Safari can't connect to server on iPhone. With this method, you are required to recheck and make sure the URL you are searching is definitely accurate since any slight mistake will lead to Safari cannot load a web page. So, when you manually type or copy a URL, please be sure to double-check to avoid errors.
Part 2. Check Internet Connection
It is likely that when you encounter a technical error that you do not know well, you may be too flustered to deem it is a problem easy to work out. In effect, it might be a general issue that arises because of the poor network. If the URL you type is certainly correct, check Internet connection on your iPhone to troubleshoot Safari cannot connect to server.
You have to make sure that either WiFi or cellular data is enabled. When you find the speed of mobile network is slow, you ought to connect the iPhone to a strong Wi-Fi network to let Safari load a web page. Anyway, before using Safari, you must ensure that iPhone is on a good network condition.
Part 3. Clear History and Data to Fix Safari Cannot Find Server
There are times when Safari problem is on account of a conflict between the website data and previous browsing history. Faced with this situation, you are able to clear up the website data and cache to handle this Safari error. To do it, you need to click the "Settings" icon on iPhone and scroll down to select the "Safari" option. Afterward, touch "Clear History and Website Data". Once done, it is requisite to run Safari browser to test if this problem has gone.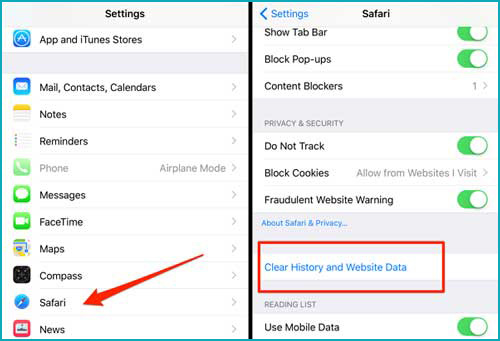 Part 4. Fix with Joyoshare UltFix with No Data Loss
To easily fix Safari cannot open a web page error without data loss, a professional repair tool is needed. Here, Joyoshare UltFix, one of the most excellent iOS system recovery programs, is recommended. There is no concern for the invasion of privacy and way of operation, as it is secure and designed with a user-friendly interface. Any issues, such as iPhone no service, iPhone WiFi greyed out, GPS not working, black screen, etc. can be repaired without difficulty.
Key Features of Joyoshare UltFix: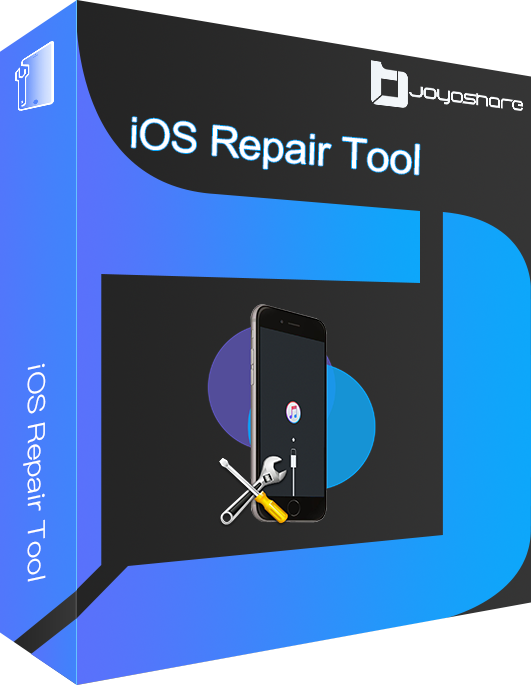 Two repair modes: standard mode and advanced mode
Repair Safari can't find server error without data damage
Totally compatible with all iOS devices/Apple TVs and iOS 14
Provide a single-click option to enter/exit recovery mode for free
Step 1: At first, you should connect iPhone to the computer and launch Joyoshare UltFix. After a minute, you can tap on "Start" to go on while the iPhone is detected by this program;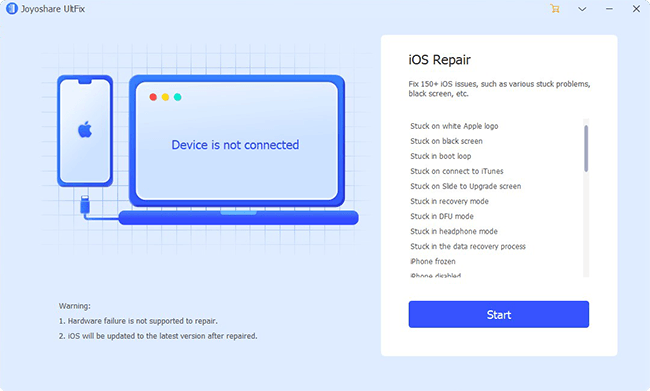 Step 2: Next, selecting a repair mode is what you should do. For iPhone Safari problem, it is better to cooperate with the standard mode in order not to affect iPhone data. Then proceed with the "Next" button;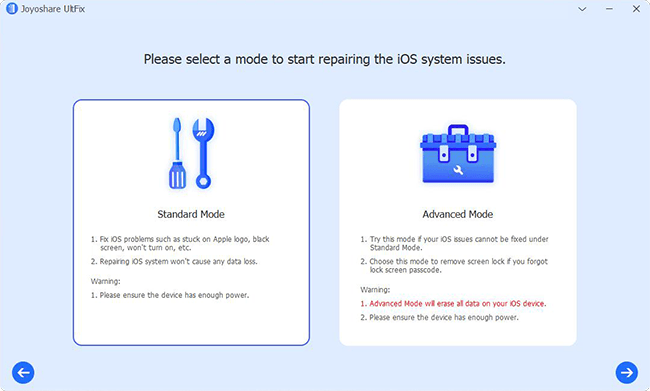 Step 3: Thereafter, choose iPhone model and put your iPhone into recovery mode as instructed on the screen. The link at the bottom of this interface is used to change to DFU mode when iPhone fails to enter recovery mode;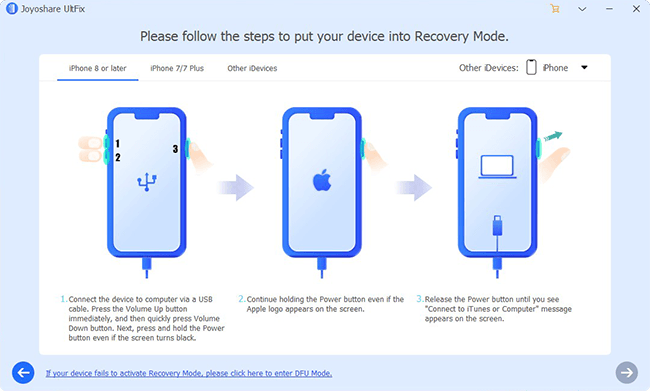 Step 4: There is a need for you to make a confirmation after Joyoshare UltFix recognizes all basic information of your iPhone. If everything is correct, you will click the "Download" button to download the firmware package and verify it;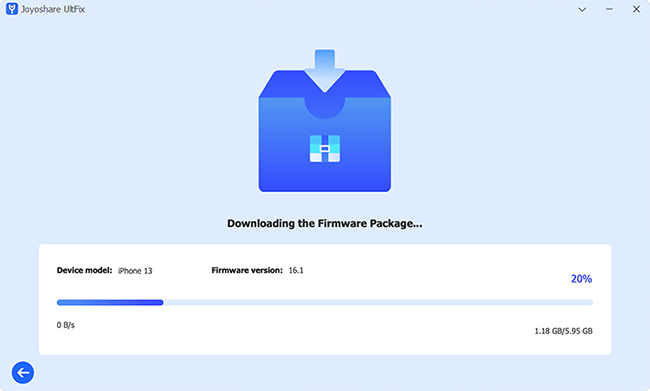 Step 5: Finally, you ought to touch "Repair" to get the firmware package unzipped and the program is going to start repairing the Safari error on your iPhone.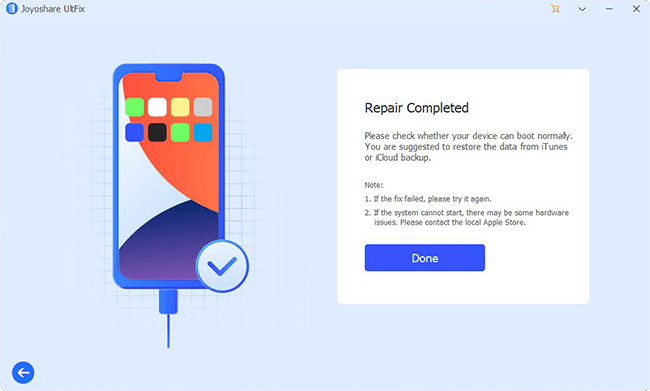 Part 5. Force iPhone to Restart
Certain simple approaches like restart or force restart the iPhone could aid you to get unstuck from the problem that Safari can't connect to server with a wet finger. Holding the "Power" button to do a restart can afford to direct bugs touching off Safari trouble away from your iPhone. In case simply rebooting doesn't fill the bill, force reboot iPhone following instructions outlined below.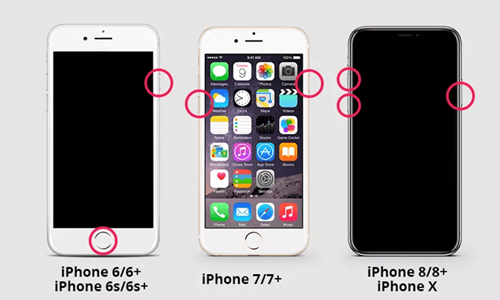 iPhone 6s and former:
1. Hold down the "Home" and "Lock" buttons at the same time;
2. Keep holding until the Apple logo shows and the iPhone restarts.
iPhone 7 and iPhone 7 Plus:
1. Press the "Power" button while holding the "Volume Down" button;
2. Don't let them go unless the white Apple logo appears on the iPhone 7 or 7 Plus.
iPhone 8 and latter:
1. Press the "Volume Up" button and quickly release it;
2. Press the "Volume Down" button and quickly release it;
3. Press and hold the "Top" button. Wait till you see Apple logo. Then it's time to release it.
Part 6. Update iOS Version
Previous iOS version is prone to draw a lot of system failures to an iPhone. Possibly, it is just the old iOS version on iPhone that results in that Safari can't connect to server. This is a situation that calls for the installation of a recent iOS version. Therefore, you are required to get into "Settings" - "General" - "Software Update" so as to check for an update. With an available update detected, download and install it on your iPhone.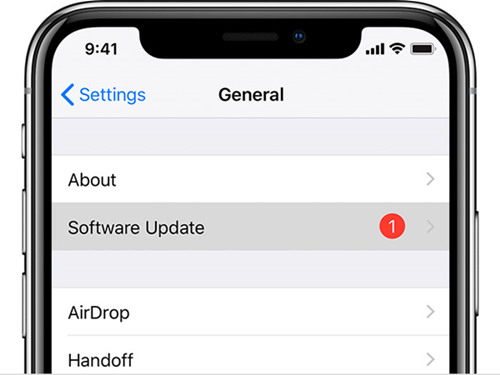 Part 7. Use IP Address
If your Safari cannot connect to server, you can search the IP address of your target URL on Safari. If the IP address can work well without a problem, it's possible a DNS server problem out there to be fixed. In this case, you can check how to modify the DNS settings in the next solution.
Part 8. Change DNS Settings
One possibility is that the mater of Safari can't load a web page is due to DNS problem. DNS (Domain Name Server) is used to translate a domain name and IP address corresponding thereto. Also, it stores a table of domain names and IP addresses to analyze the domain name of a message. Therefore, when you enter into a URL, the corresponding web page will be loaded. If not, you can switch it to a Google server manually. Follow the steps described below.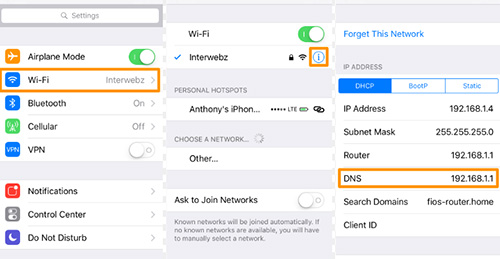 Step 1: Firstly, tap on "Settings" and choose "WiFi" on your iPhone;
Step 2: In the WiFi window, you have to click the blue icon beside the WiFi network;
Step 3: You will see the information of the WiFi network. Then scroll down to hit on "Configure DNS" and touch "Manual";
Step 4: Move on to "DNS Servers" section and select "Add Server";
Step 5: After this, you should type 8.8.8.8. and save it to add a Google DNS server;
Step 6: Run Safari to see if Safari cannot find server iPhone issue has been repaired. If failed, try out the next method.
Part 9. Reset Network Settings on iPhone
Have switched to another server but Safari can't find server all the same? Stay calm and try to reset network settings on your iPhone. This operation is performed to recover all network settings including DNS settings and Wi-Fi networks to default. To get it done, please head to "Settings" - "General" - "Reset" - "Reset Network Settings" and then enter the passcode to confirm this option.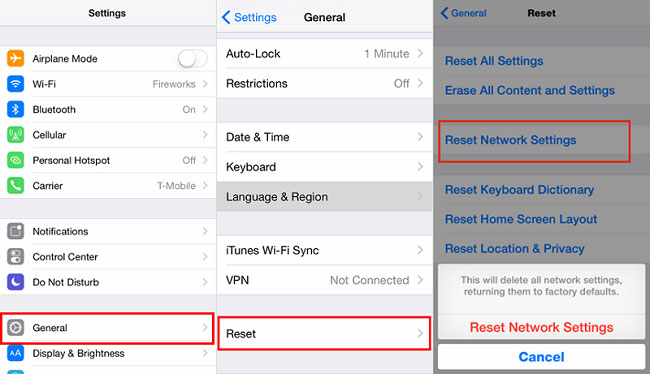 Conclusion
After reading this article, you will at least know nine effective measures to fix Safari cannot find server issue without challenge. You had better consider carefully which way is more suitable to get through the problem. With common solutions, you may take the risk of damaging iPhone data more or less. In order to completely eliminate this possible risk, you can take advantage of Joyoshare UltFix to assist you. Anyway, wish you to be alleviated from your suffering as soon as possible.