Q:"Every time I leave the house, I always turn off WiFi on my iPhone as a security measure. But this time iPhone cellular data not working issue occurs while turning WiFi off, which hasn't happened before. I guess there is something wrong with my iPhone. Thus, I try rebooting the iPhone but it seems to be useless. Is there any other way to address the problem? If you have any idea, please let me know. Thank you sincerely!" - Bunny
Data connection is very essential for mobile phone users. It is because WiFi can't be connected anywhere and whenever. You may be anxious when you turn on cellular data but you still can't access the internet or transmit any data on your iPhone. If you are being disturbed by such a problem, the following tips outlined will help you out.
Part 1. Reset Network Settings to Fix Cellular Data Not Working on iPhone
Resetting network settings is a workable method to fix it if cellular data obstinately refuses to work. It will clear all saved WiFi networks as well as reset your cellular data settings to the default settings. That means this method can also solve WiFi network problems except for fixing data connection issues. The way to do is quite simple. You just get into "Settings" and press on "General". Then, you can move on by choosing "Reset" option and tap on "Reset Network Settings". Finally, you should authorize the reset by typing passcode you set and make a confirmation. After this, you may need to check if cellular data on your iPhone can work.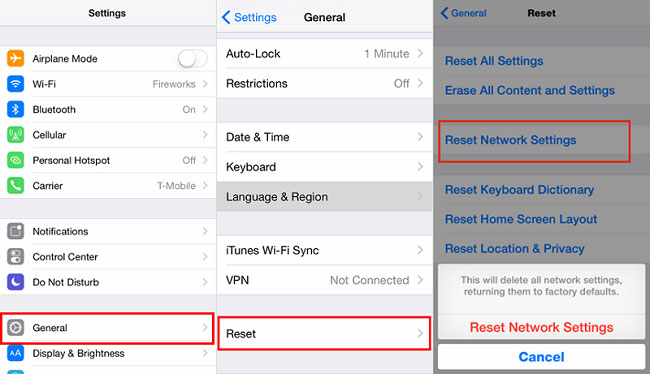 Part 2. Switch on Data Roaming to Solve iPhone Cellular Data Not Working
Maybe it sounds incredible that turning on "Data Roaming" can solve iPhone cellular data network not available. However, a good many people who have experienced this problem report it is an effective way which can repair plenty of failures on iPhone. Additionally, you can do it by yourself at ease. Just head to "Settings" - select "Cellular" option - go to "Cellular Data" - press on "Data Roaming" to enable it. Afterward, don't forget to reboot your iPhone.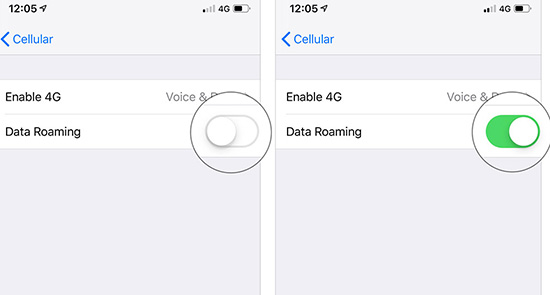 Note: It is just a temporary workaround. You can apply it in the case of emergency. But you'd better get this problem done completely. Besides, if you travel abroad, please remember to turn it off. Otherwise, it will charge a lot.
Part 3. Turn on Airplane Mode and Turn It off
The two methods above fail to work? You can try this one. Toggling on and off airplane mode on your device will be a good idea to repair cellular data not working on iPhone issue. Do as follows: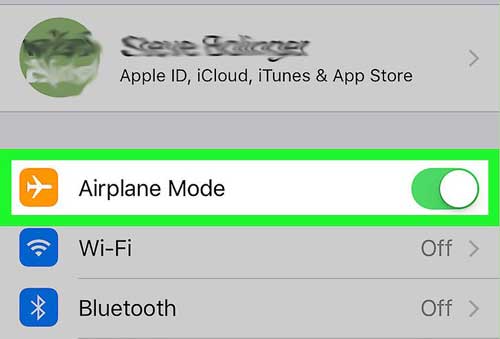 Step 1: Firstly, you should go into the "Settings" option on the Home screen;
Step 2: Then, you are required to find and turn on airplane mode;
Step 3: In a little while, just click to switch it off. Having finished the operations, your iPhone is going to re-search for network signals.
Part 4. Reinsert SIM Card to Repair iPhone Cellular Data Not Working
If this issue still happens after you try all the above ways, you may try removing SIM card and insert again. Reinserting SIM card will force your iPhone to read the card again, which may cause cellular data to revitalize. This is so easy that all of you can do within seconds.
Step 1: Begin by opening the card slot with a fine and pointed stick;
Step 2: Remove your iPhone SIM card slightly;
Step 3: Then, you need to check if SIM card is damaged;
Step 4: Finally, if it is perfect with no damage, you can reinsert it. If there is something troublesome, you maybe need to change a new one.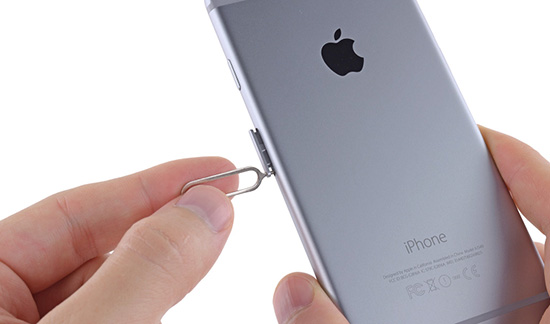 Note: After completing this, it is better to see if such a problem is resolved successfully.
Part 5. Enable Don't Allow Changes to Fix Cellular Data Not Working on iPhone
Would you like to try something else? How do you like the method of turning on "Don't Allow Changes"? This way is possibly a bit unfamiliar to you all. So you have to follow the detailed steps below to solve iPhone cellular data keeps turning off.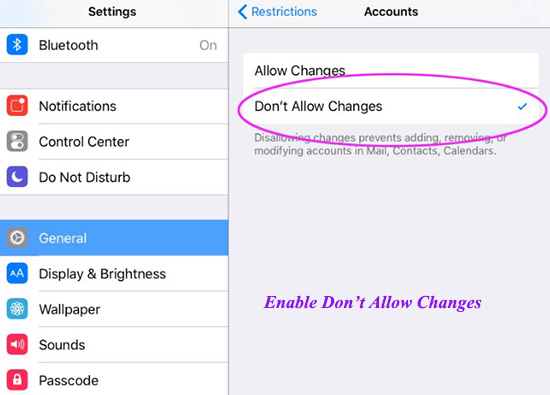 Step 1: In the first step, please navigate to "Settings" and choose "Screen Time";
Step 2: After that, you ought to tap on "Content & Privacy Restrictions". It is possible that you are demanded to enter a passcode;
Step 3: After doing this, you need to change the settings, such as passcode changes, account changes, cellular data changes and so on by clicking the category;
Step 4: In the last step, you just press on "Don't Allow".
Part 6. Check for Carrier Updates to Solve iPhone Cellular Data Not Working
Another excellent way to get iPhone cellular data issue through is to update cellular carrier. The mobile network provider will supply carrier updates on iPhone once in a while. If you want to troubleshoot accurately, you have to update cellular carrier to the newest version. Perform as instructs below.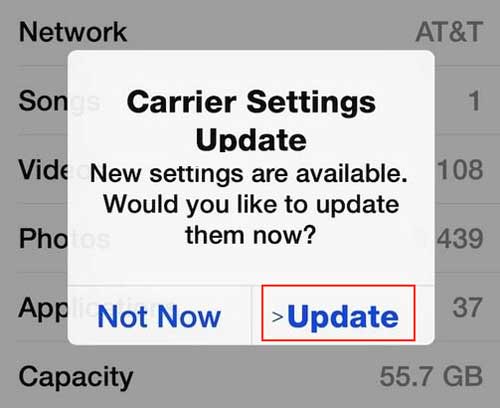 Step 1: The first thing you should do is to open "Settings" app;
Step 2: Next, scroll down to select the "General" option;
Step 3: Then, just tap on the "About" button;
Step 4: If a window pops up on the screen, that means cellular carrier is available. You just need to click "Update" to get it updated.
Part 7. Fix with Joyoshare UltFix iOS System Recovery Perfectly
Have you ever wondered what you should do to fix cellular data not working on iPhone issue if none of the above methods work? Well, it is a wonderful time to give Joyoshare UltFix a chance. As a specifically designed tool for iOS system issues, Joyoshare UltFix can repair your iPhone cellular data problem safely and instantly. What is more remarkable is that this software offers two repair modes. It can fix a series of general iOS system issues without losing data using "Standard Mode" as well as restoring your device to factory settings without passcode via "Advanced Mode" if you demand.
In addition, this powerful program is fully compatible with all the iOS devices, Apple TVs and the latest iOS version. If you need, it can help your device enter or exit the recovery mode with one click. Certainly, aside from iPhone cellular data issue, more iOS system problems are supported by it, such as iPhone no service, iPhone keeps disconnecting to WiFi, iPhone stuck in recovery mode and so on. Thus, it is highly recommended for you to fix this issue.
Key Features of Joyoshare UltFix iOS System Recovery:
Get iPhone cellular data not working problem fixed faultlesslyy
Offer standard mode and advanced mode to repair
Have ability to enter/exit the recovery mode freely at ease
Support the iOS version 12.4 and all iOS devices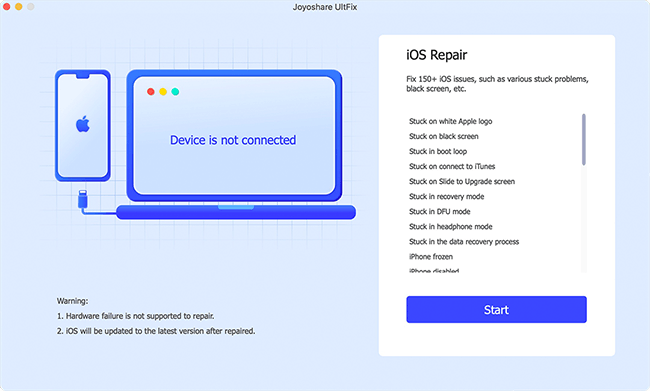 If you don't understand how to fix your iPhone cellular data not working problem with Joyoshare UltFix, you can proceed according to the step-by-step guide illustrated below. What you will see is the specific way to operate on Mac. For Windows, refer to Mac.
Step 1: To begin with, you ought to launch and run Joyoshare UltFix and connect your iPhone to the computer. Once this software detects your device, you can tap on "Start" to continue;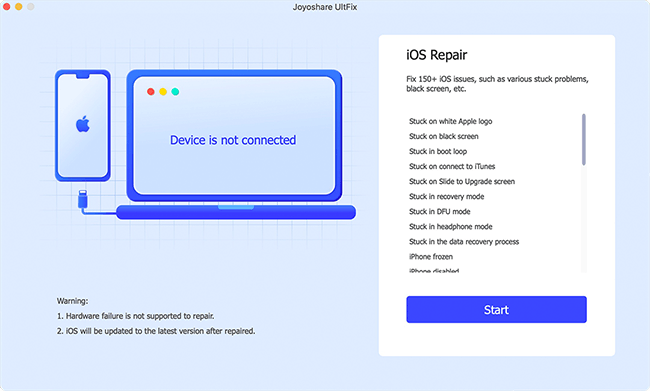 Step 2: In the second step, you are asked to select "Standard Mode" in the basis of your actual iPhone issue. After choosing, you need to click on "Next";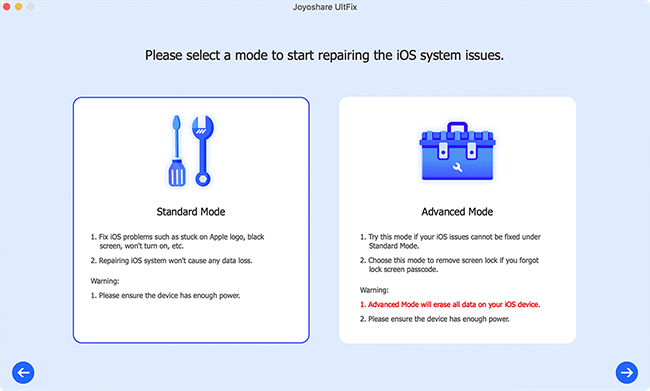 Step 3: Afterwards, you should manually boot your iPhone into DFU mode or recovery mode according to the instructions on the screen;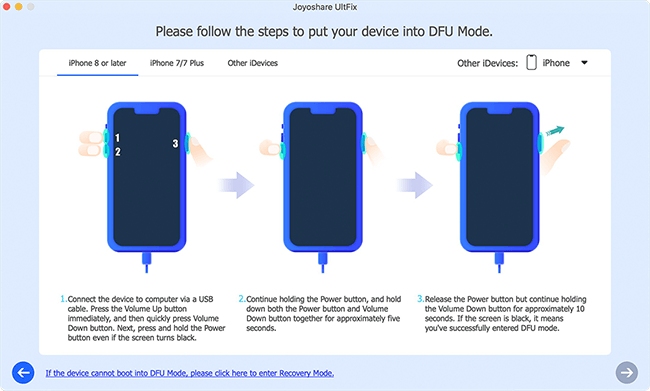 Step 4: In this section, Joyoshare UltFix will recognize the model and other information of your iPhone. Now, please make a confirmation. Then, it is time to press on the "Download" button to download and verify the firmware package;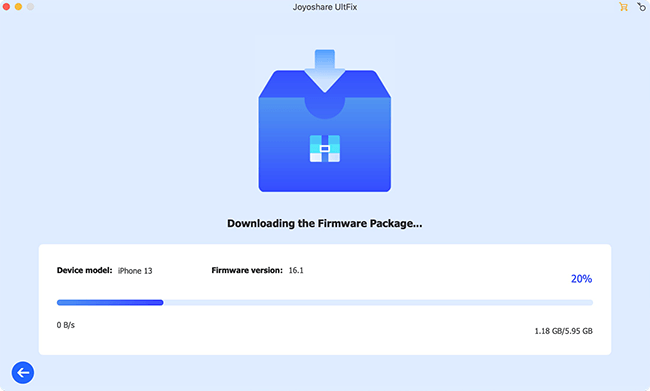 Step 5: Eventually, when verification gets finished, you can click "Repair" to unzip the firmware package. After a moment, it will repair your iPhone cellular data network not available problem soon.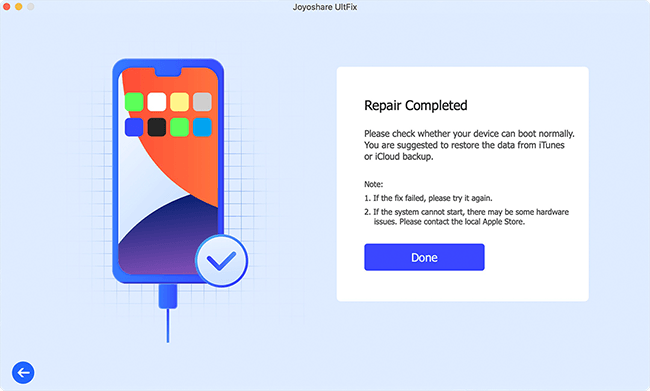 Conclusion
It's not really a panic-stricken problem, because every user may face iPhone cellular data not working problem. You can try one or more method described above to get this issue solved. If the common ways can't work well, you are advised to use Joyoshare UltFix. It is promised to work your iPhone problem out satisfactorily.