iBook is an online application that gives access to readers to read magazines and books online anytime, anywhere. Apple initially started iBook. In the beginning, users were required to download the iBook. Now Apple has started pre-installing the iBook in the latest versions. Downloading iBook is very easy and simple.
As time changes, people prefer online reading, so iBook is an amazing thing. It is not common, but sometimes, you can face any issue while downloading an iBook book. This article will provide you with the best helpful solutions for fixing the issue of iBook book won't download. Follow the article to solve your problems.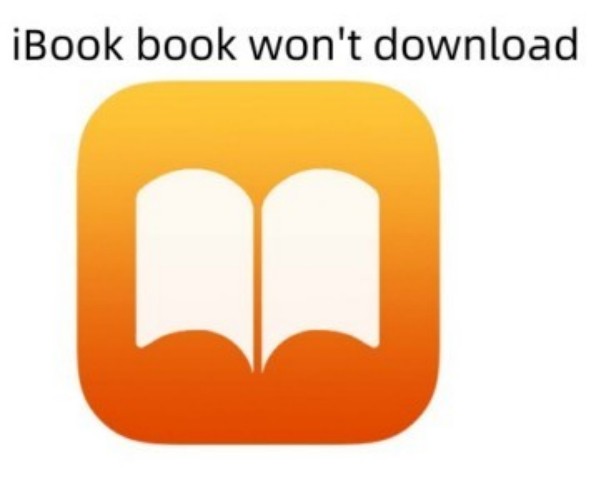 Part 1. Why Is My iBook Book Won't Download?
The iBook won't download book issue can be due to several reasons. It is difficult to choose the root cause of the issue. There are some common reasons why won't book download on iBook. They are:
•Unstable Internet: The common reason behind downloading iBook is a network issue. Your internet connection, whether WiFi or Mobile data, is not stable and creates the issue of iBook book won't download.
•Apple Server: Sometimes, servers undergo some problems or run through maintenance. This can also be the reason for iBook won't download on iPhone.
•System Glitch: System glitches are another major reason the iBook book won't download on iPhone. There might be a glitch in your iPhone system. Some apps running on your iPhone can also cause glitches or software errors.
Now you are fully aware what can be the reasons for the issue of my book won't download on iBook. The following section will provide five useful solutions for solving the issue.
Part 2. How to Fix Apple Books Won't Download in 4 Ways
If you are facing problems downloading iBook books, you don't have to worry anymore. You can try the following fixes and easily download the iBook book on your iPhone. Some of the helpful methods are given below:
Way 1. Restart Your iPhone
Restarting is a variable way to solve many issues. Sometimes, iPhones get bugs, creating issues like iBooks book won't download. You have to restart your device to solve all software or system issues. After restarting your iPhone, download an iBook to check if the problem is solved. If not, try the other solutions.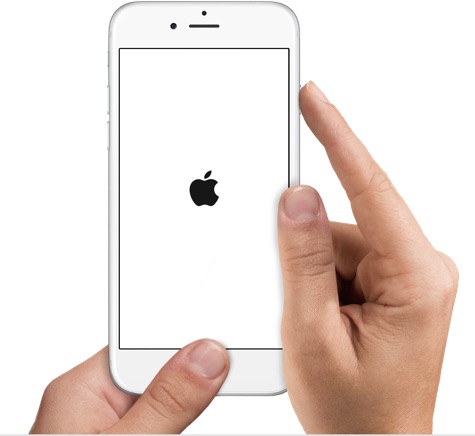 Way 2. Check Apple Servers
Apple Server can stop you from downloading the iBook book on your iOS device. Sometimes, the System goes under maintenance issues, or may it get updated. There can also be network issues that can cause problems in your iBook downloading. Check to see if the Apple Server is working properly or not. You can confirm the Apple performance status on the Official page of the Apple System. Apple system status updates are available on the System Official page. Make sure the Apple Server is not down.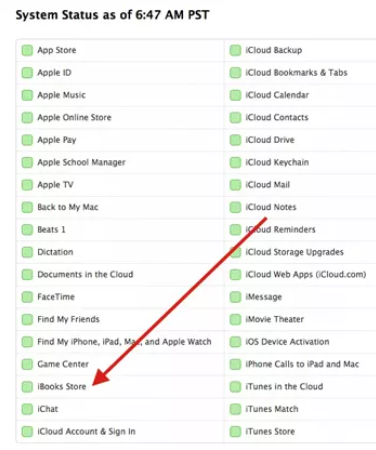 Way 3. Sign Out and Sign in to the Apple ID Account
Your Apple ID may be causing the issue of iBooks book won't download on iPhone. You can sign out of your Apple ID and then sign in again to see if the problem is resolved or not. To sign out and sign in your Apple ID, follow the given steps:
For Signing Out:
Step 1: Go to "Settings" on your iPhone and tap the name on the screen.
Step 2: Go to the last option of "Sign out" and click on it.
Step 3: A confirmation window will appear; click on the Sign out option again to confirm.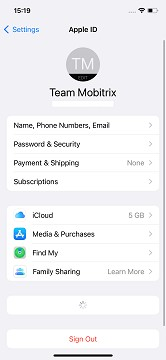 For Signing in:
Step 1: Go to "Settings" and tap the "Sign in to your iPhone" option.
Step 2: Enter your Apple ID and passcode to sign in to your Apple ID.
Step 3: For verification, a six-digit verification code will send to you on another device. Enter the code, and confirm your ID.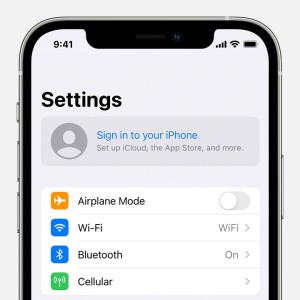 Way 4. Verify Apple ID
Apple requires you to use the same ID for downloading iBooks to read iBooks. Using more than one ID can cause the issue of the iBook book won't download on iPhone. You have to check whether you are using a single ID to download and read iBook. To do the checking, follow the given procedure:
Step 1: Open "Settings" on your iPhone.
Step 2: Choose the "iTunes & App Stores" options.
Step 3: Here you need to check whether the "Books & Audiobooks" option is turned on or off. If it is off, click on the slider, enable iBooks on your iPhone, and verify your Apple ID.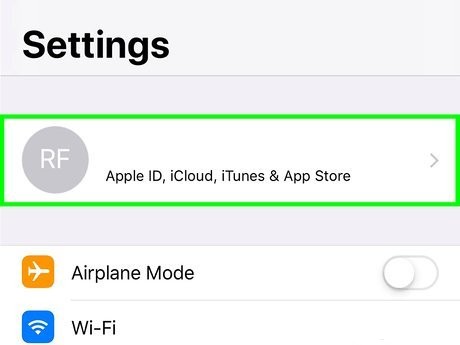 Try downloading the iBook and checking to see if the problem is solved. If not, then you need to use a third-party tool. Head towards the following section to solve the issue with the software.
Part 3. Best Method to Fix iBook Won't Download
If your iPhone faces software or System issues, you might find downloading iBooks difficult. For solving system issues, the best method is to use the software. We recommend you use Joyoshare UltFix iOS repair tool. It is dedicated to fixing 150+ iOS problems such as iPhone cannot get mail, iPad keyboard not working, slow Internet on iPhone and so on. It is fully compatible with all iOS devices, including iPhone, iPad, and iPod touch. Besides, you are offered a free option to enter and exit recovery mode with one click. With easy processing, you can quickly solve the issue of iBooks book won't download on iPhone.
The features of Joyoshare UltFix are: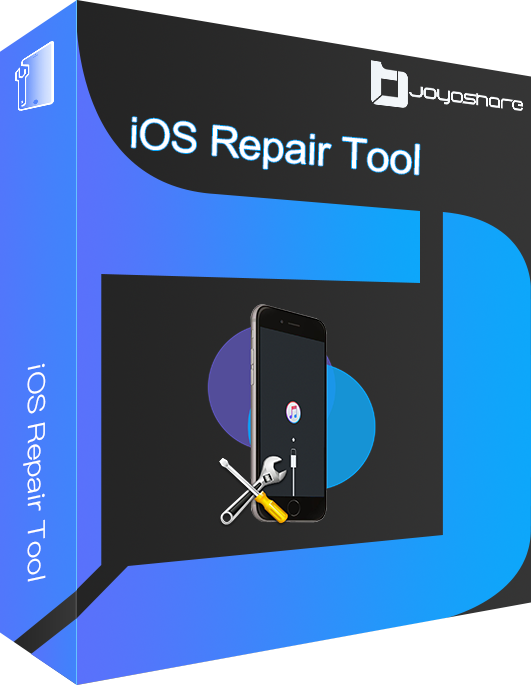 The software solves more than 150 iOS issues without any data loss.
The software has two repair modes.
It has an easy-to-use interface.
You can use the software for all iOS devices, including iOS 15.
You can start or stop recovery mode with one click.
The process for using Joyoshare UltFix is very easy. Follow the step-by-step guide to solve the iBooks book won't download issue. Remember: Install and download Joyoshare UltFix on your Mac or Windows PC.
Step 1

Launch Joyoshare and Connect your iPhone

Launch the software by clicking on the app icon on your desktop. Plug your device into the computer by using a USB Cable. To run the software, click on the "Start" button.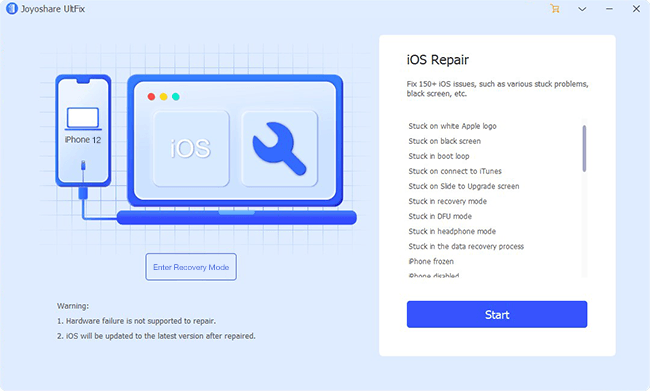 Step 2

Select Repair Mode

The software has two repair modes: Standard Mode and Advanced Mode. You must choose the Standard mode so your mobile data will save. Remember, all your iPhone data will delete if you choose Advanced Mode.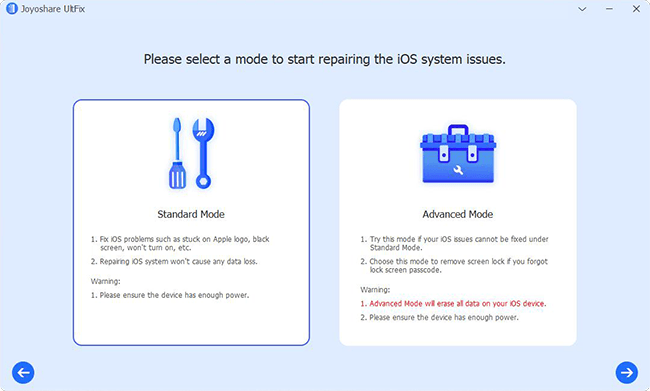 Step 3

Download and Verify Firmware Package

After choosing the repair mode, click "Download" to download the firmware package.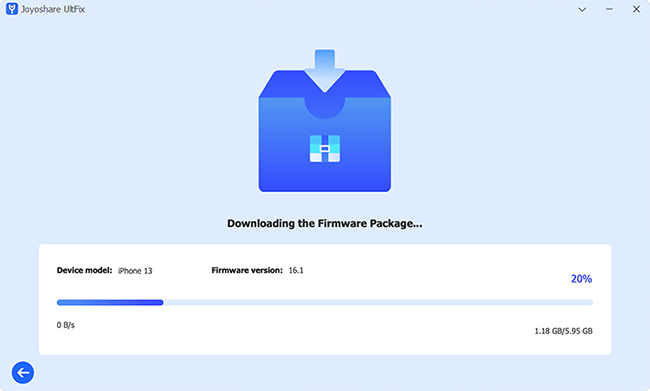 Step 4

Repair iOS System

Once the downloading is finished, click on the "Repair" button to start repairing your iPhone. The software will remove all the system errors from your iPhone. Make sure your device remains connected to the computer.

You have now successfully repaired your iPhone. All the software or system errors are removed. You can easily download the iBooks book without issues during the downloading process.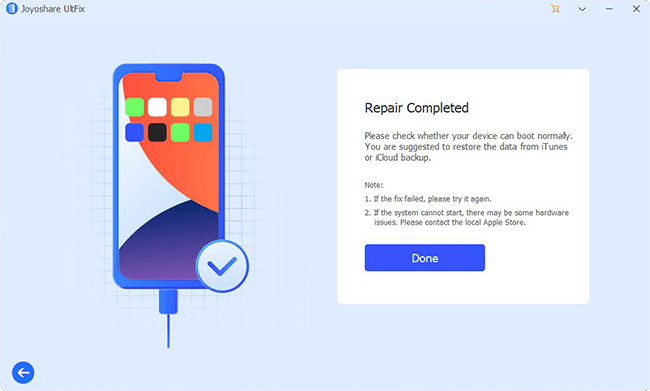 Part 4. Conclusion
iBooks is getting popular as people prefer a soft copy of books. They used to read online books anytime and anywhere. Also, people don't bother to go outside and buy books in hard copy. In downloading iBooks, if you face any problems and don't know the cause is. The article will help you out for understanding the causes of the issue.
Also, we have provided you with the best possible solutions for solving the issue of iBooks book won't download on iPhone. If any solution didn't work well, you must try the Joyoshare UltFix. It will solve all your iPhone-related issues.