Nothing hurts "bricked" iPhone owners like seeing their prized iOS handset malfunction. In some cases, this inconveniencing and painful experience starts after an attempt to jailbreak the device or to install a recent upgrade. Sometimes, the iPhone becomes irresponsive due to an incomplete setup process or firmware errors. All Apple products, including the old and new models, are susceptible to such problems. But the good news is: your bricked iPhone can be repaired and restored without loss of valuable data. In this post, we will show you the 4 best solutions to fix a bricked iPhone without restoring or restoring it. Let's go without any further talk.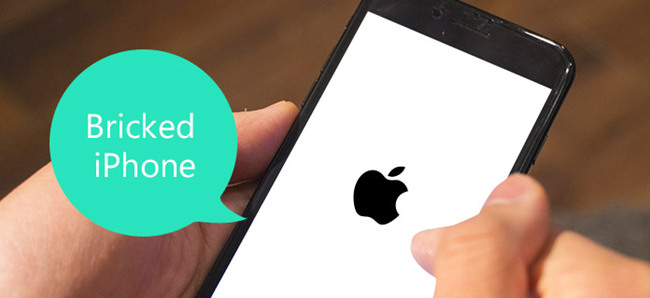 Part 1. How Do I Know If My iPhone Is Bricked?
Generally speaking, if your iPhone is not responding, it then can be considered "bricked". iPhone upgrading for iOS 15, for example, causes different types of stuck problems such as:
* Unresponsiveness of the Power button;
* Hanging Apple logo shows up but the phone is still unable to power on;
* One or both devices may be affected by network problems.
* iPhone totally non-operational with a screen showing a shade of blue due to an unfinished iOS update;
* Unresponsive black screen reported for models such as iPhone 6;
* iPhones (particularly 6S versions) get bricked on iTunes. The image showing "connect to iTunes" appears stuck on the device screen;
* Red screen displaying expiration or death of iPhone device
* Error message requesting owners to restore their phones shows up when connected to iTunes;
* iPhones downgrade to older software instead;
* "iTunes error 39" on display screen after an attempted upgrade.
Part 2. How to Fix a Bricked iPhone 7/8/X/XR/11/12/13?
When you found your iPhone is in a bricked condition, you can try the methods beneath to fix it by yourself at home before taking it to the repair store. Most of them are easy to operate, without much technical technology.
Solution 1. Hard Reboot Your iPhone
"Have you tried rebooting it?" might seem like the most hackneyed phrase, but in reality, it is the default solution for those bricked iPhone. Depending on your iPhone, you will need to use the appropriate method to restart.
On iPhone 6S and earlier,
Press Sleep/Wake button & Home button until the Apple logo shows up on the screen.
On iPhone 7/ 7 Plus,
Simply long-press the Sleep/Wake button & Volume Down button at the same time. Do this for at least 10 seconds, until the Apple logo flashes.
On iPhone 8/ 8 Plus, iPhone X, or later,
Quickly press and release the Volume Up & Down button one by one.
Hold the Side button until the Apple logo shows up.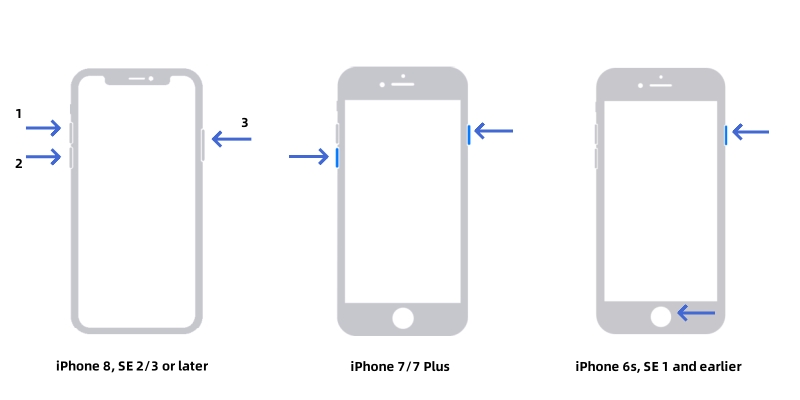 After rebooting, give the device some time to switch on and then try to use it normally. When you switch your device on, but it turns off instantly, or the Apple logo appears after 10 minutes, you might have to jump into the next method.
Solution 2. Unbrick iPhone without Restoring [100% Lossless]
If you don't want any data loss, you can go for a professional iOS system recovery program such as Joyoshare UltFix iOS System Recovery, a reputable multimedia software company that guarantees a solution to a variety of iOS system problems such as failed updates or iPhone-iTunes connectivity issues. Such as iPhone lagging, iPhone won't update, and so on. The software developer recently introduced Joyoshare UltFix, an automatic phone repair tool with proven effectiveness in the safe fixing of bricked iPhones.
Key Features of Joyoshare iOS System Recovery: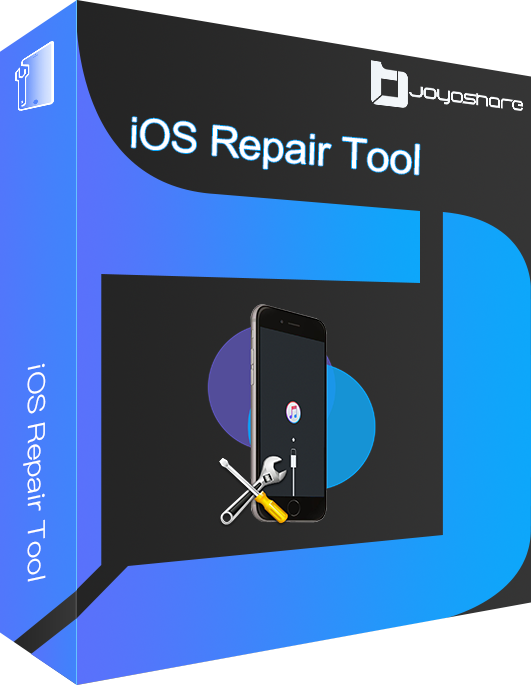 Fix a bricked iPhone with several steps
Compatible with iOS 15 and almost all Apple devices
With a free option to get into or out of recovery mode
Resolve 150+ errors on all iOS devices like iPad, iPod and iPhone
Now let's take a deeper look into how the iOS System Recovery software works.
Step 1

Download and Connection

Visit the Joyoshare website and download the free version of the iOS system recovery website. Connect your Apple device to the Windows PC or Mac using a USB cable. Then click on the Joyoshare icon to run the software. It will automatically detect your iPhone.

Step 2

Select Repair Mode

After your device is recognized, press the "Start" button and then choose the "Standard Mode" on the next interface.

Step 3

Downloading and Verifying Firmware Package

Now you need to confirm your device info such as device model, iOS version, etc., and manually correct it if there is anything wrong. After that, click the "Download" button on the lower right corner and let Joyoshare UltFix start downloading and verifying the firmware package matched with your iPhone model.

Step 4

Repair iPhone Bricked

Once the download completes, click the "Repair" button to fix your bricked iPhone without restoring it. Wait a while until the process ends. Your iPhone will work normally again. If not, switch to the "Advanced Mode" to try again.
Solution 3. Restore Bricked iPhone with iTunes
Unbricking your iPhone can be easier depending on how far you've gone with the upgrade before it failed. For example, if you always back up your apps and data in iTunes, there is a great chance that you can revive the bricked iPhone and restore your data and settings through the iTunes recovery process outlined below:
Step 1: Gain access to a Windows computer or Mac running the latest version of iTunes, especially those versions supporting recent iOS upgrades.
Step 2: Connect your device's USB cable and link it to the Windows PC or Mac.
Step 3: Click on iTunes software and wait until the connection or sync process is complete.
Step 4: Press and hold the Home and Sleep buttons on your device. This action should be performed at the same time until you see the iPhone restarting in recovery mode. You will be prompted to connect to iTunes. You can also use Joyoshare UltFix to put your iPhone into recovery mode in one click with no cost.
Step 5: Check the Windows PC or Mac for the prompt that either asks you to confirm a "Restore" or "Update" process. The restore option reverts back your data and settings to the last known information saved on iTunes whereas an upgrade option continues to the latest iOS version;
Step 6: Select "Restore" to continue; Hold on while your Apple device completes the setup process.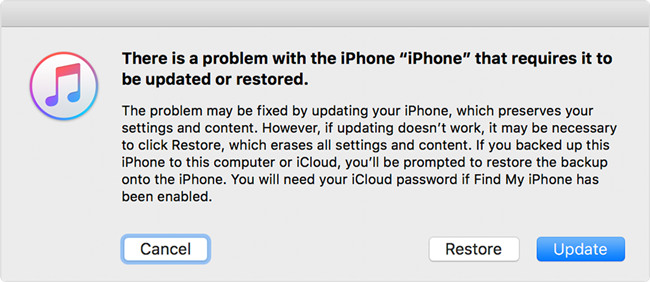 Solution 4. Restore Bricked iPhone with DFU Recovery
If attempts to restore your bricked iPhone fail, your next option is to try DFU restore — also known as system restore — which implies wiping out every data on the Apple device, including software and hardware settings. In this method, you will be able to return your phone settings to its factory mode.
Step 1: Turn on your iPhone;
Step 2: Open your iTunes software and connect the device through a USB cable;
Step 3: Hold down the Home and Power button for a few seconds until your device confirms that "iTunes has detected an iPhone in recovery mode";
Step 4: Release your grip and see if the device has successfully entered DFU mode;
Step 5: Click on "Restore" to downgrade your device to its original settings.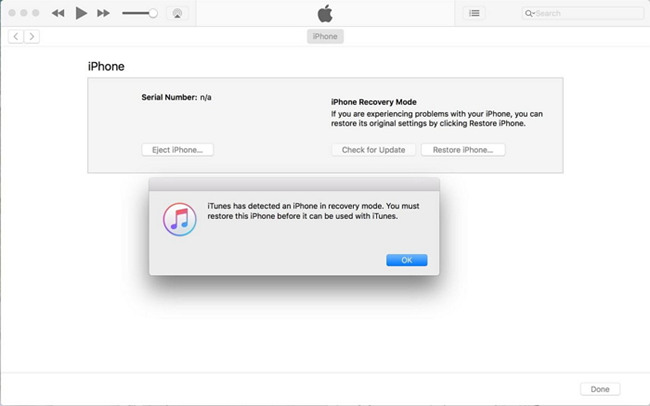 Note: Please be noted that both Recovery restores and DFU restore will erase all the data on your iPhone, you can recover the lost data from iTunes or iCloud backup if you have one. Otherwise, we suggest you adopt the first method (using Joyoshare UltFix), which will help you fix a bricked iPhone without data loss.
Part 3. iPhone: Unbricked
If you are experiencing an iPhone, iPad, or iPod that won't turn on or seems to be "bricked", your iOS device may be still functional. You just need to use some gentle persuasion we listed above to wake it up. Among them, which of the troubleshooting ways that we discussed above worked for you? It is worth mentioning that the latter two methods may result in losing data. If you want to protect your precious data, you can choose Joyoshare UltFix iOS System Recovery, its repair process is simple and will not lead to data loss.
Our sincerest hopes are that you were able to get your iPhone working as intended, without too much difficulty. If not, you can leave your comment below or connect with an email technical support service. The expert technicians will help you get rid of all the issues you are facing with your iPhone.