When you find your newest iPhone 13 can't power on, you will feel angry and troubled. As people have increasingly relied on mobile devices, people always have tried everything they can do to get their iPhone back to normal status. But the screen still keeps unresponsive and can't turn on. There is no need to panic. Here, I will present some solutions to fix this problem in detail. If you are facing the same situation, you can read this article for fixing "iPhone 13 won't turn on" problem.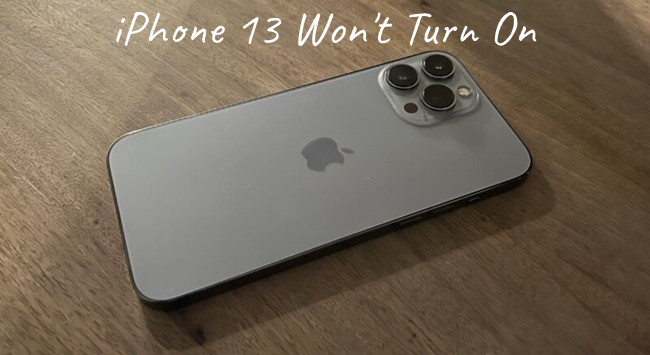 1. Why Won't iPhone 13 Turn on
There are various factors possibly stopping your iPhone 13 from turning on as normal. Normally, these issues are usually associated with drained battery, system crashes, errant applications, and hardware damage.
#1

Drained power

Drained battery is one of the major causes of iPhone 13 cannot turn on problem. Sometimes, we ignore the battery runs out as the iPhone battery runs too fast. And when the battery is totally drained, your iPhone need more time to reboot and react.

#2

Errant Applications

Some errant applications can also cause iPhone not turning on issue. In this situation, what you can do is to update or delete all the errant apps. It will likely fix the problem.

#3

System Crash

Besides battery drain and problematic apps, system crash can result in iPhone 13 stopping working. With this problem, you can find solutions in this article.

#4

Hardware Damage

If there is liquid or physical damage on the device, you can't fix them by yourself. Hardware damage is the most complex factor leading to device power issues. At that scenario, it's necessary to find a technician's aid and seek official hardware repair.
2. Free Tips to Fix iPhone 13 Won't Power on
Unless your iPhone doesn't have any sort of hardware problems such as liquid or physical damage, the subsequent procedures will likely get your iPhone 13 running properly again.
#1

Charge Your iPhone 13

Before you begin performing the following suggested fixes, just try to charge your iPhone. Grab the charger and plug in your iPhone 13. Be sure to wait for minutes to give it ample time to recharge until the charging indicator appears on the screen. Furthermore, if the charging cable and plug are damaged or not supported by Apple, please replace them and use charging accessories from trusted sources.

#2

Force Restart Your iPhone 13

As the name implies, this method works by forcing your device to shut down and reboot. It usually comes in handy whenever your iPhone cannot turn on, gets stuck or frozen. Below is the procedure to force restart your iPhone 13.

Step 1: Press and release the Volume Up button immediately.
Step 2: Then, press the Volume Down button and quickly release.
Step 3: Press and hold the Side button for a few minutes and don't release it until the Apple logo appears.

#3

Restore to Factory Settings with iTunes (The Risk of Data Loss)

Besides mentioned ways to fix the "iPhone 13 won't power on" problem, restoring your device to factory settings is a good choice for most unfamiliar iPhone users. Make sure you have the latest version of iTunes installed before connecting your device with PC. The total procedure is shown in the following:

Step 1: Verify your backup is up to date.
Step 2: Click on the summary tab and then click "Restore iPhone…" option.
Step 3: Wait until your iPhone completes the process.
Step 4: Click the "Restore Backup" button and then your data will recover.

But it is worth noting that during this process, it will result in deleting all data previously saved on your device. So, you prefer to have the latest backup if you want to fix you iPhone with this tip.
3. Fix iPhone 13 Won't Turn on Losslessly with Joyoshare UltFix
Aside from the previous suggestions, you can directly resort to Joyoshare UltFix to repair your disabled iPhone 13 as well. Joyoshare UltFix is the most professional iOS system repair tool that is designed to solve all iOS system issues without any data loss. It offers dual repair modes, including standard mode and advanced mode, and can deal with more than 150 iOS errors quickly. While most fixing solutions will erase all your data, Joyoshare UltFix not only provides secure repair to get back your device to normal but also protect your data as far as possible.
What's more, you can enter and exit recovery mode with only one single click. It is absolutely free of charge and extraordinarily beneficial when your device gets stuck in recovery mode. Instead of restoring your iPhone, Joyoshare UltFix is simpler to use with no data loss. And with user-friendly interface, you can easily fix iPhone won't turn on problems on your own no matter what your device is.
Key Features of Joyoshare UltFix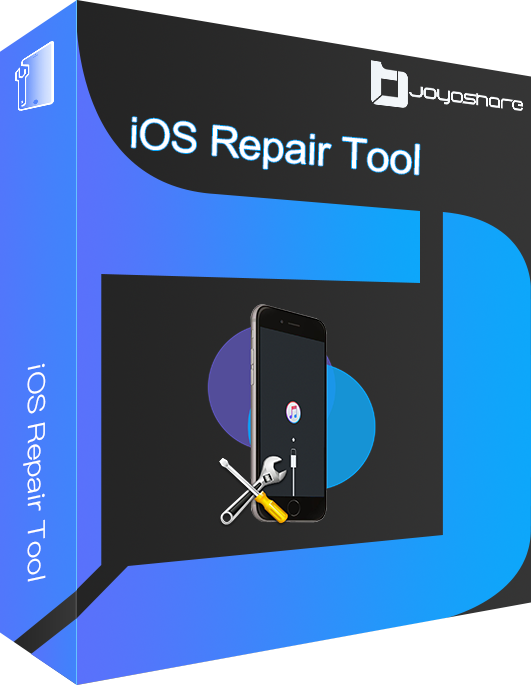 Fix numerous iOS issues at the highest success rate, including all booting issues
Free to enter and exit recovery mode with one-click option
Support all series of iPhone, iPad and iPod devices, including the latest iPhone 13 and iOS 15
No risk of data loss
Step 1

Run the Software and Connect with iPhone

After installing and running Joyoshare UltFix, get your iPhone 13 plugged into computer. When it recognizes the device, click the "Enter Recovery Mode" button and then click on "Start" button to proceed to the next step.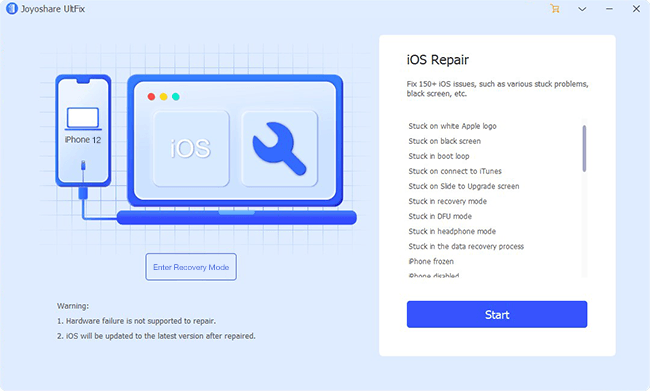 Step 2

Choose the Repair Mode

Standard mode will solve most common system issues, for example, iPhone can't turn on, without loss of data. So, you can click on the "Standard Mode" and then press the "Next" button.Alternatively, you can manually select DFU mode following software guide if you fail to enter the recovery mode in the first step.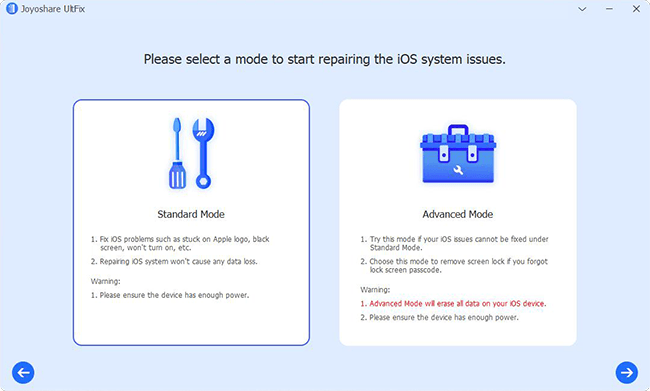 Step 3

Download and Verify the Firmware

In this step, you need to check your device information at first. Then press the "Download" button and wait a few minutes to unzip the firmware package.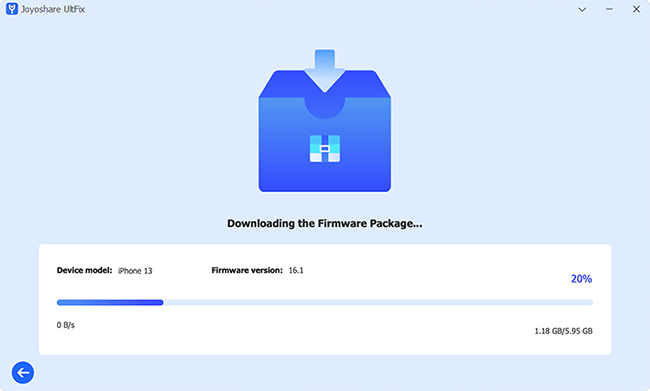 Step 4

Repair iPhone 13 Cannot Turn on

Click on the "Repair" button on the interface. After Joyoshare UltFix completes the repair, it will show "Done" button. And your iPhone will be back to normal.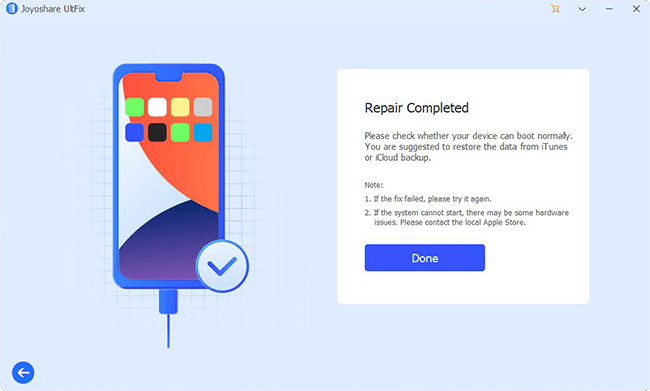 4. Contact Apple Support
If above solutions don't work, your device is possibly having a hardware-related problem. Then the most viable option is to contact Apple support. When possible, you can visit the nearest Apple store to find official aid and fix hardware problem. Luckily, if your device is under warranty, you can get your iPhone fixed without any charges. On the contrary, you have to pay considerable money for getting your phone fixed.
5. Conclusion
After reading this article, you must know how to fix "iPhone 13 won't turn on" problem. At last, I sincerely recommend that you should try to use Joyoshare UltFix to fix your problem within a few minutes. It can meet your most requirements of repairing system issues without worrying about your important data being erased . So, if you have faced iOS system errors, Joyoshare UltFix is the most perfect option to help you fix all iOS system issues. But if it is a hardware-related problem, you would better visit authorized Apple service assistant stores to ensure the proper repair of your device.