Q: "Yesterday, my iPad died; I placed it on charge. The iPad has been charging for more than 24 hours. The Apple logo appears around every 10-20 seconds, but the screen goes back to the black screen. I had my iPad for over a year, and nothing like this has happened before. If someone can provide some help, it would be beneficial." - from Apple Community
For some old iPad models, it is possible to see Apple logo flashing on the screen and then goes black. And it might won't turn on again even if you try to restart it. Also, it might happens on the newest iPad model or the latest iPadOS 16 system. This article is helpful for all users having trouble with iPad shows Apple logo then goes black. After reading this article, you'll be able to fix this issue with key solutions. Please go through these six tips and solve your iPad problems.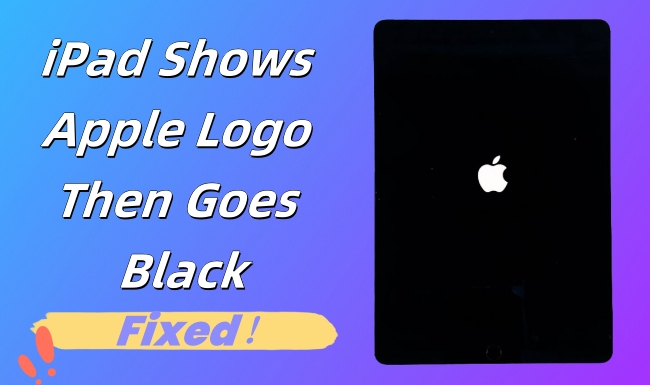 Part 1. Why Does iPad Show Apple Logo Then Goes Black
Here are several reasonable causes that might lead to iPad showing Apple logo then turning off. Note that these causes are not the official explanation, but you could check them as a reference.
If your iPad is run out of battery, and the USB cable you are using cannot charge it, iPad will show Apple logo then goes black.
If you accidentally installed a malware software or clicking a phishing link, you might get the virus on your iPad, which is the reason for iPad screen show Apple logo then black screen.
If your iPad is incompatible with the iPadOS software you updated, iPad only shows Apple logo then turns off.
If your iPad system comes across an error or bug, iPad shows Apple logo then goes black and flickers.
If the hardware of your iPad is damaged due to dropping or watering, your iPad has a great possibility not turning on and flashing Apple logo.
Part 2. How to Fix Apple Logo Showing on iPad Then Goes Black
Way 1: Use iOS System Recovery Tool to Repair
You can fix the problem of your iPad's black screen with an iOS system recovery tool. "iPad shows Apple logo then goes black" problem can be due to a software error or a system issue with your iPad. After using this recovery tool, you can have your device back to its normal position. Joyoshare UltFix is one of the most powerful programs for solving this issue. It has a good performance in repairing 150+ iOS issues with no data loss. Aside from the iPad's black screen, other problems are also supported entirely. Particularly, if the Find My feature on your iPhone is disabled, your data will be kept well during the process of repair. In the meantime, Joyoshare UltFix is available to help you get into and get out of the recovery mode with one simple click for free. It also offers a service to downgrade and upgrade iOS system easily.
Key Features of Joyoshare iOS System Recovery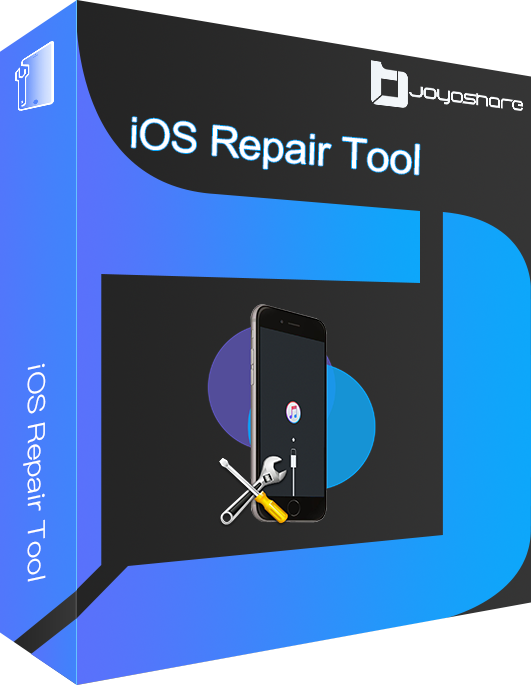 Solve iPhone black screen of death without data loss
Repair 150+ system issues with two modes
Support all iOS versions (iOS 17) and iPad/iPhone/iPod touch models
With a free option to let users enter/exit recovery mode in an automatic way
Fix iPad/iPhone shows Apple logo then goes black within few clicks
Step 1

Run Joyoshare UltFix and Connect iPad

Launch Joyoshare UltFix iOS recovery tool and get your iPad plugged into a computer. Select the iOS System Repair and click on the "Start" button to move further.

Step 2

Choose Standard Repair Mode for Repairing

You can select a repair mode: Standard Repair (with no data loss) or Deep Repair (erase all data). Select the former one and click "Next" if your iPad is detected without hassle. If your iPad is not recognized, you need to put it into the DFU mode or recovery mode first.

Step 3

Install the Firmware Package

Click on "Next" and get ready to download the firmware package. Confirm your iOS device information carefully and click "Download". Wait until Joyoshare UltFix finishes downloading and verifying the firmware package.

Step 4

Start to Repair iPad Shows Apple Logo Then Goes Black Issue

You can start to fix the iOS system with a simple click on the "Repair" button. Joyoshare UltFix for Windows/Mac will help unzip the firmware package. Afterward, get down to check whether the device can boot. Otherwise, you have to try it again.
Way 2: Charge iPad
Another possibility behind your iPad's black screen is that no Apple logo can be out of battery/charging. Try to use an original USB cable to plug your iPad into a power source and wait for the Apple logo to appear on the screen. If it doesn't appear on the screen after a minute or two, move on to the following method to solve iPad flashes Apple logo then black screen issue.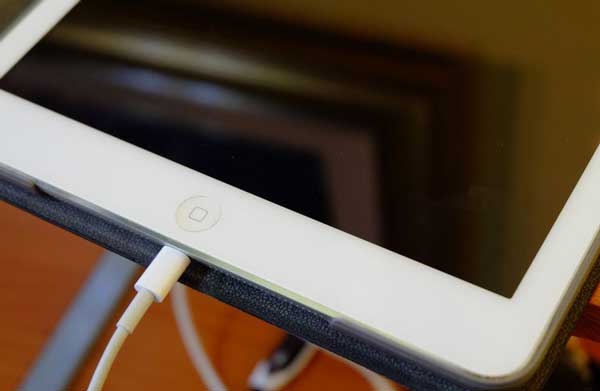 Way 3: Force Restart iPad
Suppose you cannot know the reason behind iPad shows Apple logo then turns off issue after charging it. You can try to restart your iPad according to the below guide. Rebooting the devices often helps solve this type of issue.
with Home button: Press and hold the "Home" button and "Top" button simultaneously until seeing the white Apple logo on the screen.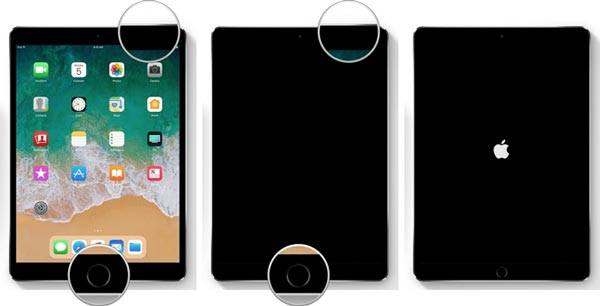 without Home button: Press and release the "Volume Up" and "Volume Down" buttons separately. Then, press and hold the "Power" button until the Apple logo appears on screen.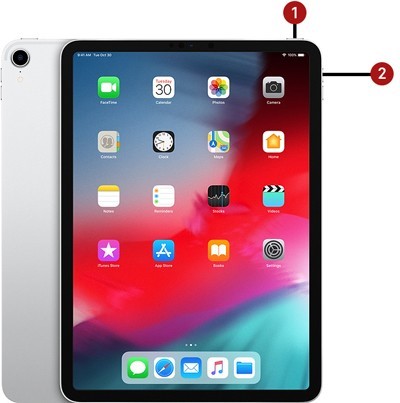 Way 4. Update iPadOS to the Latest Version
It is possible that the system bugs exist in the outdated iPadOS system, which results in Apple logo shows and disapears. Go to check whether you are runnign the latest iPadOS 16 software, if not, you'd better upgrade to the newest version. Head to Settings → General → Software Update → Download and Install.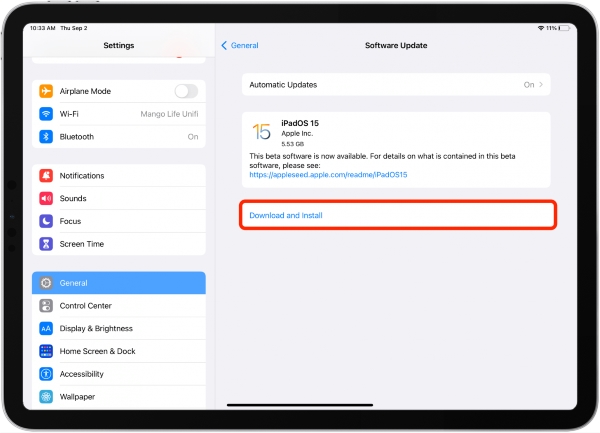 Way 5: Restore iPad Using iTunes
Restore Synced iPad with iTunes

Using iTunes on your computer to restore iPad is also a wise choice to fix iPad shows Apple logo then goes black issue. It is an effective way to solve a series of issues on your iPad. It is worthy to note that iTunes can delete your iPad data. So, please backup your iPad in advance.

Step 1. Run iTunes on your computer and connect iPad to computer.
Step 2. Find and select your iPad icon from the top bar in iTunes.
Step 3. Click the Summary section and hit the Restore iPad option on computer.

Restore Un-synced iPad in Recovery Mode

For iPad that is not synced with iTunes, there is no need to worry too much. When iPad shows Apple logo and goes black, you could also restore iPad only by entering the recovery mode. Here's how.

Step 1. Launch the latest iTunes and plug un-synced iPad into the computer.
Step 2. Put iPad into the recovery mode referring to the operation of force restarting.
Step 3. Once your iPad gets into the recovery mode successfully, a prompt will occur on the iTunes screen asking to restore or update your iPad.
Step 4. Hit the Restore button to procced the progress.
Way 6: Contact Apple Support
After trying all methods, if there is no recovery, you must contact Apple Support to solve iPad shows Apple logo then turns off issue. Go to the Apple official website to get Apple Support via chat or call. Since a hardware issue can be why the iPad shows a black screen, which needs to take into consideration if your iPad is not fixed. For hardware issue, you'd better go to the local Apple Store to ask a serviceman for help.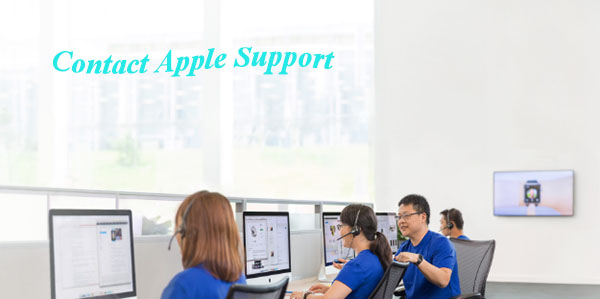 Bonus Tip: How to Avoid Data Loss When Fix iOS System
Most methods for fixing iOS system will erase all the data on your device. In order to avoid data loss, you need to make a backup in advance. iTunes and iCloud are both available for you to back up your information. On iTunes, go to the Summary section after connecting your device to the computer, and click the Back Up Now option.
However, if you are not in the habit of backing up data regularly, perhaps you cannot use iCloud to make one once the iPad screen shows Apple logo then turns black. In the condition of no backup, Joyoshare UltFix is more suitable for you. Its standard repair mode assures no data loss when fixing iPadOS system.
Conclusion
It is not a complicated problem that iPad shows Apple logo then goes black. Although it is unavoidable while using your iOS device, you can fix it by following the methods provided in this post. Especially when you have known the possible causes, you could opt for the best solution based on your own condition. Among all the solutions, an iOS recovery tool like Joyoshare UltFix is compulsory for an Apple user to fix any issues related to iOS devices. The advantage and reason you choose it is that your important data will be kept well during restoration.