Q:"My iPad Pro screen flickering. It was working flawlessly until a few days ago when the screen started flicking very frustratingly while in use. I have tried restarting the iPad but nothing helpful. So what should I do to solve the problem? Can any solutions be provided? Thank you!" - Ezreal from Thursby Forum
The iPad, which is one of the high-quality and intelligent tablets, owns a number of attractive features but comes with technical problems as well. In recent times, some have complained iPad screen flickering after using it for a period of time. Flickering on your iPad's screen can be distracting. If it happens often, it's a sign that the problem won't go away without your intervention. Let's diagnose possible causes and show tested solutions to fix it instantly.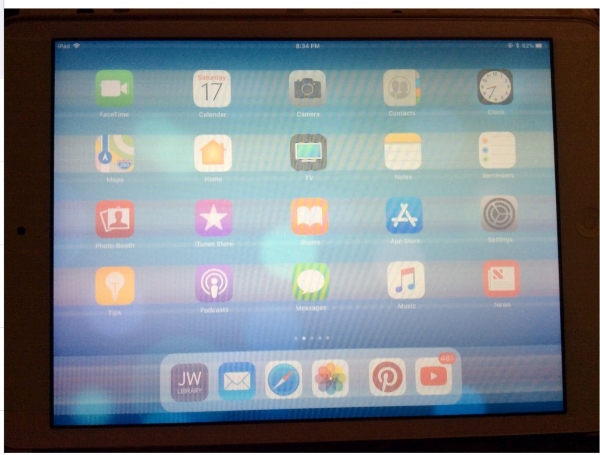 Part 1. Why Is My iPad Screen Flickering?
Your iPad screen may flicker for several reasons, either software problems or hardware problems. Here we list them for you to check out.
Outdated or incompatible apps on the device.
A buggy iOS version.
Software malfunction.
The display is damaged.
Insufficient storage space.
Part 2. Video Tutorial to Fix iPad Flickering Screen
It's nettlesome when your iPad screen keeps flashing and you can't control the device. For quick-reference solutions, you should be happy to watch and learn the videos from YouTube. Here're some easy methods to try by yourself now.
Part 3. How to Fix iPad Screen Flickering
Way 1. Force Quit Apps
When your iPad screen flickers suddenly while running an application, try to test if it occurs with other apps. In case the screen just flashes in one specific app, maybe there is something wrong with it rather than your iPad. Therefore, you are advised to force quit this app.
It is very easy to do. Double-click the "Home" button to open the app switcher. Then find the certain app and swipe it away. After the operation, you can launch this app again to see if the screen still flickers. If it still flashes, you will uninstall it and install it again.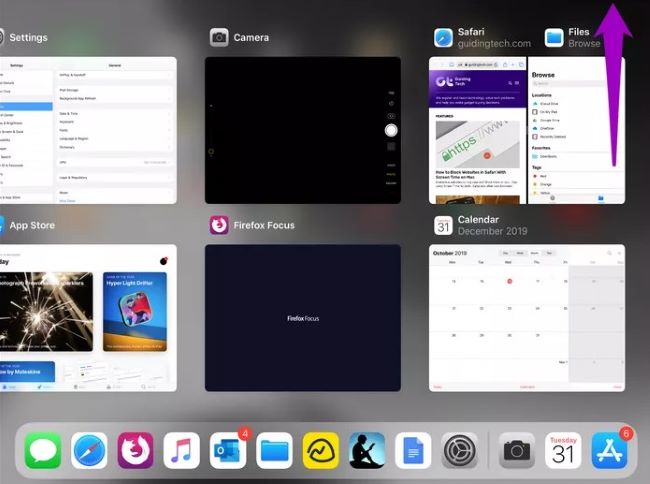 Note: If there is no Home button with your iPad, you need to swipe up from the bottom of the screen to open the app switcher.
Way 2. Hard Reset iPad
Sometimes, minor software glitches can result in the iPad screen flickering problem. Hard resetting iPad can resolve these issues easily. The way to hard reset is slightly different, which depends on your iPad models.
For iPad with "Home" button: Firstly, you just press and hold the "Home" and "Power" buttons. Release them until the Apple logo appears on the iPad screen.
For iPad without "Home" button: Press the "Volume Up" button and release it quickly firstly. Next, press the "Volume Down" button and release it. And then press and hold the "Sleep/Wake" button until the iPad begins restarting.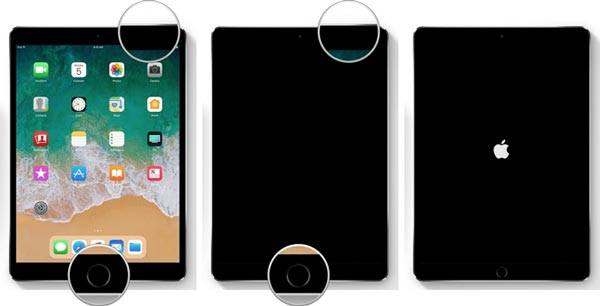 Way 3. Turn Off Auto-Brightness Feature
Auto-Brightness on iPad can automatically adjust the brightness of the screen according to the ambient light. So, when this feature is enabled, the screen may flash because of the change of ambient light. In this situation, you can try closing it to see if this problem is resolved.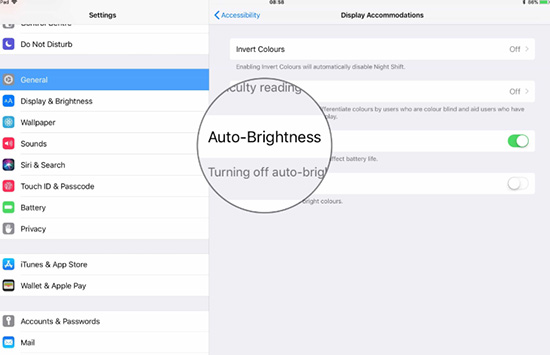 Step 1: Tap on "Settings" on your iPad.
Step 2: Then, scroll down and choose the "Accessibility".
Step 3: Click "Display Accommodations".
Step 4: Just find out the "Auto-Brightness" options and click to disable it.
Way 4. Reduce Motion and Transparency
Many users have solved the iPad screen flickering issue successfully by reducing motion and transparency. This way is to adjust the visual functions of the iPad, which can greatly improve the performance of your iPad. You can try it following the steps.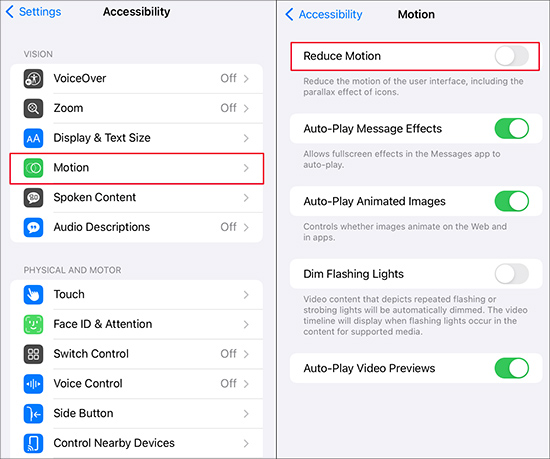 Step 1: Head to "Settings" and tap on "General" on your iPad screen.
Step 2: Proceed by clicking "Accessibility".
Step 3: Choose "Increase Contrast" and move to toggle "Reduce Transparency" on.
Step 4: Then return to the "Accessibility" option and move the slider ahead of the "Reduce Motion" to enable it.
Way 5. Repair Flickering Screen on iPad Using iOS System Repair [Data Security]
To fix iPad screen flickering, using the iOS system repair software like Joyoshare UltFix iOS System Recovery is the best solution. It is a highly recommended tool, which can repair more than 150 minor and major software failures on iPad/iPhone/iPod and even Apple TVs without losing data. It also comes with many amazing features, including enter/exit recovery mode function for free, downgrade or upgrade iOS, reset device, and unlock disabled iPad without passcode. It fully supports each iOS device and the latest iOS 17.
Key Features of Joyoshare iOS System Recovery: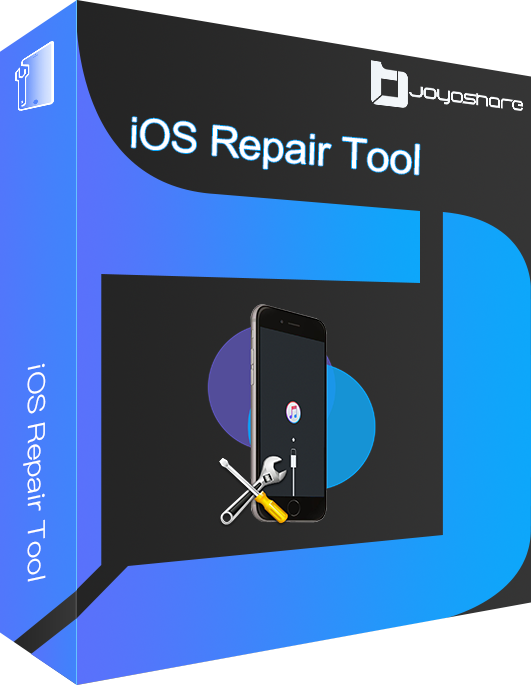 Fix iPad black screen, screen flickering and more losslessly
Enter or exit recovery mode with one click freely
Compatible with the newest iOS 17 and all iDevices
Offer deep repair to factory reset and unlock iDevices without passcode
Help to downgrade and upgrade device to desired iOS version
Step 1: Install Joyoshare UltFix from the official website and plug your iPad into the computer with the original cable. Then choose "iOS System Repair" and click "Start" to proceed.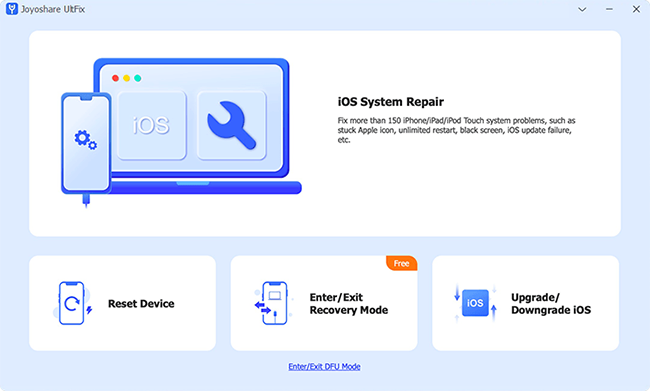 Step 2: In order not to lose data, you need to choose "Standard Repair" to fix your iPad. If unluckily the device cannot be detected, go to put your iPad into DFU mode or recovery mode following the instructions on the screen. Once the right arrow becomes clickable in blue, hit it to continue.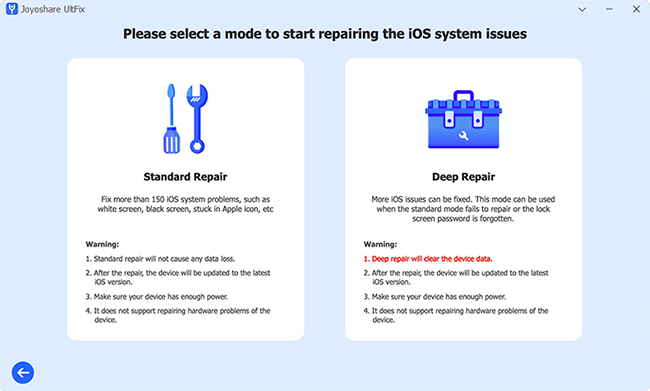 Step 3: This iOS system recovery program will recognize your iPad model and other necessary information for you to confirm. Then you should click "Download" to download the matching firmware package and verify it.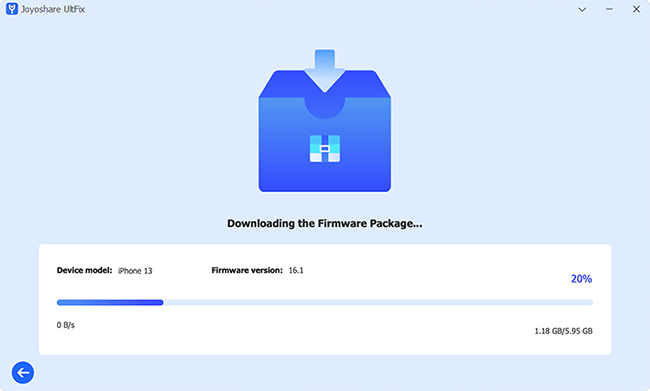 Step 4: Just click the "Repair" button to unzip the firmware package and start fixing your iPad screen flickering problem. Make sure there is enough power and keep your device connected all the time before the process is finished.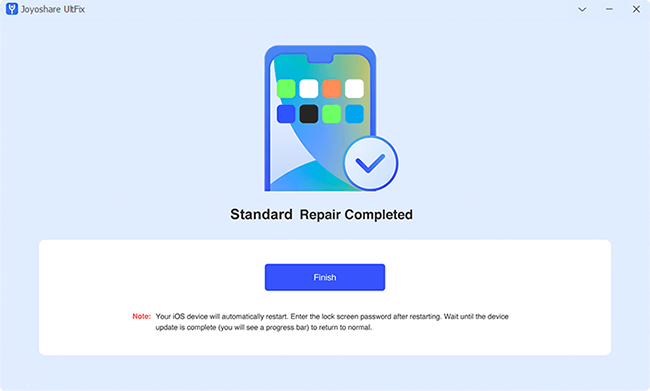 Way 6. Slightly Press iPad Back Side
Some loose components inside iPad can lead to the screen to flicker. Your iPad screen will hopefully stop flickering once you fix this problem. Wrap a soft thick cloth around some hard surfaces. Make sure your iPad is off and you have removed any hard cases. Turn your iPad face down. With one hand, place the fingers over the backside of the iPad and with the other hand, knock several times all over the surface. Take care not to knock on the camera area. Then check if the iPad screen flickering problem is fixed as expected.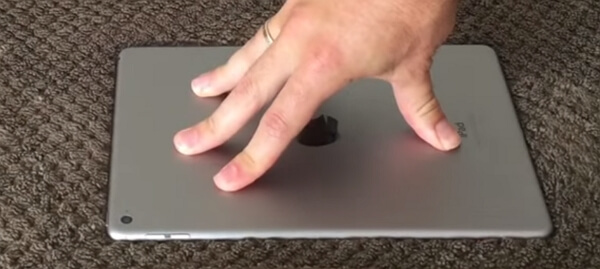 Way 7. Repair iPad Screen
Can't stop iPad screen from flickering? You'll probably have to get it repaired. Perhaps an internal connector has become dislodged or damaged. If the gadget fell into water or was dropped on a rough surface, it could have been damaged. It is quite a complicated process. You should seek professional assistance if you'd like to replace the screen of an iPad.
Way 8. Update iPadOS
Chances are that your iPad has hidden software errors and glitches to influence screen's normal display. Under the circumstances, you're advised to update your iPad to the latest version by tapping on Settings → General → Software Update. Afterward, download and install a new iOS software. Simply restart your device to check whether screen functions well.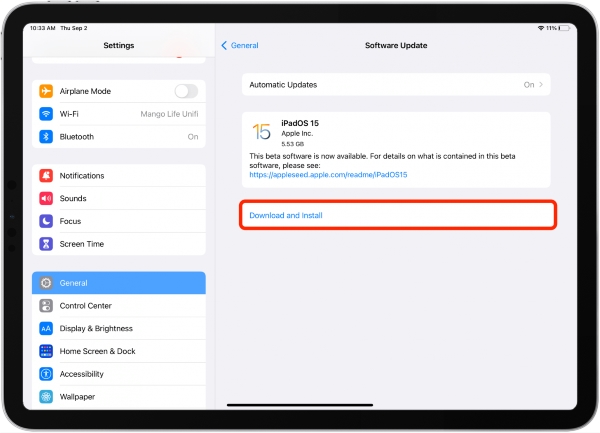 Way 9. Factory Reset iPad
Restoring your iPad to the default factory settings can help to wipe out your data and reset device a new one from Hello screen. To get it done quickly, open Settings on iPad, enter General option, then scroll down to find Transfer or Reset. You should Erase All Content and Settings now.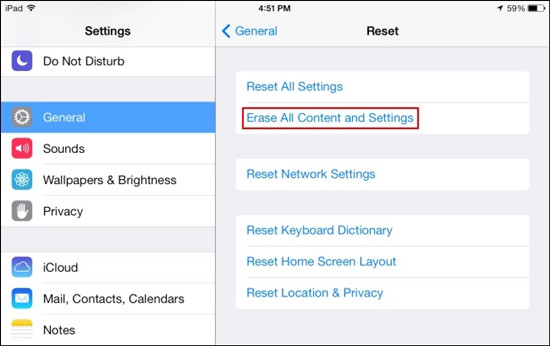 Way 10. Check iPad Storage
Your flickering screen on iPad can be resulted from insufficient storage space. This can slow down processes on your device, causes software delays and abnormal displays. What you should do is to check how much available storage left. Run Settings on iPad, select General, then go for iPad Storage. Optimize your app storage and make more room to guarantee device normal operation.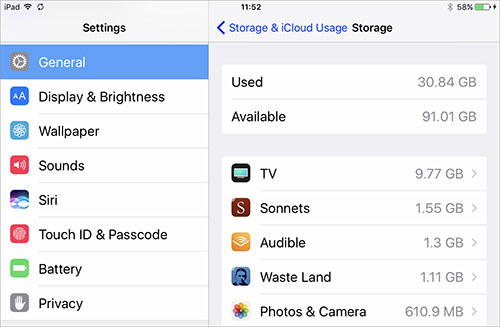 Way 11. Contact Apple Support
If all methods are useless to you and you don't know exactly what caused it, it's time to ask official Apple Support for help. You can visit the online website or go to a nearest local store. Describe your issue clearly. Note that the repair will take a long time to complete, and the general cost will be high.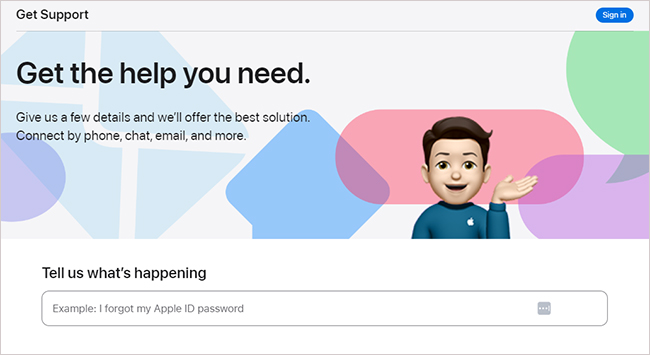 Part 4. Summary
The above solutions are proved to be helpful if you encountered iPad screen flickering issue that results from software and hardware problems on your gadget. For software-related issues, you may try common ways firstly. If these methods are failed, you can utilize Joyoshare UltFix iOS System Recovery. It not only repairs iPad screen flickering issue but fixes iPad screen frozen, charging slowly, disabled connect to iTunes, white screen, and so on. It is really worth recommending and keeps all data intact with zero loss.