Instagram Stories are a big hit. It can be used in several creative ways. Millions of them offer simple, easy-to-digest, and bite-sized insights into the lives of people all over the world. In the Stories, you can see the page of your favorite brand or share the news of your new service or product with your followers. This way, you don't need to scroll down the Instagram homepage to see the feed you want.
Like any other app, you can encounter multiple errors or issues on Instagram from time to time. A common issue reported by many users is that Instagram Stories not working on their iPhone and only see the spinning circle! Luckily, like nearly all the errors in the software, this particular issue can also be fixed with no problems.
Part 1. Why Is Instagram Stories Not Working?
Either changing your date and time recently or using a music sticker in one of your Stories will trigger this issue. You will not be able to see Stories on Instagram if you recently changed your time and date. Because of an incorrect date and time, you cannot access Instagram Stories on your mobile phone or through the Instagram app.
Additionally, if you have already used the music button on your story, you might not be able to see the Stories. Instagram's music stickers often cause numerous errors in the app. As a result, if you use this functionality in one of your Stories, it may cause a glitch in your timeline, in which Stories will not appear. Other stickers might also prevent your Instagram Stories from appearing on your timeline if you use them.
Finally, the iOS system error causes your story timeline to glitch, so when you use them on your story, they might not show up on other people's Stories.
Part 2. How to Fix Stories Not Working on Instagram?
There are dozens of generic solutions available on the internet, but most of them are ineffective. You are sure to solve your issue with these and they are extremely effective. Now, let's move forward with the solutions:
Way 1. Check Your Network
Poor internet connection is one of the leading causes of Instagram Stories' issues. This could be the result of a weak Wi-Fi signal, a problem with your device, or a network issue. Let's try to pinpoint the root of the problem.
You can quickly diagnose internet connectivity issues by checking other applications. Start by closing Instagram and opening another app on your phone. If you're on Facebook, YouTube, or any other app, try watching a video or viewing your newsfeed. If you are experiencing difficulties loading content, your issue may not be with Instagram alone. If it is a network problem, you can follow the following methods to solve it.
First, if you're on Wi-Fi, try switching cellular data (and vise versa). Second, if Wi-Fi isn't available, you should reset the network connection.
Step 1: Run the Settings app on the iPhone and touch General.
Step 2: Scroll down to select Reset.
Step 3: Lastly, tap on Reset Network Settings.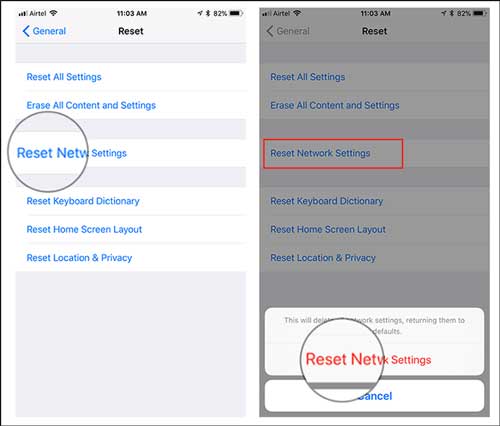 You are prompted to enter the unlock code. Then wait for your phone to restart. Open Instagram to see if your Stories are working after resetting your network settings.
Way 2. Restart the App
Providing you don't experience any connection issues, you can begin checking the Instagram app. An outdated app version can be the reason for Instagram Stories not working. Start by restarting the application. There is more to this than just switching to another application since you must completely close the application so all processes cease to run. Follow these steps to force close the app:
Step 1: Go to the Home screen, swipe up from the bottom of the screen and wait slightly to see the app navigation.
Note: If you use an iPhone 8 or earlier, double-click the Home button to set up the app navigation.
Step 2: Slide left or right to navigate the Instagram, then move it up to close it.
Step 3: Launch Instagram again to check if it is back to normal.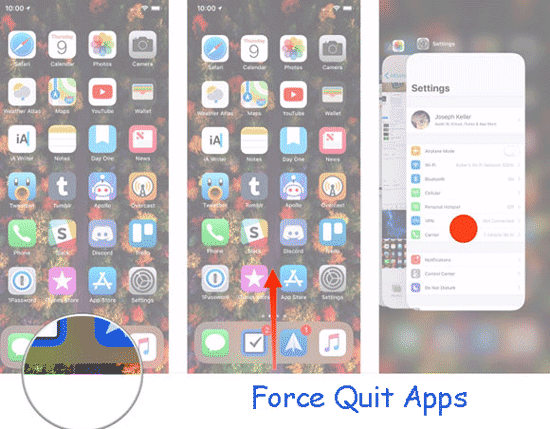 Way 3. Restart Your Phone
If Instagram Stories don't load on your phone, it's probably not your phone's fault, but since it takes just a few seconds, it's worth a shot. Your phone should be rebooted completely, and then you can test the Story again. That should fix any strange issues that were present.
For iPhone X, 11, 12, or 13:
Step 1: Either hold the volume button or the side button to bring up the power off slider.
Step 2: Move the slider to the left, then wait 30 seconds for your device to shut down.
Step 3: To turn your device back on, press and hold the side button (on the right side of your iPhone) until you see the Apple logo.
For restart your iPhone SE (2nd generation), 8, 7, or 6:
Step 1: Press and hold the side button until you see the power off slider.
Step 2: Drag the slider to turn off your iPhone.
Step 3: To turn your device back on, press and hold the side button until you see the Apple logo.
For iPhone SE (1st generation), 5, or earlier:
Step 1: Press and hold the top button until the power off slider flashes.
Step 2: Move the slider, then your phone will turn off.
Step 3: To turn your device back on, press and hold the top button until you see the Apple logo.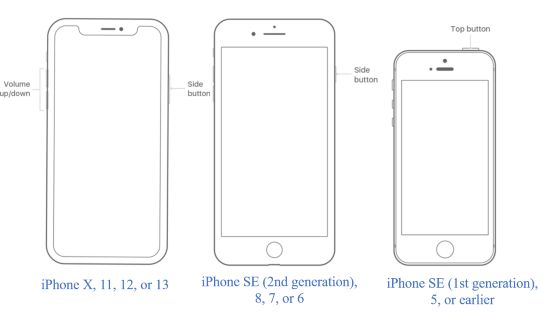 Way 4. Check Your Phone's Date & Time
This solution may seem a little odd, but it can be the reason why Instagram Stories not working. Your Date & Time should automatically update, but sometimes we change it, or a system glitch causes the function to display the wrong time. Make sure that the time and the date on your phone are right and, preferably, are updated automatically. This is a really common error, particularly so when we travel and access the internet through different IP addresses.
Hence, to check your date & time: Run Settings and choose General. Tap on Date & Time. Be sure you have enabled the option to automatically set your time and date.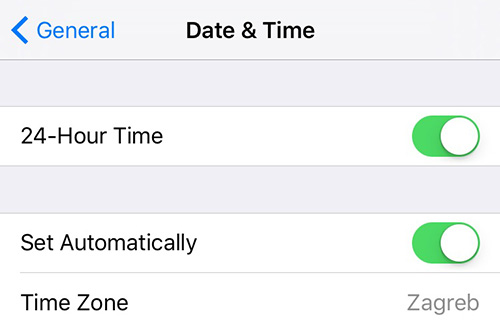 Way 5. Update or Reinstall Instagram
There is also the possibility that outdated versions of the app stop the Stories from loading, so it's worth checking. Visit the play store or Apple store and download the latest version of the app.
Here's how to update your Instagram:
Step 1: Open the App Store app on your iPhone.
Step 2: Tap Search to enter "Instagram" and select "Instagram" from the bottom menu.
Step 3: Tap on UPDATE to the right of the Instagram app listing.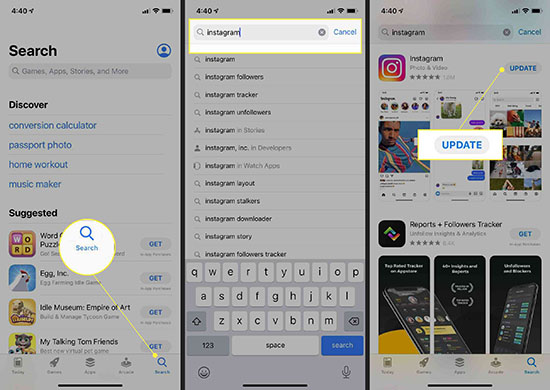 In case the update doesn't work, you can always try uninstalling and reinstalling the app:
Step 1: On the Home screen, long-press the Instagram icon, and then tap on the Remove App option.
Step 2: Tap on remove once again to confirm your option.
Step 3: Open the App Store, and then download and install a fresh copy.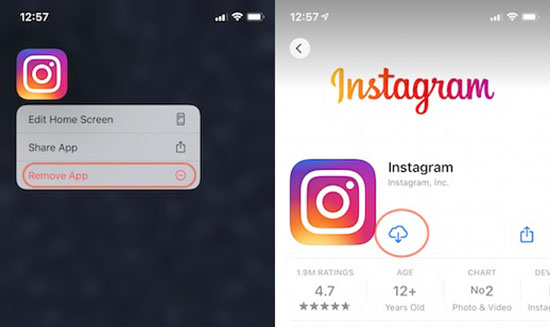 Way 6. Clear the App Cache
As a non-destructive test, it is worth trying to clear the Instagram app cache so Stories can load. While iPhones do not have a "Clear Cache" option, they do feature an "Offload App" function that removes any unnecessary data from apps. Here's how you can do it:
Step 1: Open Settings and tap on "General" → "iPhone Storage".
Step 2: Locate and tap on "Instagram" → "Offload App".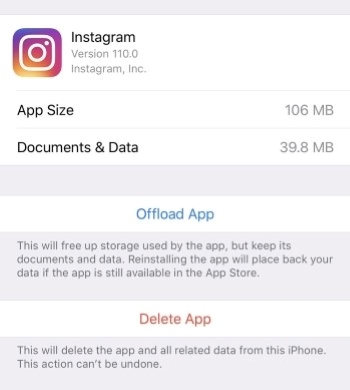 Way 7. Repair iPhone Glitches to Fix Instagram Stories Not Working [Easy & Effective]
A premium solution like Joyoshare UltFix iOS System Recovery might be your best bet if you face this sort of problem often. As well as fixing the Instagram issue on your iPhone (like Instagram keeps crashing), this versatile software can also fix a large variety of other iOS problems without losing any data, such as having your device frozen on the hello screen, Apple logos, and more. Whatever the issue is, it can be resolved in as little as 10 minutes or less.
Key Features of Joyoshare UltFix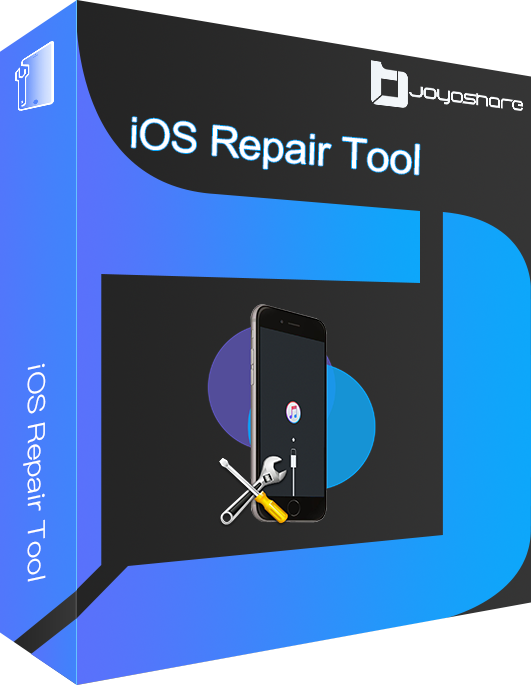 Repair Instagram Stories not working without data loss
Provide enter/exit recovery mode with one click for free
Offer Standard Mode and Advanced Mode to fix iOS issues
Fully compatible with all iOS devices and the recent iOS version
Here's a detailed guide to show you how to use Joyoshare UltFix iOS System Recovery:
Step 1

Launch Joyoshare and Connect your iPhone

Plug your iPhone into the computer with an original Apple USB cable and launch Joyoshare UltFix. Wait for your iPhone to recognize and click Start.

Step 2

Select Repair Mode

Two recovery modes will show on the screen: Standard Mode and Advanced Mode. Click on Standard Mode to repair your issue and click the Next button.

Step 3

Download Firmware Package

Check if the firmware package matches the information about your iPhone. If not, please correct it manually. Then Download the proper firmware package.

Step 4

Fix Instagram Stories Not Working

Click on the Repair button after the downloading process is finished. The software will automatically fix the problem. Ensure that your iPhone is connected to the computer during the whole process to avoid any further problems.
Part 3. The Bottom Line
We have provided you with all the essential solving tips and tricks in a way to annihilate the Instagram Stories not working on iPhone issue. These afore-mentioned solutions might have given you the utmost outcomes so far and are completely safe to execute. To resolve the iOS-related issue in a simple and fast manner, Joyoshare UltFix is the best one to help you. If you have any Joyoshare UltFix-related problems, feel free to connect with us. We are present 24×7 email support. Once you get in touch with us, you will be back to enjoy your Instagram experience in a jiffy!