There are more than 500 million Instagram accounts that view Instagram stories every day. Stickers increases the impact and reach of your stories beyond just text and filters. A music sticker was released by Instagram in June 2020 that allows users to add music to their stories. Those who interact with the story will notice the difference immediately. However, sometimes Instagram music not working for some users. No worries! It will be fixed as soon as possible. Read on to learn more about how to resolve this issue.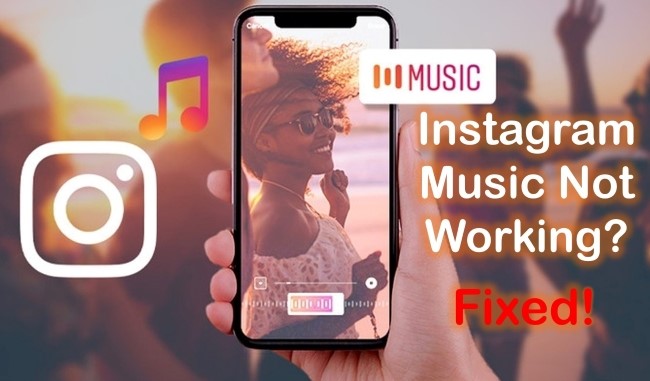 Part 1. Why Is My Instagram Music Not Working?
Due to the Music sticker feature not being available on some devices, you cannot add music to your Instagram story. If you have an older or restricted version of Instagram, this limitation may not be an issue. It is because of this that some people see the message "This Song is currently unavailable".
There could be copyright issues with a certain song on Instagram, which is why you can't hear it while scrolling through stories. You can either wait for Instagram to make the music sticker available or just update your Instagram app to add it to your stories if you cannot find the sticker.
If the song is not available on Instagram, you have no recourse if you cannot find it there. You may see an error message saying "No result found". As the search might not be finding the song correctly, you might try searching up the song's actual name directly.
Problems with your own system on the phone will also cause problems with ins music not working.
The above points are just a few of the reasons why Instagram music is not working for you. Now we need to adopt the problem-oriented strategy. So let's get to it!
Part 2. How to Fix Instagram Story Music Not Working?
Way 1. Update the Instagram App
The outdated version of Instagram may be the reason why is Instagram music not working. So, in order to hear music within Instagram Stories, you must update first. Download and install the most recent version from the App Store. Find Instagram, and simply UPDATE it.
After you update the app, you can add music to video or a story by selecting the Music Sticker. If it still doesn't work, then move on to the next fix.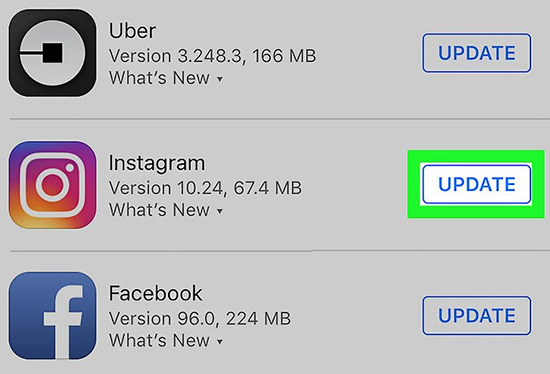 Way 2. Switch Back to Your Personal Account
The upgrade to an Instagram Business account has caused some users to lose access to their music. You can switch back to a Personal account to see if the problem is resolved if you are logged into a Professional account. It's no problem switching between your personal and professional accounts - you can do so as often as you like. The required steps are as follows:
Step 1: In the bottom-right corner of the page, click your profile.
Step 2: On the top right, tap the three-line menu, and then tap the Settings.
Step 3: Touch Account.
Step 4: Choose Switch to Personal Account at the bottom of the page.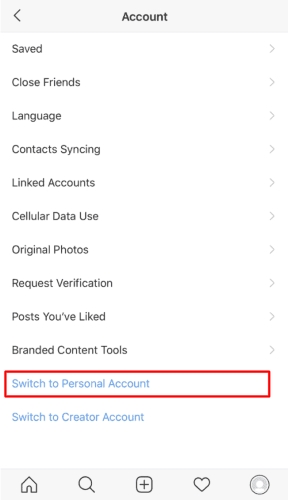 Way 3. Switch to Creator Account
Several users have reported success with this hack to fix Instagram Music Not Working. Once you do, your story will display songs properly again. Follow the steps below to switch to a creator account:
Step 1: Navigate to the Instagram Settings.
Step 2: Open the Account section.
Steo 3: Click on "Switch to Creator Account".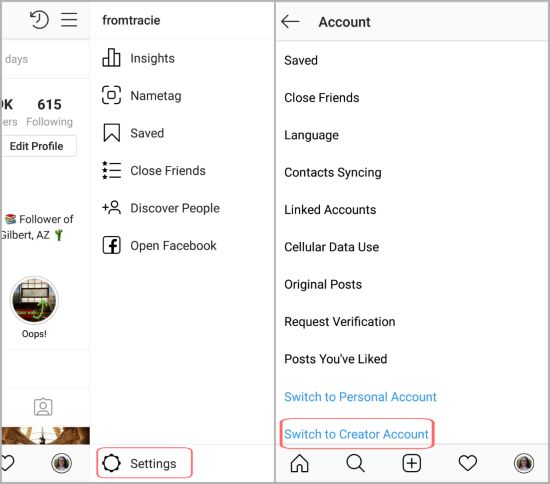 Way 4. Sign in and out of Instagram
The Instagram music library glitch might be fixed by this action, and restores the music feature. To sign out Instagram, go to the three-line menu on the top right of the page. Select Settings from the profile menu at the bottom of the screen. Look for the Log Out option at the bottom of the Settings option. After logging out of the app, sign in again with your Instagram account details.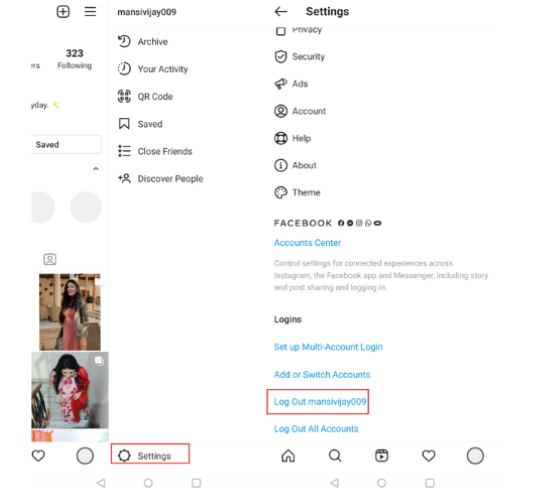 After this, log in using the same credentials. Check if you can use an Instagram music story now!
Way 5. Reinstall the App
If you've logged out and back in, but it did not resolve the issue, you might have a problem with your Instagram app installation, or its data cache may be corrupted. These will prevent your app from operating properly. Here is how to uninstall an app from your iPhone:
Step 1: Find Instagram on the Home screen, then press and hold your finger down on its icon.
Step 2: Choose "Remove App" in the pop-up menu.
Step 3: Choose "Delete App" in the next pop-up and tap "Delete" again to confirm.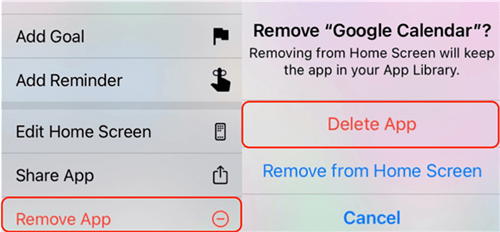 Way 6. Check Instagram Service
The Instagram service may be offline, which may affect your ability to access certain parts of the app, such as the music library. It may be a good idea to check Instagram's status page on DownDetector to see if it is down or experiencing a serious outage.
Way 7. Fix Music on Instagram Stories Issue with Joyoshare UltFix [Easy & Effective]
If after trying the above methods you can't solve the problem, it's likely that your iPhone system is besides the problem. At this point, just let a professional repair tool fix it.
You will find that even if you aren't tech-savvy enough or don't want to mess up with the complicated and cumbersome methods by yourself, using a third-party tool for assistance is the way to go. Benefit from an award-winning tool – Joyoshare UltFix iOS System Recovery. Designed specifically for iOS users, this program helps you resolve any problems with your device, like Instagram stories not working on iPhone, Instagram keeps crashing, and more. The data will not be wiped from your iPhone after using this iOS repair tool.
Key Features of Joyoshare iOS System Recovery: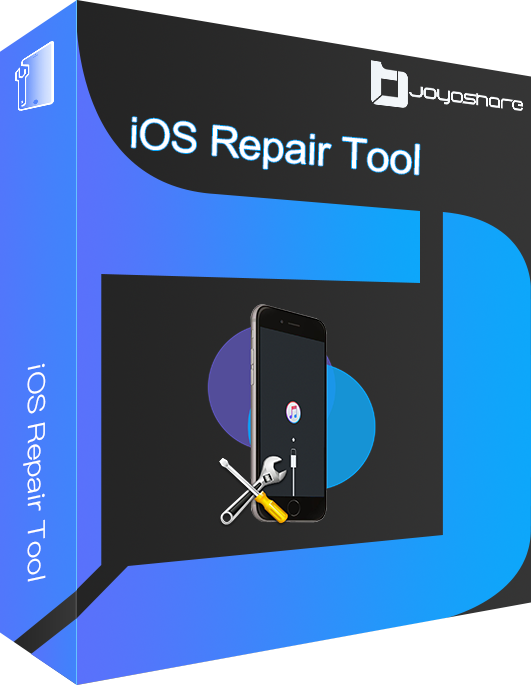 Fix Instagram music not working with simple steps
Compatible with the latest iOS version - iOS 15
With a free option to get into or out of Recovery Mode
Resolve 150+ errors on all iOS devices like iPad, iPod and iPhone
Step 1

Download, Installation and Connection

Download and install Joyoshare UltFix iOS System Recovery to a mac or Windows PC. Plug your iPhone to the computer with an original USB. You are ready to resolve the problem now. On screen, you should see "Start" button, click on it, and then a new interface pops up.

Step 2

Set Standard Mode

You should see two modes offerings on the screen. Click on the Standard Mode, which fixes your issue easily while protecting your data. Advanced Mode use to resolve much more serious issue. But the limitation is erasing all of your data. So don't get confused.

Step 3

Download Correct Firmware Package

Check the iPhone model and other details carefully. Click on the Download button to save the firmware package on the computer. It takes some time to complete the download process, it depends on the internet connection. Please wait patiently.

Step 4

Fix "My Music on Instagram Stories Is Not Working"

Lastly, start the repair process by clicking on the "Repair" button. After that, your music on Instagram stories will work again.
Part 3. The Bottom Line
This article shows top 7 workable solution to fix Instagram music not working. Different methods are available to deal with different Instagram stories issue. Only Joyoshare UltFix can solve the more serious cases and promise that your iPhone is free from the devil of "stop working" to a certain extent and bring your iPhone back to life. To save your iPhone, try Joyoshare!