In the current time and era, electronic devices are probably our most significant assets. We have become accustomed to these devices so much that most of our time is spent using them. It can be your worst nightmare to have your iPhone locked and can't find a way to unlock it.
However, you are not alone in this, as every individual needs to remember plenty of passwords and keep track of their multiple accounts. So, there is a high probability of forgetting your iPhone password. But you no longer need to worry about getting locked out of your iPhone because we have figured out a solution for that. In this article, we have jotted down a few tips on how to unlock iPhone with emergency call screen quickly, so let us get started.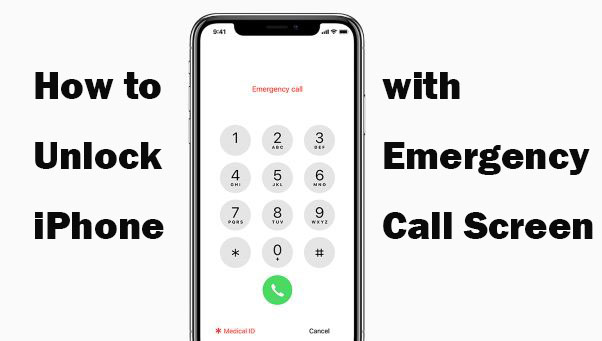 Method 1: Type Wrong Passcode
The emergency call screen trick works only on older versions. As of iOS 14 and onwards, the trick no longer works. But do not worry! We've got you covered. Even if this trick does not work on your device, we will introduce an alternative. For now, the following are the steps to unlock iPhone with emergency call screen.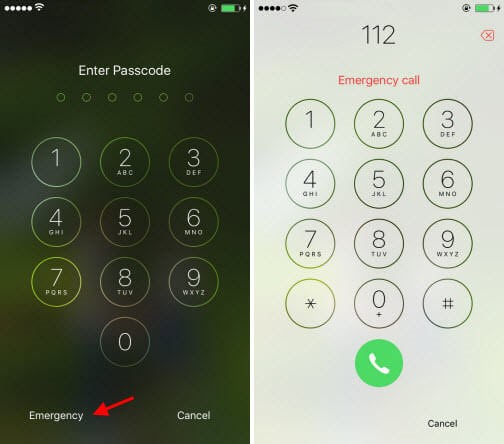 Step 1: Turn on your iPhone and enter the wrong passcode. Then cancel the passcode screen. Next, tap on the Emergency call button and hold the Power button until the screen displays the turn-off slider.
Step 2: Cancel the option for the turn-off slider, and you will notice a blue taskbar appear at the top of the screen. Dial a wrong number like 112 and tap on the Emergency Call option, and cancel it immediately.
Step 3: Turn your screen off and then on. Hold the Power button and tap on the Emergency Call button quickly before the turn-off slider appears. And there you go! You've successfully unlocked your iPhone.
Method 2: Type Random Numbers
If the above process seems to not work correctly for you, then do not panic! We have another method for you to try. It serves the same purpose as the emergency call screen trick, but the steps are different from before. Following are the steps on how to unlock iPhone with emergency call screen.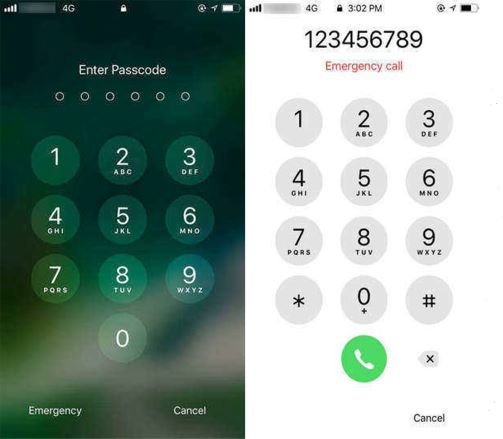 Step 1: The initial step is to turn on your iPhone and tap on the Emergency option displayed on the screen. Type in some random numbers.
Step 2: After typing random numbers, hit the Call option and cancel it right away. Repeat this step a couple of times.
Step 3: The last step is to press the Home button, and voila! Your iPhone has been unlocked.
Now that you know the steps to unlock iPhone with the emergency call screen, there is a probability of this method not working for you. Let us suppose that even if this method does not work for you, we provide you with another straightforward option and comparatively quicker than the emergency call screen trick.
Method 3: Use Joyoshare iPasscode Unlocker
If you are curious about how to unlock iPhone with emergency call screen iOS 14, you have strolled upon the right article. Joyoshare iPasscode Unlocker is an excellent software explicitly used for unlocking Apple devices of all versions to remove passcode, thanks to its complex coding.
Your iPhone can be unlocked without using the passcode or any password by using this software. Furthermore, it has a free version with limited features, but it serves the purpose in many cases. With the exceptions of the commonly used four-digit and six-digit passcodes, this password unlocking tool works with the intelligent Face ID and Touch ID. No matter what might have caused you not to unlock your iOS device, Joyoshare iPasscode Unlocker can easily tackle the situation. So, even though the emergency call screen trick does not work on the recent iOS versions, there is still an option to use this software to unlock your iPhone.
Key Features of Joyoshare iPasscode Unlocker:
Unlock iPhone with emergency call screen
Function well for the latest iOS 14 and iPhone XS/XR
Remove iOS screen locks under any possible scenario
Bypass 4 kinds of passcodes in an efficient way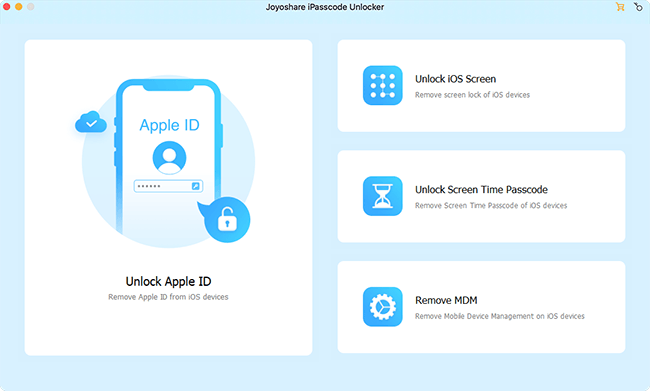 Keep following through with the steps to get the job done quickly.
Step 1

Launch the app, connect and put iPhone into DFU mode

The initial step is to download Joyoshare iPasscode Unlocker from its website and run the software on your computer. Connect your device using its original USB wire and click on the Start option. Then, put iPhone into recovery or DFU mode by following the instructions of the program.

Note: Keep in mind that all your data will be lost once you have completed unlocking your device.

Step 2

Download firmware package

After the device has been set to DFU mode, the software will show information related to the device on your computer. Then click on the Download option for the firmware package. Before this, wherever you think the information is wrong, correct it manually by using the dropdown menu.

Step 3

Unlock iPhone/iPad

After downloading, begin to unzip and unlock iPhone with emergency call screen. Quickly, your device will be unlocked. In the process that the tool unlocks your device, please keep your device connected to the computer and do not disconnect it.
Conclusion
These are some ways to make you stop contemplating how to unlock iPhone with emergency call screen. So, to make the emergency call screen work, it is essential to follow the steps. And even though this trick has been fixed, we have provided an excellent and reliable alternative to opt - Joyoshare iPasscode Unlocker. Many people have given good reviews about the software, making it the best software for unlocking Apple devices. So, don't miss out on such a good buy. Visit its website to download the software and quickly unlock your device.