Among the most common iPhone failures is the dreaded black screen of death! The iPhone black screen of death a display problem most often caused by software system glitches, application crashes, or hardware problems. It becomes difficult to use your phone; you cannot write text messages, make calls, or enter your screen unlock password. If you are experiencing such an inconvenience, you are not alone!
The Apple Community platform is flooded with questions on how to unlock iPhone with a black screen. This article will equip you with top tips on how to unlock iPhone with black screen to ease your misery. Come on, let's do it!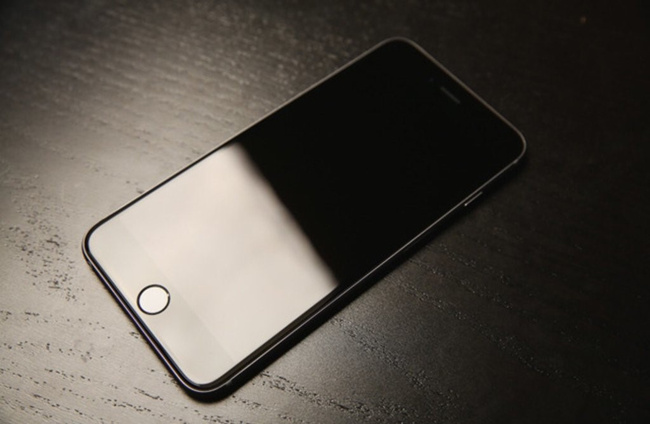 Solution 1: Unlock A Black Screen iPhone Using Joyoshare iPasscode Unlocker
Before moving to more complex solutions, it would be best to consider using an iPasscode unlocker app to erase/ crack the iPhone screen lock passcode. Among the vast options, we highly recommend that you try out the Joyoshare iPasscode Unlocker. It is an all-purpose unlocking solution designed to unlock four types of iDevice screen locks, including Face lock ID, Touch ID, and the most prevalent 4-digits and 6-digits screen lock passcode.
Besides, Joyoshare iPasscode Unlocker is so powerful that enables you to unlock iPhone passcodes in various scenarios, such as iPhone screen turns black, forgot iPhone passcode, iPhone is disabled due to multiple wrong attempts, bought a second-hand iPhone, etc.
Main Features of Joyoshare iPasscode Unlocker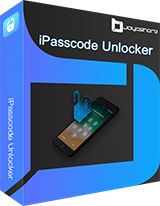 Unlock iPhone without passcode when the screen is black
Bypass different kinds of lock screens 4-digit, 6-digit, Face ID, Touch ID.
Simple and user-friendly interface.
Support all iOS devices and the latest iOS 14.
Work well both Mac and Windows systems.
Joyoshare iPasscode Unlocker is remarkably easy to use and lets you unlock your iPhone in three simple steps. Here is an easy step-by-step guide on how to unlock a black screen iPhone using the Joyoshare iPasscode Unlocker app.
i.

Launch app, connect, and put iPhone into DFU mode

Launch Joyoshare iPasscode Unlocker on your PC. Using a USB cable, connect your iPhone to the PC and then click the "Start" button. Refer to the instruction on the window to put your iPhone into DFU mode or recovery mode.

ii.

Download firmware package

While in DFU mode, your device information will appear on your screen. Confirm the details and hit the "Download" option to initiate the firmware download process. It will only take a few minutes.

iii.

Unlock iPhone black screen

Once the download is complete, select the "Unlock" option to crack/completely remove the screen lock passcode on your iPhone. Remember, your iPhone should be connected during the entire process.

This method should work to resolve the problem entirely.
Solution 2: Force Reboot iPhone To Unlock a Black Screen iPhone
Force rebooting iPhone is possibly the simplest way to eliminate software bugs that may be causing the black screen problem on your iPhone. It is, in fact, a standard solution for most iPhone errors and problems. Here is how you should do it, depending on your iPhone model.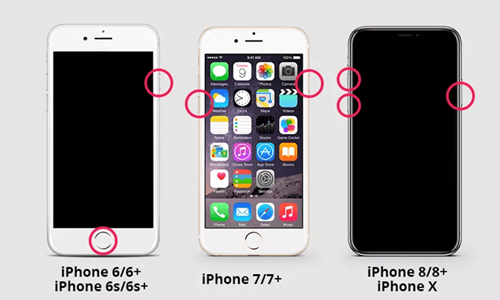 • iPhone 6 and older models: Simultaneously, press and hold the wake button at the top and the home button for seconds until an Apple logo appears on your screen.
• iPhone 7 and 7 Plus model: At the same time, press and hold the volume down and the sleep button for around 10 seconds until you see an Apple logo on your screen.
• iPhone 8, X, and recent models: Quickly press and release the volume up button. Then, press and quickly release the volume down button. Complete the force reboot by pressing and holding the wake button for a few seconds until an Apple logo appears on your screen.
Solution 3: Restore iPhone Using iTunes To Unlock a Black Screen iPhone
If the two methods work to resolve the issues, you can always try restoring your iPhone to its original settings. It will help erase all data and possibly fix the iPhone black screen of death. Before using this method, it would be best that you back up your data. Also, make sure you have an up-to-date iTunes application on your PC. Only then can you follow the steps to restore your iPhone via iTunes.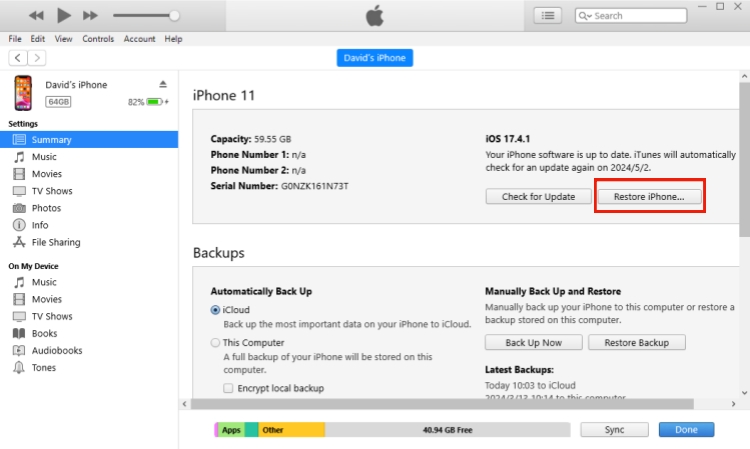 i. Start by launching the iTunes app on your PC.
ii. Using a genuine USB cable, connect your iPhone to the PC.
iii. Your iPhone will automatically detect on iTunes.
iv. Hit the device icon on the page.
v. Proceed on to hit on the "Summary" option and select "Restore iPhone."
vi. A pop-up notification will show on your screen. Click on "Restore" to confirm the iPhone restoration process. Make sure that your iPhone is still connected.
vii. This action should return your device to the original factory settings and then update your iPhone to the latest iOS version.
This method should work to resolve your screen problem and probably your iPhone black screen issue for a clear and more convenient functioning iPhone.
Solution 4: Erase iPhone via iCloud to Unlock a Black Screen iPhone
Besides using iTunes to restore your iPhone, you can alternatively use iCloud to erase your iPhone and grant your smartphone a fresh start. The iPhone black screen problem may be emanating from a system software bug or misbehaving applications, which can be resolved by erasing the entire phone. Therefore, make sure you have a backup for your data. This may sound like an aggressive solution, but believe me, it works well.
It is also important to note that this method only works when you have an active "Find My iPhone" feature. So, let's get your black screen iPhone unlocked!


i. Open the browser on your PC and access the official iCloud web.
ii. Enter your Apple ID and password to log in to your iCloud account.
iii. Hit on the "Find iPhone" icon.
iv. From the appearing device list, select the iPhone with the black screen.
v. Three options will appear, select "Erase iPhone" to erase all data and settings on your iPhone.
This should remotely unlock your iPhone and fix your iPhone black screen problem. You can now access your iPhone without using a passcode.
Conclusion & Suggestion
With the above-listed and well-illustrated solutions, you can now quickly unlock a black screen iPhone without much trouble. You only need to weigh the pros and cons for each and find out which works for your best. In that context, we recommend that you try out the Joyoshare iPasscode Unlocker. The software is straightforward to use, guarantees you 100% fix and security for your iPhone data. All you need to do is download, install and follow the guide featured above to unlock your black screen iPhone.