Finding yourself in a situation where you can't unlock your iPhone is one of the worst feelings you'd ever have. You might struggle with the three types of iPhone unlock, including iPhone screen lock, iPhone iCloud activation lock, and iPhone carrier.There are various scenarios where you can find your iPhone locked, leaving you clueless on how to deal with the situation. The bearable thing is that you aren't and won't be the last one to face this situation, as millions of people have been struggling with this issue. Luckily, you can unlock iPhone online, and we'll tell you how to unlock iPhone online by revealing the most immaculate iPhone unlocker online.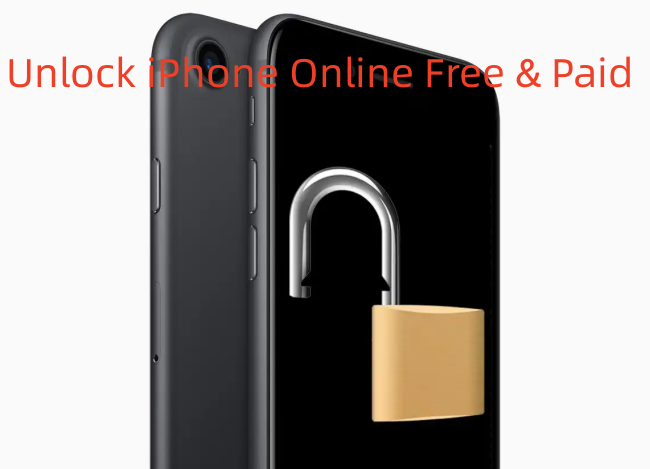 Part 1. How to Unlock iPhone Without Passcode
If you're having a bad time as you got into various lockup situations, the arrival of Joyoshare iPasscode Unlocker has made it pretty easy to unlock your iPhone without a passcode. It has all the basics covered, helping remove screen lock, get rid of Apple ID without password, bypass possible MDM restrictions and even turn off Screen Time. You can find practical solution for any iOS device you have, including iPhone, iPad and iPod. There is also no limitation of iOS version, nearly all supported by this software, even iOS 17.
Key Features of Joyoshare iPasscode Unlocker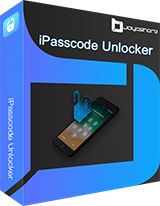 It helps you unlock iPhone without a passcode
Support all the iOS versions, including iOS 17
Let you easily remove iPhone screen, Apple ID, Screen Time and MDM
It comes with a straightforward user interface
Work well for all models of iPhone, iPad and iPod
Step 1

Open iPhone Unlocker

After getting the software installed from the official website of Joyoshare iPasscode Unlocker, you'll need to launch it before connecting the iOS device to the PC. Next, tap on ''Unlock iOS Screen'' icon and then select ''Start'' option.

Step 2

Boot iPhone into DFU/Recovery Mode

Follow the on-screen instructions to put your connected iPhone into DFU or Recovery mode. Choose your matchable device model and operate manually. Once get it done, the right arrow located at the bottom right will turn blue for you to click.

Step 3

Download Firmware Package for Verification

After checking device information displayed on the interface, you can click on the "Download" button to start downloading the firmware package. Then, finish verification process.

Step 4

Start to Unlock iPhone

Press on the "Unlock" option to begin unzipping firmware package and unlocking your iPhone screen. Make sure that you have a good network and connect iPhone all the time until the process completes. Your device will be unlocked soon for you to use again.
Part 2. Top 5 iPhone Unlockers Online Available for You
1.

Official Sim Unlock

If you're struggling with the iPhone carrier lock and want to unlock the iPhone, Official SIM Unlock can take care of your issues. It is a brilliant iPhone unlocker that helps you to unlock iPhone carriers irrespective of which kind of carrier service you were subscribed to.

After learning how to unlock iPhone online through Official SIM Unlock, you'll be able to use any SIM card on your iPhone you'd want. This tool makes it pretty simple to unlock the carrier lock using your device's IMEI CODE. Apart from unlocking the iPhone, this tool also holds the ability to unlock various Android brands, including HTC, Samsung, and Huawei.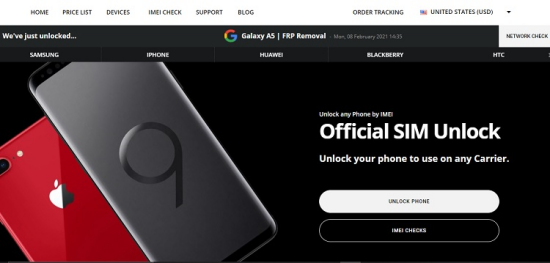 Cons:
You can unlock iPhones online through Official SIM Unlock, but it might take extra time due to unforeseen reasons. Unfortunately, it could take more than 1 week to unlock your iPhone, which might not be acceptable for you.
2.

DoctorSim

Another way to unlock iPhone online free is to acquire the services of DoctorSIM. It is a brilliant iPhone unlocker online that helps you use a different carrier service on your iPhone by unlocking the carrier lock.

This tool covers all the basics so that you won't find the interface of this tool tricky. The intuitive user interface is the powerful thing about this tool that helps unlock iPhone online more appropriately than many other tools. Even the newbies can use this easily, making it worthy of your attention.

Cons:
Despite DoctorSIM providing you with a user-friendly interface and appropriate services, many complained that this tool sometimes doesn't complete the unlocking process. Especially if you're using iPhone 6 or an earlier model, taking the services of this tool won't be a rational decision.
3.

CellunLocker

If you ever ask the question ''can I unlock my iPhone?'' online, you shouldn't skip CellunLocker. It has a user-friendly set-up for those clients who intend to purchase the iPhone without an unwanted lock. Whether there is a Cloud activation lock, iPhone screen lock, or iPhone carrier lock, CellunLocker hardly disappoints you.

Using this tool, iPhone unlocker free online, you can unlock various portable Apple devices, including Apple Watch, iPad, and iPhone. On top of that, you can unlock your iPhone online in only a week courtesy of the smooth ceiling of this tool.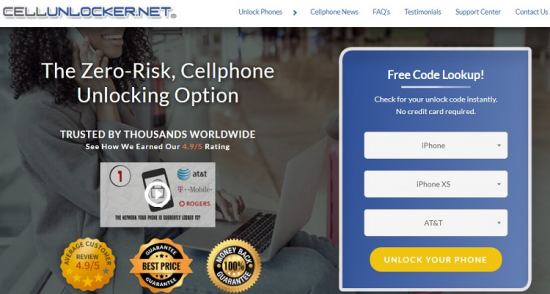 Cons:
The customer support service of this tool needs to be improved a lot as it takes forever to give you an answer to the query. Moreover, the refund process takes longer than usual, and you might have difficulty claiming your money.
4.

DirectUnlocks

DirectUnlocks is considered one of the best ways to unlock iPhone online. Using this tool, you can unlock all Apple devices without working hard. Luckily, DirectUnlocks assists you in unlocking any iPhone lock, including iCloud activation and carrier lock.

Another reminder about this tool is that irrespective of the iOS version you've installed on your iPhone device, DirectUnlocks won't shy away from unlocking the iPhone, making it accessible to you. The services of this tool aren't restricted to Apple devices only. Instead, it enables you to erase the FRP lock from Android devices and not forget that you can use this tool in 200+ countries.
Cons:
The unlocking process turns out to be unsuccessful many times, and the agony is that this tool doesn't have any appropriate algorithm to return your money. So, it takes a lot of time to give your money back.
5.

iPhoneIMEI

The last iPhone unlocker online that makes it into our list of fascinating tools is none other than iPhone IMEI. The best thing about this iPhone online unlocker which many people admire, is that it comes with a free IMEI checker, which makes the iPhone unlocking process lot more affordable than you think

Other than that, this tool cares about the safety of iPhone owners, and hence it keeps taking advice from iPhone manufacturers such as Apple when unlocking iPhones. This tool can easily switch many phone carriers, unlocking the last iPhone carrier lock.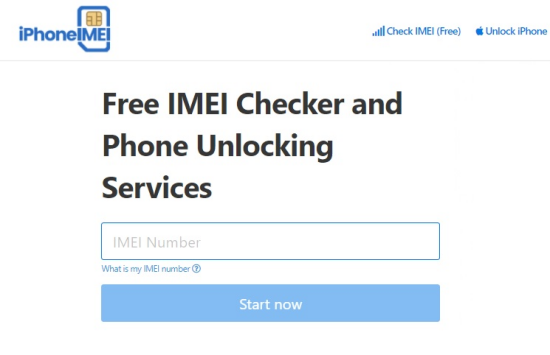 Cons:
Unlocking an iPhone might take longer than you'd anticipated. Another downside of this tool is that it doesn't pay too much attention to refund privilege appropriately, as you might have to wait for weeks to get your money back.
Final Words
Struggling to unlock iPhone online isn't a sight to behold as the situation might be frustrating and panic simultaneously. Leaving all your frustration behind, we've explored the various online iPhone unlockers in this post, which will stimulate unlocking any iPhone lock. After reviewing all the tools, there is no brainer in saying that Joyoshare iPasscode Unlocker is far superior to others and should be backed to unlock iPhones.