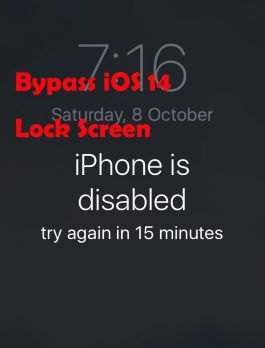 Using iPhones is a bit challenging. iPhone users often face problems in bypassing the lock screen after they had forgotten its password. There are many reasons behind forgetting the passcode. With the introduction of other security measures, people do not use their passcodes more often. It could be one of the reasons for forgetting the passcode.
Parents often hand their devices to their children to keep them occupied until they complete their chores. Children often fidget with the devices that sometimes lead to disabling the device. At first, iPhone allows you to enter the passcode, but after frequent attempts, the device locks for 30 seconds after the fifth attempt, to one hour on the ninth attempt.
On the tenth attempt, the device completely disables, showing you a message that says, iPhone is disabled, connect to your computer. So you may ask how to bypass iOS 14 lock screen. Here, answers will be discussed in the tutorial. Let's see it.
Can I Bypass the Lock Screen?
Apple has never compromised on users' privacy. From the very beginning, their core objective was to introduce a device that protects the information and identity of the user and prevents it from trespassers. For this, Apple has developed an activation lock that prevents other people from getting into your device. The phones that are iOS 7 and above do not need manual activation of the lock because they are auto-enabled. This feature saves your information from being misused.
Apple's activation server saves your Apple ID. It helps you in keeping all your information secure. When you turn off your device or erase the data from the phone, the device asks you to unlock the iCloud activation.
It determines if the actual owner is doing the act or any trespasser is trying to get into someone's phone. If the device asks for an activation lock, the user cannot easily do iOS 14 lock screen bypass. But there is always to do this.
How to Bypass iOS 14 Lock Screen?
Many people use iPhone but fail to understand how to bypass the lock screen if the device is not responding. There are numerous ways for users to avoid lock screen. Let us go through some of the effective ways that have helped many users to bypass the iPhone lock screen.
Way 1: Use Joyoshare iPasscode Unlocker
Joyoshare iPasscode Unlocker is one of the safest ways to bypass iOS 14 lock screen. This software has unique features that help users to unlock their devices safely without going into any technicality. The application offers an easy-to-use interface and involves super easy steps to bypass your device. It is applicable for a four-digit passcode, six-digit passcode, Face IDs, and Touch IDs.
Key Features of Joyoshare iPasscode Unlocker:
Unlock iPhone when it is locked
Function well for the latest iOS 14 and iPhone XS/XR
Remove iOS screen locks under any possible scenario
Bypass 4 kinds of passcodes in an efficient way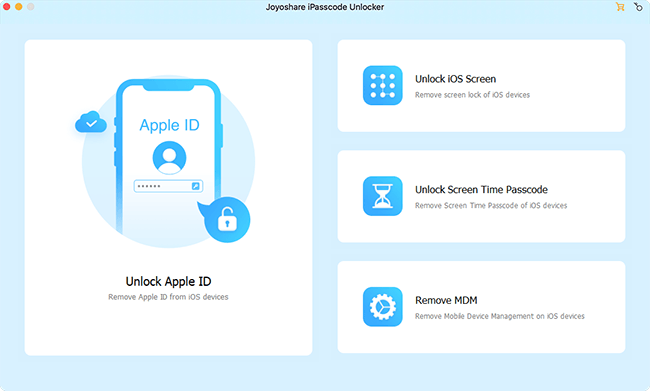 To learn how to bypass iPhone lock screen iOS 14, follow the steps mentioned below.
Step 1

Launch app, connect, and put iPhone into DFU mode

Install and launch Joyoshare iPasscode Unlocker on your computer. Connect your phone with your computer using a USB cable. Then, press Start. After the program detects your device, refer to the instructions to put your iPhone into DFU mode.

Step 2

Download firmware package

Now, you need to download and verify firmware. Make sure you confirm if everything is okay. Then, click Download to get the firmware.

Step 3

Unlock iPhone

After verification, click Unlock button to unzip the firmware. Once the package is unzipped, Joyoshare iPasscode Unlocker will bypass iOS 14 lock screen and allow you to access your device normally.
Way 2: Bypass lock screen via recovery mode
To bypass iOS 14 lock screen through iTunes is also an effective way to use your device. Its Recovery Mode deletes your data permanently, including the passwords, and sets up your phone on manufacturer settings. Follow these simple steps to reset your device using recovery mode.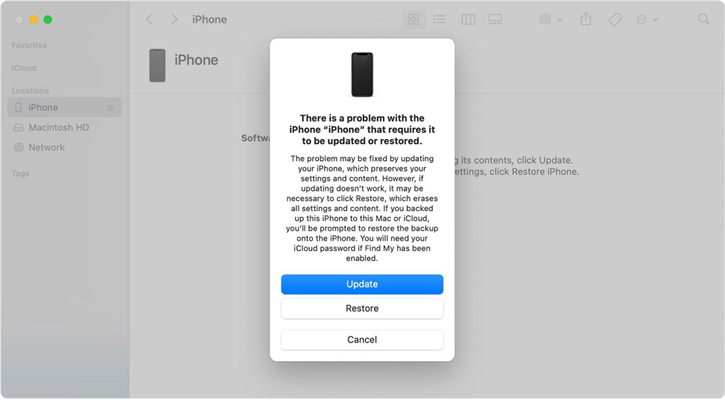 • Open iTunes and install the latest version.
• If your phone and computer are not synchronized, put your Recovery Mode device to bypass the lock screen.
• Launch iTunes. If your device is set on Recovery Mode, the iTunes logo would appear on the screen.
• When your phone is in Recovery Mode, a screen will pop up showing you two options: Restore or Update. Click Restore.
• Then, follow the instructions. Once restoring is complete, your device will no longer have a passcode. It helps in erasing all the data and resetting your phone as new.
Way 3: Erase iPhone from iCloud
Many users tend to switch from iPhones to Androids for various reasons. This decision calls to remove their iPhone data from iCloud. The user can easily bypass iOS 14 lock screen if their Find My iPhone is turned on. Follow the mentioned steps to erase your data from iCloud.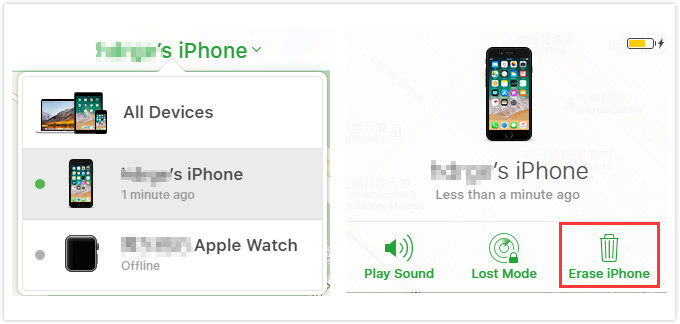 • Open the Find My application on Mac or use a computer, then open the iCloud website (icloud.com). Use your Apple ID and passcode to log in.
• Select Find iPhone.
• Click All Devices at the top.
• Enter your Apple ID and passcode when asked.
• Select your device and click Erase iPhone. It will erase all the data, settings, and passcode present on your iPhone.
Way 4: Use Dr. Fone Screen Unlock
Many iPhone users tend to forget their passcodes, but with Dr. Fone, recovering your device has become easy. It is an easy-to-use app and works well with all iPhone models, and has become popular amongst iPhone users since the application can unlock iPhones. That is why iPhone users commonly use the application to open their devices. To understand how the application functions, follow the steps to unlock your iPhone easily without any technicality.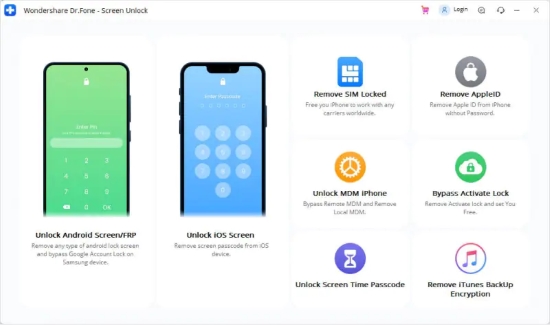 Step 1: Install the software on your Windows computers or Mac to unlock your phone. Once you have installed the application, it is ready to use. Launch it when you wish to bypass iOS 14 lock screen. Once the screen pops up, click Screen Unlock on the left of the app's homepage.
Step 2: Connect the device to your computer or Mac using a USB cable. After connecting, the application will automatically detect your phone. Click the button Unlock iOS Screen when you are ready to begin the action.
Step 3: The user must activate the DFU mode by switching off your device and connecting it to your computer or Mac after the app detects your device.
Step 4: The following window will ask you to enter your information. Enter and verify your details regarding the device and version. Click Download to get the updated version for your device. It might take some time as the firmware installs on your phone. Lastly, click the Unlock Now button to use your iPhone.
Conclusion
Bypassing the lock screen may sound difficult due to extra security checks placed by Apple; however, it is pretty easy if you follow the right steps. We have discussed some very effective ways to bypass iOS 14 lock screen without getting into much technicality of software and applications.
Although Apple has strict security policies to secure the user's information, there are still ways to help iPhone users how to bypass iPhone lock screen iOS 14 without getting into much trouble. Read the instructions and follow them stepwise to make the entire process easy to apply. Ensure you create data back up before you reset your device to new.