Q: "I need to erase my iPhone and reset to factory settings in order to sell it but it won't allow me to do it and it keeps coming up with a passcode that it won't take either how do I get around this?" – Apple Community
The consumption view of premature consumption has been gradually accepted by more and more people and they begin to find that there are too many idle items in their homes. Fortunately, online second-hand goods trading platform addresses this problem to a certain extent. Compared with most industries, the development of mobile phone industry will be more rapid and the sale and purchase of second-hand phones is common. When trying to sell used phone online, maybe you also have the same annoyance with the questioner above. This article will introduce you three useful tools to reset iPhone to sell under the condition of forgetting password.
Method 1. Wipe iPhone via iTunes
iTunes is the official tool offered by Apple Inc to help you solve the question of "How do I wipe my iPhone before selling it". But the dispensable precondition of this method to be successful is that you must have turned Find My iPhone off and synced your device to the computer in recent times.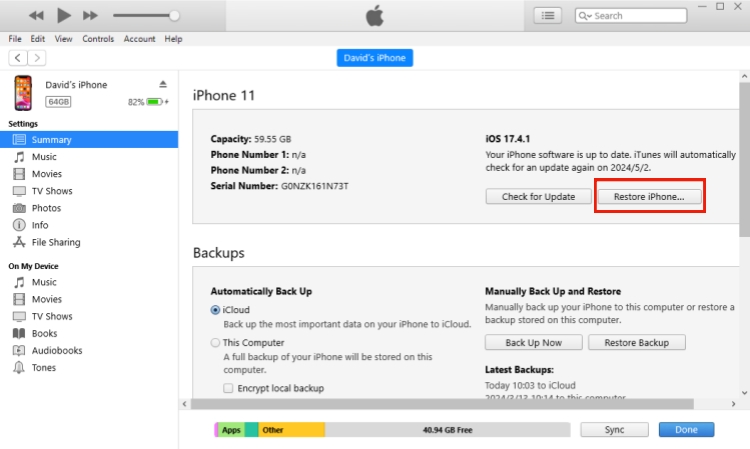 Step 1: Download the latest version of iTunes on your PC or Mac. Open iTunes and connect your iPhone to the computer with the cable that came with your device;
Step 2: If it's the first time you connect your device to this computer, you will be asked for device passcode to Trust This Computer and that the reason why you must check the preconditions;
Step 3: Click on your device icon when it appears in the interface of iTunes. If your iPhone is unresponsive, the icon will not come out;
Step 4: Click "Restore iPhone" in the Summary and then press "Restore" again to confirm your action. After that, iTunes will erase your device and install the latest iOS system.
Method 2. Wipe iPhone using iCloud
Maybe you have not connected your iPhone to a computer recently, then you can try to erase your device with the help of iCloud. For this method, Apple ID and corresponding password are necessary. If you cannot remember them, you need to try the third-party software.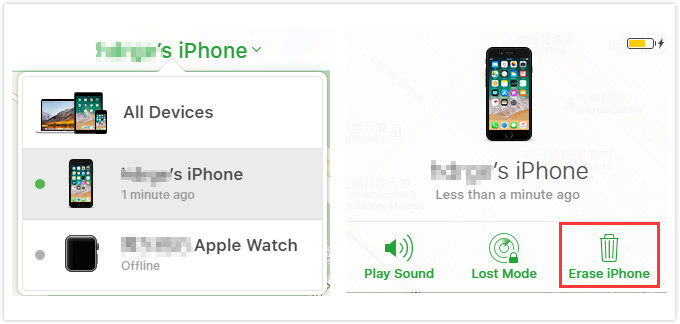 Step 1: Make sure you have enabled "Find My iPhone" function on your iPhone;
Step 2: Launch a browser and go to www.icloud.com;
Step 3: Log into your iCloud profile with your Apple ID (the one you use with iCloud);
Step 4: Open "Find My iPhone" and click "All Devices";
Step 5: Select the device you want to sell from the list;
Step 6: Click "Erase iPhone" to delete everything on iPhone.
Wipe iPhone with Joyoshare iPasscode Unlocker
Failing to remember device passcode and Apple ID cannot stop you from resetting your iPhone because Joyoshare iPasscode Unlocker will help you tackle the problem.
Joyoshare iPasscode Unlocker is a professional tool which can enable you to quickly factory reset iPhone without passcode in 3 simple steps: connect iPhone, download and check firmware package, erase data on iPhone and remove screen lock.
It allows you to crack and remove up to 4 kinds of iOS screen lock, including 4-digit passcode, 6-digit passcode, Touch ID and Face ID. In addition, Joyoshare is compatible with a wide range of models of iPhone, iPad and iPod touch. The latest iOS 12 version is also supported.
Main Features of Joyoshare iPasscode Unlocker:
Erase data and unlock screen passcode safely and instantly
Support removing 4 password types
Compatible with the newest iOS 12 and iDevice models
100% safe guarantee from start to finish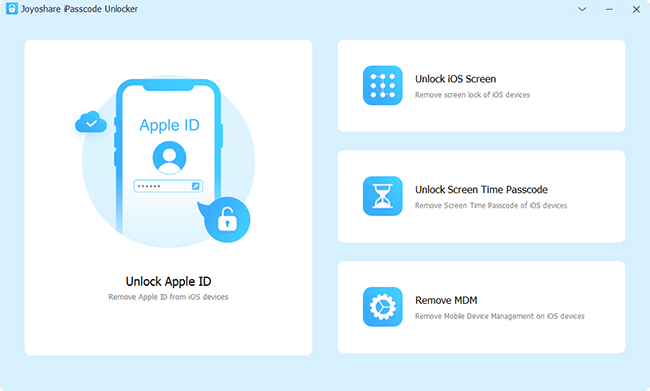 The three tools introduced above are all useful for you to reset iPhone to sell. Compared with iTunes and iCloud, the requirements Joyoshare iPasscode Unlocker asks for will be less. If you are searching for an easy-to-use and efficient assistant to help you erase iPhone, Joyoshare will be a better choice.
Step 1

Run Joyoshare iPasscode Unlocker and connect iPhone

For different computer operating system, Joyoshare iPasscode Unlocker offers different software version. There are Windows version and Mac version and you can download and install the suitable one according to your needs. Then run the software and connect your iPhone to the computer. Click "Start" button to proceed.

Step 2

Put iPhone into DFU Mode or Recovery Mode

Follow the instructions on the interface to put your iPhone into DFU mode. You can also choose to place it into Recovery Mode if you face some difficulty to set it to DFU Mode.

Step 3

Download and verify firmware package

After entering DFU Mode, Joyoshare iPasscode Unlocker will automatically detect your iPhone and display related information in details. What you need to do is checking the information and manually correcting wherever wrong. Afterwards, click "Download" button to download firmware package and verify it when the download is completed.

Step 4

Reset iPhone and remove screen lock

After the downloading and verification of firmware package, click "Unlock" button. When the process of "Unzipping the Firmware" and "Unlocking the Passcode" is completed, you will get an iPhone which has been reset to factory settings.