"I bought a locked iPhone from the Apple Store but am unable to unlock the iPhone. The iPhone doesn't seem to get unlocked despite trying a few things. How to this issue?"
If you've purchased a second-hand iPhone device, it might have been locked for various reasons. It is indeed a panicking situation, and no one would like to be in this situation at all. However, you don't need to worry, as many have complained about locked iPhones. The good thing is that when you bought an iPhone that is locked, you can get out of lockup issue even without visiting the previous owner of your device.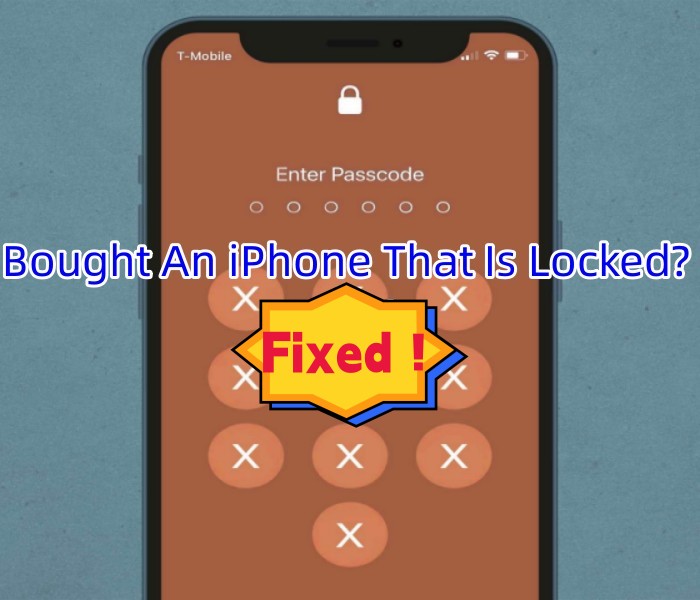 Part 1. Find out What Your iPhone Is Locked to?
If you bought an iPhone that is locked, there could be three types of locks: Network carrier lock, iCloud activation lock, and screen lock.
1. Screen Lock
It might happen that you bought an old iPhone, and the previous owner of the iPhone had set up the iPhone screen lock without removing it for resell. When this happens, you can't access the information on your iPhone.
2. iCloud Activation Lock
If you're asking your Apple ID and password to activate your iPhone, it might be an iCloud activation lock linked to your device. You can't set up a new iOS device without having the old password of your iCloud account.
3. Network Carrier Lock
Your iPhone might get stuck in a network carrier lock, meaning that the SIM card from a particular network will work on your iPhone. Otherwise, you won't be able to run any other SIM on your iPhone.
Part 2. How to Fix Bought An iPhone That Is Carrier Locked
The one who bought an iPhone that is carrier locked often wonders whether it's possible to unlock carrier lock or not. Happily, this can be easily done. To do it, all you need to visit the carrier website using your laptop and ask them to erase the lock. They are most likely to unlock your iPhone from a carrier lock, and then you'll be able to place a new SIM card on your iOS device and set up the iPhone. However, if you cannot fix this issue, you can visit the local carrier store to unlock the iPhone.
Part 3. How to Fix Bought An iPhone That Is Screen Locked
If you're having an iPhone screen locked issue, you can opt for a couple of brilliant methods below to fix your issue.
1. Use iTunes
Unlocking the screen lock of your iOS device has become pretty easy, courtesy of iTunes. You can restore your iOS device using iTunes, which helps you unlock your iPhone screen. However, doing so will erase all of your data from your iPhone. So, if you have a piece of important information stored on your iOS device, you can back up your iPhone data before restoring your iOS device through iTunes.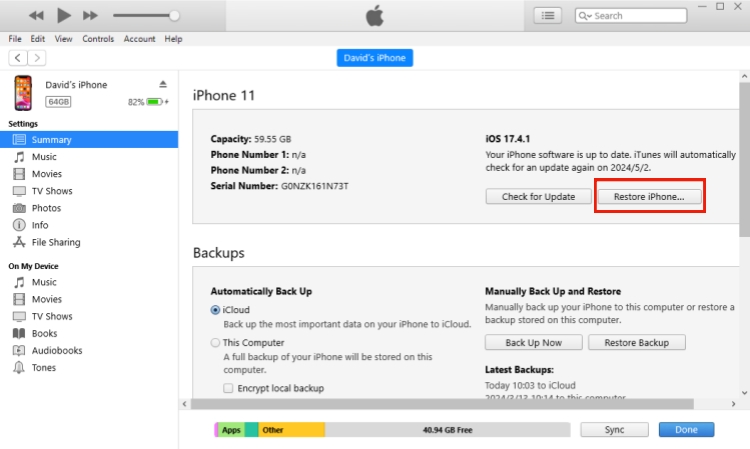 Step 1: Install iTunes on your PC and connect your locked iPhone.
Step 2: Once iTunes recognizes your iPhone, you must hit on the Device icon and click on the "Summary" icon to proceed ahead.
Step 3: Have a click on the "Restore iPhone" icon to start restoring your iOS device through iTunes. After this process, you'll be able to remove lock.
2. Use Joyoshare iPhone Unlocker
Another best way to get rid of screen lock from your iPhone is to acquire the services of Joyoshare iPasscode Unlocker. It is a fantastic third-party tool that aims to unlock the iPhone screen, helping you to set the iPhone for the word go. Luckily, you don't need to consult the old owner of your iPhone to unlock the iPhone device. Joyoshare iPasscode Unlocker doesn't take extra time to unlock device regardless of your iPhone is frozen, screen is broken, Face ID cannot work, etc. Instead, this tool offers a user-friendly interface that makes things look simple for you.
Key Features of Joyoshare iPasscode Unlocker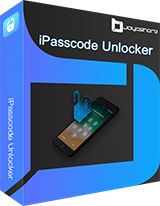 Remove lock from a second-hand or bought iPhone
Support the latest iOS 17 version
Eradicate screen lock like Face ID, Touch ID and digital passcode with ease
Unlink Apple ID without password with minimal effort
Offer intuitive user interface with clear functions
Step 1

Connect Locked iPhone to Computer

Visit the official website of Joyoshare iPasscode Unlocker and download the software. Next, connect the iPhone that you bought with a locked screen to the PC using a USB cable. Later, click on the "Start" icon after hitting the "Unlock iOS Screen".

Note: Remember, unlocking an iOS device through Joyoshare iPasscode Unlocker will cause data, so you'll need to back up your data before restoring your iOS device through this software.

Step 2

Boot iPhone into DFU/Recovery Mode

In this phase, all you need to do is to follow the instructions on the screen to put your locked iPhone into Recovery or DFU mode. When you complete the operation and successfully get into the mode, you're allowed to click the blue arrow on the bottom right.

Step 3

Download Firmware Package for iPhone

Now, you'll need to ensure that the information on the screen is related to your connected iPhone. After your check, click on "Download" to start downloading the firmware package. Wait patiently until it finishes.

Step 4

Unlock iPhone and Remove Screen Lock

Tap on the "Unlock" button to initiate unlocking the iPhone screen lock. The process will take only a few minutes before getting your job done. Make sure your device is connected all the time until it restarts with no lock.
Part 4. How to Fix Bought An iPhone That Is iCloud Locked
Sometimes, your iPhone can be disabled with an iCloud lock. Joyoshare iPasscode Unlocker assists you in efficiently unlocking Apple ID lock with no password. Best of all, this software is able to rescue you from any situation, no matter Find My iPhone feature is on or off. Here you can check it:
Step 1

Open Program and Connect iPhone

After installing Joyoshare iPasscode Unlocker, you'll need to launch it afterward. Next, connect the iPhone with a locked Apple ID to your computer and choose the Unlock Apple ID option icon. Go on with Start.

Step 2

Check iPhone Status

If you've enabled the "Find My iPhone" feature, you'll need to ensure that your iPhone's password is set up and you've also enabled the Two-factor Authentication.

However, if you turn off the Find My iPhone feature, you can skip this step and start removing the Apple ID from your iPhone straightly.

Step 3

Unlock iPhone Apple ID

You'll need to "Download" the firmware package. After that, you can start to remove your Apple ID from your iPhone and then log in with the new Apple ID.

Final Words

Struggling with device lockup is a frustrating yet pretty common issue nowadays. Luckily, you can skim through this post to solve the issue when you bought an iPhone that is locked by carrier, screen passcode or iCloud Apple ID. To avoid a repeat of this tricky situation, it's probably best to buy unlocked iPhone from an official channel or trusted platform next time.