Q: "Can someone unlock my iPhone in lost mode? It was stolen and I already turned on lost mode."
Losing your iPhone can be a heartbreaking experience, but thanks to Lost Mode feature offered by Apple, you can effectively track location, remotely lock device to avoid data leakage and keep your iPhone inaccessible. However, various worries can still attack your brain and you might wonder whether someone else can unlock your iPhone when it's in lost mode. In this article, we'll tell you what will happen if your device is put into lost mode and which way can be used to unlock it. Follow us to get everything clear.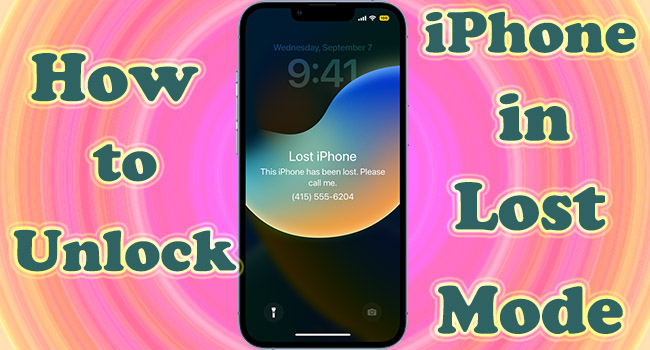 Part 1. How to Enable and Activate Lost Mode
Enable Lost Mode on iPhone
If the lost mode is enabled, you can edit a message about your personal information such as your phone number, and it will show on the lock screen. In this case, the one who picks up your iPhone could contact you. Now, follow the steps to enable lost mode on your iPhone.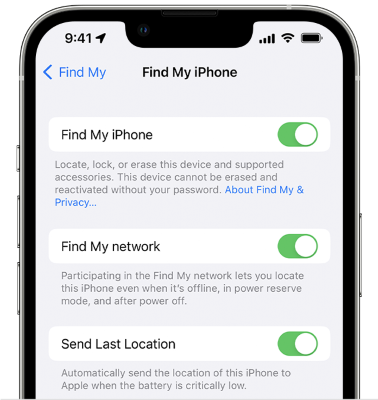 Step 1: Go to Settings, tap your Apple ID and choose Find My.
Step 2: Toggle on the Find My option and enter your Apple ID password.
Step 3: Remember to turn on "Send Last Location" as well. It is an extra security to send its last location to Apple even though your iPhone is offline or your battery dies.
Activate Lost Mode
Find My is able to display the location of your iPhone even if there is no network, your device is powered off, or it is erased. When your iPhone is lost or stolen, the first thing you need to do is to activate the lost mode.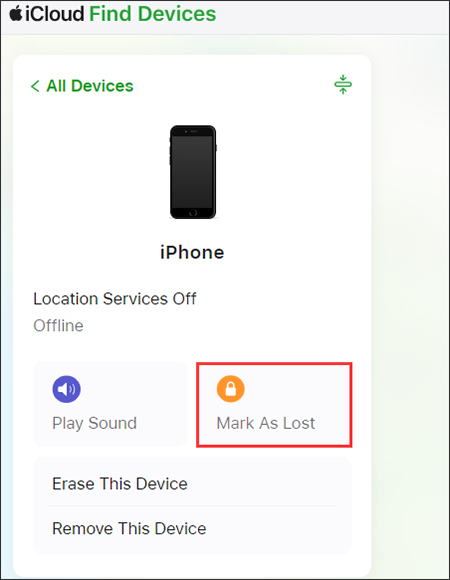 Step 1: Visit the iCloud webpage to sign in with your Apple ID.
Step 2: Locate the Find My module, and open All Devices list to select your lost iPhone.
Step 3: There are some options and you can click on Mark As Lost. Simply enter your phone number and leave a contact message to activate the lost mode.
Alternatively, you can use another Apple device associated with the same account and open the Find My app to turn on lost mode. The operation is similar and you can check out steps below: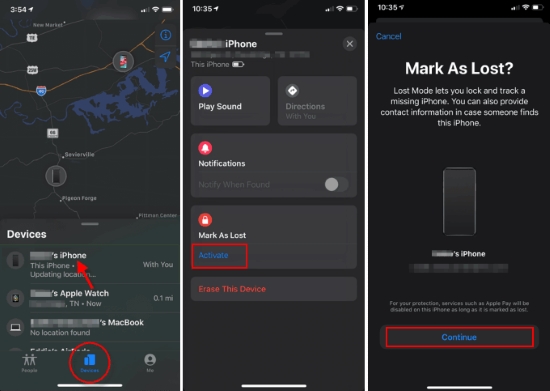 Step 1: Tap the Devices tab, and choose your missing iPhone.
Step 2: Afterwards, tap on Activate under Mark As Lost, hit Continue to type in your phone number or email address.
Step 3: Toggle on the Notify When Found option while entering the message.
Part 2. What Will Happen When iPhone Is in Lost Mode?
Do you know what you can get, what you can do, and what limitations will come out when your iPhone is in lost mode? If you cannot comprehensively know this, take a close look here.
A confirmation email about iPhone in lost mode will be sent to your Apple ID email address.
You can customize a lock screen message, telling others that your phone is lost and showing how to contact you.
Stop alarms, alerts, or notification on your mobile phone, leaving only FaceTime calls and phone calls to be received.
Track current device location and where it goes.
Payment cards, like credit or debit cards for Apple ID, Express Transit cards, student ID cards, and other services will be suspended.
Part 3. How to Unlock iPhone in Lost Mode
Method 1. Unlock iPhone in Lost Mode with Passcode
Generally, if the screen lock has been set up before, you could bypass the lost mode screen by entering your screen passcode. On the contrary, if you have not enabled the screen lock, you will be asked for the iCloud and password to recognize your identity. With either correct passcode, your identity could be confirmed to unlock iPhone in lost mode.

Method 2. Unlock iPhone in Lost Mode via iCloud Find My
Is there another way to unlock iPhone in lost mode? iCloud Find My is available to remove the lost mode screen if you found your lost iPhone. However, this method is a bit difficult to acheive if you have a second-hand phone. You need to ask the previous owner to do this for you.

Step 1: Go to icloud.com and log in to your Apple account.
Step 2: Click on your profile at the upper right corner, hit iCloud Settings → Find Devices link and enter the device map.
Step 3: Choose your iPhone in lost mode from the All Devices list.
Step 4: Click the Lost Mode option and then Stop Lost Mode option subsequently. This operation can help remove your onscreen phone number and message, delete all location history After confirmation, click on Stop Lost Mode again.
Note: If you use Find My app on another Apple device, you can go for Devices, pick up your iPhone that's in lost mode. Then click on Activated → Turn Off Lost Mode.
Method 3. Unlock iPhone in Lost Mode and Activation Lock
Your iPhone was lost but recently found without lock screen passcode or Apple ID password to unlock? Or you're unlucky to get a used device from others that's in lost mode, what can you do to access it? Actually, factory reset cannot help you out of the trouble but leave your iPhone with an activation lock. In this case, a professional tool called Joyoshare Activation Unlocker can be your savior. It's capable of removing iCloud lock on iPhone in lost mode. Best of all, its simple steps and detailed instructions make it remarkable. It can even additionally unlock Apple ID without password and turn off the Find My feature.
Key Features of Joyoshare Activation Unlocker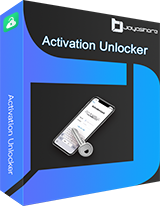 Bypass "this iPhone was lost and erased" effortlessly
Remove iCloud lock without password
Turn off Find My on iPhone/iPad/iPod touch
Assure high security to unlock Apple ID
Step 1

Install Joyoshare Activation Unlocker and Connect to Computer

After installing iTunes on your computer, download and run the latest Joyoshare Activation Unlocker. Read the note and disclaimer carefully. If you agree with the terms, click on Agree and the Start button to proceed. Then, connect your iPhone in lost mode to the computer.

Step 2

Jailbreak iPhone in Lost Mode

According to your iOS version, the operation to jailbreak your iPhone can be different. You should carefully follow on-screen instructions to do that. (Check iOS device jailbreak guide here >>)

Step 3

Remove Activation Lock to Unlock iPhone

Confirm the device information and click the Start to Remove button to unlock your iPhone in lost mode. When you see the Done button, the lost mode screen with iCloud activation lock is removed successfully.
Part 4. Bonus Tips to Avoid iPhone Loss: Notify When Left Behind
To prevent iPhone from getting lost, iOS 15 and later system versions are introduced a new feature – Notify When Left Behind. After enabling this feature, you can get an alert if your iPhone is left somewhere when you leave it. This separation alert is much more effective if you possess an Apple Watch running watchOS 8.

Step 1: Open the Find My app on your iPhone.
Step 2: Choose Devices tab and tap on your device in the list.
Step 3: Tap the Notify When Left Behind option and toggle it on.
Summary
Can someone unlock iPhone in lost mode? Yes. If your passcode or Apple ID password is too simple or someone knows them, your iPhone will be unlocked easily. But the lost mode is not 100% secure to prevent your iPhone from hacking by a thief. You'd better refer to the bonus tip provided in this article to protect your iPhone. In case you found your lost iPhone, how to unlock it without passcode? Joyoshare Activation Unlocker is competent to help you unlock iPhone/iPad/iPod in lost mode with easy steps.