Q: "I have an iPhone 8 Plus which I bought second-hand online. Everything worked fine until today, when I updated my iPhone to the newest iOS version, when I open the phone, it reads 'this iPhone was lost and erased'. When I put it in my iCloud, it doesn't work. It says I can't unlock the iPhone with this iCloud account. How do I fix this issue?" – from Apple Community
Have you ever encountered the same situation where you cannot enter your device because "this iPhone was lost and erased"? In most cases, it happens on a second-hand iPhone. If the previous owner reset this device but did not remove his/her account from it, you will see this alert after updating or resetting. Or, your Apple account is hacked by someone else and turned on the lost mode. When the message appears on the activation lock screen, you may desperately want to know if there is a way to fix this problem. This article provides 3 reachable ways for you. Go on to get your iPhone fixed.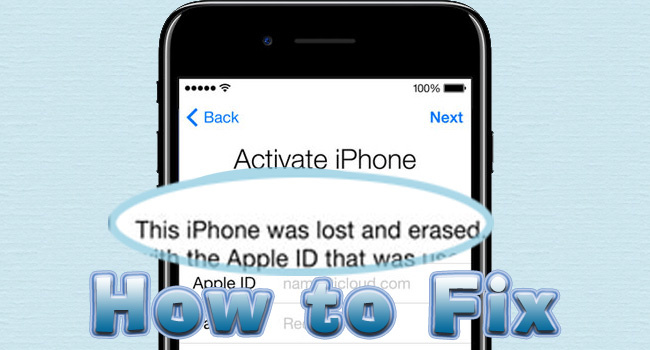 Part 1. What Does This iPhone was Lost and Erased Mean
When you see "this iPhone was lost and erased", you are asked to enter your Apple ID and password to activate and set up your iPhone. This message only occurs when the Find My feature is enabled. If the lost mode is turned on remotely on other devices, or the information is deleted, you will be reminded that your iPhone was lost and erased. If you are the owner, just sign in with your account to unlock the activation lock. If it was purchased from someone else, contact the seller and ask him/her to turn off the lost mode and unlink the iPhone with his/her Apple ID.
Part 2. Quickest Way to Fix This iPhone was Lost and Erased
When you are warned that your iPhone was lost and deleted, the quickest way to fix it without anyone else's assistance is to use a third-party tool to bypass the activation lock. Joyoshare Activation Unlocker is capable of unlocking the lost and erased iPhone even if you don't know the correct Apple ID and password. With the least limitation, this software supports you to remove the activation lock regardless of the models of iPhone, iPad and iPod touch, and the versions of iOS system software. You can safely get into your iPhone and activate it with the help of Joyoshare Activation Unlocker.
Key Features of Joyoshare Activation Unlocker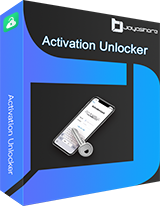 Step 1

Launch Activation Unlocker and Connect to PC

Install and launch Joyoshare Activation Unlocker on your computer, and connect your lost and erased iPhone to it. On the main interface, click the Start button to begin.

Step 2

Jailbreak iPhone on Your Computer

The jailbreak tool will be downloaded automatically, and you can click the Start Installation button to install the tool. Then, click the Jailbreak Tutorial button to check how to jailbreak your iPhone.

Step 3

Fix This iPhone was Lost and Erased

Restart your PC once your iPhone is jailbroken. Open Unlocker again and confirm your device information. Click the Start to Remove button to remove the activation lock. When you see the Done button, the "this iPhone was lost and erased" message disappears.
Part 3. Common Ways to Bypass This iPhone was Lost and Erased
3.1 Use iCloud to Turn Off Lost Mode
As this problem may result from a mistake that the previous owner forgot to remove the iPhone from his/her Apple account, you can contact the seller of your second-hand iPhone, and ask him/her to turn off the lost mode when your device says it is lost and deleted. Here is how to do it by using iCloud.
Step 1: Visit the iCloud page on any browser, and log into the original Apple ID associated with the lost iPhone.
Step 2: Click the Apple ID, and locate the link stating Find Devices in the right column.
Step 3: Choose the problematic iPhone from the All Devices list.
Step 4: Select Lost Mode, hit the Stop Lost Mode button and enter the password or verification code if asked.
Step 5: When your iPhone comes back to normal, remember to click Remove from Account to prevent this problem from happening again.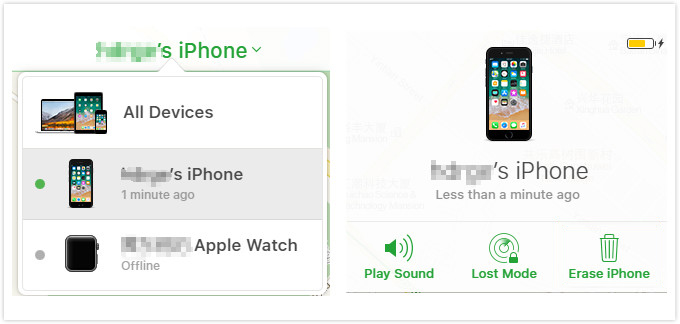 3.2 Find Password to Unlock Lost iPhone
Although this iPhone is your own device, it is possible that you are blocked to enter your iPhone because you forgot Apple ID or password, or they are changed by a hacker. In these cases, you could find your account and password back easily, then use the new password to unlock the activation lock.
Step 1: Go to iforgot.apple.com on any browser.
Step 2: Type in your Apple ID if you remember it, and click the Continue button.
Step 3: If you can't get your Apple account, click "look it up". On the next page, enter your name and email address to find your account back.
Step 4: You will be asked for phone number to confirm your identity.
Step 5: Select one way to reset password – Email Authentication or Answer Security Question.
Step 6: Set up a new password and click Reset Password.
Step 7: Enter your Apple ID and the new password on your iPhone that was lost and erased. Then, your device is reactivated again.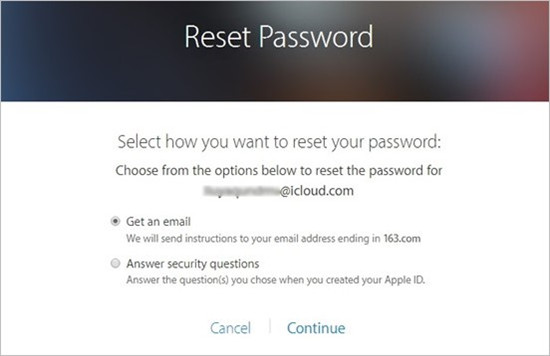 Part 4. FAQs about Lost and Erased iPhone
Q1: Can I use an iPhone after it's been erased?
A: If you know the Apple ID tied with this erased iPhone, you could use it after the activation lock is unlocked. Otherwise, it is hard to use it again. But you could apply Joyoshare Activation Unlocker to fix it.
Q2: How do I know if my lost iPhone has been erased?
A: On any other Apple devices, open the Find My app, and choose All Devices. If the status of your lost iPhone is shown, it is not erased.
Q3: Does Find My work if the phone is erased?
A: No. After erasing the data on iPhone or factory resetting it, the Find My feature needs to be set up again. Thus, it won't work unless you reactivate your device and re-set up it.
Summary
Confronting "this iPhone was lost and erased"? Don't worry, this article explains the meaning of this alert, so that you can select a suitable way provided in this article to fix it. You could turn off the lost mode to bypass this problem, but it requires the original Apple ID and password. Identically, unlocking the activation lock has the same demand, which could be achieved by finding the account and password back. However, Joyoshare Activation Unlocker can help you out of this issue with no restrictions. If you have other questions about this problem, leave your comment below.