You might run into trouble like your iPhone gets lost or it is stolen. Fortunately, you have turned on Find My iPhone. But you may worry that "Does Find My iPhone work when phone is dead". This article explains how Find My works and what the subsidiary options under Find My do. Your questions about Find My are answered and the solutions to Find your lost iPhone when your phone is offline are provided in this article. In addition, you can get to know how to turn off Find My without Apple ID password here. Read each part carefully to solve your problem.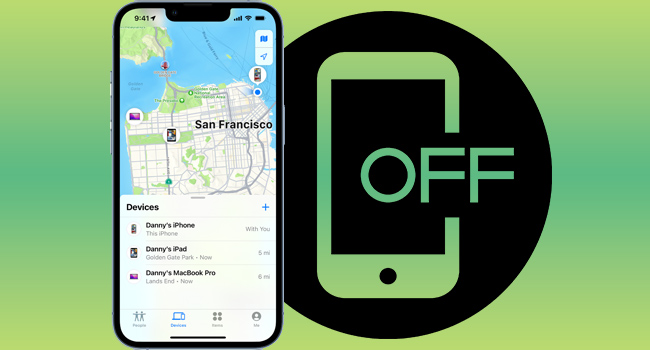 Part 1. Introduction of Each Feature of Find My iPhone
There are a variety of features you can customize under Find My iPhone. Because there are requirements for the features that affect the use of Find My, you should first understand the function of each and recall if you have the key features turned on.
Share My Location: In the main Find My menu, you can see this option, which could share your location with family and friends. Thus, when your iPhone is lost, they might help.
Find My Network: When turning on Find My, the Find My Network is also enabled so that you can locate your device even when it's offline in a short period.
Send Last Location: Once your battery is low, the location of your device will be sent to Apple servers. With this, you can find the last known location of your device in the devices map.
Play Sound: You can tap this option on the Find My app to play sound to help locate your iPhone.
Mark As Lost/Lost Mode: When marking your iPhone as lost, you can leave your contact information which will be shown on the Lost Mode screen. By doing so, someone who finds your device could contact you.
Notify When Left Behind: In the Devices menu of Find My, with this feature enabled, you will receive a notification when your iPhone is left beside the location you added to the whitelist.
Notify When Found: If someone turns on your lost iPhone and connects it to the Internet, Find My will detect the new location, and you will get an alert on your connected Apple devices.
Part 2. Does Find My iPhone Work When Phone Is Dead?
The answer is No. If your iPhone is offline, Find My will no longer update the location of it in real-time. Even though you have the Send Last Location feature enabled, you can only know the last location before your iPhone gets down. In this case, you have a chance to find your lost iPhone in the last location. Luckily, when your iPhone turns off, you can still activate it in the Lost Mode, which could prevent you from stealing your personal information.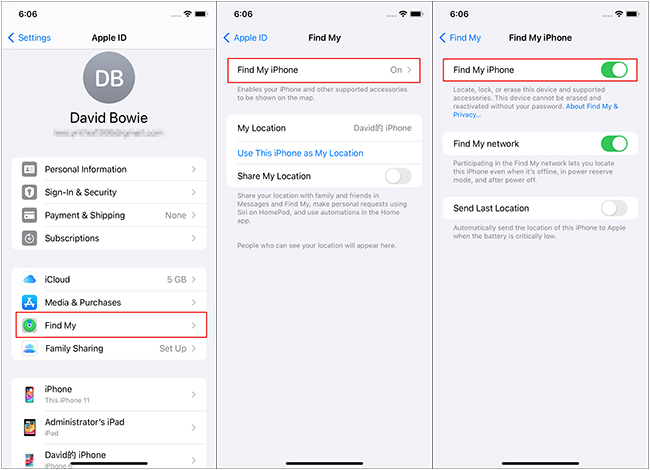 Part 3. How to Find My iPhone When Phone Is Off
There are 3 similar ways to find your iPhone by using the last known location when your iPhone is offline. You can take advantage of the Find My app on any other Apple device that is signed in with the same Apple ID, or go to the devices map on the iCloud website. If you have enabled Family Sharing and toggled on the Share My Location, you can ask your family or friends to locate your iPhone. Since the steps for all three methods are nearly identical, the following is an example of iCloud only.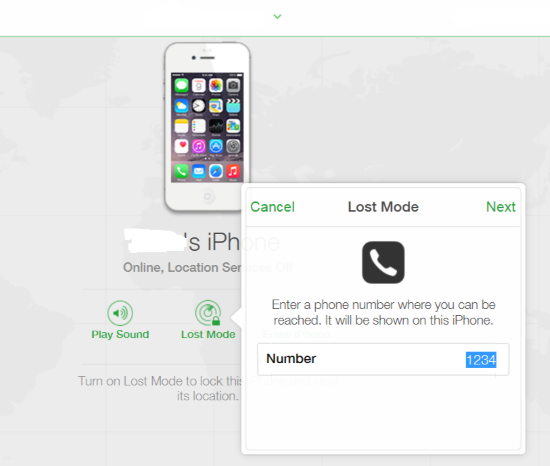 Step 1: Go to icloud.com and sign in with your Apple ID.
Step 2: Click on your Apple ID and scroll to the Find Devices link to enter the map of your trusted devices.
Step 3: Open the All Devices list and select your lost iPhone from the drop-down menu.
Step 4: Now, you can see its last known location before turning it off. If it's close to you, you can just go there and search for it by playing sound.
Step 5: If you can't find your iPhone in the last known location, it is advisable to turn on the Lost Mode and the Notify When Found feature.
Part 4. Bonus Tip: How to Turn Off Find My iPhone without Password
Although Find My iPhone works well in helping you track the location of your iPhone so as to avoid losing it, some users forget to turn off Find My iPhone before erasing it, which will trigger the activation lock when iPhone gets online again. If you forgot the Apple ID password and as a result, you can't access your iPhone. Joyoshare Activation Unlocker is able to bypass the activation lock and disable Find My iPhone without Apple ID password. You don't have to worry about the success rate because it allows you to use it for unlimited times. And this program is compatible with iOS 16 on iPhone, iPad, and iPod. You could also use it to unlock Apple ID following its detailed guide.
Key Features of Joyoshare Activation Unlocker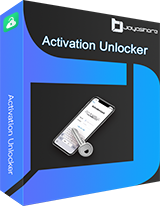 Remove the activation lock for unlimited times
Unlock Apple ID without password in various scenarios
Support iPhone, iPad, iPod and iOS 16
Step 1

Read Disclaimer and Connect iPhone to Mac

On your Mac, install and run the latest version of Joyoshare Activation Unlocker. Click the disclaimer at the bottom of the screen and read it carefully. After hitting the Agree button, connect your iPhone to the computer.

Step 2

Put iPhone into DFU Mode and Jailbreak It

When hitting the Start button, your iPhone will be put into recovery mode automatically. Once you see the recovery mode on your iPhone screen, you need to put your iPhone into DFU mode by hand following the on-screen guide. When the screen goes black, your iPhone will start to be jailbroken.

Step 3

Start to Turn Off Find My iPhone

Click the Start to Remove button, and your iPhone will get into recovery mode again. Then, you are required to enter DFU mode again to remove the activation lock as well as turn off the Find My feature on your iPhone.
Final Words
Does Find My iPhone work when phone is dead? The answer is no. When your iPhone is off, it will disconnect from the Internet, which means that it is unable to track and sync the latest location. After reading this full guide about the Find My feature, you know that when your lost iPhone's battery is dead, it is still available to put it into Lost Mode. It also recommends you enabling Notify When Found. In this case, you can receive a notification when your iPhone is online again. Additionally, this article gives you a solution for turning off Find My iPhone without Apple ID password. If you have any other questions about Find My iPhone, leave your comment below.