In the latest iOS 16 series, Apple has set up stricter protections to keep iPhone/iPad users safe. It is hard to deny that it has good intentions, but in the meantime, it brings varying degrees of inconvenience. Especially for users who tend to forget their passwords, the activation lock will be trouble against accessing their devices. From now on, you don't have to worry that you can't bypass iOS 16 activation lock, this article gives some methods for you to try. It is worth mentioning that the unlocking tool specifically designed for iOS 16 activation lock bypass has the highest success rate, and you can use it for unlimited times.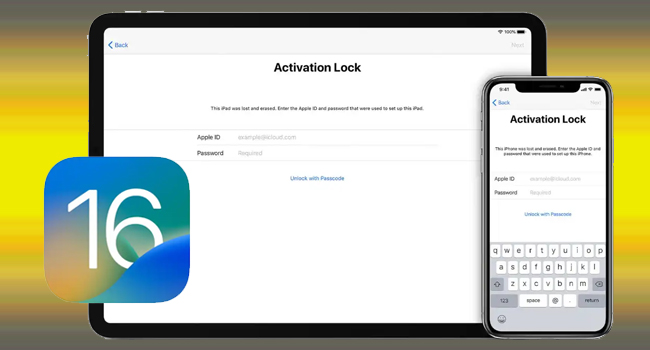 Part 1. iOS 16 iCloud Bypass with Previous Owner
For users who are using a second-hand iPhone or iPad, if the activation lock screen says that this iPhone is linked to an Apple ID that doesn't belong to you, you need to contact the previous owner asking for his account and password to unlock the activation lock on iOS 16. Or, you could request him to remove your device from his account remotely using iCloud.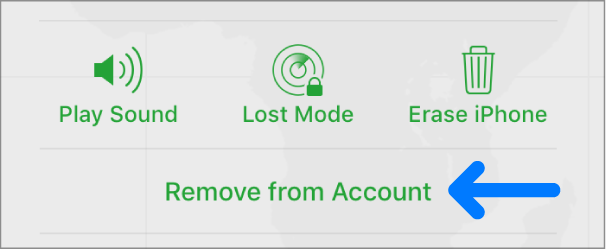 Step 1: Open a browser and visit the iCloud website.
Step 2: Sign in with the Apple account that is linked to the iCloud locked iPhone or iPad.
Step 3: Enter the Apple ID section and scroll to Find Devices.
Step 4: In the device's map, open the All Devices list and choose the target device.
Step 5: From the prompt, hit the Remove from Account option and complete the whole process according to the instructions.
Part 2. iOS 16 Activation Lock Bypass with Device Passcode
With no need for contacting the original owner to get the Apple ID and password, you can bypass iOS 16 activation lock using the screen passcode of your device. There will be a blue message under the Apple ID box displaying "Unlock with Passcode" or "Activation Lock Help". Tap it and select "Use Device Passcode", then you will get into the screen asking you to enter your passcode. If your correct passcode fails to be accepted, try to type in it again until the activation lock is successfully bypassed.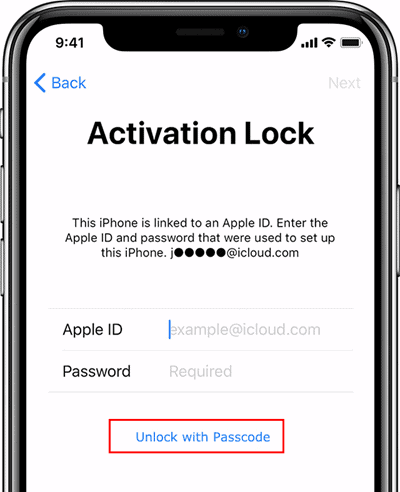 Part 3. iOS 16 iCloud Bypass Unlock Tool
The quickest solution to bypass the activation lock on iOS 16 is Joyoshare Activation Unlocker. When you forget Apple ID password and the screen passcode is not accepted, this iOS 16 iCloud bypass tool could help you remove the activation lock from iPhone, iPad, and iPod. It is able to safely turn off Find My while bypassing the activation lock. Also, you can use Joyoshare Activation Unlocker to unlock Apple ID with a high rate of success. Since the activation lock will occur again after factory resetting or updating your device, this program allows you to bypass the iCloud activation lock for unlimited times. By far, Joyoshare Activation Unlocker supports iOS 12-14.8 for Windows and works in iOS 12 -16.5.1 for Mac.
Key Features of Joyoshare Activation Unlocker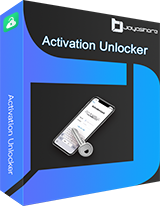 Bypass activation lock on iPhone, iPad, and iPod
Turn off Find My iPhone/iPad without password
Unlock iCloud account easily and safely
Support iOS 16 iCloud bypass with a high success rate
Step 1

Connect iPhone and Launch Joyoshare Activation Unlocker

Connect your iPhone to your Mac and run the latest version of Joyoshare Activation Unlocker. Find the disclaimer and read it carefully to make sure that you know the risks of unlocking the activation lock. After hitting the Agree button, click Start to wait for your device entering recovery mode automatically.

Step 2

Enter DFU Mode and Jailbreak Device

Follow the on-screen instructions to manually put your device into DFU mode. When succeed, Joyoshare Activation Unlocker will start jailbreaking your device automatically.

Step 3

Start to Remove the Activation Lock on iOS 16

Click the Start Remove button. Here, for iOS 16.4 to iOS 16.5.1, the device will automatically enter recovery mode. While for iOS 16.0 to 16.3.1, you need to manually enter recovery mode. After that, manually enter DFU mode again following the on-screen guide and the iOS 16 activation lock will begin to be removed.
Part 4. Bypass Activation Lock on iOS 16 via DNS
To bypass iOS 16 activation lock for free, there is a possibility to change the DNS on your iPhone or iPad, which doesn't require your Apple ID password and other information as well. As this approach is low-succeeded, you can make an attempt to do this but do not expect it to remove the activation lock in one go.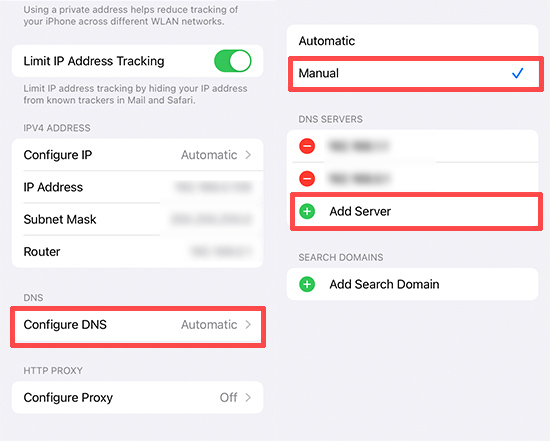 Step 1: When set up your device and asked to connect to a Wi-Fi network, tap the info icon next to the network you are going to connect to.
Step 2: Scroll down to the Change DNS option, select Manually instead of Automatic.
Step 3: Tap Add Server and type in the IP address of your location.

USA: 104.154.51.7
South America: 35.199.88.219
Europe: 104.155.28.90
Asia: 104.155.220.58
Australia and Oceania: 35.189.47.23
Other: 78.100.17.60

Step 4: Join in the Wi-Fi network and enter the activation lock screen.
Step 5: Tap on Activation Lock Help and you might bypass the iCloud lock on iOS 16.
Summary
You can get 4 methods for iOS 16 activation lock bypass in this article. Unlocking the activation lock with the screen passcode would be the quickest way if you forgot the Apple ID password. In case you haven't set up a screen passcode for your second-hand device, you could ask the previous owner for assistance. In fact, it is much better to take advantage of Joyoshare Activation Unlocker to remove the activation lock on iOS 16. It is compatible with iOS 16 series, so you can run the program on a Mac to get the iCloud lock bypassed within a few minutes.