For iPhone 8 and later models, it is available to configure iOS 16 with no obstacle. When you installed a beta version of iOS 16 and experienced its functions, you may feel the new system software is not for you. Although there are many attractive new features on iOS 16, such as widgets and the depth effect on the lock screen, some of you still prefer the previous iOS 15 system. Then, you would wonder if there is a method to downgrade iOS 16 to 15. The answer is Yes. And there is more than one way you could apply to uninstall iOS 16 and go back to the old version. This article collects 3 methods for you, read ahead and choose the most appropriate one after your comparison.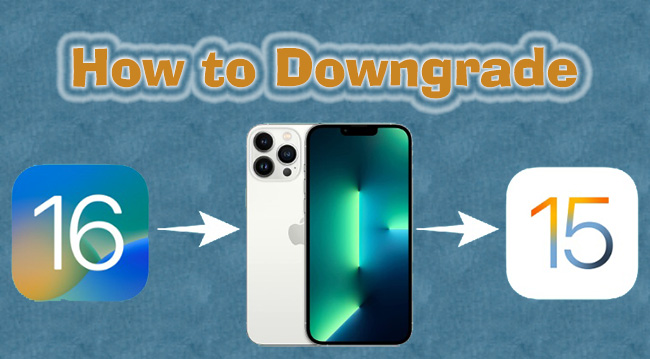 Part 1. Preconditions for Downgrading iOS 16
Before downgrading your iPhone or iPad from iOS 16 to iOS 15, there are precautions and prerequisites you need to know and meet.
Check IPSW signing status. One thing you have to notice is that if an IPSW firmware file is no longer signed by Apple, you can't downgrade to that version. It means, whether you can downgrade depends on your device model and signed iOS version. You could go to ipsw.me to check if iOS 15 is still signed for your device model. With your confirmation, it is essential to download the IPSW file on your computer.

(Note: If the IPSW file does not support or match your device model, the downgrade will not work.)

Back up Data. Downgrading to the previous system will erase all your data, so it is important to make a backup in advance. Meanwhile, if there is something wrong or it fails to be downgraded, you can restore your data from the backup. iCloud or iTunes are both reachable to back up your information. For the former, open Settings → Apple ID → iCloud → Back Up Now, and wait for it completes. For the latter, connect the device to iTunes, click the Back Up Now option on the Summary section, and it will start backing up.
Part 2. Use iTunes/Finder to Downgrade iOS 16 to iOS 15 for Free
If you have checked and confirmed that iOS 15 is still signed for your iPhone or iPad model, you can download the matching IPSW firmware file on your Windows PC or Mac on ipsw.me. Then, iTunes and Finder can be used to downgrade iOS 16 to 15 for free. Follow the instructions below step by step.
Step 1: Turn off the Find My feature on your iPhone or iPad. (Settings → Apple ID → Find My)
Step 2: Plug your iPhone/iPad into the trusted computer using a USB cable.
Step 3: Put your device into recovery mode. Press and release the Volume Up button, press and release the other Volume button, continue to hold the Side button for a while, and release it until you see the recovery screen.
Step 4: Launch iTunes on Windows PC or Finder on Mac, and you will see a pop-up window.
Step 5: For Windows users – hold the Shift key while clicking the Restore iPhone (iPad) button in the prompt; For Mac users – hold the Option key, and at the same time, click the Restore iPhone (iPad) option.
Step 6: On this screen, you could select and open the IPSW file you downloaded and saved earlier.
Step 7: Then, your iPhone/iPad will start downgrading to the previous version.
Step 8: When your device restarts, you could set up it as a new one. Remember to choose "Don't transfer Apps & Data" when setting up.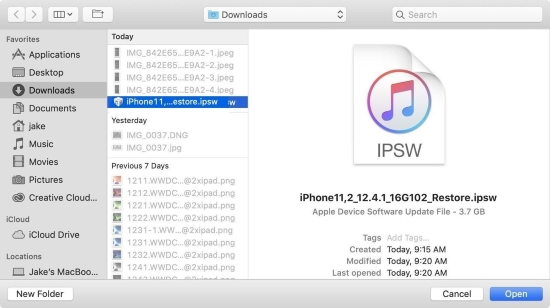 Part 3. Quickly Downgrade iOS 16 to iOS 15 Using Joyoshare UltFix
If you feel that it is difficult to downgrade from iOS 16 to iOS 15 by using iTunes and Finder, there is an easier method to help you downgrade quickly within a few clicks. That is Joyoshare UltFix. You don't have to find and download the IPSW firmware file in such a complicated way, because all the actions to downgrade can finish on Joyoshare UltFix. As long as there is a signed system version, iPhones and iPads could all go back to it lightly with the assistance of this program. Further, it also offers the upgrade feature and assures preserving your data well. Besides, Joyoshare UltFix concentrates on fixing iOS system problems like black screen, and gives you a chance to enter and exit recovery mode with one click for free.
The features of Joyoshare UltFix are: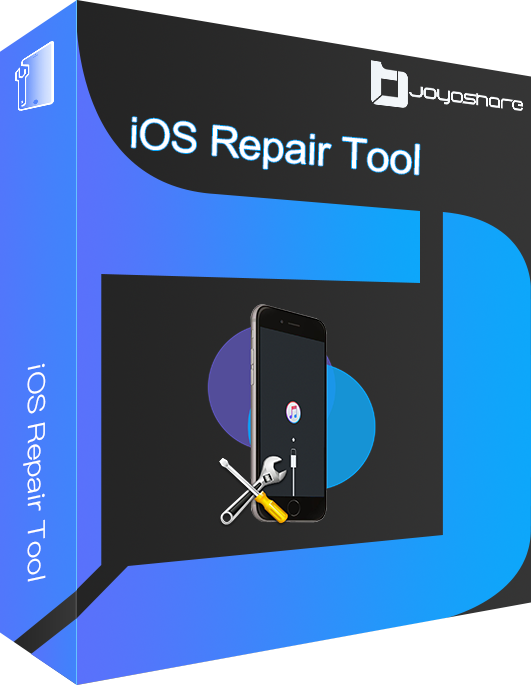 Upgrade and downgrade iOS without iTunes
Fix 150 + iOS system problems with dual modes
Free to enter and exit recovery mode in one-click
High compatibility and high rate of success
Step 1

Connect Device to Joyoshare UltFix

Install and run the latest Joyoshare UltFix on your computer and connect your iPhone or iPad to it. On the main screen, choose Upgrade/Downgrade iOS and click on the iOS Downgrade option.

Step 2

Download and Verify Firmware Package

When your device is detected, you will see all the available iOS versions for your model. Choose the one you want, and click the Download button to get it.

Step 3

Downgrade iOS 16 to Previous System

Once the firmware package is successfully verified, click the Start Downgrade button to downgrade your iOS 16.
Part 4. Downgrade iOS 16 to iOS 15 without Computer
Is there a method to downgrade iOS 16 to 15 without using computer? Yes, partly you can. If you installed the beta iOS 16 profile, it is available to remove it. After the uninstallation, the full and stable iOS 16 could be installed. You only need to head to the Settings app, select General, choose VPN & Device Management (Profile & Device Management), tap iOS 16 (iPadOS 16) Beta Software Profile, and hit the Remove Profile button.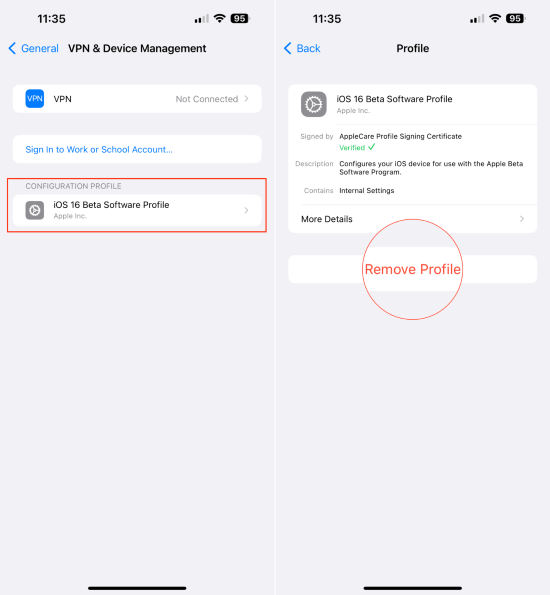 Part 5. How to Restore Backup After Successfully Downgrade
In the beginning, you have made a backup to avoid data loss. Now, your device has successfully downgraded to iOS 15, how to restore the backup? The operating steps are below.
Step 1: On Windows PC, simultaneously hold the Win and R keys, type in %appdata% or %userprofile%, click OK, and select MobileSync.
Step 2: Open info.plist on Notepad, hold Ctrl+F to search for "product", and find "16.0".
Step 3: Change the "16.0" to "15.0" and save the file.
Step 4: Launch iTunes again, with your device connected. Select Restore Backup, and choose the backup file you just saved to restore.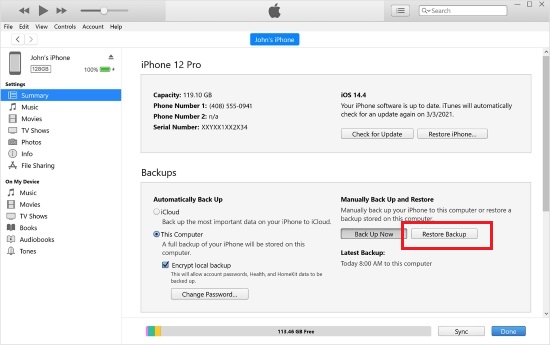 Summary
The methods to downgrade iOS 16 to 15 are listed in this article. With the detailed explanation, you could compare these methods and choose the one that suits your condition. Since Apple stopped signing many previous IPSW files, you may find out that your iPhone 14 running iOS 16 cannot be downgraded to iOS 15, which is irreversible. If you are still allowed to downgrade to iOS 15, iTunes, Finder and Joyoshare UltFix are good choices. To free you from the complicated operations and mistakes when downgrading, Joyoshare UltFix gives you a simpler and more efficient channel to make the iOS successfully downgraded on your device.